Artstorm #5 — Day 2: Tuesday, December 24th | Today's Prompt Word is "Sugar plums"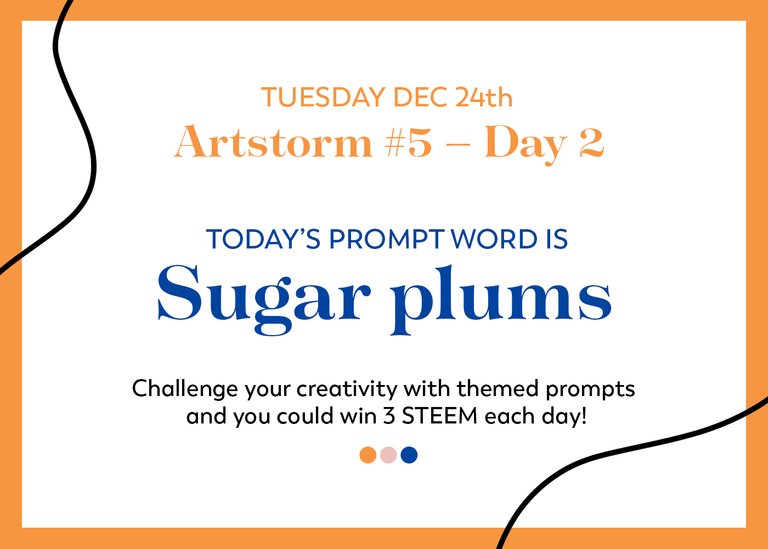 The word prompt for today, Tuesday, December 24th:
SUGAR PLUMS

Post the link to your entry below in the comments for today's word.
---
The prompts for this week have been inspired by the classic Christmas poem, "A Visit from St. Nicholas", more commonly known as " 'Twas the night before Christmas" by CLEMENT CLARKE MOORE.
---
What to do / the rules:
Each day, create an art work in the medium of your choice, as prompted by the word of the day. Both manual and digital methods are accepted, except for photography (sorry).
Create a new post with the title "Entry for Artstorm contest week #5—[wordpromptoftheday]"
Your first tag must be #artstorm. You may wish to also use additional tags such as #creativecoin, #palnet, #marlians and #neoxian to earn more tokens, as well as topic-related tags such as #art or #contest.
Post the link to your entry below in the comments for today's word: Sugar plums.
You have until the end of each week (Please convert Sunday at 5.00pm AEST to your local time here: https://www.timeanddate.com/worldclock/converter.html) to post your entries on the respective daily post.
Winners will be announced weekly on Mondays. A minimum of three entries per day is required to award a prize, otherwise the prize for that day will be forfeited.
Optional, but supportive of this contest: Upvote and resteem @artstorm posts. Upvote posts that you like or see value in from other entrants. Build community and comment on others' entries.
Judging criteria:
This contest aims to help entrants grow in both creativity and artistic skill. Therefore, entries will be carefully judged based on two things:
How creative (unexpected, unique, individual) the entry is according to the prompt;
The quality of the entry. Creatives of all skills levels are welcome, so you don't have to be an accomplished artist, but level of effort will be taken into consideration.
The prizes:
3 STEEM
will be awarded to one winner for each day from Monday to Saturday (announced and paid out weekly).
A bonus prize of
2 STEEM
will be awarded to one entry from any of the submissions for that week.
A total prize pool of 20 STEEM is available weekly, thanks to the support of witness
@untersatz
.
Have fun and challenge your creativity!
Artstorm is a daily art contest for all creatives! Challenge your creativity with themed prompts and you could win 3 STEEM each day. Hosted by @leysa. Supported by witness @untersatz.
---
---
---