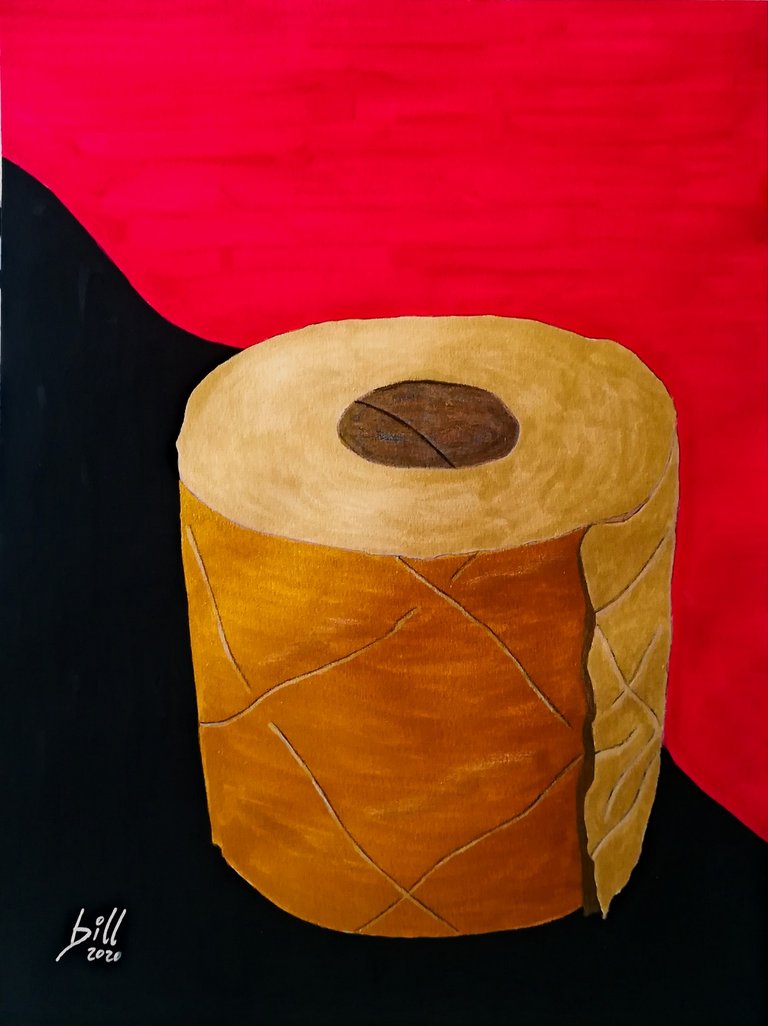 "A New Flag For Germany"
gouache on paper
30 x 40 cm (11 ⅞" x 15 ¾")
 
I'm a proud German – and it took a worldwide pandemic for me to find out what my fellow countrymen value most in life: For the longest time the toilet paper shelves in German supermarkets were empty, because people were panic buying toilet paper like it was going out of style!
 
Ich bin stolzer Deutscher – und es bedurfte einer weltweiten Pandemie, um herauszufinden, was meine Landsleute im Leben am meisten schätzen: Tagelang waren die Toilettenpapierregale in den Supermärkten leer, weil die Leute Toilettenpapier hamsterten, als ob es morgen schon verboten würde!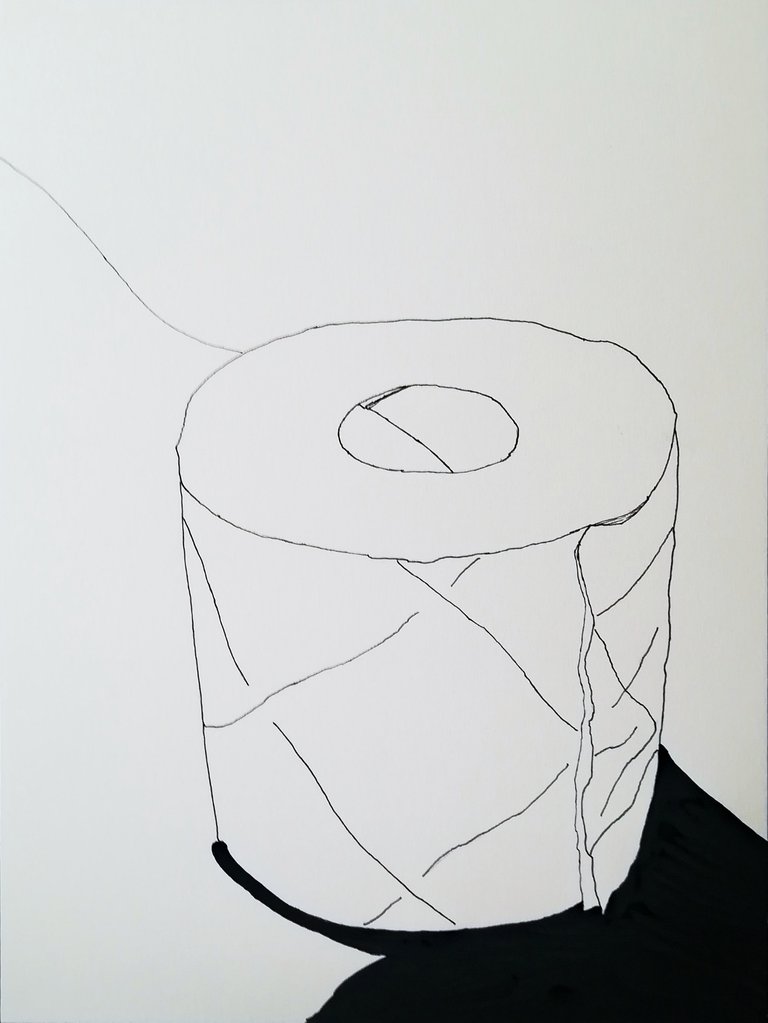 After I got rid of the whiplash from violently shaking my head in disbelief – after dutifully stocking up on the desirable tissue, of course – it occured to me, that I might use my newfound painterly talent in a meaningful way: To honor my country and the item it so deeply cherishes, I redesigned the German flag!
 
Nachdem das Schleudertrauma von dem vielen ungläubigen Kopfschütteln endlich abgeklungen war – natürlich nachdem ich mich pflichtschuldigst mit ausreichend Klopapier eingedeckt hatte – kam mir der Gedanke, dass ich mein neu entdecktes malerisches Talent sinnvoll einsetzen könnte: Zu Ehren meines Landes und des einen Gutes, das es so heiß und innig liebt, habe ich unsere deutsche Flagge neu gestaltet!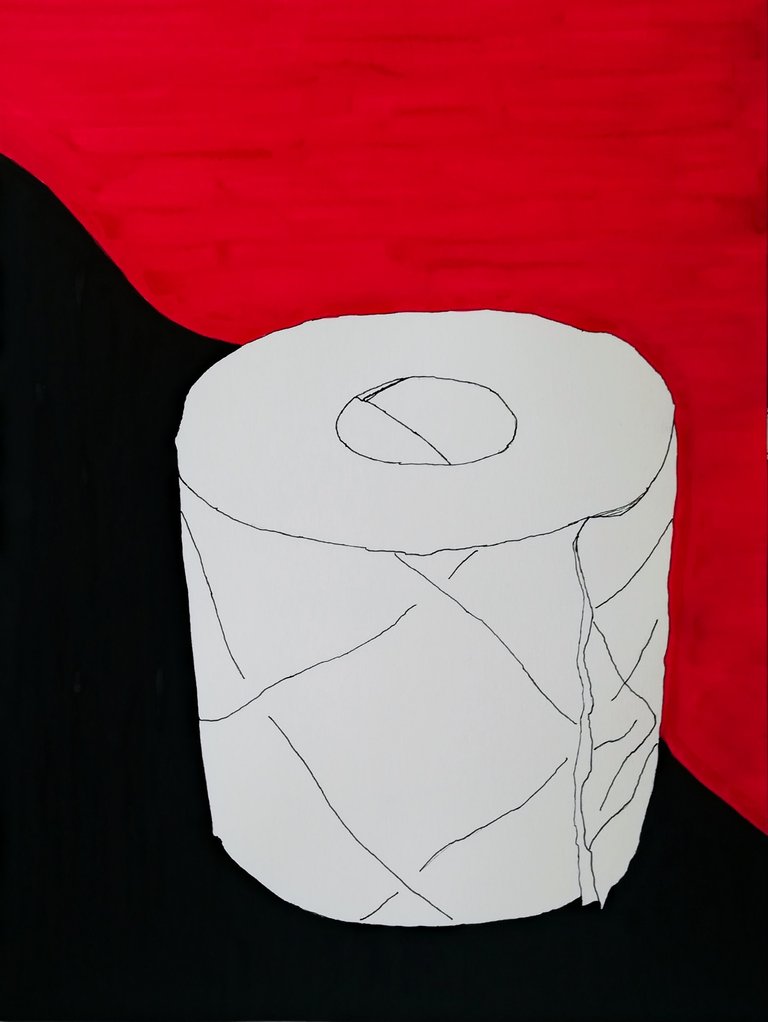 I feel we should keep the traditional colors as a sign of continuity, but replace the gold bar with a golden roll of tissue! What do you think? Isn't that a fine idea to boost moral in these terrible times? An antidote for German Angst on a roll! What a powerful symbol for the times we live in: one guy sneezes, and fifty others shit their pants...
BTW, the toilet roll is painted with actual gold metallic gouache I mixed special for this project, but it doesn't show in the photo. What a bummer!
 
Ich finde, wir sollten die traditionellen Farben aus Gründen der Kontinuität beibehalten, aber den goldenen Streifen durch eine goldene Klopapierrolle ersetzen! Was meint ihr? Ist das nicht eine gute Idee zur Hebung der Moral in diesen schlimmen Zeiten? Ein gleichsam aufgerolltes Gegenmittel für die deutsche Angst! Was für ein mächtiges Symbol unserer Zeit: Einer niest und 50 andere scheißen sich die Hosen voll...
Übrigens, die Klopapierrolle ist mit echter gold-metallic Gouache ausgeführt, die ich extra für dieses Projekt angemischt habe, aber im Foto kommt das nicht so rüber. Echt ärgerlich!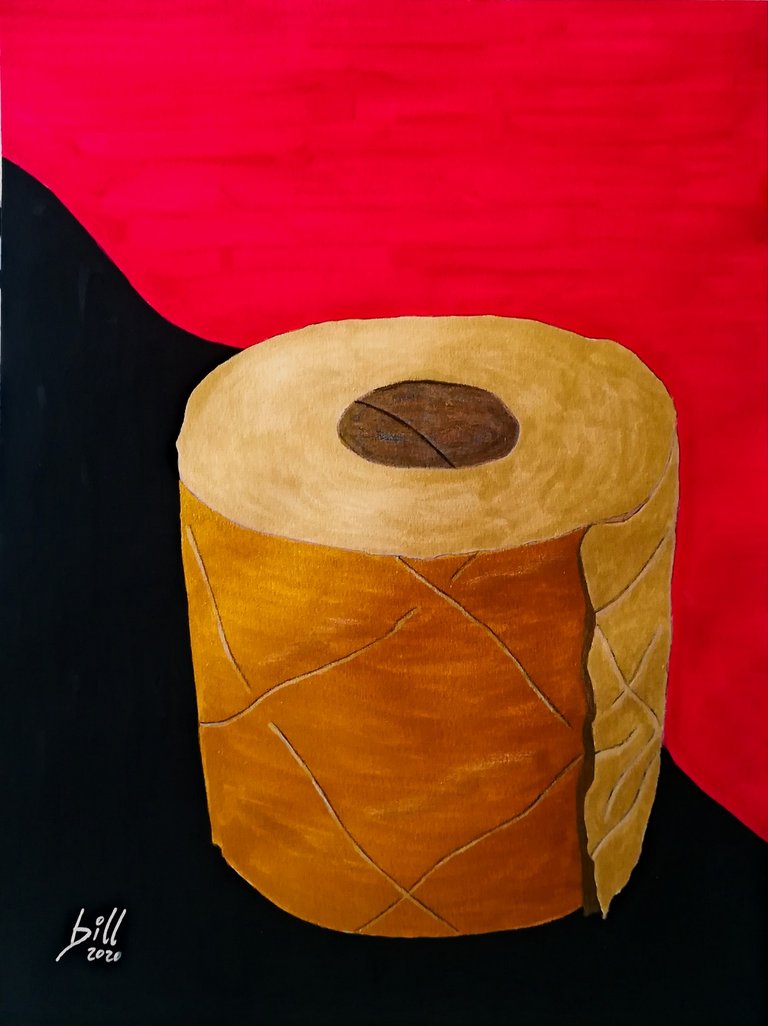 I dedicate this painting to Andy Warhol, who established a firm relationship between artistic expression and a can of soup in the minds of art lovers the world over. As he did with Campbell's, I feel empowered to do to Charmin. Thanks Andy!
All joking aside, this f.cking disease is serious and thousands of people have died. Keep your distance from each other and stay healthy! Thanks for looking, and please don't forget to upvote and reblog if you liked my art. Until next time!
 
Mein besonderer Dank gilt Andy Warhol, der die Beziehung zwischen künstlerischem Ausdruck und einer Dose Suppe fest in den Köpfen von Kunstliebhabern in der ganzen Welt verankerte. So wie er es mit Campbell's Suppe machte, so fühle ich mich bestärkt darin, Hakle zu verwursten. Danke Andy!
Spass beiseite,diese Scheisskrankheit  ist verdammt ernst und Menschen sind gestorben. Bleibt auf Abstand voneinander und bleibt gesund! Danke fürs Anschauen, und vergesst bitte nicht das Upvoten und Rebloggen, wenn euch mein Beitrag gefallen hat. Bis zum nächsten Mal!