Invaders from space. Part 3\Eindringlinge aus dem All. Teil 3
Hello, my friends!
New story of a pig Svinni.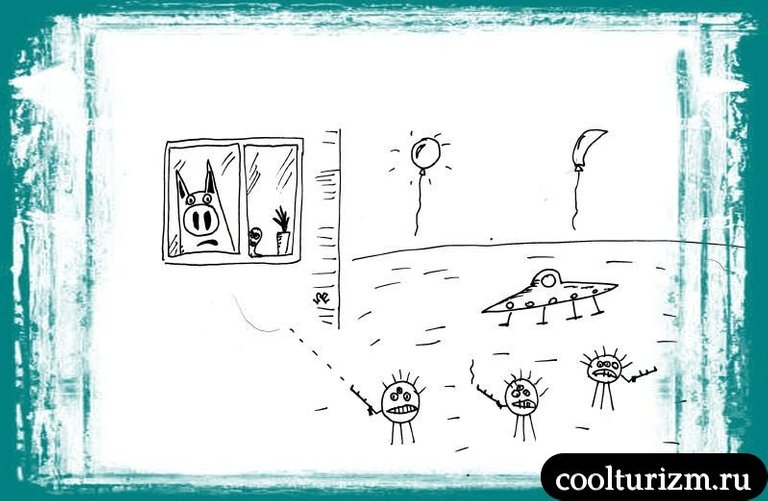 Svinni sat at home and looked sadly out the window. Boring stuff! Deserted street and gray indistinct landscapes. Tumbleweed balls appeared from somewhere. They always appear in places of despondency and hopelessness.
But after a week, everything changed imperceptibly. The landscape began to change! At first, everything happened imperceptibly, but then the changes became more serious. Everything around began to blush! And after a while they appeared. Weird spider-like creatures on thin funny legs, creatures of clearly unearthly origin. The strangest thing was that few passers-by did not notice them. They went where they wanted. The three-eyed creatures were making some kind of laser marks using their strange technique. They marked passers-by, trees, buildings. For some reason, they especially often tagged cats. Maybe they saw enough of "Alf" in childhood? Or did they come from Melmak?
Svinni saw these bright red markings, but the others did not notice them. The eyes are blurred and the brain refuses to see what is usually not and what is not included in the sphere of automatism. Awareness is the scarcity of our time! And while the mind sleeps, monsters roam the streets.
The apotheosis was that guests from outer space even marked the moon and the sun. At this point, Svinni could not stand it and decided that it was time to act. After consulting with his friend Cthulhu, the piglet decided that it was time to release the garbage eaters to freedom. They devour everything that moves, and guests from other Universes will feel bad.
And the piglet will fly to the distant outer space to seek the truth. Someone arranged all this and someone has to pay for it.
P.S. Garbage eaters have coped with this task. What kind of monsters are they ?! How glorious that they volunteered to worship Cthulhu.
..to be continued..

Svinni saß zu Hause und sah traurig aus dem Fenster. Langweiliges Zeug! Verlassene Straße und graue, undeutliche Landschaften. Von irgendwoher tauchten Tumbleweed-Kugeln auf. Sie erscheinen immer an Orten der Verzweiflung und Hoffnungslosigkeit.
Aber nach einer Woche änderte sich alles unmerklich. Die Landschaft begann sich zu verändern! Zuerst geschah alles unmerklich, aber dann wurden die Veränderungen gravierender. Alles um ihn herum begann zu erröten! Und nach einer Weile tauchten sie auf. Seltsame spinnenartige Kreaturen auf dünnen, lustigen Beinen, Kreaturen eindeutig überirdischen Ursprungs. Das Seltsamste war, dass nur wenige Passanten sie nicht bemerkten. Sie gingen, wohin sie wollten. Die dreiäugigen Kreaturen machten mit ihrer seltsamen Technik irgendeine Art von Lasermarkierungen. Sie markierten Passanten, Bäume, Gebäude. Aus irgendeinem Grund markierten sie besonders oft Katzen. Vielleicht haben sie in der Kindheit genug von "Alf" gesehen? Oder kamen sie aus Melmak?
Svinni sah diese leuchtend roten Markierungen, aber die anderen bemerkten sie nicht. Die Augen sind verschwommen und das Gehirn weigert sich zu sehen, was normalerweise nicht und was nicht in die Sphäre des Automatismus fällt. Bewusstsein ist die Knappheit unserer Zeit! Und während der Verstand schläft, streifen Monster durch die Straßen.
Die Apotheose war, dass Gäste aus dem Weltall sogar Mond und Sonne markierten. Zu diesem Zeitpunkt konnte Svinni es nicht ertragen und entschied, dass es an der Zeit war zu handeln. Nach Rücksprache mit seinem Freund Cthulhu entschied das Ferkel, dass es an der Zeit sei, die Müllfresser in die Freiheit zu entlassen. Sie verschlingen alles, was sich bewegt, und Gäste aus anderen Universen werden sich schlecht fühlen.
Und das Ferkel wird in den fernen Weltraum fliegen, um die Wahrheit zu suchen. Jemand hat das alles arrangiert und jemand muss dafür bezahlen.
PS Müllfresser haben diese Aufgabe gemeistert. Was sind das für Monster?! Wie herrlich, dass sie sich freiwillig gemeldet haben, um Cthulhu anzubeten.
..Fortsetzung folgt..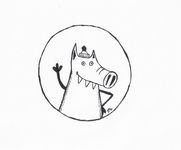 ---
---