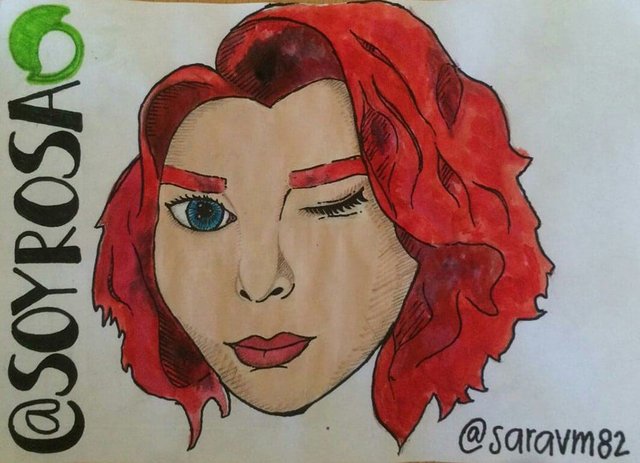 More than 4 months ago I was surprised by a sudden mention of a post by @saravm82, who had decided to draw me with the watercolour technique, based on a picture she found on my profile page:
A few days ago, surfing through the tags that refer to the "Creative" and the "Art" of the Steemit platform, I found a post with an image that catch my attention. That post belongs to "@soyrosa" and I felt inspired by the brilliant colors in red and orange tones and the lines between sharp and blurred of the image, which reminds me that some time ago I have been practicing my techniques in watercolor; and in my opinion I have progressed slowly thanks to practice, constancy and perseverance.
It was inspired by a selfie that I use in my @creativecoin curation reports:
As you can see she did a creative interpretation of that portrait and I love the end-result. As I said on her post 'she totally makes me look bad-ass' <3 I've seen people draw my face trying to be more 'precise', often resulting in an image that I don't necessarily recognize myself in - while this more freely interpreted and abstract image feels very much 'like me'.
Somehow she capture me, and it definitely makes me want to dye my hair red :D
Huge compliments therefor to @saravm82 who I hope will start to post on Steem again so I can follow her journey and promote her work a little more :-)
---
I pretty much cropped and brushed off the white of the image a bit, and was pretty pleased with the result to use it as an avatar. I think 'I changed my profile picture' posts are a bit annoying, as we've seen too many of them on Facebook (right?), but in this case two people started to ask questions about them, so I decided to do a post to honour the work of a fellow Steemian <3
Here are the people guilty for this post:


Thanks @phortun and @fotostef for ignoring my epic post and skipping to my profile picture ;-)
---
PS: I tried to find @saravm82 on Discord so I could see if she had a second photo/file for me that I could use, but I didn't succeed, if someone knows her Discord ID that would be pretty amazing!