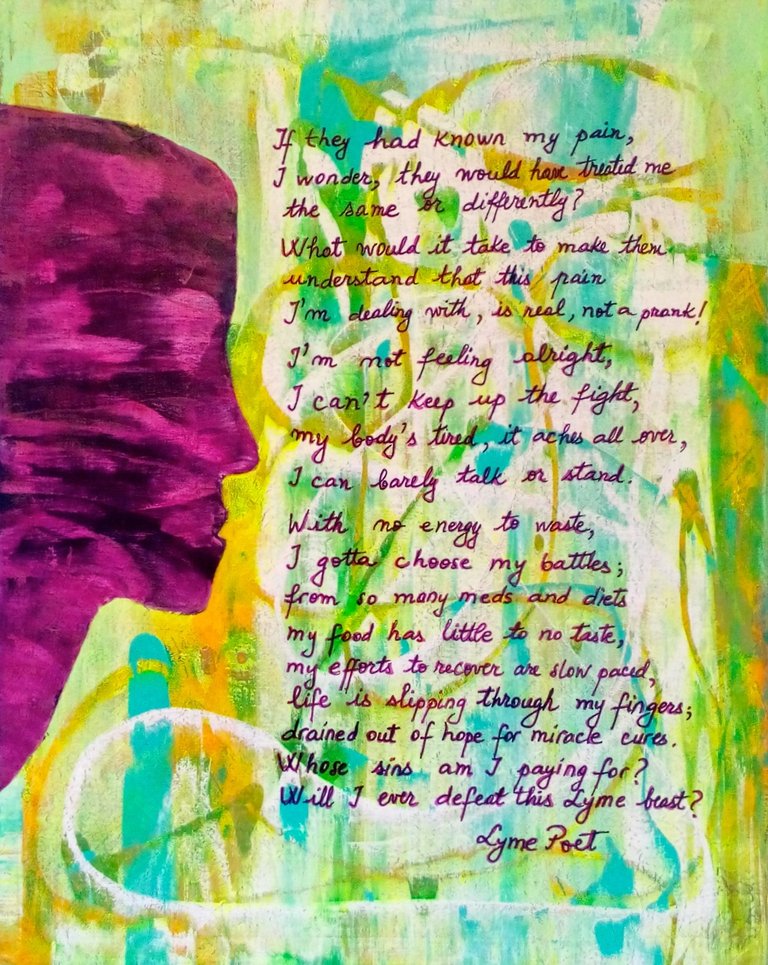 Those of you who visited my blog before know a big chunk of my posts are either poetry or art related or part of my Lyme disease online campaign that I have started three years ago with my a-zlyme.com website.
Many of you know two of my passions are writing and painting. This year, I thought of trying something new for my Lyme awareness campaign. Thus I came up with a new project: raising awareness for Lyme through art. Art tends to reach far more people than any other campaign as it breaks the language barrier and appeals to a wider audience than the regular readers.
Therefore, I decided to create a series of paintings illustrating the unseen faces of this terrible illness, aiming to bring more light into this controversial issue and voice those who struggle daily with it or because of it.
"Lyme Pain" is one of the many works in this series that aims to offer an insight view of what it entails to deal with a chronic illness that is not recognized by the CDC and half of the medical community.
This mixed media artwork (acrylic and ink) was realized on a panel canvas 16"x 20". When I wrote the poem on it, initially I wanted to signed my name but I figured out the Lyme Poet would be a better choice, as the work lends a voice to many Lyme sufferers.
The titled of the poem written on the canvas is "Know My Pain" and it was included in my latest poetry collection Lyrics for sale - Racing thoughts and healing poetry, available on Amazon and Barnes & Nobles.
I was asked why I did not opt for having the text printed and then glued into the canvas. I agreed that it may have had a more neat look, but that was not I was going for. I wanted to be as authentic as possible. By that I mean that the imperfections of the handwriting showcase the difficulties that Lyme sufferers have while reading or writing as they are experiencing floaters and most of them have their sight affected by Lyme.
Loneliness, isolation, anxiety, depression are only a few of the things that Lymies experience throughout their recovery journey.
If you would like to see more artworks from this series or other ones, or support my art, please visit my website lavipicu.com or check my Facebook account: Lavi Picu Art.

Drop me a line in the comments section below if you like what you read!

Here are some other art related posts that you may enjoy reading:
DROWNING FROM WITHIN
ALL LIFE MATTERS
EQUILIBRIUM
SERENADE - MAKING OF
WHAT MAKES ONE AN ARTIST?
RAW MINDFULNESS
CORONA CHAOS
LOST BOY, MAKING OF
BENEFICIAL EFFECTS OF DOODLING
JAMAICAN MAZE
THE WORLD IS MINE - MAKING OF
DRAGON STEPS, MAKING OF
THE POND - MAKING OF
FLUID ART
BLAZE - MAKING OF
VANITAS SERIES
LET YOUR INNER CHILD IGNITE YOUR CREATIVITY
UNDER THE BLUE -MAKING OF
DRAGON - MAKING OF
ART THERAPY, WHAT THE HECK IS THAT?
FUN WITH ACRYLICS
MAGICAL UNICORN- MAKING OF
MUSHROOM TABLE- DIY
OTHER PAINTINGS
WHAT SPARKS YOUR CREATIVITY?

If You Are Interested In Purchasing Any Of My Works,
check out my Saatchi online art gallery page HERE
or visit my website: lavipicu.com.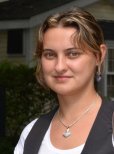 Lavi Picu is the author of three soulful poetry collections: Whiteless Thoughts, Burden of love and Tales of a moody heart. She is a Canadian writer, majored in Linguistics, with a background in translations and writing. She's also a ghost writer, a blogger with a focus on arts and health, a Lyme disease advocate, a mother and a self-taught artist.

@2020 Lavi Picu aka Lyme Poet. All rights reserved.