I had a long day yesterday at the senior center. I worked for several hours on the wheel and turned out five pieces. I also started making the body of a small teapot. I asked one of my friends to take a picture of me on the wheel since my hands were covered in clay. I need to learn how to construct each piece which consists of the main body, the spout and the lid.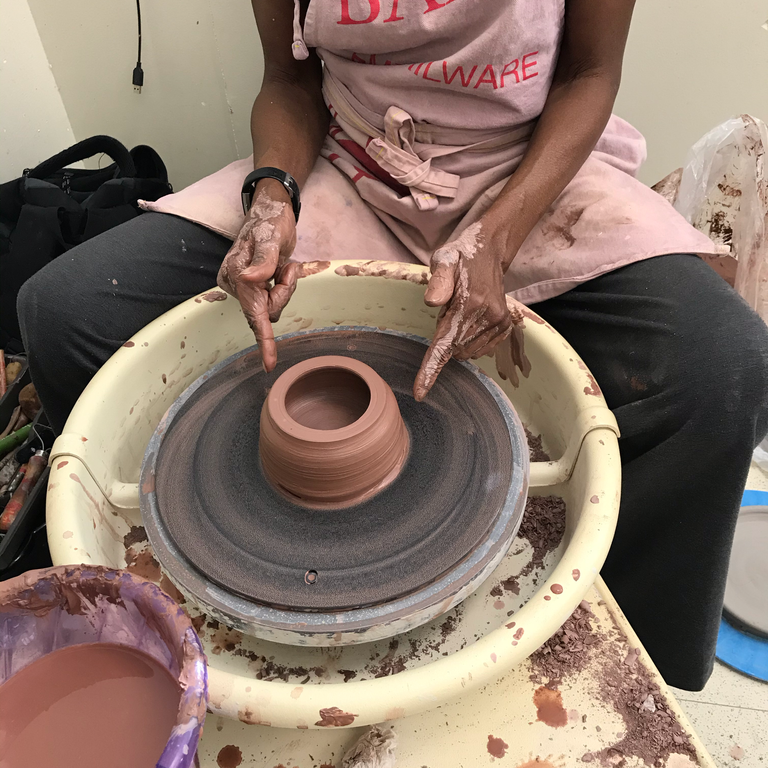 (Original photo edited in Canva)
I have another class tomorrow with my pottery wheel teacher who may be able to help me with forming the lid on the wheel. I have been watching master potters on YouTube make teapots, but they are so good that they make everything look really simple. They can also form pieces "off the hump" which I have not mastered. I can make a teapot using hand building techniques, but my goal is become proficient on the wheel because it saves many hours and is much more efficient.
My friend also works off the hump, but he is a man with strong hands. You have to be able to control and center about two pounds of clay at one time. That takes a lot of muscle and strength. Once that large lump of clay is centered, then you just keep using only the clay that you need at the top. The piece that you are forming is cut away at the hump and placed on a board instead of a mat.
It also requires that you use very little water and more slip to avoid breaking down the clay molecules. I really would like to own a variable speed pottery wheel with a foot pedal but I can not justify that purchase right now within my budget.
If I start selling some of my pieces, then I could afford that major purchase, or if Steem starts to go to the moon, then I could sell some Steem to buy it. Right?
Another alternative that I have is to see if I can break down the motor assembly on my pottery wheel, replace my current motor with a newer model and then add a foot pedal with a potentiometer in it. My pottery friend says that I should just buy a better pottery wheel and then sell my wares to pay for it.
I love making pottery but this is just one of my loves. I also love to knit, crochet, sew, draw, take digital photographs and of course travel. I am trying to plan a trip to Singapore with my best friend next month but I am concerned about the Coronavirus outbreak in China and southeast Asia.
Decisions, decisions . . . In the meantime, I will utilize the resources that are already at my disposal.
Enjoy your day.