Versión chibi
Hola, hoy les traigo un personaje muy popular en Splinterlands. Pertenece al equipo tierra y es rudo (muy rudo) por lo que se convierte en el favorito de muchos. Decidí tejerlo en versión chibi ya que este personaje tiene características resaltantes.
Hi, I'm bringing you a very popular character in Splinterlands today. He belongs to the earth team and is tough (very tough) so he becomes the favorite of many. I decided to weave it into a chibi version since this character has some outstanding features.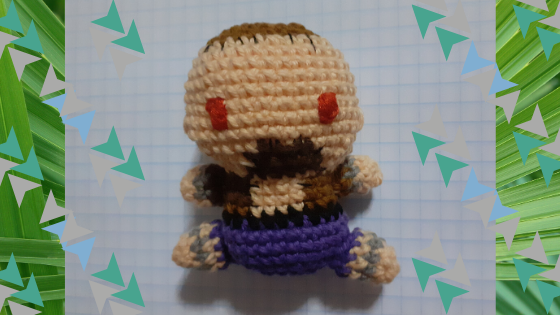 Debo admitir que al inicio me llamó la atención el vestuario de este personaje (por eso lo elegía al momento de jugar, jaja). Hasta hace poco y al momento de dibujarlo encontré algunos detalles como: el chalequito que creí que tenía no es chaleco sino pedazos de carne muerta agregados a su cuerpo, entre otros.
I must admit that at the beginning I was struck by this character's wardrobe (that's why I chose it when I played, haha). Until recently and at the moment of drawing him I found some details like: the little vest I thought he had is not a vest but pieces of dead meat added to his body, among others.
Materiales: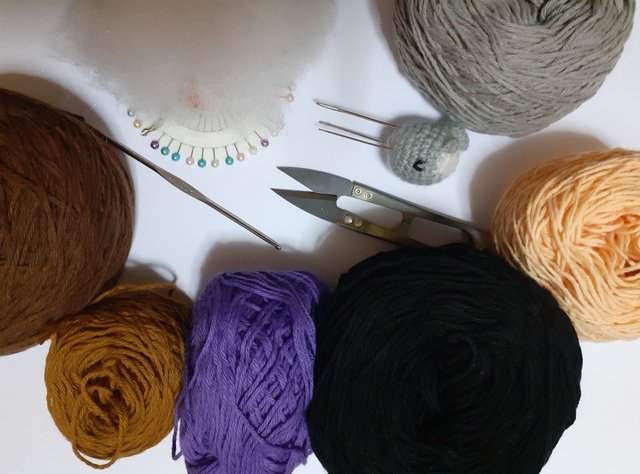 Procedimiento: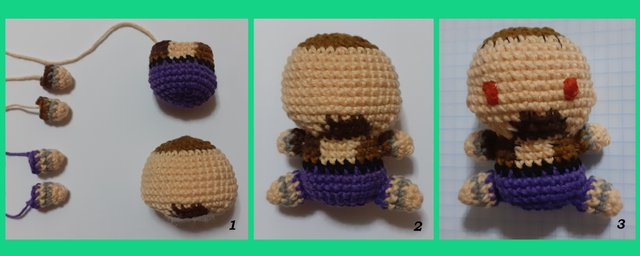 Una vez que se tiene el dibujo con las características principales del personaje, se inició tejiendo las piezas por separado siguiendo el cambio de color adecuado (figura 1). Las cadenas en sus extremidades son parte del personaje y esto se resalta al momento de la diagramación y unión de las piezas (figura 2). Por último se bordó los ojos y las "costuras" de las piezas de carne unidas al cuerpo (figura 3).
Once you have the drawing with the main characteristics of the character, you start weaving the pieces separately following the appropriate color change (figure 1). The chains on their extremities are part of the character and this is highlighted at the moment of the diagramming and joining of the pieces (figure 2). Finally, the eyes and the "seams" of the pieces of meat attached to the body were embroidered (figure 3).
¡…Hasta la próxima!
See you next time!
     Dato curioso: Aunque no parezca este personaje es sencillo de tejerlo, anímense.

►Encuéntranos en: