Koalas chibis
Los koalas son unos de mis animales favoritos y son la imagen del logo de "Inici-arte". Se me ocurrió sacar del papel algunas ideas que estaban rondando por estos días y traerlos al equipo. Como por estas fechas (San Valentín) abundan los pañalones unos koalitas no caerían mal, jaja.
Koalas are one of my favorite animals and are the image of the "Inici-arte" logo. I thought I'd take some of the ideas that were going around these days out of the paper and bring them to the team. As these days (Valentine's Day) there are a lot of diapers, some koalas wouldn't be bad.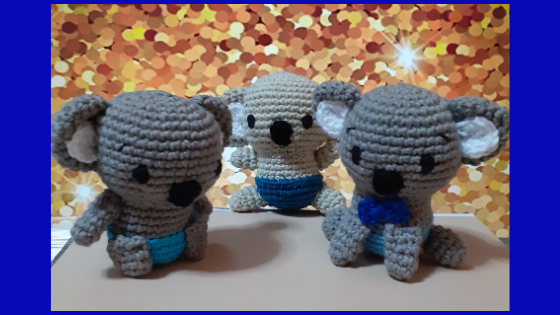 Tejí 3 modelos de koalas, el patrón para la cabeza y el cuerpo son iguales, habiendo ligeras diferencias entre las extremidades. Esta vez fueron tejidos con el punto en "V". Para los pañalitos utilicé colores azulados. Los hocicos son los mismos y hay una ligera variación en los ojos.
I woven 3 models of koalas, the pattern for the head and body are the same, with slight differences between the extremities. This time they were knitted with the "V" point. For the diapers I used blue colors. The snouts are the same and there is a slight variation in the eyes.
Vamos por los materiales:
Lápiz HB / pencil
borrador / eraser
hilode algodón / cotton thread
crochet Nº2 / craft Nº2
aguja punta roma / blunt point needle
napa siliconada / siliconated nappa
hilo de bordar / embroidery thread
tijera / scissors
alfileres / pins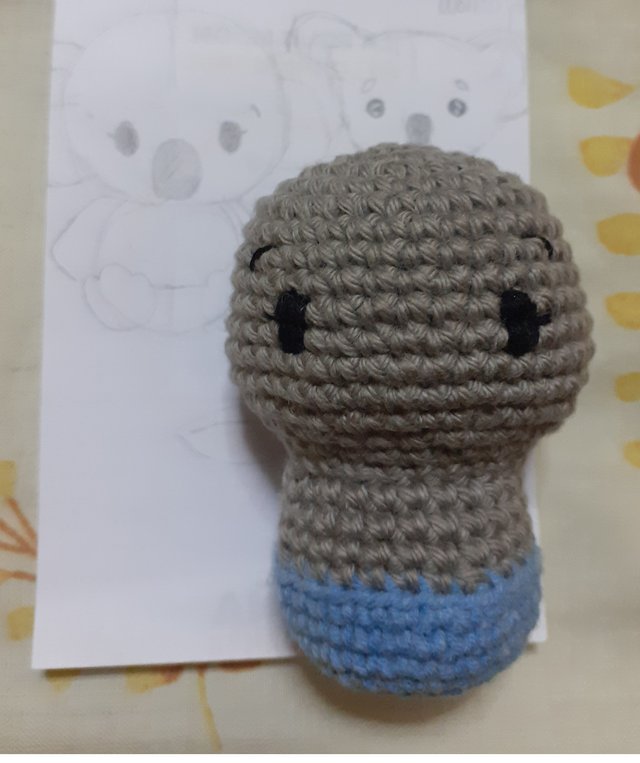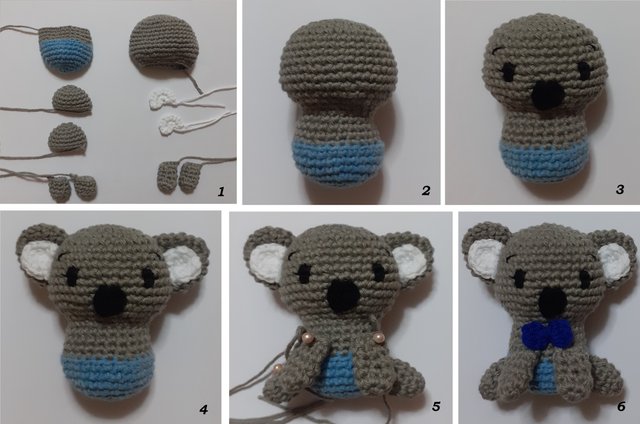 Antes de tejerlos se plasmó la imagen en un dibujo (guía) para facilitar la elaboración. Se tomó el patrón de los amigurumis chibis y se agreguó las orejas (tipo koala), el hocico y un lacito michi. El bordado del rostro fue con hilo de bordar y el hocico con hilo de tejer negro (figura 3). Se formaron las orejas cosiéndolas con el interior de estas, para luego unirlas a la cabeza (figura 4). En la diagramación se utilizaron alfileres y finalmente de agregó un lacito michi (figuras 5 y 6).
Before weaving them, the image was captured in a drawing (guide) to facilitate processing. The pattern of the amigurumis chibis was taken and the ears (koala type), snout and a michi ribbon were added. The face was embroidered with embroidery thread and the muzzle with black weaving thread (Figure 3). The ears were formed by attaching them to the inside of the ears, and then attached to the head (figure 4). Pins were used in the diagram and finally a michi ribbon was added (figures 5 and 6).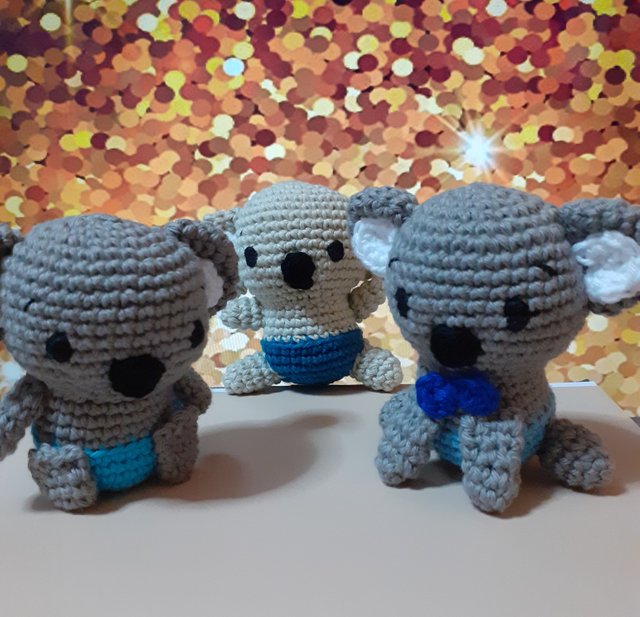 Como lo mencioné antes, tejí 3 modelos, para ver cuál queda mejor. En lo personal me quedaría con el de pañal celeste.
As I mentioned before, I knitted 3 models, to see which one looks better. Personally, I'd go with the light blue diaper
¡…Hasta la próxima!
See you next time!
Dato curioso: En realidad son sencillos de tejer pero algo cansado.


►Encuéntranos en: