Hello there Steemit friends.
We have reached to the end or something like that.
🌼
🌼


Well, the Inktober is definitely over and it's not a thing anymore. Those who finished it completely showed great power and compromise to do 1 inked drawing per day.
🌟🔥 Congratulations to those who make it through. 🌟🔥👊
I finished almost all of them but because I have been busy doing other things and I did not have the time to finish those that I missed. This post will be ignored but I want to publish this for having a personal compilation of what I have achieved for this year's inktober. ✌
It is done!
These are the last entries of the Inktober, those corresponding to week 4. The last week of the challenge.

.: 🌼:.
✨ Day 21: Treasure
I actually made this piece, but I cannot show it.

I know Steemit allows this kind of content under its special tag, but this post is family-friendly so I will upload it censored. I didn't publish it on another online platform so it really isn't anywhere else 100% visible.

✨ Day 22: Ghost
You know, I used to dislike this pokemon.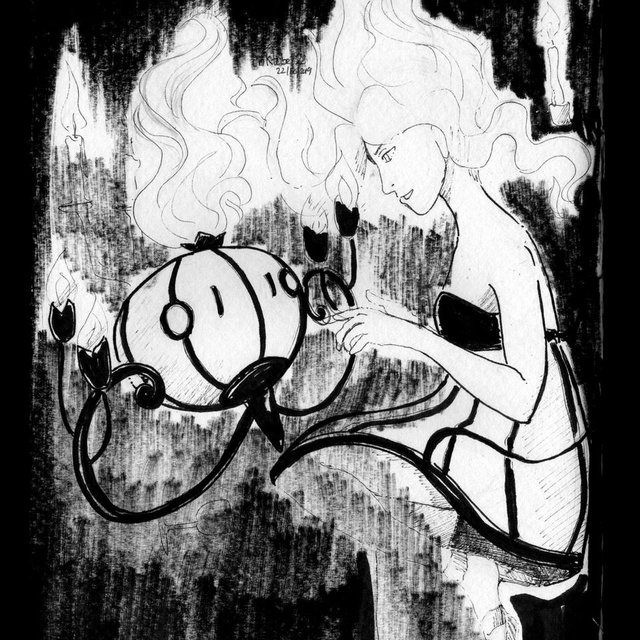 But from certain time I started to liking and every time I have to draw something related to ghosts I think of Chandelure.
✨ Day 23: Ancient
I searched on Google for "ancient flower" and I got that plant that is in the foreground, and I literally drew it.

The girl is an Eredar; in WoW universe, they are a race that live very long years becoming quite long-lived and therefore old.
✨ Day 24: Dizzy
This is a scene of my role-playing characters and you probably won't understand anything, but if you're interested in understanding, keep reading.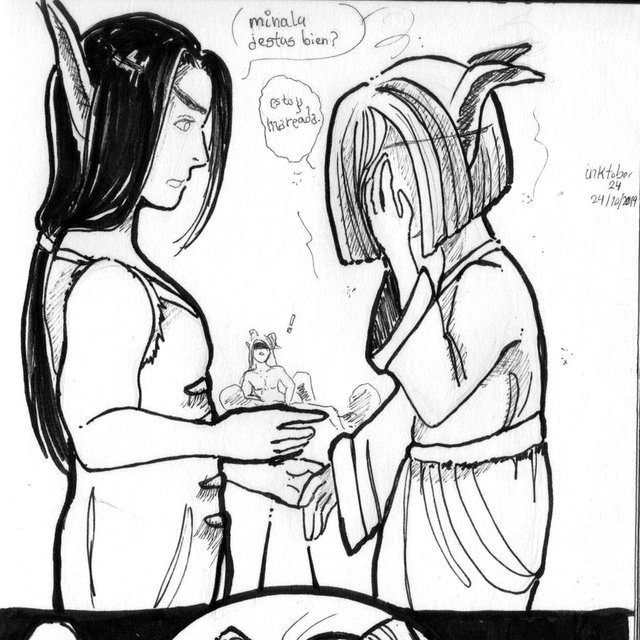 As far as I know pregnant women tend to get dizzy when they are in the very early stages of pregnancy. In my role play one of my characters Minala gets pregnant at some point, and her stepbrother (or consort, who is the character in the background) as a demon hunter with his special vision, he can see souls; So, I always imagine this scene where my character Minala doesn't feel well while talking to her lover and Hadett immediately deduces why.

✨ Day 25: Tasty
I like sweets, my character Aladria, too.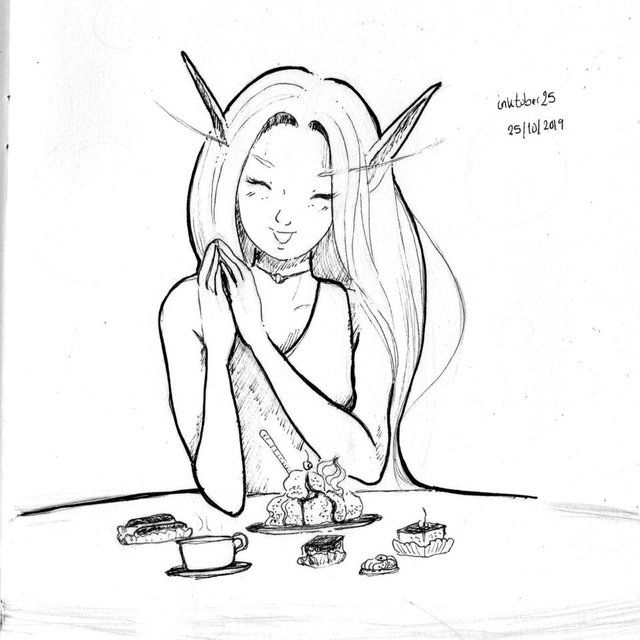 ✨ Day 26: Dark
This is very predictable actually.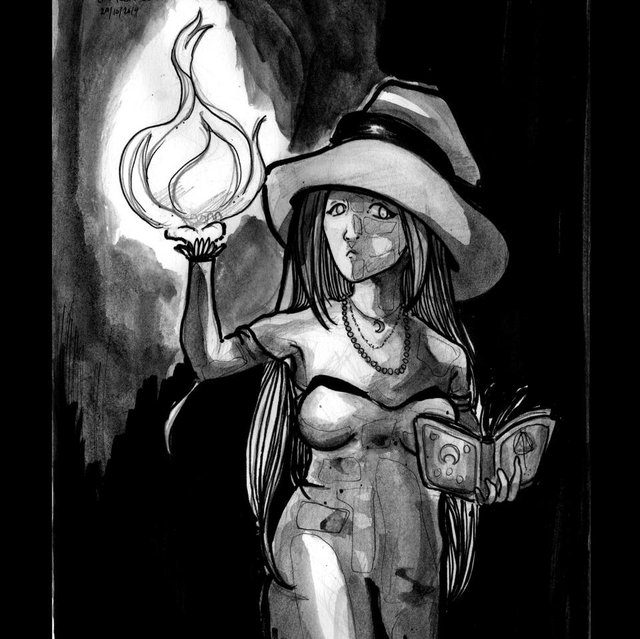 I wanted to play a little with the lighting and I made this sorceress using a magic fire to light up a dark place.


✨ Day 27: Coat
I finished this piece last, even after position 31.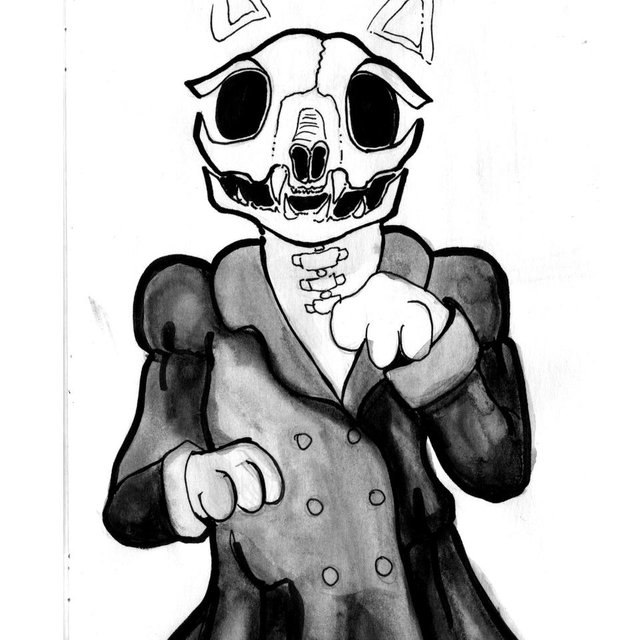 I made a cat head skull with a coat. Why? I really do not know.
✨ Day 28: Ride
For this day I did not do the inking work, I only did the sketch.

This is something important that I have been planning.
✨ Day 29: Injured
Unfortunately, I did nothing this day.


✨ Day 30: Catch
This day neither.


✨ Día 31: Ripe
This piece has ** NOTHING ** to do with the theme of the Inktober. That day I was tired and I really did the first thing that crossed my mind, something fabulous and ridiculous.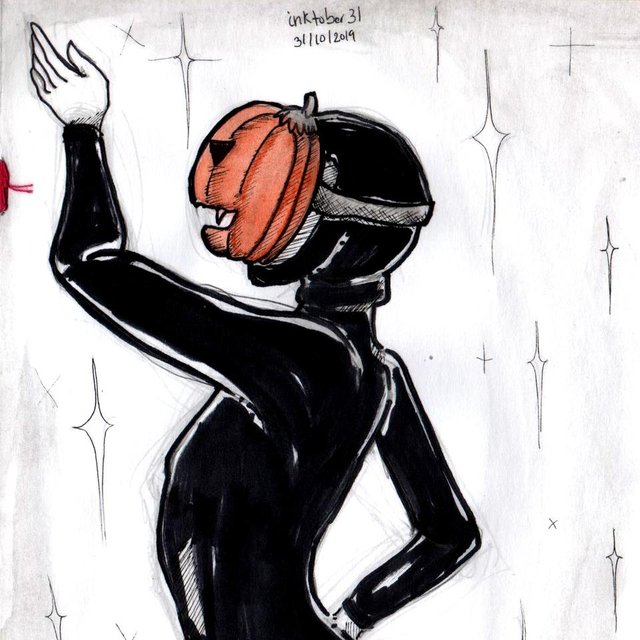 Halloween icon of every year, the guy dancing
Spooky Scary Skeletons
with a pumpking mask](
).
And that is all folks!
Thank you very much for the ones who followed me over this month and took the time to watch my pieces. Knowing that my drawings please someone makes me feel good. 😏
As always, you can leave your thoughts in the comments section and now with the challenge finished, we will see what other things the future will hold.
I hope to see you again soon!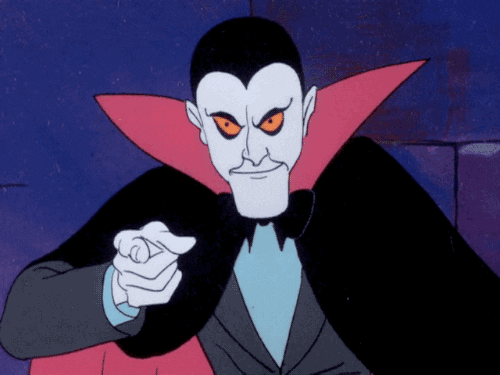 bye bye now
🌼
I send a thank you gigantic to Repollo, C2, CreativeCoin, HelpieCake, roadstories, steemitasclub, nTopaz and other healing groups that take the time to go through my publications and cure my content giving me their support.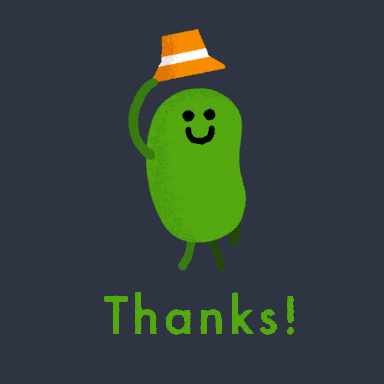 ━─━────༺༻────━─━


☕️Ko-Fi: http://Ko-fi.com/failykam
📷Instagram: http://instagram.com/failykam_art
💬Spanish blog: http://steemit.com/@faffy
⋆⌘⋆ COM MISSIONS OPEN ⋆⌘⋆

━─━────༺༻────━─━


Drawings belongs to Failykam (@faffy).
Banners designed by Freepik