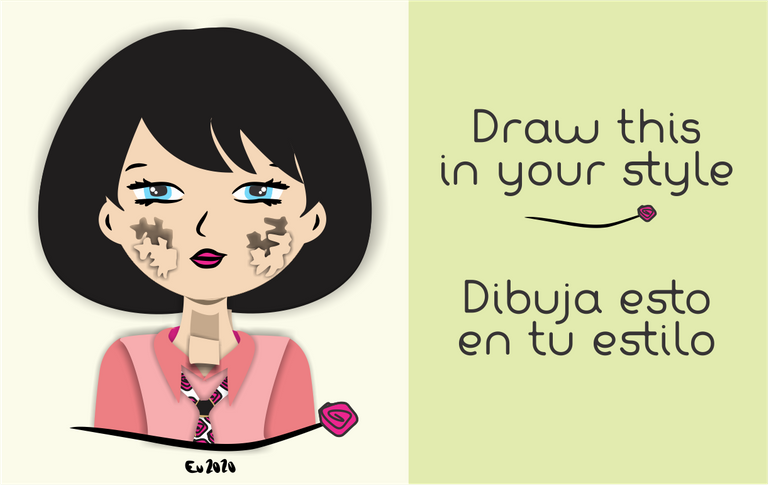 Hace mucho que no compartía un dibujo por aquí y esta vez me animé a hacerlo gracias al llamado de @richjr, quien publicó el siguiente post:
I have not shared a drawing here for a long time but I was encouraged by the call of @richjr who published the following post:
Surgió entonces la pregunta:
Then this question arose:
¿Cuál es mi estilo para dibujar?

What's my style?
No soy una dibujante prolífera, de hecho no sé si puedo llamarme dibujante jajaja, solo sé que cuando promocionaron el Inktober en Steem participé, hice dibujos a mano y me gustó la experiencia.
I'm not a prolific cartoonist, in fact I don't know if I can call myself cartoonist (lol), I just know that when I participated in Inktober promoted here on Steem, I made some drawings by hand and I liked the experience.
Pero esta vez se trata de un dibujo digital para trata de replicar en mi estilo el dibujo de Rich, entonces recordé que hace unos meses hicé un dibujo digital, así que pensé que ese sería mi estilo, el rostro de este dibujo sería mi sello.
But this time it's about a digital drawing, so I remembered that a few months ago I made a digital drawing, so I thought that would be my style, the face of this drawing would be my stamp.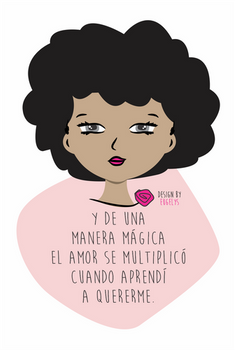 Entonces ya con mi estilo definido empecé a complementarlo con detalles que simularan el de Rich.
So I started with all the details needed to resemble rich's drawing .
Manos a la obra.
Let's Go!
El programa que uso para diseñar es Corel Draw X7, un poco de la vieja escuela (jajaja). El rostro lo hago con la herramienta Bezier que permite dibujar curvas segmento por segmento. Para las líneas del rostro como ojos, boca, nariz uso un pincel de la Herramienta de Medios Artísticos.
I useCorel Draw X7, a bit old school (lol). The face I do with Bezier tool that allows you to draw curves segment by segment. To do the lines for the eyes, the mouth, the nose, etc, I use a brush from the Artistic Media Tool.
Copie la imagen del dibujo originalen mi lienzo de trabajo como referencia.

I copied the original image to canvas for reference.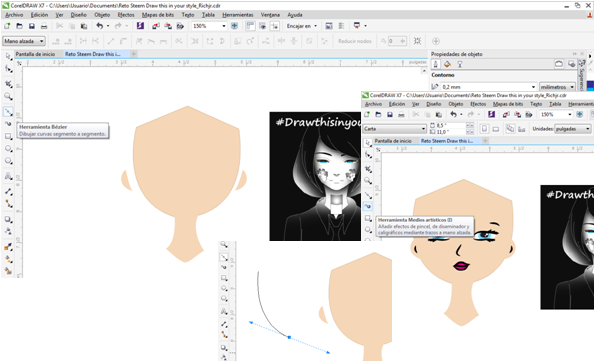 Me divertí un montón haciendo el cabello, me encanta, para esto utilizo nuevamente la herramienta bezier.
I had a lot of fun making the hair, I love it. I use bezier tool.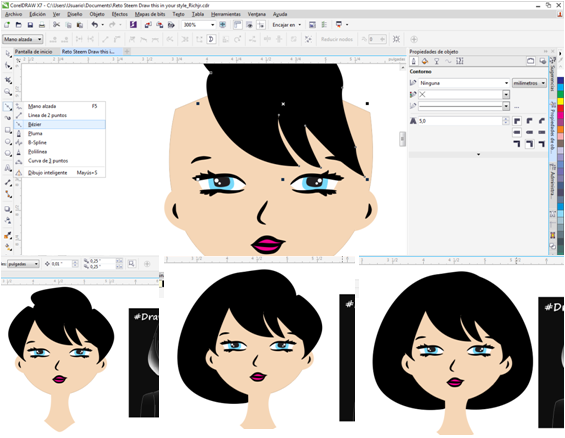 Aplique sombras y rellenos ( herramienta PowerClip )
Apply shadows and fills ( PowerClip tool )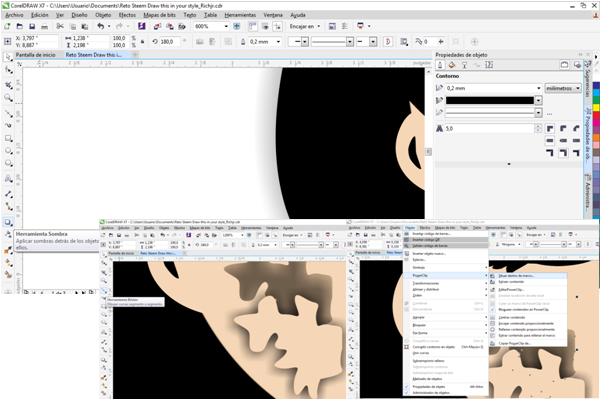 Luego pasé al torso, en este caso coloqué un patrón de flores dentro de la corbata con la herramienta PowerClip. También coloqué más sombras en el torso.
Then I started with the torso, in this case I placed a flower pattern inside the tie with the PowerClip tool. I also placed more shadows on the torso.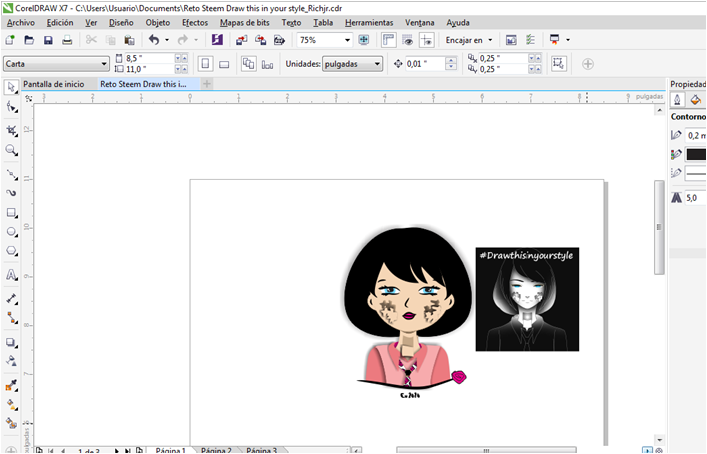 Espero que les guste este dibujo.

Hope you like this drawing.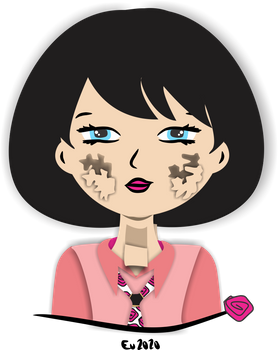 No me canso de repetir que admiro el trabajo que los dibujantes y artistas gráficos realizan en la plataforma, son horas de trabajo para obtener su trabajo final.
¡Un aplauso DE PIE para todos ustedes!
I never get tired of repeating that I admire the work that the artists and graphic artists do on the platform, they spend so many hours to get their final work.
A standing ovation to all of you!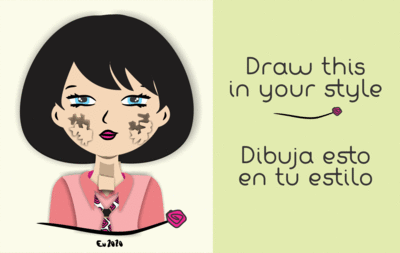 ¡Gracias por pasar por aquí, gracias por detenerte a leer o a escuchar, gracias por comentar, gracias por votar ¡Gracias por todo tu apoyo!
Thanks for stopping by, thank you for stopping by to read or listen, thank you for commenting, thank you for voting.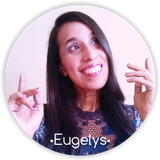 Lanzo melodías al viento solo para verlas volar.