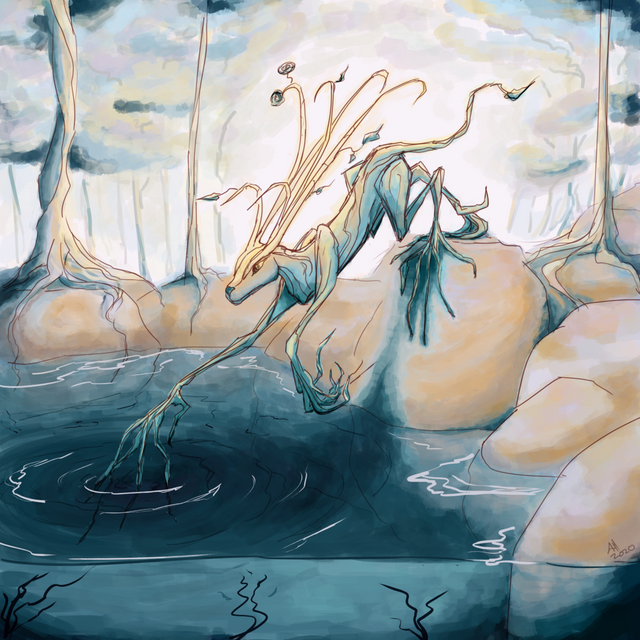 Images property of @alnhart

In the spirit of Curie's mission to promote undiscovered but exceptional content, we wish to use this twice-weekly section to provide an author showcase for some of the outstanding authors who received Curie upvotes in past week. Curie curators and reviewers nominate authors for inclusion in this showcase and author approval is sought and attained.
For those new to Curie, please follow @curie, and join us on Discord: https://discord.gg/jQtWbfj
Follow @curie's votes to support the authors. Please consider following our trail and voting for curated authors. If you are a SteemAuto user, @curie is an available trail to follow.
Vote for the @curie witness to support Curie operations (all witness payouts are used to fund Curie operations).
---
Curie Comment Contest is ongoing. Earn Steem by leaving good comments on posts upvoted by @curie. Find out how here.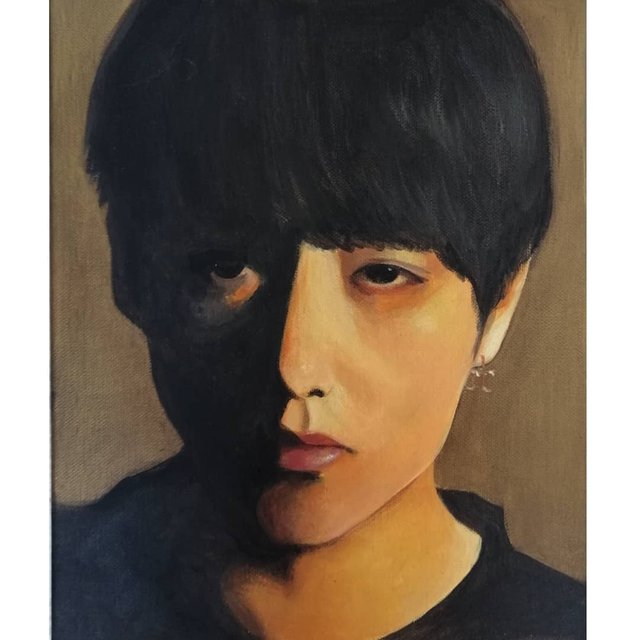 Images property of @emilycloudybloom
For starters today, we have an acrylic painting of a famous singer. The details on this work are simply amazing, you can easily tell that the artist put in a lot of time to perfect this artwork! The shading is also on spot, making this one incredible piece. Great work @emilycloudybloom!
Hello! Couple days ago I finished my painting based on video from BTS final concert in Seoul.
I love this band so painting one of its member was very enjoyable. It took me about 5-6 hours. -@emilycloudybloom
This author is a brand new member of our community who joined only 20 days ago! We hope to see more of their artwork in the near future.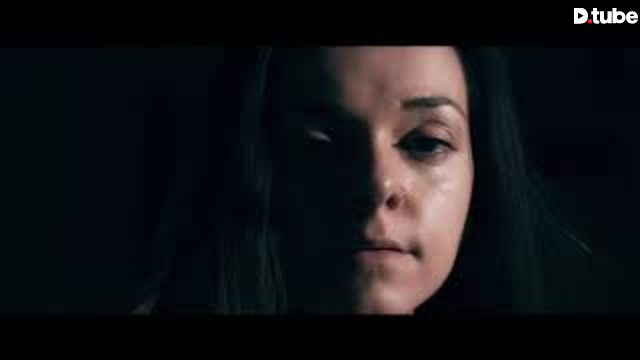 Images property of @jalentakesphotos
Our second post is creative, beautiful to watch and all in all spectacular. When you fuse an amazing dancer with an incredible photographer this is what you get. I'm clueless about dancing and can't really comment on it, but I promise you that you will enjoy the video. Great work @jalentakesphotos!
Here it is folks! New dance music video featuring my good friend Hara Zi with music by Usher. As always it's a pleasure linking up and creating with Hara and this time was no different.

As with the "Beast Coast" music video, I faced problems with this video when it came to the actual recording. Shot on a Red Scarlet-MX with vintage M42 Lenses(My favorite lenses outside of the LOMO OCT-18 series) and edited in Davinci Resolve.This video tested my ability to create a "vibe" with the editing. This just was my second day shooting with this beast of a camera. Like i said before I'm used to shooting on my GH4 dslr but I felt the need to step up my game and use a true cinema camera. And as with the "Beast Coast" video my lens options on this camera were limited as I'm used to using about 6 different prime lenses, for this shoot, again, I only had access to 3 lenses. The reason being most of my lenses are adapted for my little GH4 dslr which has a micro four thirds lens mount, and not a big cinematic camera like the Red which has either a PL or EF mount. And lastly and most stressful of all, the microphones on the camera didn't work!

But this time around I had control over the lighting which I couldnt be more thankful for.

Hope you enjoy! -@jalentakesphotos
This author has posted tons of music related video and I warmly recommend anyone interested in that field to check them out, you won't regret it!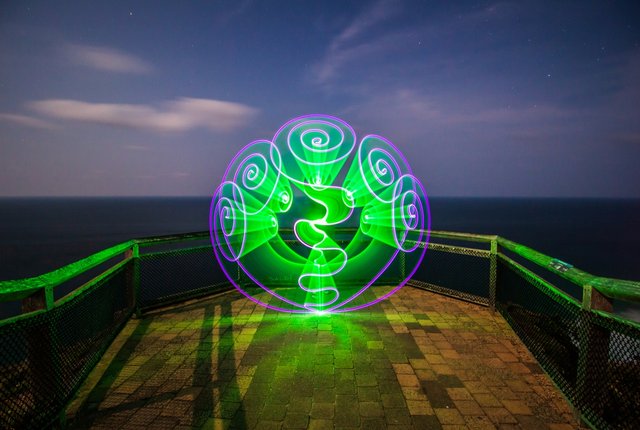 Images property of @rod.evans.visual
This isn't just a great looking photograph, it's much more. It's an excellent example of photographers creativity and dedication and that's what counts the most. The picture itself is mesmerizing, looks like it came out of a video game. Stunning work @rod.evans.visual!
After a couple of hours light painting in various spots around the Byron Lighthouse recently, I was ready to head home but then I remembered this little ocean-view balcony just down the hill from the lighthouse so I took my gear down there and had a bit of a play.

Tool used here was a green acrylic tube with a purple plastic tip taped on the end. Torch used was a Nitecore P26. Check out my instagram for pix of the tool. -@rod.evans.visual
This author has just recently come back to Steemit and already posted a lot of spectacular posts. Anyone who enjoyed this photo, make sure to check them out!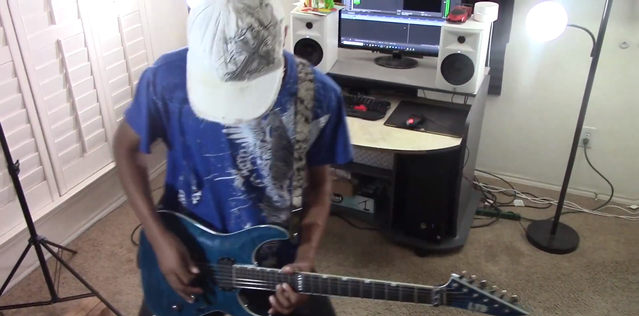 Images property of @frozenfury009
Next up we have an incredible guitar cover video and I'm not only saying that because I love Amaranthe with all my heart, I'm saying it because the guitarist did such an excellent job that you can't spot a difference between this song and the original. Amazingly done @frozenfury009!
This author is another brand new Steemit member that joined only 16 days ago. Stay tuned for more amazing covers, I feel them coming!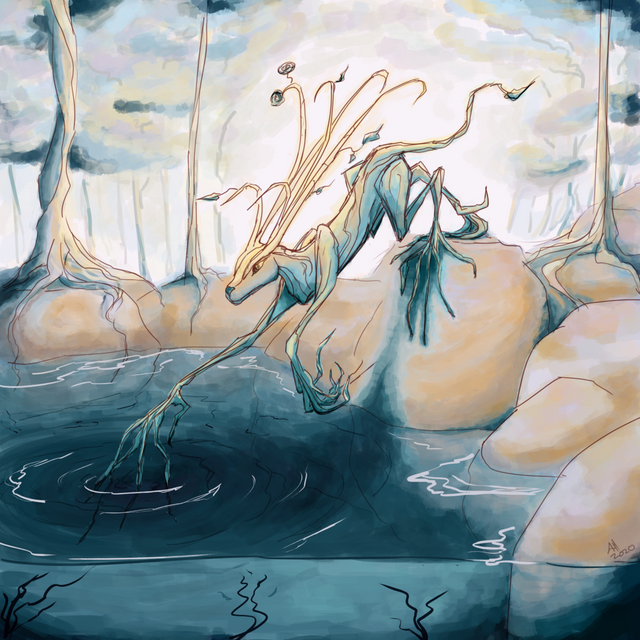 Images property of @alnhart
And last but definitely not least, my easily favorite art post in a while, "Plant-Spirit Deer". I have to start by saying, this is INCREDIBLE. The detail, the construction, everything is spot on. I'm not joking, this is the first artwork I've saved and stored on my pc just to have it around, I like it that much. Amazing work @alnhart, I mean it!
A few days ago I stumbled across the Art Explosion contest, and the theme was Spirit Animal, which seemed interesting so I decided to make something for it :) -@alnhart
This author is yet another brand new member from only 15 days ago and he already made his way to a Curie vote and my heart as well. I really hope to see many more of their work!

This Curie Author Showcase was written by Curie Curator @ivanm7 (Ivan) at times with input from other Curie curators and reviewers. All images and quoted texts are the copyright of their respective authors.