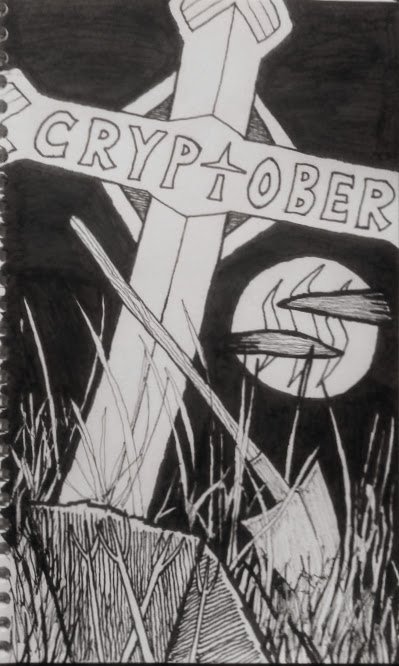 Here is an ink drawing I made tonight.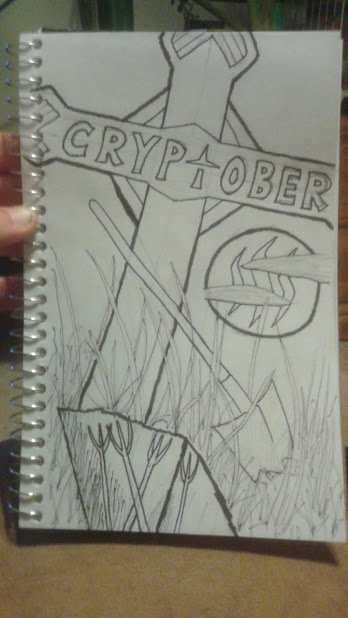 Yesterday I felt inspired to combine the words #CRYPTO with #OCTOBER, and came up with #CRYPTOBER. I know this word has various other meanings, but this is the starting point for what inspired me.
I have always liked the month of October. The foods are just as good as November, except you also get lots of chocolate candy. I also love the kids and costumes and the freedoms kids get to enjoy to explore their childhood oddities. Kids are not often encouraged to make decisions for themselves, which is a crucial defining behavior in discovering self-identity. Halloween encourages kids to try new things in expressing who they are, and I wholly support the holiday, along with all the awful peculiarities most parents hate, but kids tend to appreciate.
Art Process
I started with a pencil sketch, and used felt tip marker to outline the primary edges. The T seemed to make a good witch's hat.
The moon represents the steem crypto going to the moon. It could be a good omen at first, but it can also become an unexpected curse.
Can you guess what the little red pitchforks represent? Yes, those are the skeleton forks of our past buried steem blockchains. You thought the old forked blockchains were gone for good? They never died! Mwahahaha! @Ned's worst nightmare.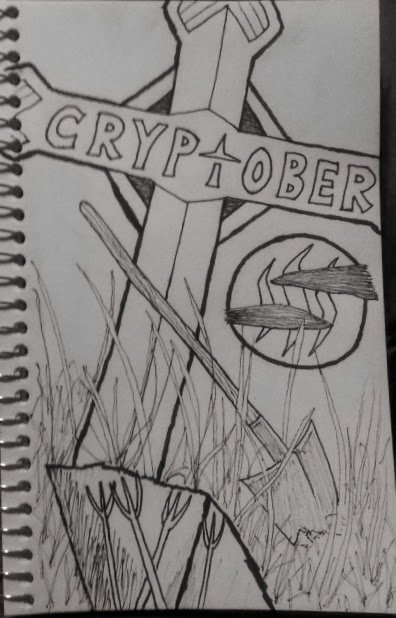 Above is the illustration after I finished inking it, and I erased all of the pencil lines.
I wasn't happy with the clouds. I thought they turned out looking like gray whales. How fitting.
😕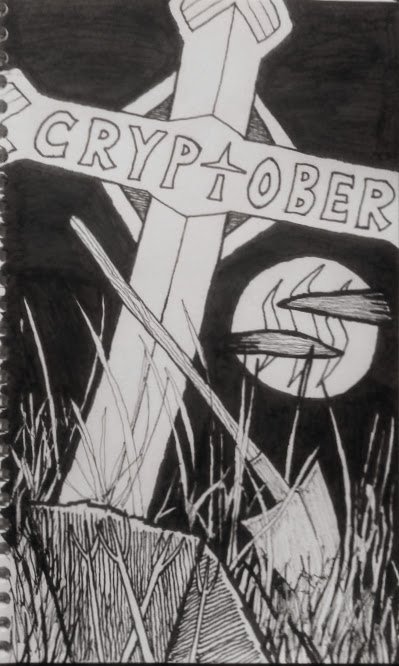 In the final result with the ink, I took a big risk and filled in the entire backdrop with the black marker. The grassy areas were super hard to fill in. Some of the ground was empty, making it hard to determine where the sky should start and the ground should begin. The grave looked a bit icky, so I took a risk and added some lines, and now it seems to show depth a bit better.
A funny thing I just noticed in the illustrations below, is the moon looks a lot like an S because of the arrangement of the clouds. A mysterious, unintentional symbol emerged from my subconscious into the drawing.
Illustrated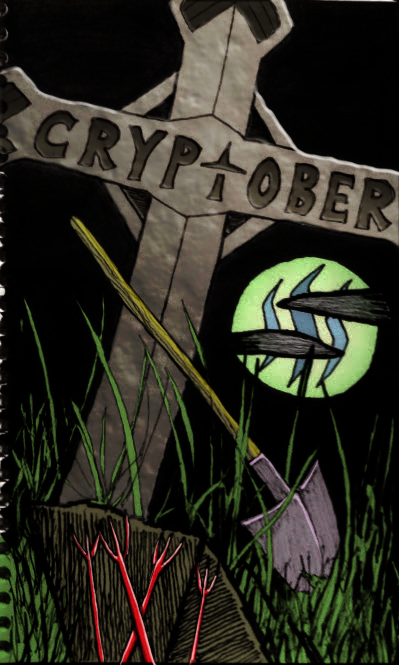 Photoshop: Painted multiply color layers. Moon: Inner glow. Stone: texture, gradient, contour. Highlights painted on shovel and forks. Lettering beveled inward. Ink layer contrast boosted to almost pure black and white.
Cutout filter applied. It really pops the details of the grave and moon. Makes my inking look clean and smooth.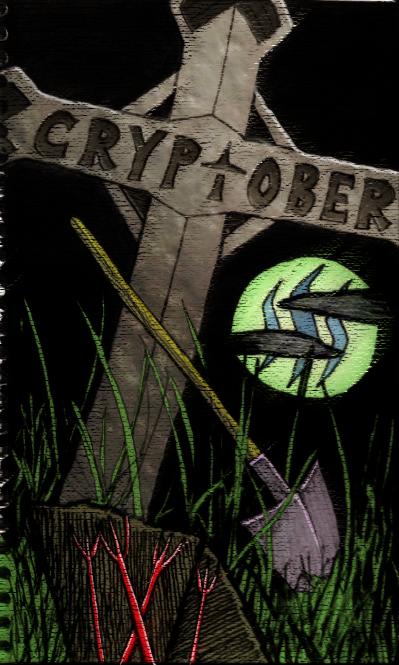 Pastel filter applied on canvas texture. Makes it look more like a street chalk drawing, or like it was made on a brick wall.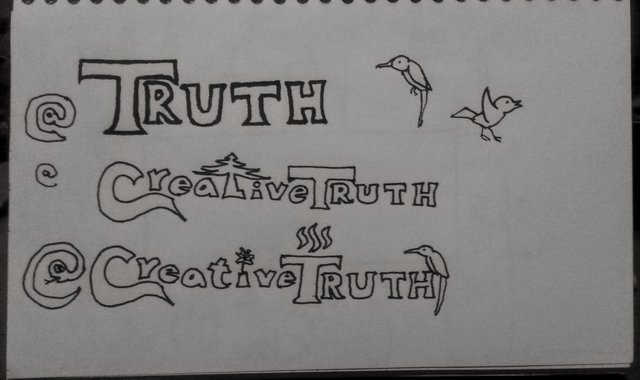 I still remember #oldsteem with fond memories, and remember what led me here in the first place.
Always was I excited about blogging, storing my photos, circumventing censorship, and opening up creative doorways for myself. I wanted a place to build a following where I can speak freely, with a smokescreen of anonymity to protect me from friends or family on social media who might cause me problems at home or work. Along the way I discovered the potential to earn some cash, discovered new friends around the world, and discovered places, people, and talents I never imaged.
Everything I put out onto the blockchain, I try to put my best spirits forward, seeking to better myself and others, and never to selfishly sell out my best self for a quick buck at somebody else's downfall.
Purpose of Cryptober
The reason I made this set of drawings was to celebrate spreading information about #cryptos for this month of #october. It also happens to be #inktober, which hopefully allows my post here to be seen by more people than usual this month. I would like to see people find more creative way to get people interested in talking about and researching various crytpos this month. Why not use the Halloween holiday month to do something weird, scary, mysterious, childish, fun, or spooky to get people to take notice?
Contest: Hallosteem
How about using the hashtag #hallosteem? I'm thinking of sponsoring a mini contest (worth a few steem) this month for anyone willing to promote #steem by incorporating it into their October festivities. Whether it be art, costumes, pumpkin carving, videos or anything relating steem with October and/or Halloween. I'll make another post to present the contest if anyone is interested in participating or supporting it.
#ink #illustration #photoshop #halloween #grave #moon
---