What Did I Do This Weekend? ..
Well just a little of this and a little of that. It was a weekend that we were both not super busy, giving me a little free time to do this and that. We did have something planned, but there was some time to do a few things around the house, drink some beer, and nap with the dogs. I even did something that I don't know why I keep doing it. Lets start off there. Sounds like that may be the thing I would get most questions about, so it is the perfect place to start..
I Started My Weekend Off ..
By waking up and pouring myself a cup of coffee while the pups ate and did their business out doors. Next stop was some general light cleaning. This is where I will tell you about this thing I have been doing for a while. I've been collecting wine corks, bottle caps and the tabs off of cans. I had a baggie of them that was given to me by my mom , so I dumped them out and sorted through them, dividing them up into groups.
Here is the pile I dumped from the little bag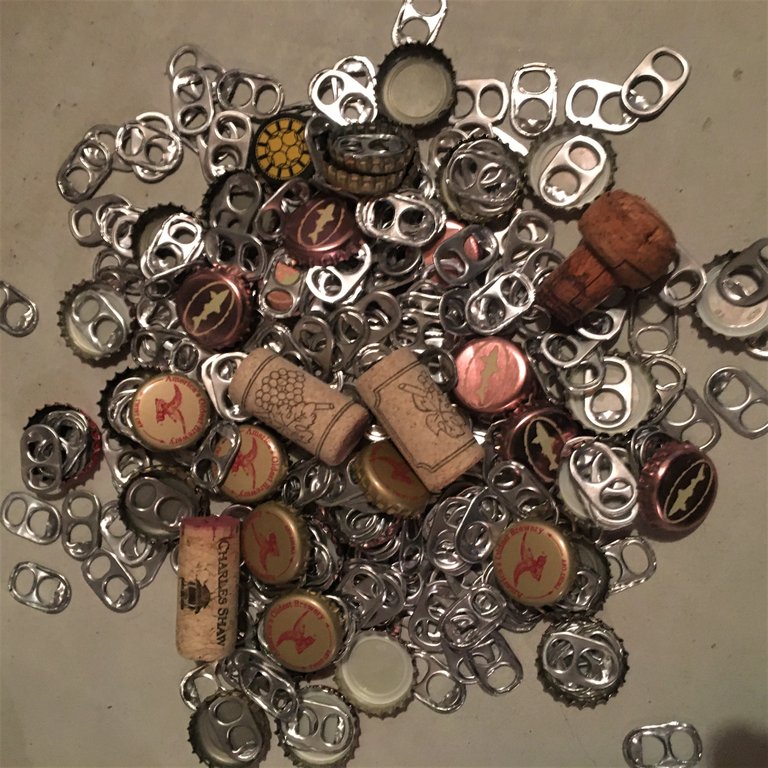 Then I sort through them and put them into these containers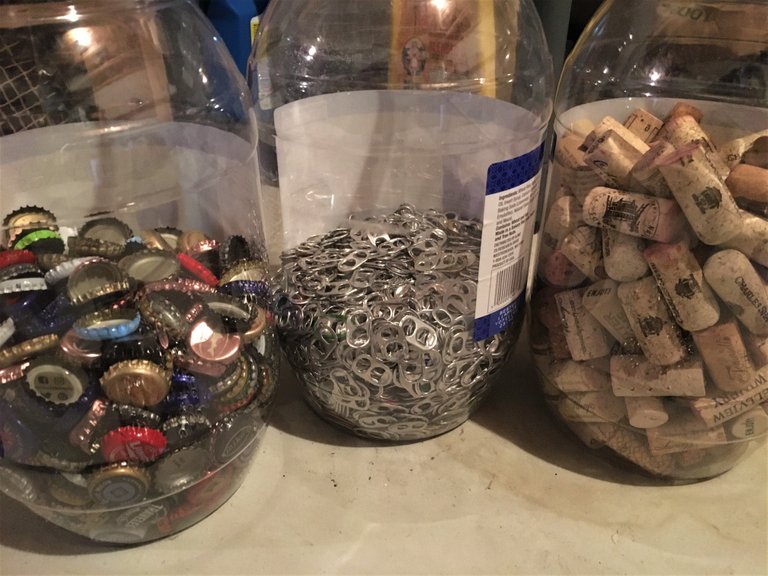 I've got a decent amount of them now and am still no closer to figuring out what I want to do with them. I was originally thinking a resin table top with beer caps and/or wine corks. I am still thinking about doing something like that. I don't have quite enough yet .. I think hehe. As far as the can tabs go, Schools and such used to collect them to raise money for things, but I am not sure that they do this anymore. I still collect them just in case. Who knows, they make a interesting table top as well.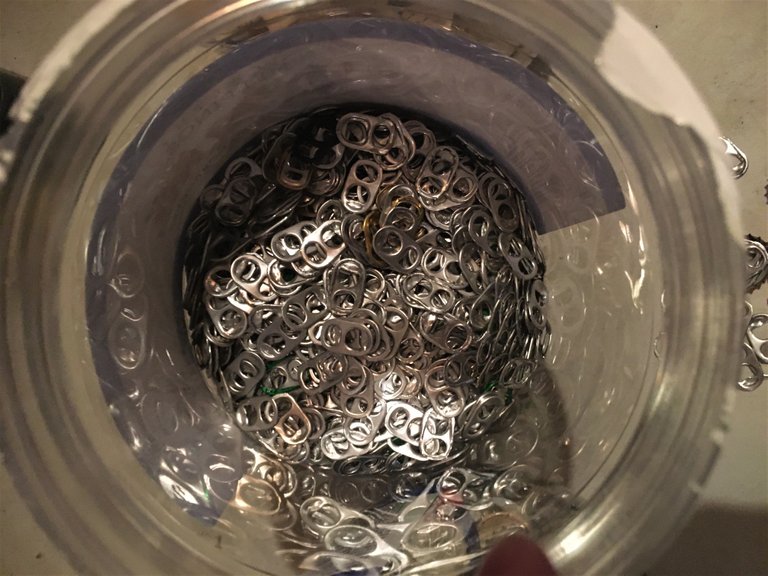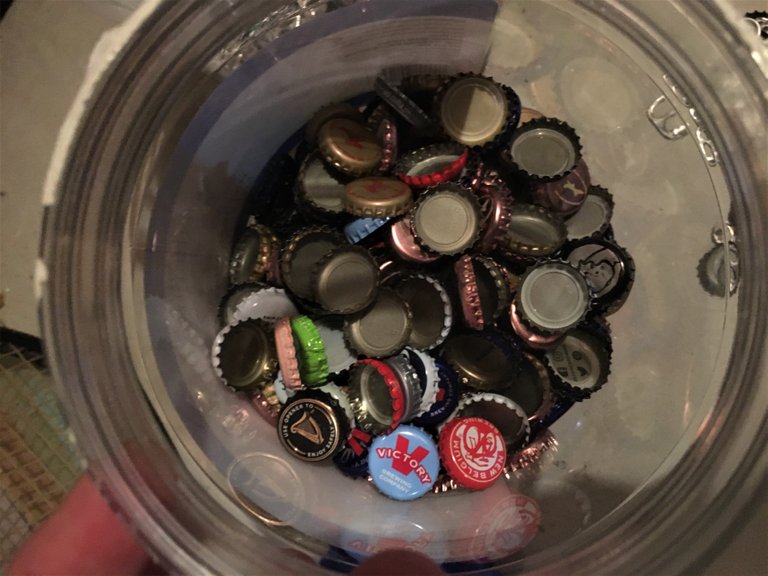 This is an example of what I had in mind, or something like this at least. Maybe a small bar or bistro table or something like that ..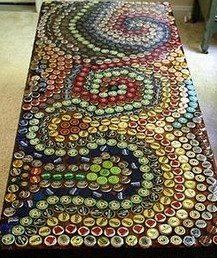 So I will just keep on collecting and sorting until I have enough and have a good idea on a design. I want to send a special shout out to Molly and Pepper for liking animal cookies so much. Why? Because they have eaten so many that I have been able to save some of these containers to sort my stuff into :-) Call me weird, but I like to take a good whiff of the inside of these containers as I open the lids to them. Those beer caps smell like beer, and the wine corks smell awesome! fresh grape wine. The aluminum tabs are the only thing I don't smell any longer.. they smell funky, like metal and mold.. Yuck.:-/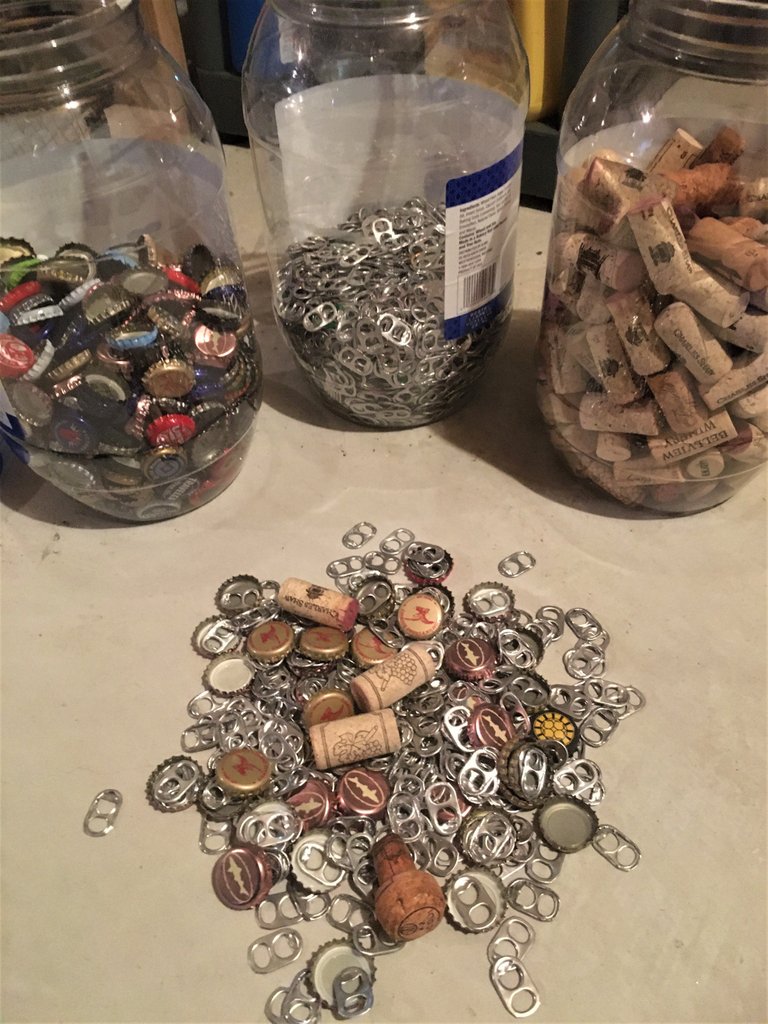 After I was done sorting ..
Tabs, caps and corks, I headed over to my Orchids to see how they were fairing and if there were any new developments to observe. I originally stated in my last post about the Orchid update, that the next bloom would open by Monday or Tuesday. Looks like by the time I get home today, it will be fully opened. This morning it was just about there. Right now it looks like it has a head with lower jaw, and it wants to talk to me. If it does I am officially checking myself into the loony bin.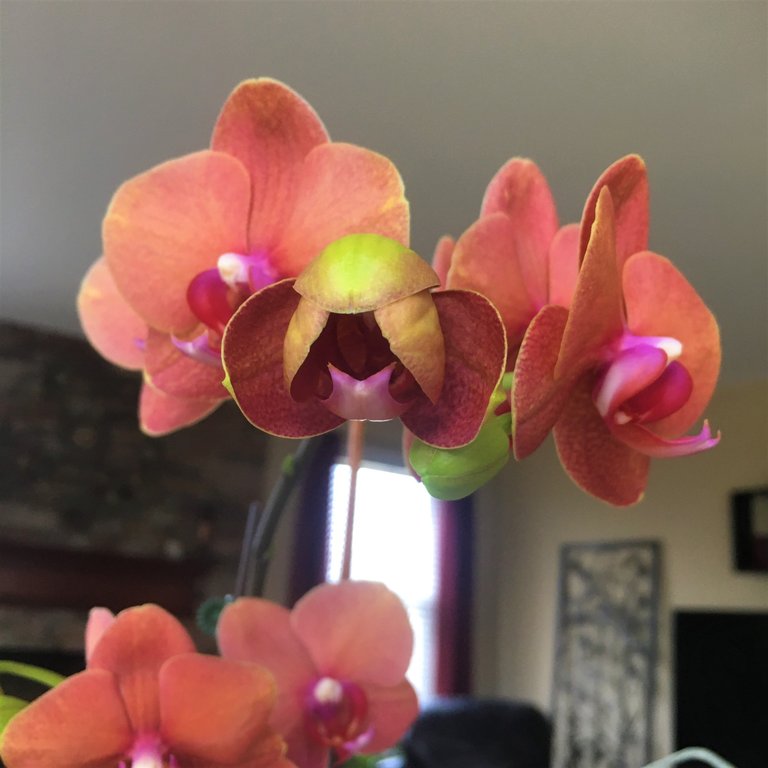 After the Orchid check ..
I headed to the basement to look for something and came across this beautiful mess. I have made a lot of wine in the past, and grew tired of making it. Most of the stuff I have for making wine will work for making beer too. That's been my plan for the last several months. I have been taking my time though, reading up on beer making, and learning the ins and outs of it. I have also been taking that time to save beer bottles, the pop top style. I probably have a few hundred by now. They'll just need sanitized and they are ready to fill.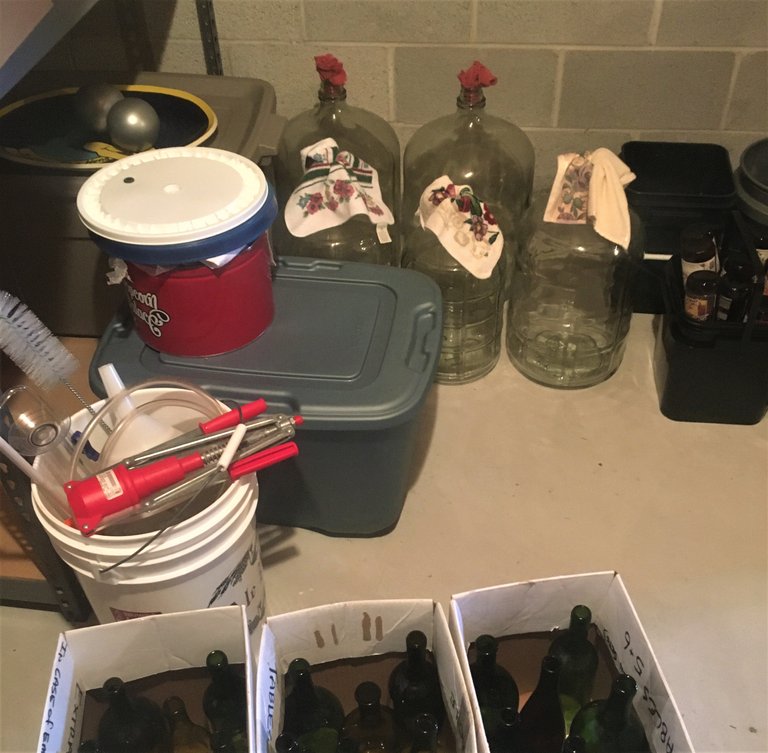 Found what I was looking for ..
And headed out of the basement. I got to the top of the stairs and was greeted by non other than Pepper! Barking and whining at me!! What ever do you WANT! Of course.. he wants to go out so he can have another cookie :-| Well he got one, because I am a SUCKER!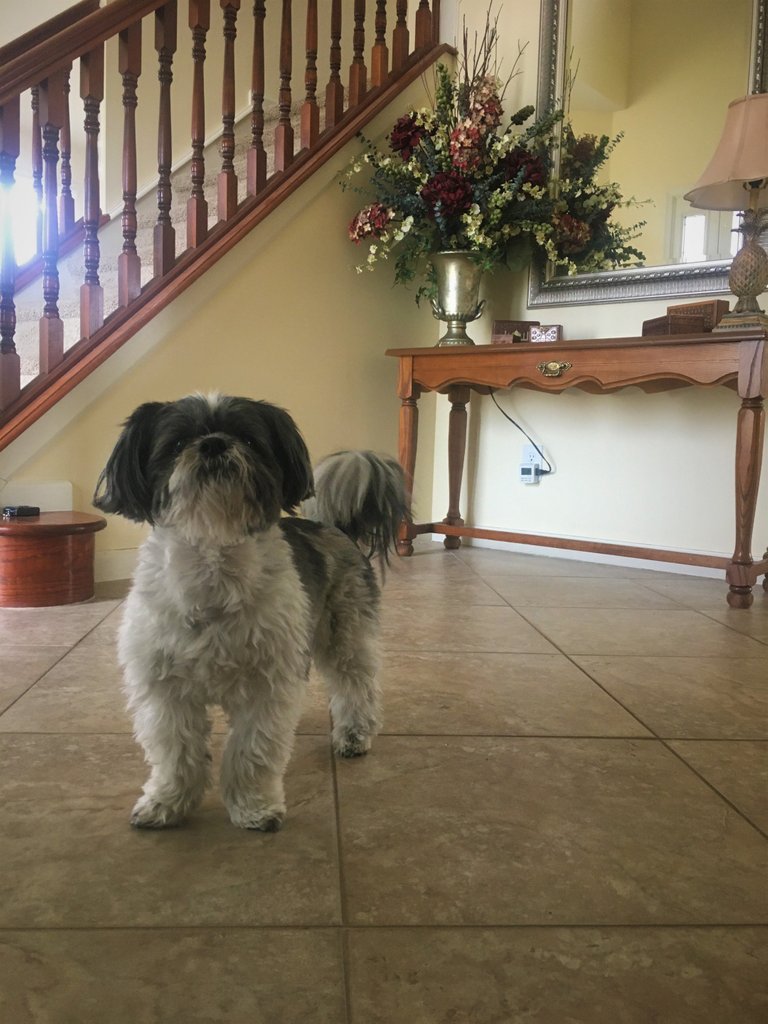 The Philadelphia Flower Show..
This was supposed to be the highlight of our weekend, and in one case it was. We went into Philly with our friends we haven't seen in a while, to pay a visit to the flower show. Let's just say, at $45 per ticket, I expected more than just a few exhibits. It was 1/4 exhibits and 3/4 vendors selling something. I didn't feel I got my money's worth and will pass this activity up next year. As far as spending time with friends, that was awesome! We spent the better part of the day talking and catching up. We ate in China Town and enjoyed a good lunch/dinner before heading back out of the city and home to the pups.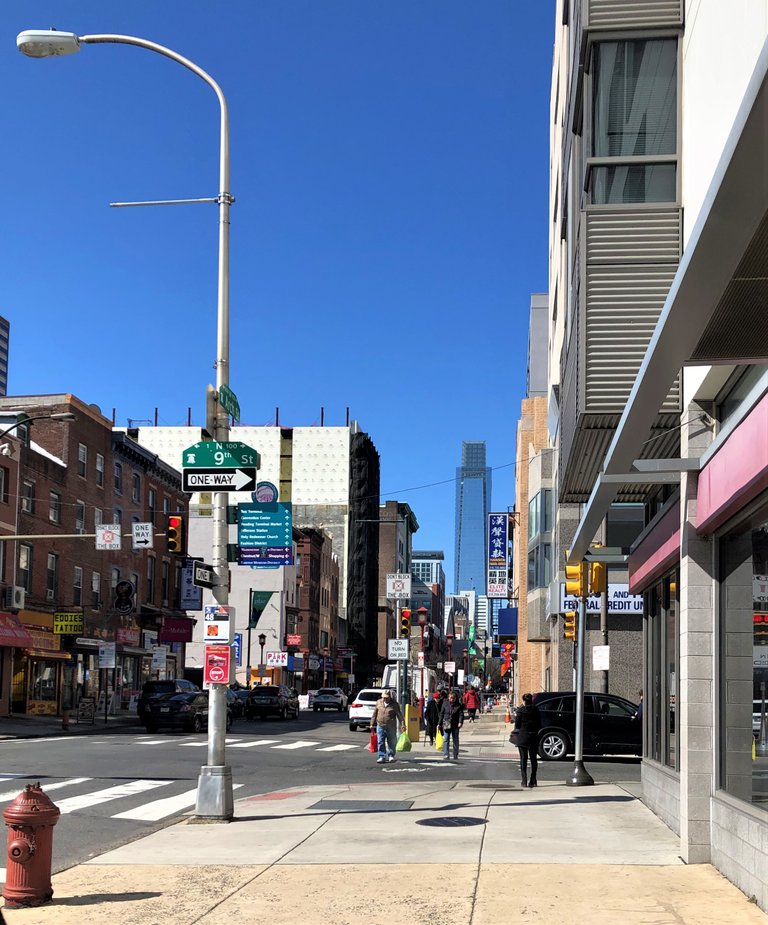 Here are the three pictures I took at the flower show, before I gave up due to the crowds and lack of interest in anything. There was some cool stuff here and there, but that was about it.. just a few cool things that I couldn't get that close to due to crowds.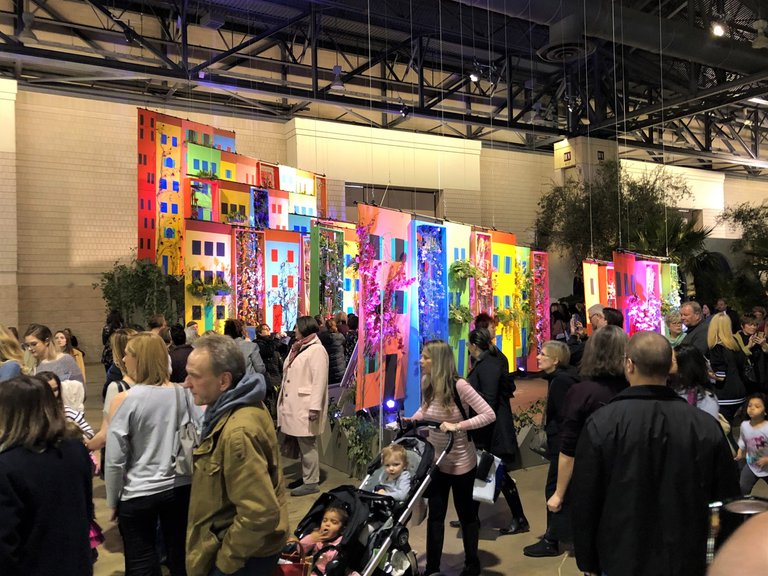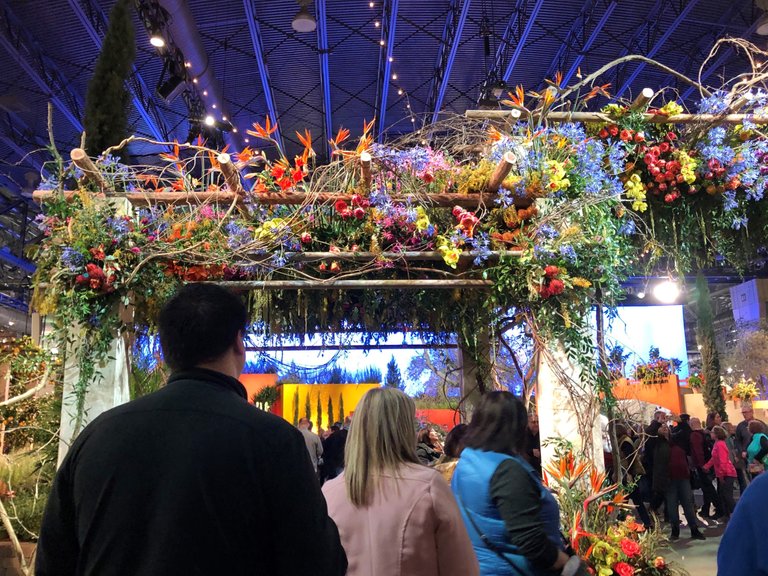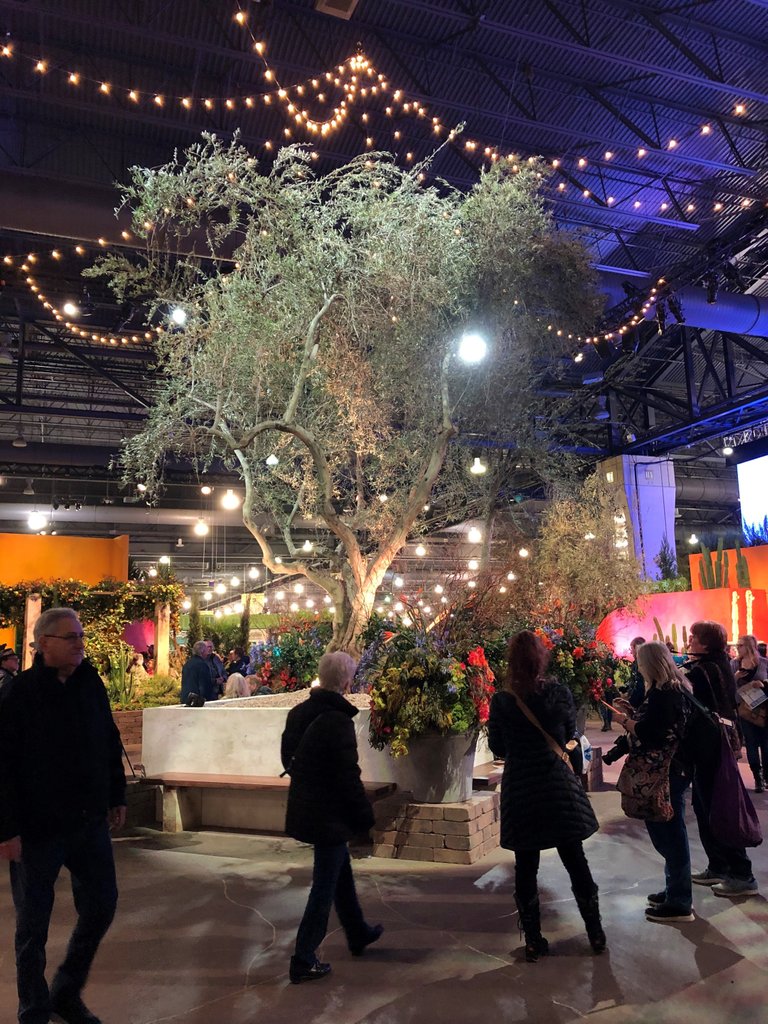 By the time we got home and fed the dogs, I was exhausted. I was happy to snuggle down with Molly and Pepper and call it a day. I covered a lot of territory this Sunday Funday, and realized I have a few unfinished projects that need some springtime attention. I am always more motivated in the warmer weather! Can't wait!!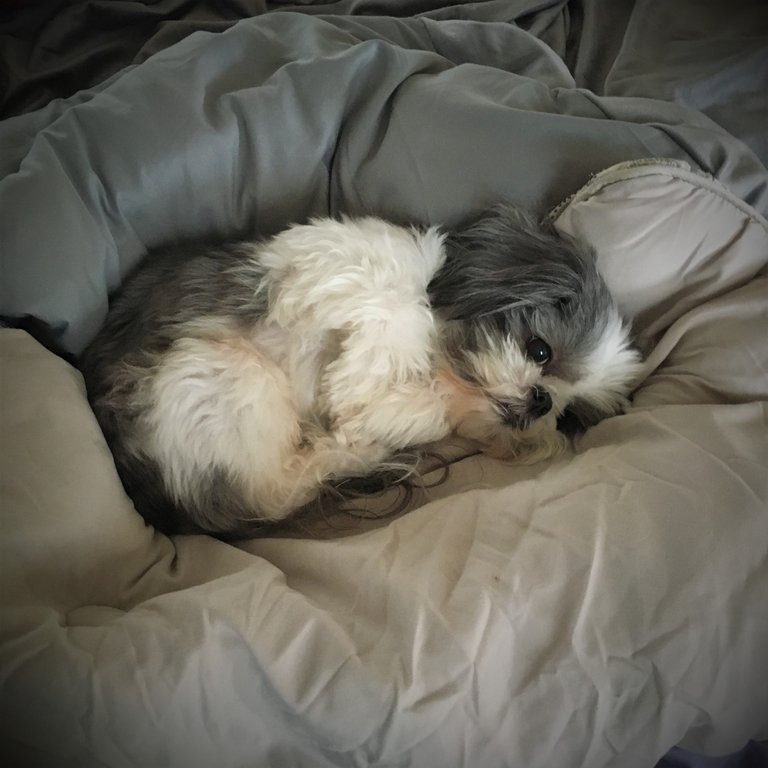 As far as the dogs go.. Molly and Pepper just chilled. Molly has made herself super comfortable in the bed and is so reluctant to move.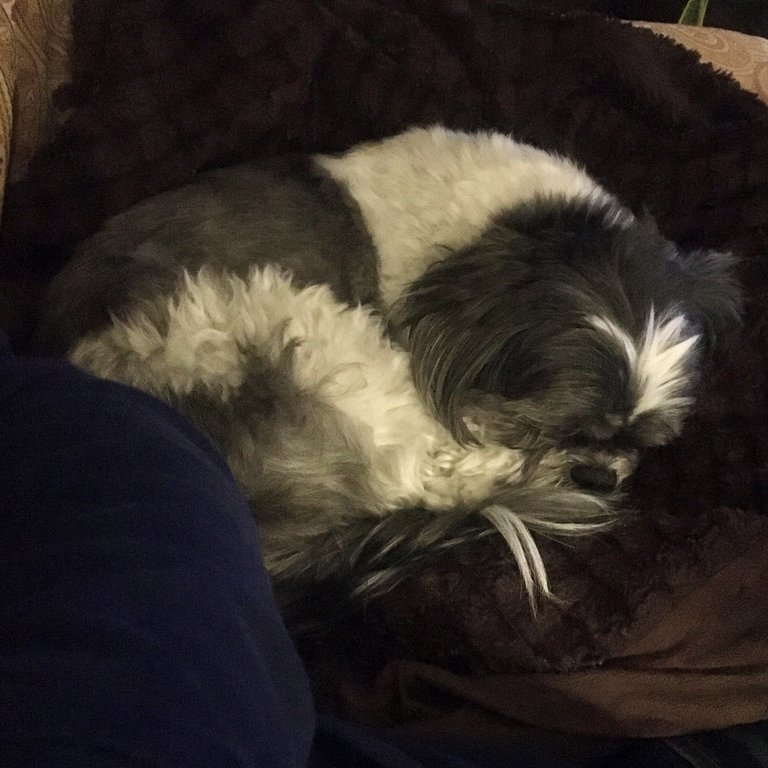 Pepper.. Out like a light!
Have A Great Week!!
****REMEMBER TO VOTE FOR YOUR 30 WITNESSES****

Thank you for swinging by my blog and checking out the post. Have a great day!


All words, pictures and art pieces are the sole property of B D Miller Gallery, unless otherwise noted and credited, and are not to be reproduced or copied without the prior written consent of B D Miller Gallery.

About Me ~ The Artist
My art work incorporates a wide variety of subject matter, including landscape, seascape, cityscape, and still life images. My works are the product of a continuing process of exploration through which I seek to portray personal and visionary interpretations of my surroundings. My paintings are impressions of places and events from everyday life, an interpretation of my imagination, and personal responses to what I see and feel on a daily basis. More recently I have invested generous amounts of time into my landscape painting. I am surrounded by natural and man made beauty, which inherently presents itself in the tri-state area, and almost demands that I paint it.
Not everything is art. Art is not everything, but it comes close. Art is everywhere and all the time. Art makes you experience the beauty of the world, the people in it, and the places we call home. Art itself is so influential that it can tell stories, show feelings, and express passion or fury. Art exists in addition to language; expression of sensations and thoughts, revealing a way of thinking too subtle and delicate for words.
For me art requires love, honesty and perseverance. In return, it reveals some personal, non-analyzable, and creative untamed passion. For the public, art with its magnificent beauty, improves mood and health and builds better human beings and communities. It engages the intellect, softens the heart, strengthens the soul and frees the spirit.

If Your Interested In Purchasing Any Of My Work:
They can be found for sale in
OR
My Etsy Store
If you don't see the piece in either shop, It may still be drying. Let me know and I can upload it as soon as possible to be available. Or you can always make me an offer (in SBD or STEEM) in the comments section of this post. If we agree on a price, I will then ship the painting to you. (shipping costs will be determined by your location).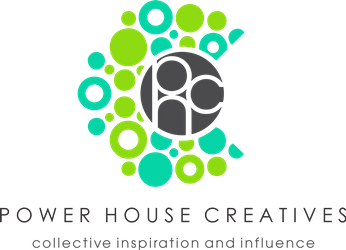 I Proudly Support: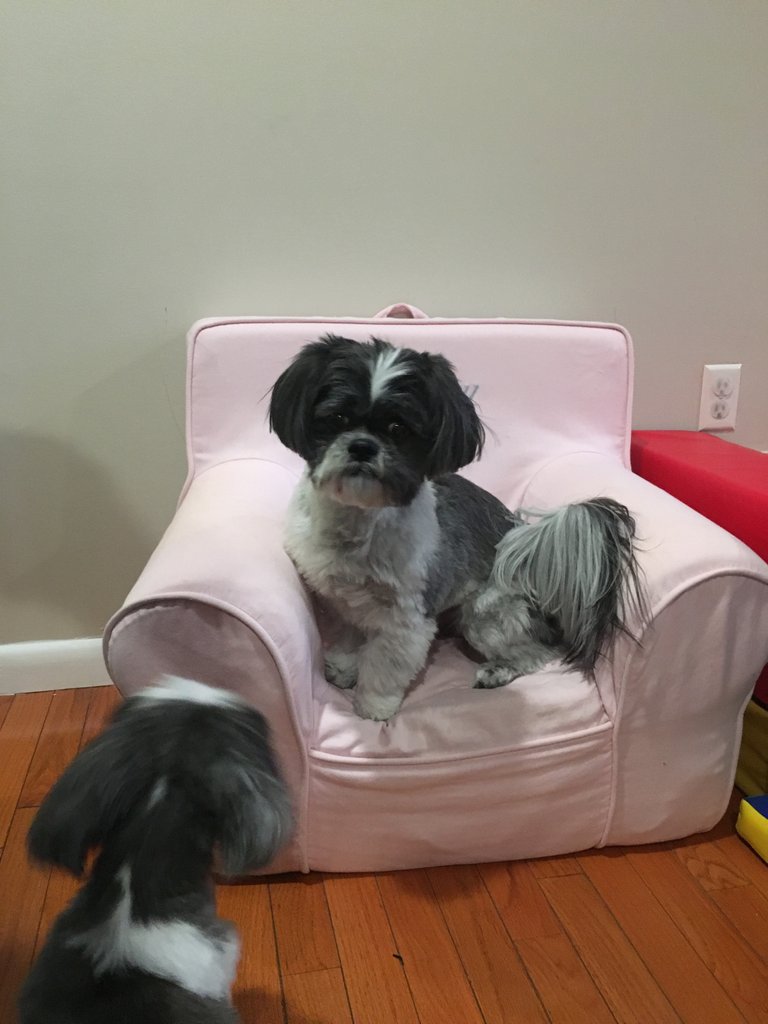 There are always those days when you don't want to share. Those days when you say to yourself, "Today is all about me." So you sit down on that chair made for one, in front of an audience of different opinions, and slowly realize selfishness is not all it's cracked up to be. It's at that moment you come to know that there's always room for one more.
:-)