The Date Was March 14th 2018..
It was my 5th post and it received ZERO upvotes and ZERO comments. It was like I didn't even exist. Heck, I was just getting my feet wet and so new to the platform that I was mostly just talking to myself. Which I still do some days! haha. The post was about A blind contour drawing I made while referencing an album cover of his called "Draw The Line'. Little did I know that this drawing I created and chose to use as my profile picture, would become such a part of how I am recognized here in this community.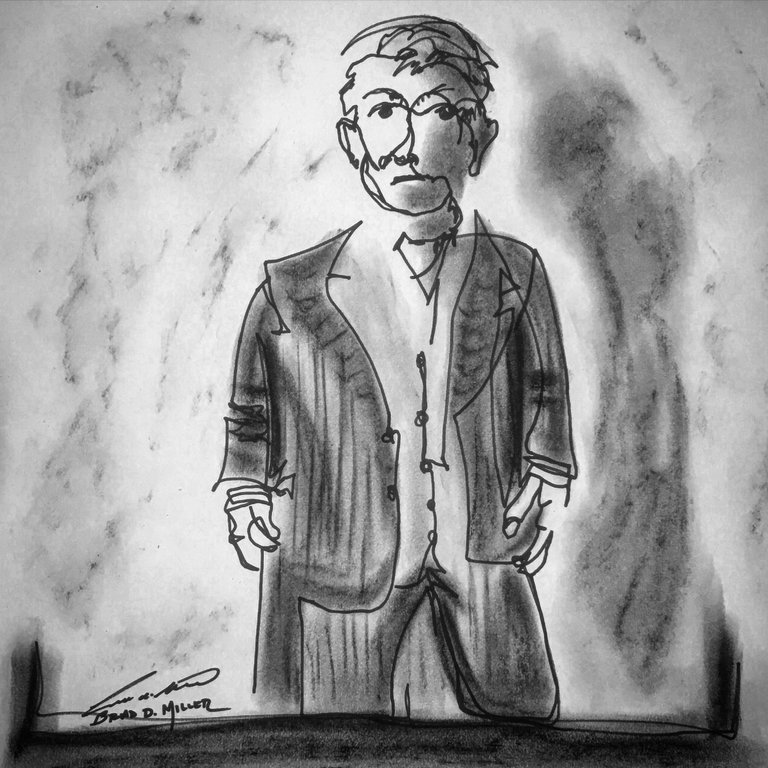 Flash Forward To Today ..
Almost 2 years later, and I am still attached to the picture. I don't know how many of you have thought about this, but I had given some thought to changing my profile picture several times. I came to the realization that I may not want to do this, a while back while in the discord. I didn't have a profile picture and some was talking with me and had no clue that they knew me from the platform. When they figured it all out they said that they know people by their picture and not so much by the name anymore. This made total sense to me, so I made the decision that however I felt, I was sticking with my version of David Gray.. which I don't associate with him anymore. If anything, I look at the picture and think of myself, of steem and most of all I think of my friendships here.
David's Look Is Pretty Neutral ..
And given the state of things in the community as a whole, I think it's befitting of how I feel most days. Neutral. Not happy nor sad. Just a nice even neutral. Me and Mister Neutrality have come a long way in the last two years. I have become more than a 99 word blogger (the length of the original post) and my blog posts contain more markdown and glitter than before. With every new adventure comes a learning curve. I accepted that and kept chugging away until I gained a little momentum. I gained a few friends, was accepted by my peers, was asked to join causes, to help where my abilities could be of use, joined some awesome communities, and tried to make a name for myself as someone who likes to learn and is always trying to put forth a good effort. There have been day's that do not make sense to me.. like the ones where I see I have lost a friendship or have been muted (probably because I post too much about Molly and Pepper.. lol) I've Learned that nothing comes easy here, the people behind the profile names and pictures are (mostly) human with lives and feelings outside of steem, and that I cherish the whole experience. And do you want to know something?? All along the way, Mr. Gray's likeness stuck by me unfaltering in his neutrality and next to my name BDMillerGallery.
So Today, I Find It Hard To Resist ..
Giving the original 'ZERO' post and the drawing itself, 'Draw The Line', the respect it deserves. Today is the day I dig it up and reintroduce him. "Mr. Gray's likeness, Meet my friends and my family!" Haaaa.. Now I feel SO much better. haha.. and a bit weird I think. All I ask is that you cut me a little bit of slack about the weirdness :-) Below is the original March 14th, 2018 post with a few tweaks.

'Draw The Line' - A Blind Contour Drawing
David Gray is one of my all time favorite artists. How befitting that His album cover be titled 'Draw The Line', because that's what I kind of did. A pad of paper, a Sharpie, a few pieces of charcoal, and one continuous line coming together in order to create a really cool piece.
BLIND CONTOUR DRAWING
Is a technique in which an the artist draws a subject, in one CONTINUOUS line, without looking at the paper or their hand. I strictly focus on the major details of the subject, moving my hand slowly until I'm finished Drawing. I never look down until I feel the drawing is complete. Sometimes after I am done drawing the contoured line, and more than not, I shade areas using charcoal. It's amazing how a little shading, from something as simple as charcoal, can transform a drawing and bring it to a whole other level. And before you ask, the answer is NO. No I do not shade in a blind manor. I have both my eyes on the drawing while applying the charcoal. If I didn't, that would be amazing!
It is usually very interesting on how these drawings evolve and end up sparking some sort of conversation at the very least. They don't speak to everyone's taste in art, but you have to admit they are unique.. whether good or bad. Even if I don't turn any heads or receive any 'feel good' feedback, utilizing this technique is a terrific way to improve your eye to hand coordination. I think there are many out there whom could benefit from trying this style out. So whether your an artist, sports player, gamer, cosmetologist or whatever, we could all use a simple way to improve our eye hand coordination.
Please enjoy this slightly grotesque piece, one more time
This first photo is of the drawing, un-shaded and still attached to my pad. Roughly a 14 inch by 18 inch pad I believe. I started the drawing at the center of the left eye, and finished it at the bottom left just below his hand. You always loose your place within the drawing, no matter how hard you try and keep accurate mental measurements. That's the fun of this type of thing and the reason I end up with "grotesquely unique" drawings.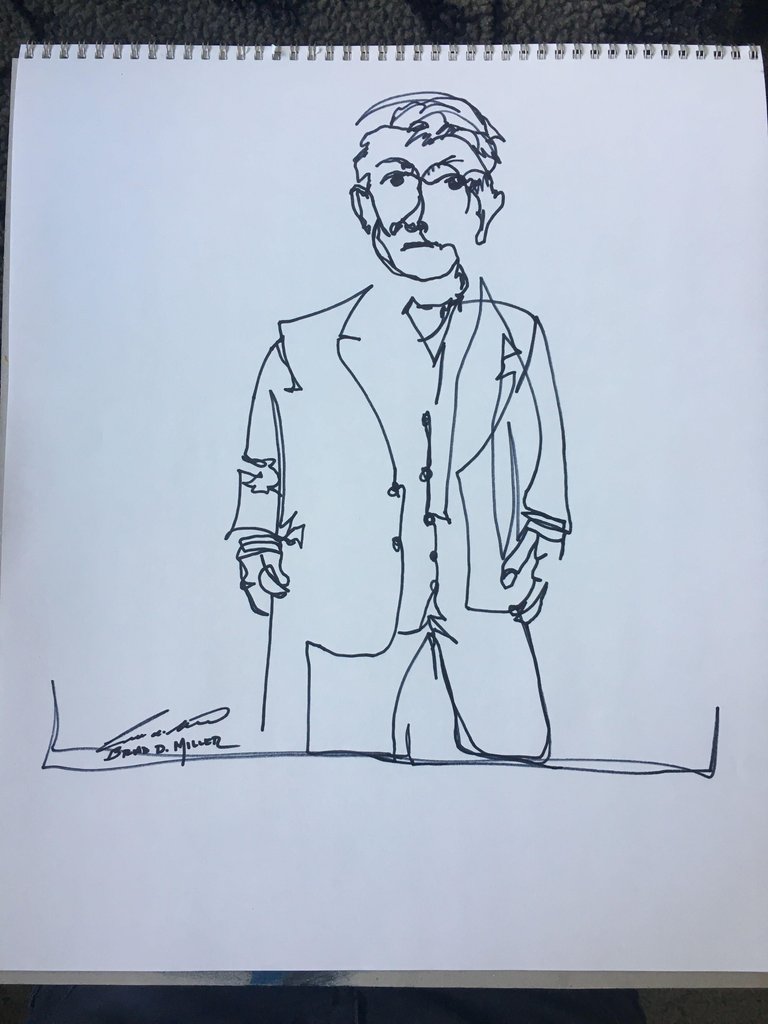 The finished product.. creation.. after the charcoal was applied. I like to add just a little and try not to over do it and destroy the creativity and overall looseness of the piece.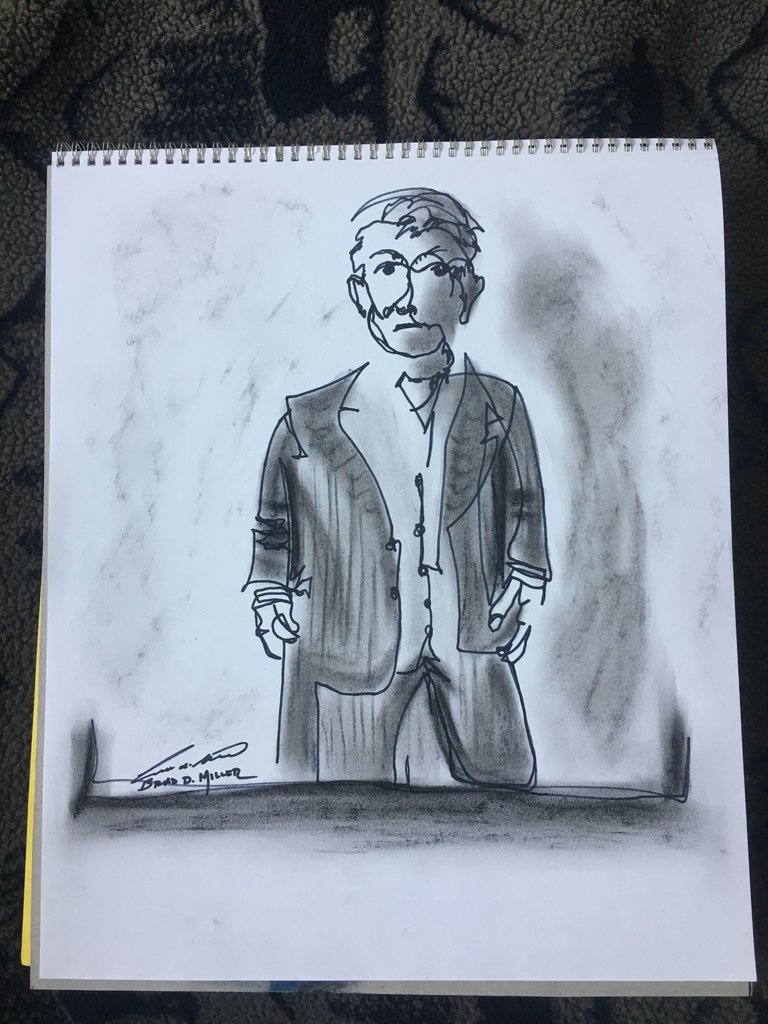 My finished drawing next to the the subject matter, which is the album cover I refereed to earlier. This makes it easy to compare those major features I chose to follow with my eyes (blindly) and how my mind/eyes actually transferred them onto the paper. You can also see what details I decided to highlight with the charcoal, such as the pinstripes on the suit.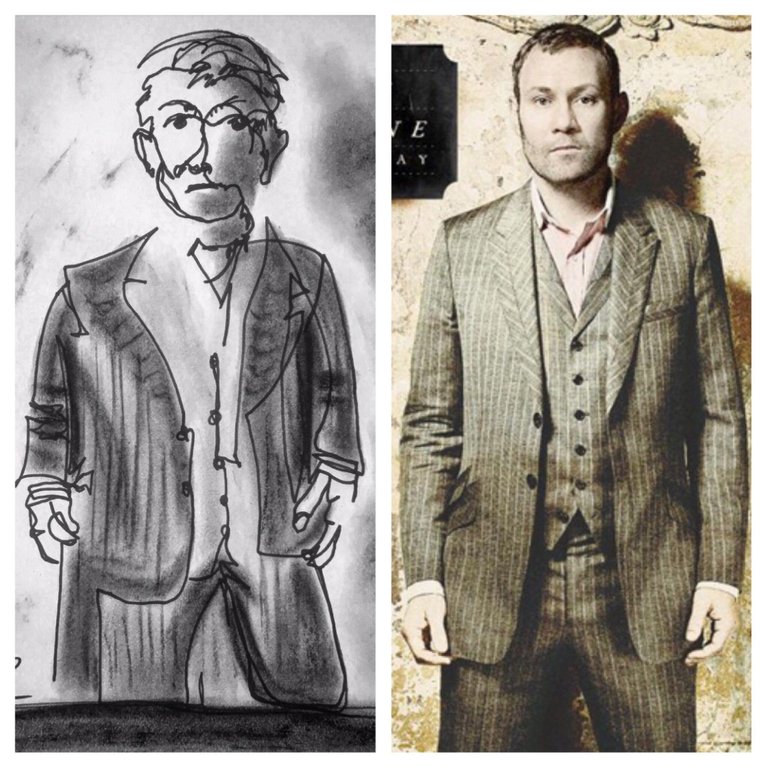 Why not frame it up to see what it would look like finished and presented. Not to bad, but a larger frame would be better. This one cropped too much of the drawing off. The final step in protecting my drawing, was to apply Grumbacher fixative, in three or four coats, over the entire thing. This will help to keep the charcoal in place and protect it from yellowing.
I Hope You Enjoyed ..
My rant that was intended for paying homage, long over due, to the origination of my profile picture. Now I can rest assured that Mr Neutrality (aka David Gray Blind Contour Drawing, aka Draw The Line) will remain where he has quietly stood for two years.. Next to my name; A symbol there to remind me that I will get out of steem and blogging, what I put into steem and blogging. Hopefully that is perceived as quality, but if not, at least I am having fun trying! Come on Mr. Neutrality .. ON TO THE NEXT POST WE GO!!!!
Have A Great Wednesday my fellow Steemians!!
****REMEMBER TO VOTE FOR YOUR 30 WITNESSES****

Thank you for swinging by my blog and checking out the post. Have a great day!


All words, pictures and art pieces are the sole property of B D Miller Gallery, unless otherwise noted and credited, and are not to be reproduced or copied without the prior written consent of B D Miller Gallery.

About Me ~ The Artist
My art work incorporates a wide variety of subject matter, including landscape, seascape, cityscape, and still life images. My works are the product of a continuing process of exploration through which I seek to portray personal and visionary interpretations of my surroundings. My paintings are impressions of places and events from everyday life, an interpretation of my imagination, and personal responses to what I see and feel on a daily basis. More recently I have invested generous amounts of time into my landscape painting. I am surrounded by natural and man made beauty, which inherently presents itself in the tri-state area, and almost demands that I paint it.
Not everything is art. Art is not everything, but it comes close. Art is everywhere and all the time. Art makes you experience the beauty of the world, the people in it, and the places we call home. Art itself is so influential that it can tell stories, show feelings, and express passion or fury. Art exists in addition to language; expression of sensations and thoughts, revealing a way of thinking too subtle and delicate for words.
For me art requires love, honesty and perseverance. In return, it reveals some personal, non-analyzable, and creative untamed passion. For the public, art with its magnificent beauty, improves mood and health and builds better human beings and communities. It engages the intellect, softens the heart, strengthens the soul and frees the spirit.

If Your Interested In Purchasing Any Of My Work:
They can be found for sale in
OR
My Etsy Store
If you don't see the piece in either shop, It may still be drying. Let me know and I can upload it as soon as possible to be available. Or you can always make me an offer (in SBD or STEEM) in the comments section of this post. If we agree on a price, I will then ship the painting to you. (shipping costs will be determined by your location).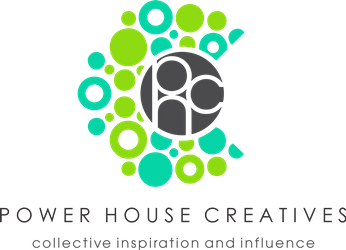 I Proudly Support: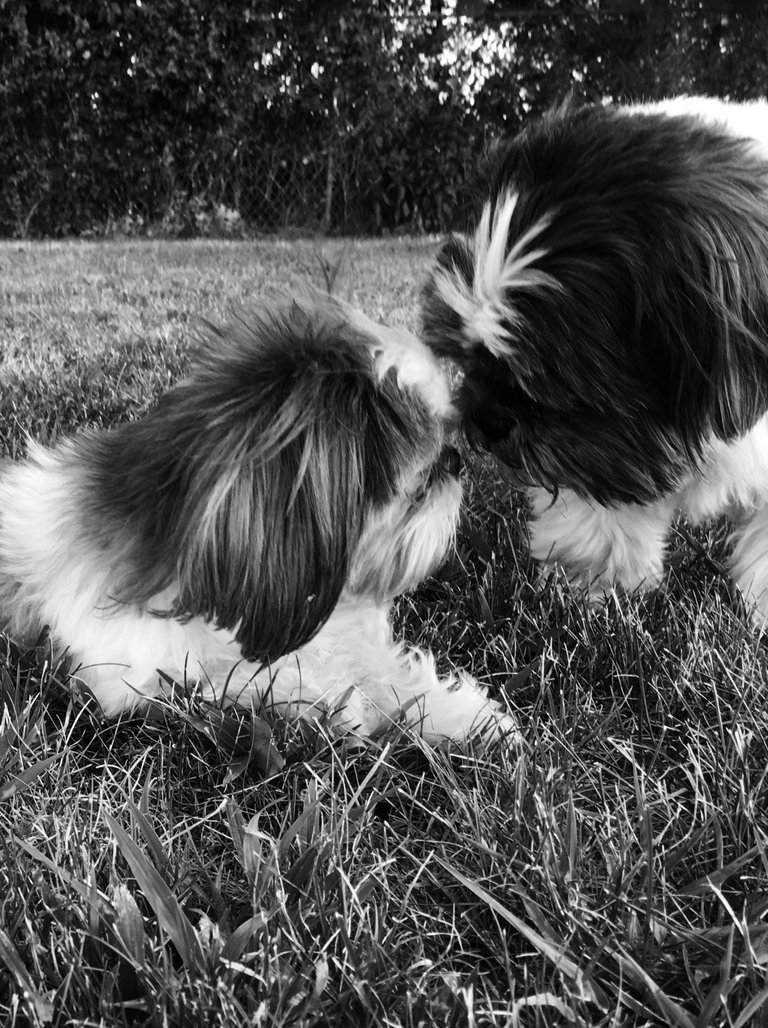 "If you live to be 100, I hope I live to be 100 minus 1 day, so I never have to live without you."
– Winnie the Pooh