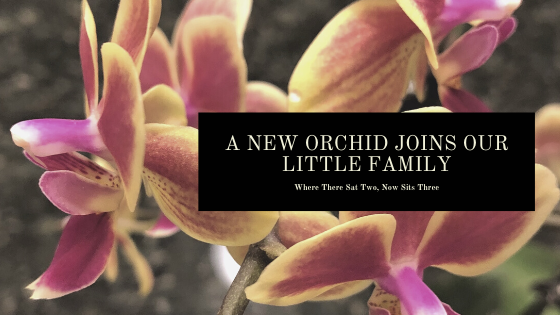 It's Monday Already ..
And the weekend went by in a blur. I was sick with some sort of intestinal virus at the start of it, but recovered nicely. We had plans on Saturday, with family, so I am glad my health improved so we could enjoy ourselves. Saturday morning we had a breakfast at the high school that out nephew attends, to support the Cap-N-Dagger (theater) club he is a part of. Later that night, we went out to dinner and took in an Irish comedy show, with my brother, his wife and her parents. We had gone to a real nice local Italian restaurant, then ventured just down the street to the a nearby theater. It was in fact a funny show and fun was had by all.
Sunday Was Upon Me Before I Knew It ..
We made an effort to clean for most of the day, as it was pretty nice out. Our moods were up due to the lovely weather. Besides the cleaning and some laundry getting done, Sunday is also a day we often meet up at my wife's parents house for dinner; anywhere from 8 to 12 people on any given Sunday. We ate, laughed, argued, told stories, wished each other lovely weeks and bid our farewell. Home we went, but there was one last thing to do.. Grocery shopping. This is the precise point at which I made the sole decision to add to our family of two Orchids, bringing the total now to three.
I Was Minding My Own Business ..
And heading to the checkout counter, when the floral section of the supermarket called out my name. I went in that general direction to find out what it wanted (haha), and began looking through the discount plants. There was only one Orchid in the bunch, quite possibly left over from Valentines day. It was originally $16.99USD, but marked down almost half off to $8.99USD.. How could I refuse that?? So I bought it and took it back to it's new home, which just happens to be my home. hehe.
Petite Orchid #3 From Ohio ..
How ironic is it that this is my third Orchid and that's also what the name on the bar code says.. "Orchid #3". It was meant to be. A sign if I ever saw one!!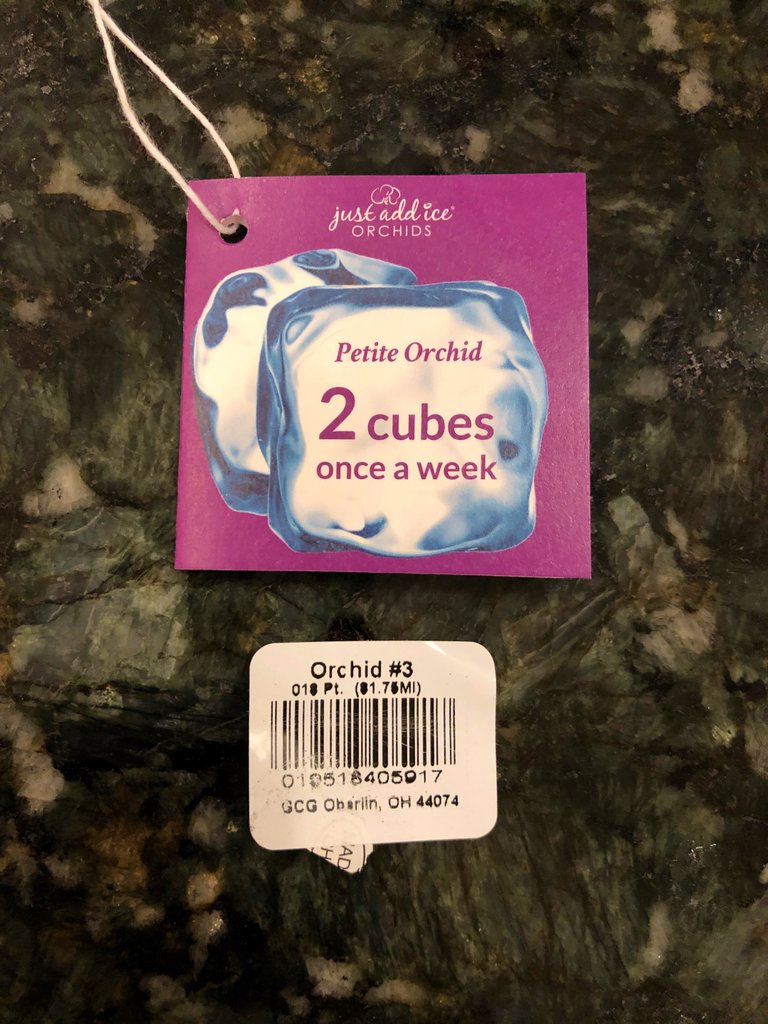 It's has very petite and pretty colored flowers. It looks like it just started flowering, with many more buds left to bloom. I am looking forward to seeing it filled out with blooms and sharing those photos with you at a later date. Unless I somehow kill it between now and then, but I am thinking the chances are slim.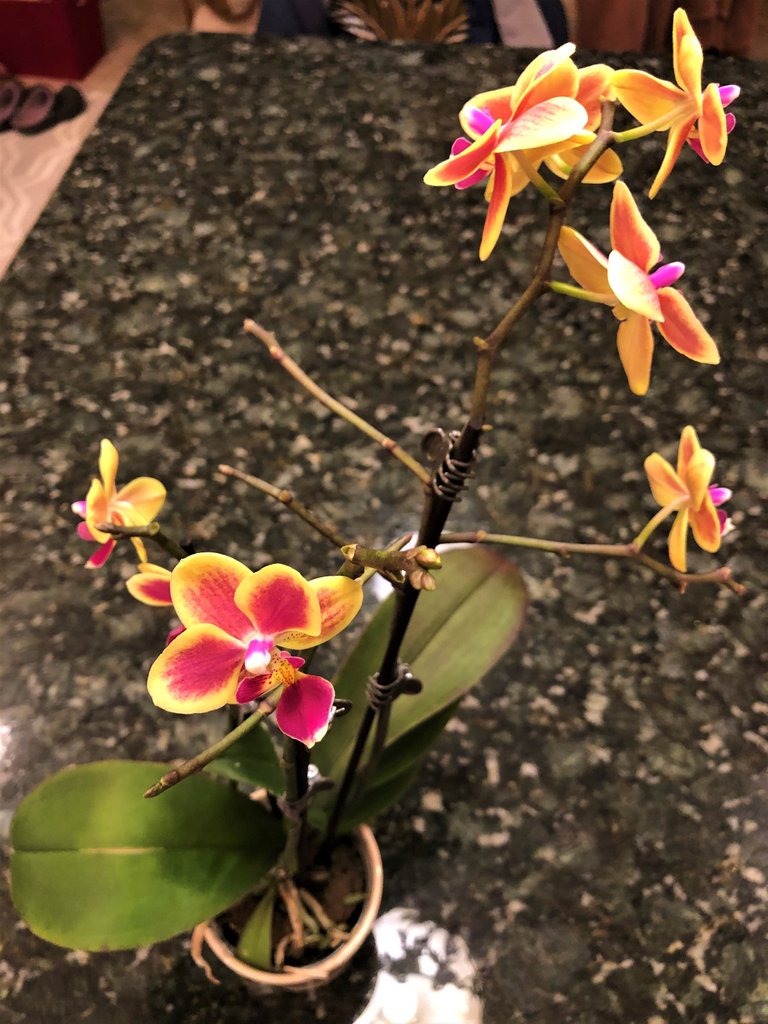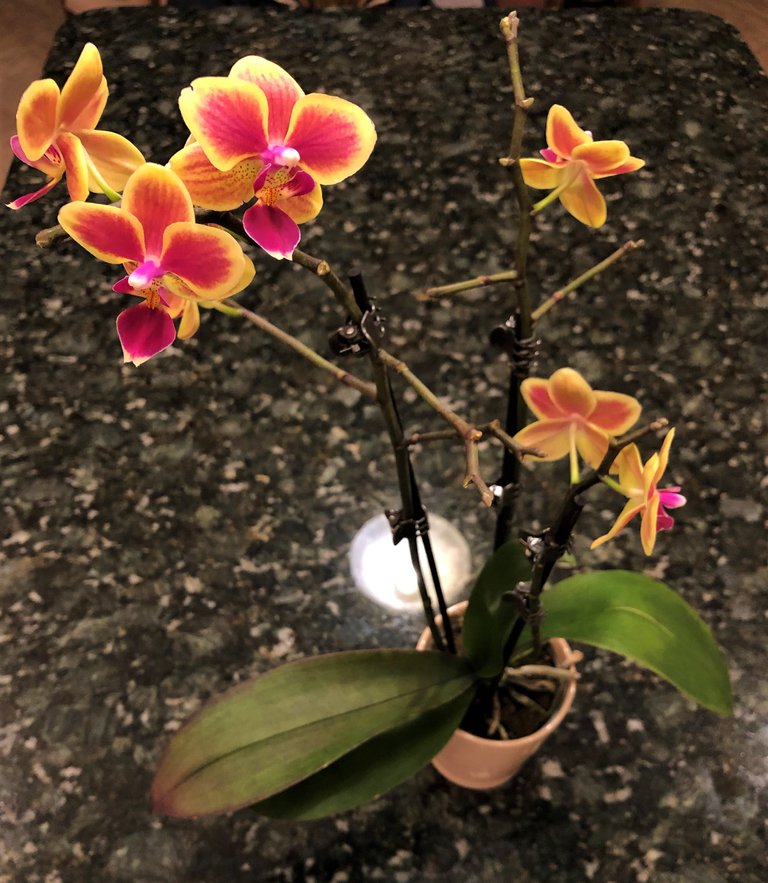 The stems are nicely staked and held into place with those tiny hair clips. I am sure they are made for the purpose of holding plant stems, but they look like hair clips to me. There are three stakes inserted into the pot to hold up the three bloom stems. I was also very thrilled that the plant had so many stems blooming. It must be a very happy Orchid.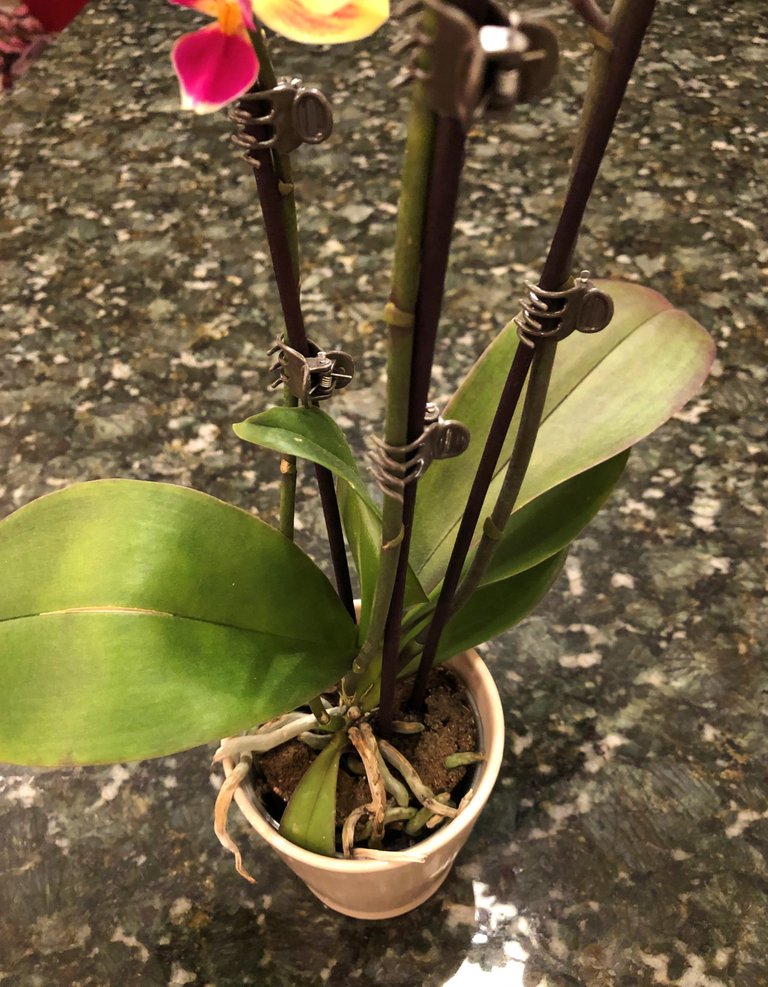 I didn't want to mess with it too much, because it was obviously quite content. I did up pulling off a few dried up roots and dead flower blooms. They were ready to just fall off anyhow. Other than that, I will let it do it's thing. When it is done blooming, I will re-pot it and clean the rest of it up then. It seems to be crammed into the tiny store supplied pot. It could probably use a little breathing room.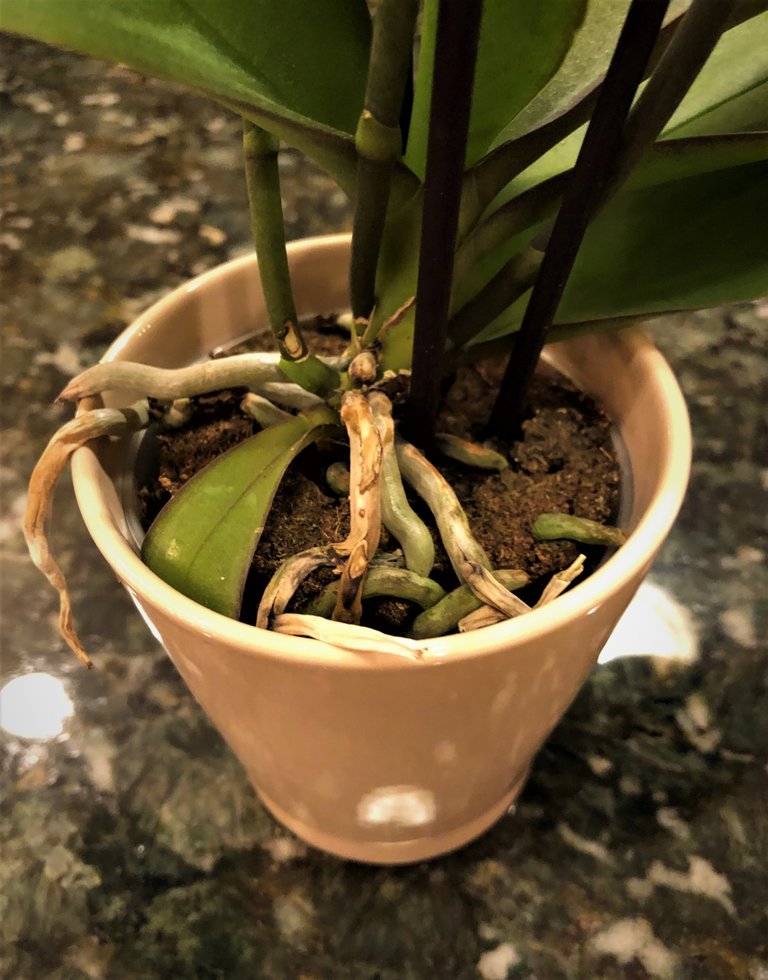 At the other end, the top end, there are plenty of these little branched out flower buds developing. Eventually they will also bloom. In the blurry areas of the photo, you can just about make out all of the branching bloom stems. This plant will look incredible if they all bloom at about the same time.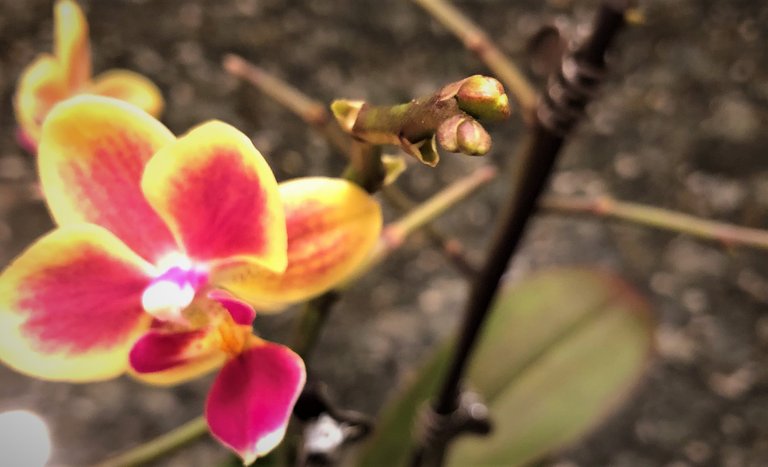 Here you can see the clip holding on like hands grasped around the stem.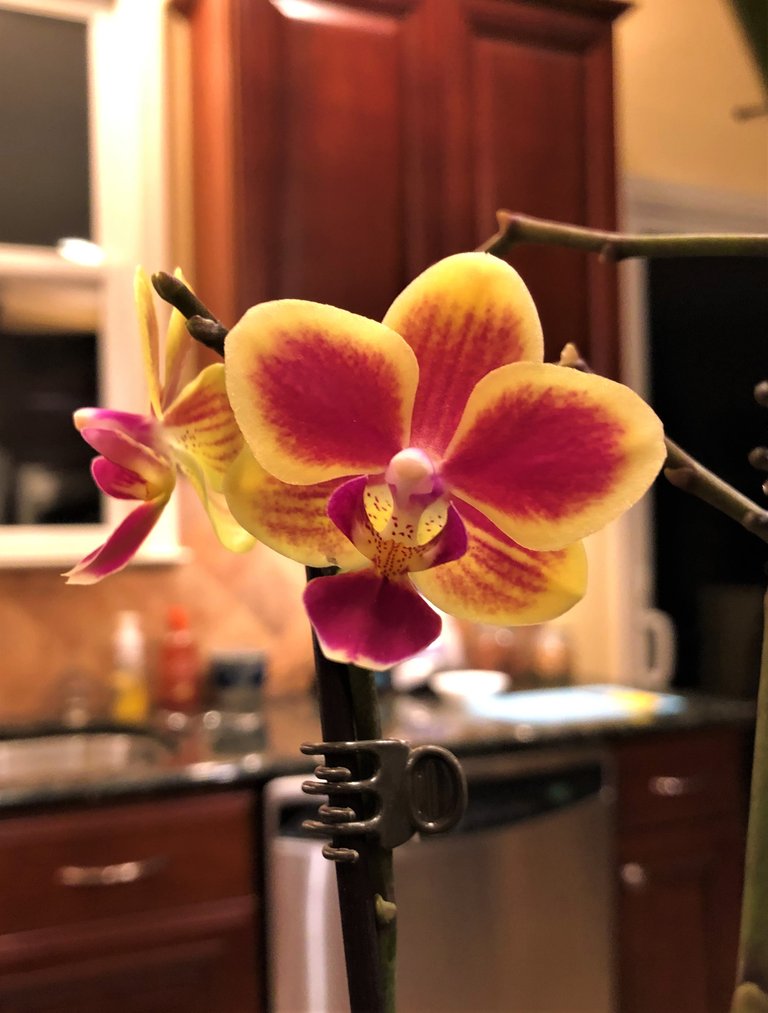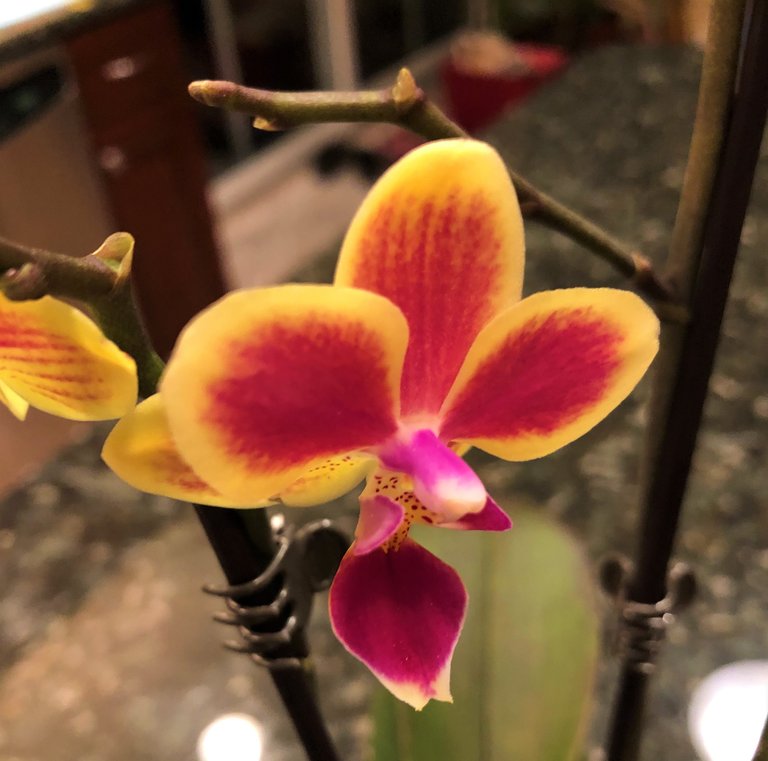 The flowers themselves are very pretty and colorful, despite there smaller size. The petals have a red center and venation surrounded by a rich orange yellow color. The 'Column' of the flowers (The fleshy rod like center part of the orchid flower that holds the reproductive parts) is a beautiful pink shade.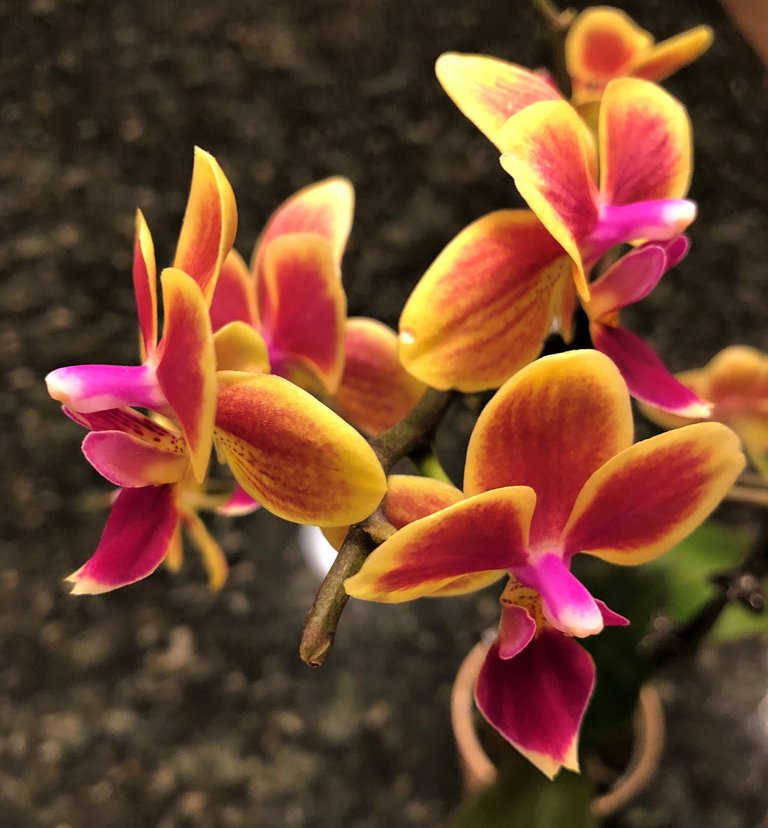 Since the other Orchids like the area where they have been for quite some time now, I went ahead and placed this one there too. They sit on a half wall that separates our family room from the breakfast area of our kitchen. This area receives early morning sunshine, and lots of indirect light most of the day. It is also front and center to where we spend most of our awake hours. So this is really the perfect spot for maximum enjoyment (how selfish). Here it sits to the far left hand side, in it's tiny little pot.. how cute!!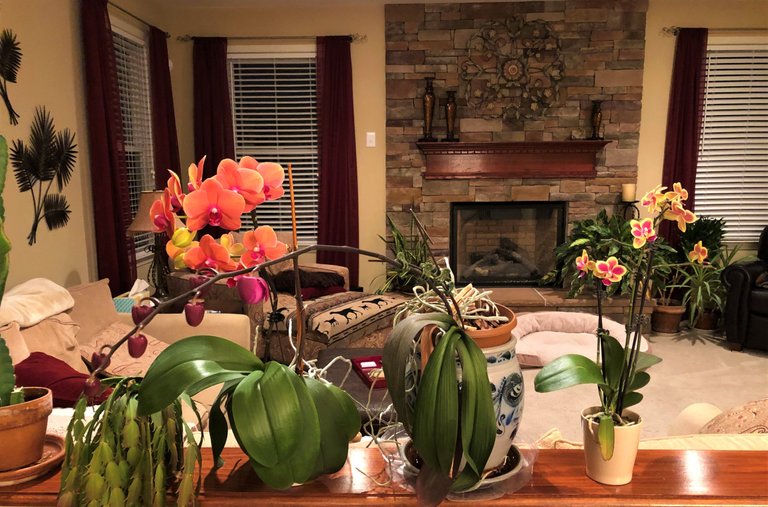 It's a nice addition to the family I think. The colors are similar yet different. I would really like to have a white Orchid as well as a yellow one at some point. It doesn't have to be tomorrow, but somewhere down the road when I see them on sale again. :-)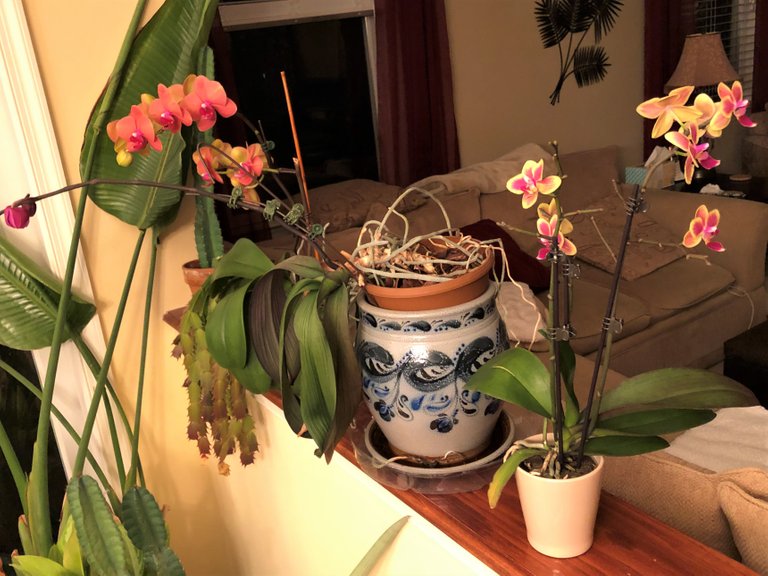 The Tags ..
Just for the heck of it, and in case you really care.. Here are the tags that came off the plant. There is a very limited amount of information given, but they do direct you to a website for additional info in needed.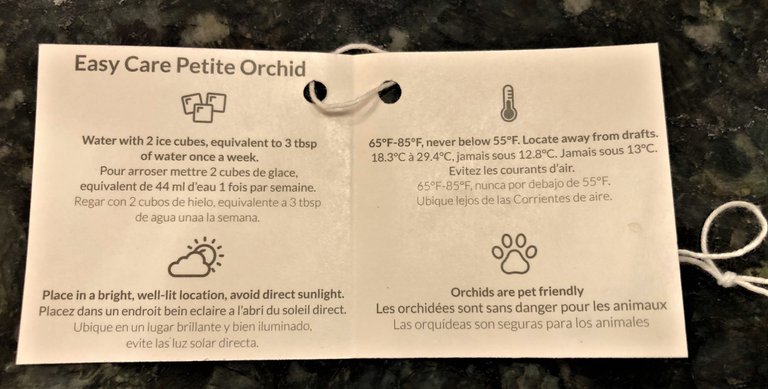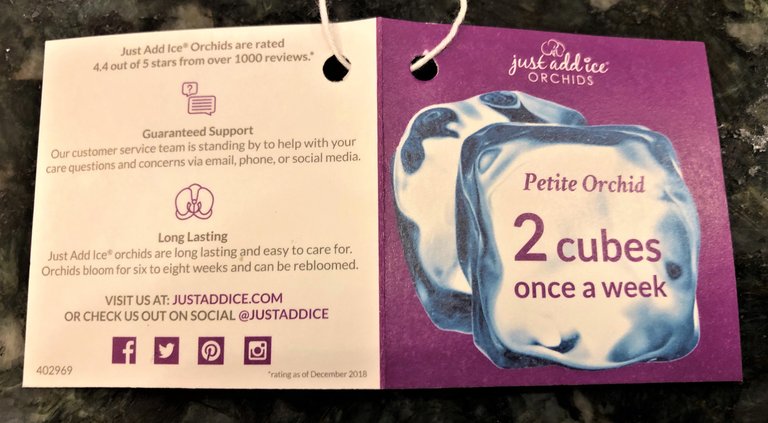 The website, JustAddIceOrchids.com, was pretty cool I thought. Even thought their cover photo didn't appear to be Orchid plants [?? Unless I am mistaken] They did have 'Bertie' The Plant Care Bot! This neat little bot answers all of those questions that keep you up all night.. You know, the ones about Orchids!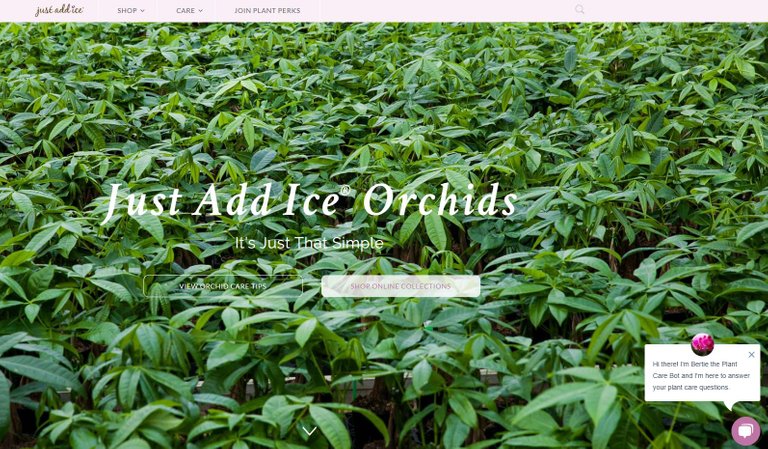 JustAddIceOrchids.com
Well I Am Off To Work ..
And this is set to post later today. I hope you day is off to a good start, your afternoon is delightful, or your evening is turning out to be superb. As always, I will keep everyone updated on the progress of this little girl as she develops and grows into our family :-)
Have A Great Morning, Day or Night my fellow Steemians!!

****REMEMBER TO VOTE FOR YOUR 30 WITNESSES****

Thank you for swinging by my blog and checking out the post. Have a great day!


All words, pictures and art pieces are the sole property of B D Miller Gallery, unless otherwise noted and credited, and are not to be reproduced or copied without the prior written consent of B D Miller Gallery.

About Me ~ The Artist
My art work incorporates a wide variety of subject matter, including landscape, seascape, cityscape, and still life images. My works are the product of a continuing process of exploration through which I seek to portray personal and visionary interpretations of my surroundings. My paintings are impressions of places and events from everyday life, an interpretation of my imagination, and personal responses to what I see and feel on a daily basis. More recently I have invested generous amounts of time into my landscape painting. I am surrounded by natural and man made beauty, which inherently presents itself in the tri-state area, and almost demands that I paint it.
Not everything is art. Art is not everything, but it comes close. Art is everywhere and all the time. Art makes you experience the beauty of the world, the people in it, and the places we call home. Art itself is so influential that it can tell stories, show feelings, and express passion or fury. Art exists in addition to language; expression of sensations and thoughts, revealing a way of thinking too subtle and delicate for words.
For me art requires love, honesty and perseverance. In return, it reveals some personal, non-analyzable, and creative untamed passion. For the public, art with its magnificent beauty, improves mood and health and builds better human beings and communities. It engages the intellect, softens the heart, strengthens the soul and frees the spirit.

If Your Interested In Purchasing Any Of My Work:
They can be found for sale in
OR
My Etsy Store
If you don't see the piece in either shop, It may still be drying. Let me know and I can upload it as soon as possible to be available. Or you can always make me an offer (in SBD or STEEM) in the comments section of this post. If we agree on a price, I will then ship the painting to you. (shipping costs will be determined by your location).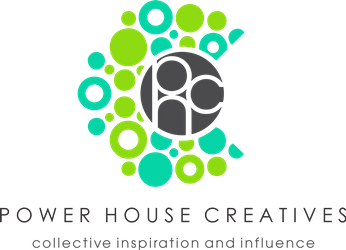 I Proudly Support: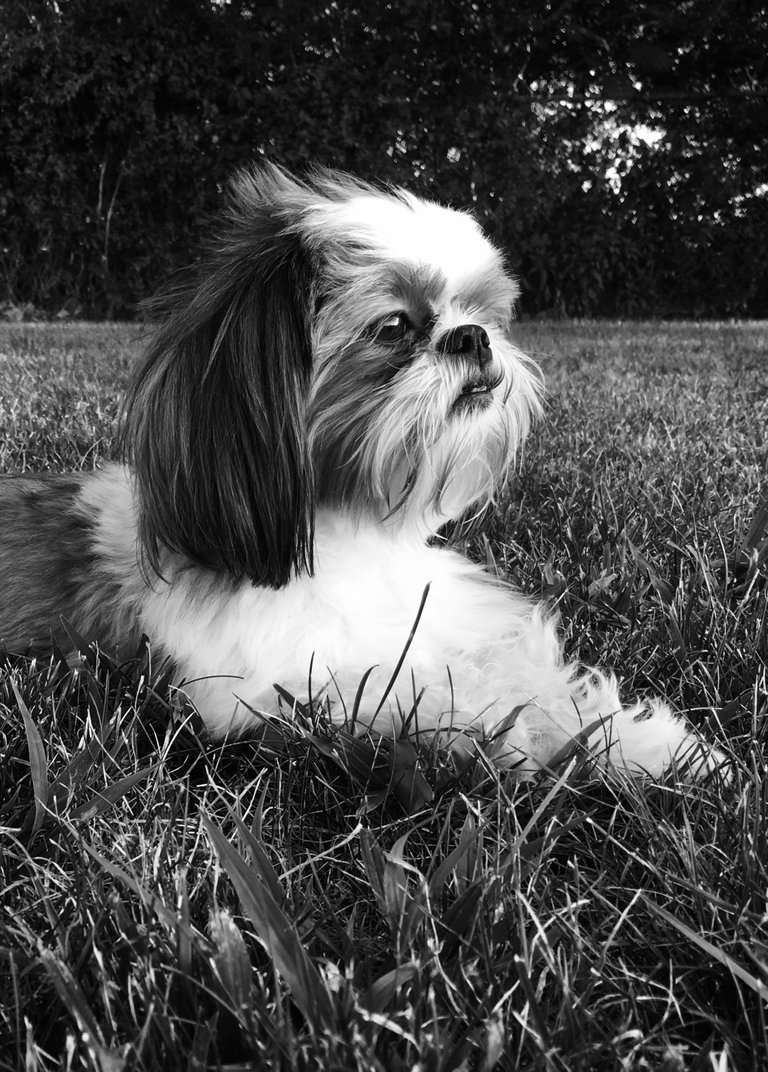 "Look deep into nature, and then you will understand everything better." ~ Albert Einstein