When Some People Think Bamboo ..
They think tropical location. I for one do not. Where I live, here in Southern New Jersey (USA), we often see patches of bamboo growing here and there. If I travel any distance during the coarse of my day, I see this stuff growing in patches along side the road. It's an odd thing to see it so far north, where it can get extremely cold and snow is likely. I always knew what it was, but never really asked myself why it was or how it could grow here.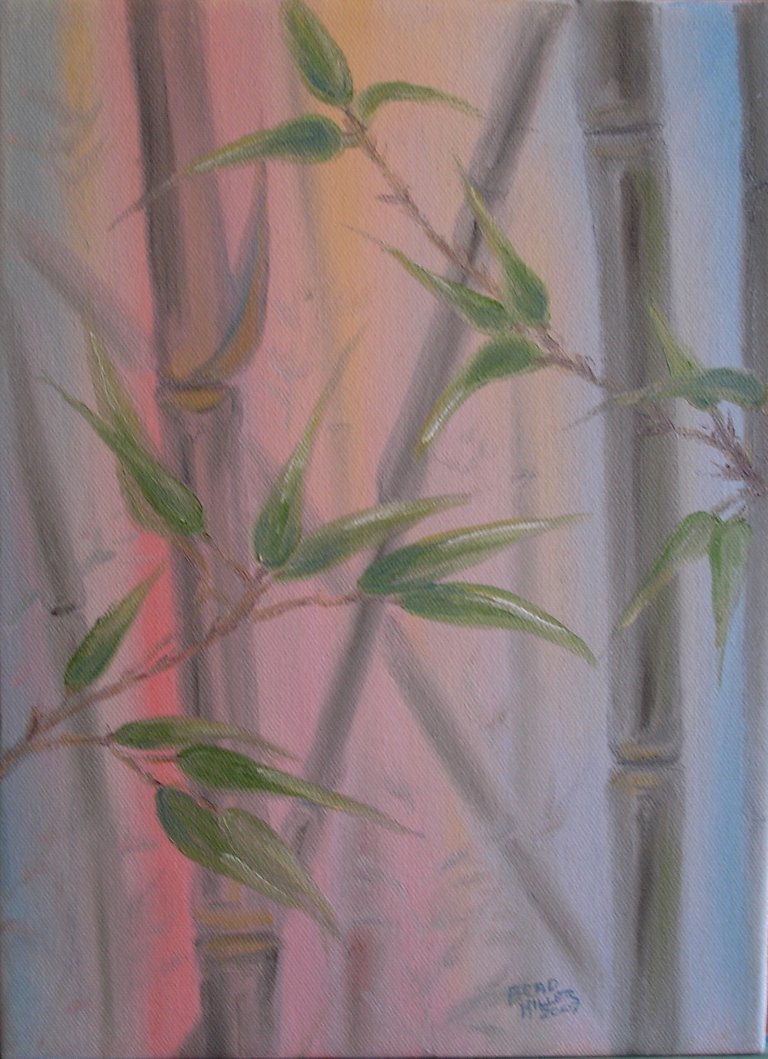 A Few Years Back ..
I painted this 8 inch by 12 inch oil on canvas, of sunlight shining through the bamboo. There is something very calming and often mysterious about spending time in the middle of a bamboo grove. My wife and I have spent some time hiking while on vacation (tropical destinations). Sometimes those hikes lead through a stand of bamboo. It's awesome looking up through its strangely different canopy. If you get a chance, and are near a stand of bamboo, do yourself a favor and venture into it, until you are certain your alone. Close your eyes for a few moments then open them. You may find that your worries are suddenly replaced with childhood fantasies of escaping reality.. or maybe that's just me and my memories of how I longed to play in the bamboo near my home. Either way, my memories of vacations as well as having the chance to go into a bamboo forest in my home town, again stirred up inspiration and imagination.
On May 24, 2018 ..
I posted about the bamboo growing here in New Jersey. I accumulated roughly 5 votes that totaled a whooping .04 Steem Power. I thought this was a good time to re-submit part of that post since it goes so well with this painting.

Here In New Jersey ..
We sometimes fight bitter winter cold and heavy snowfall .. (head scratch) At least that is what I thought many years ago. I thought this was completely STRANGE. I soon became accustom to seeing this practically anywhere on my travels ..
Chinese Bamboo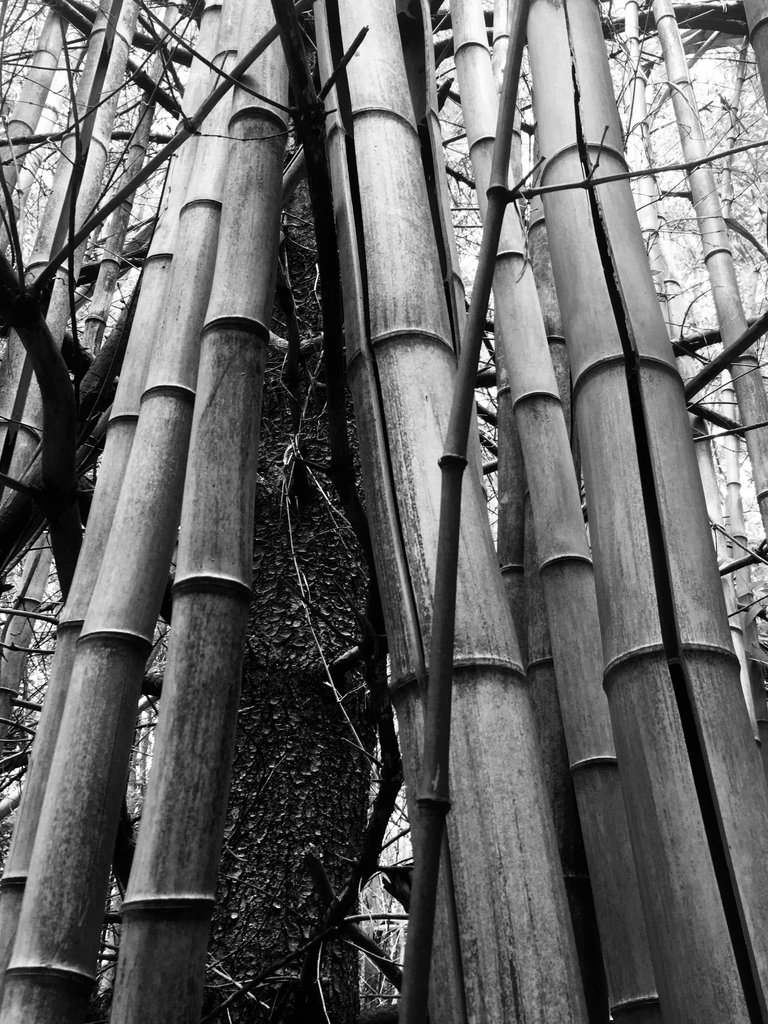 So this is how it went down today ..
I'm on a job this morning (my day job) and I take notice of some Bamboo lining the driveway and spreading through the edge of the forest. I always see it but never take the time to investigate it any further than catching a glimpse of it while driving. I'm thinking to myself, "self, is this stuff invasive in New Jersey?". I literally see it popping up all over the place as I drive around the state.
Well, THAT'S IT! Today I am going to walk over and look at this plant. I strolled on down the lane from which I arrived, to take a quick peek at this Bamboo grove. I noticed that the establishment was quite large. I would ballpark it at roughly an acre of area. As I intertwined through the (now) Bamboo forest, I quickly observed that nothing was growing under its thick canopy. At first I was in awe and thought "this is COOL!" What I wouldn't of given for a chance to play in this fort like forest as a child.
Before I go on, let me share some photo's I took today. I'm sorry if some appear hazy. I really must clean the iPhone camera lens ...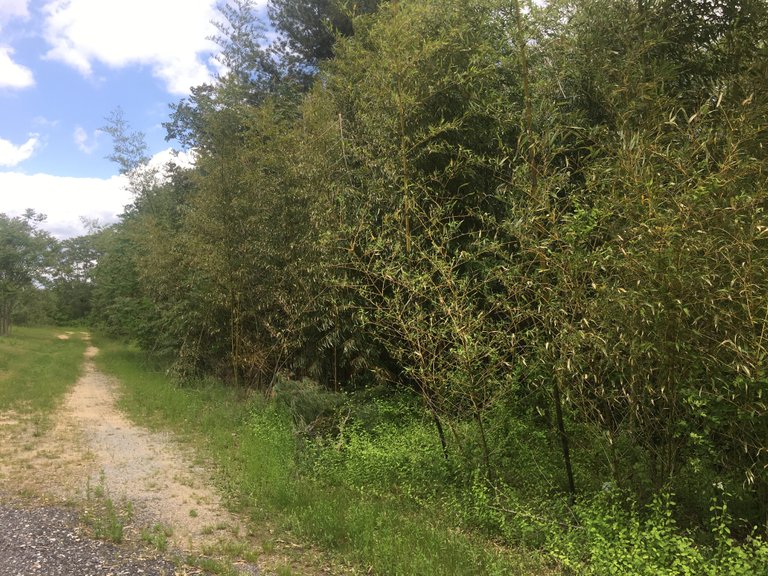 This is the look up the driveway bordering the edge of the forest. The Bamboo seems to be spreading but not into the areas with no other plant life.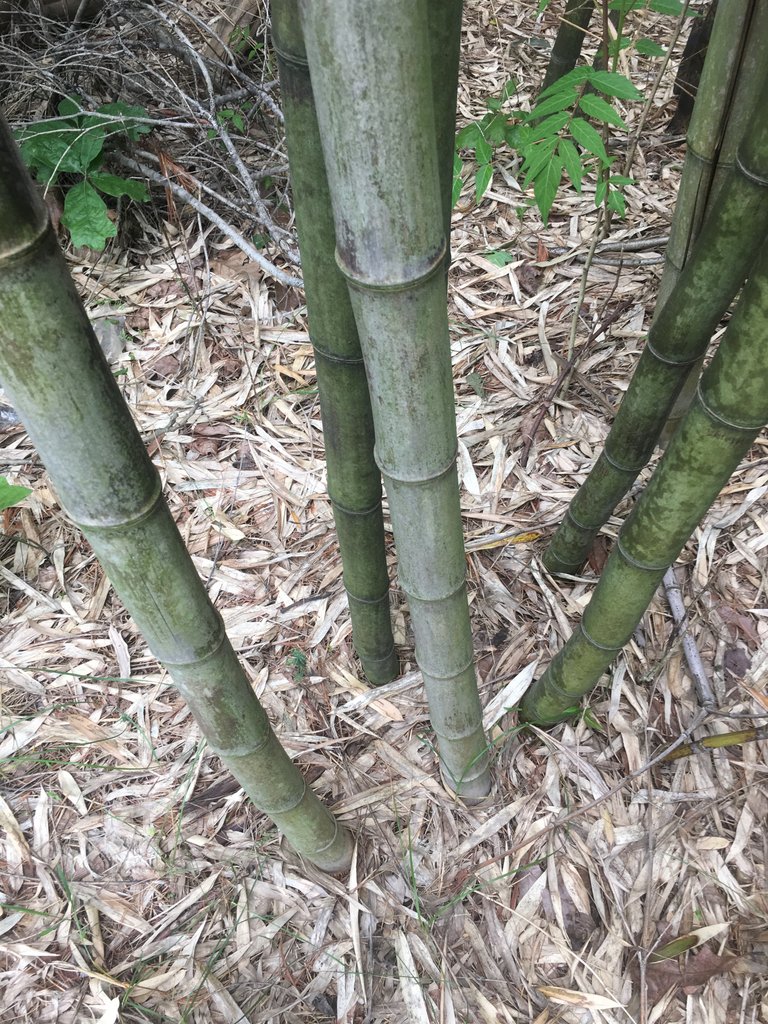 Most of the cluster were not super dense. I could somewhat easily navigate through the shoots.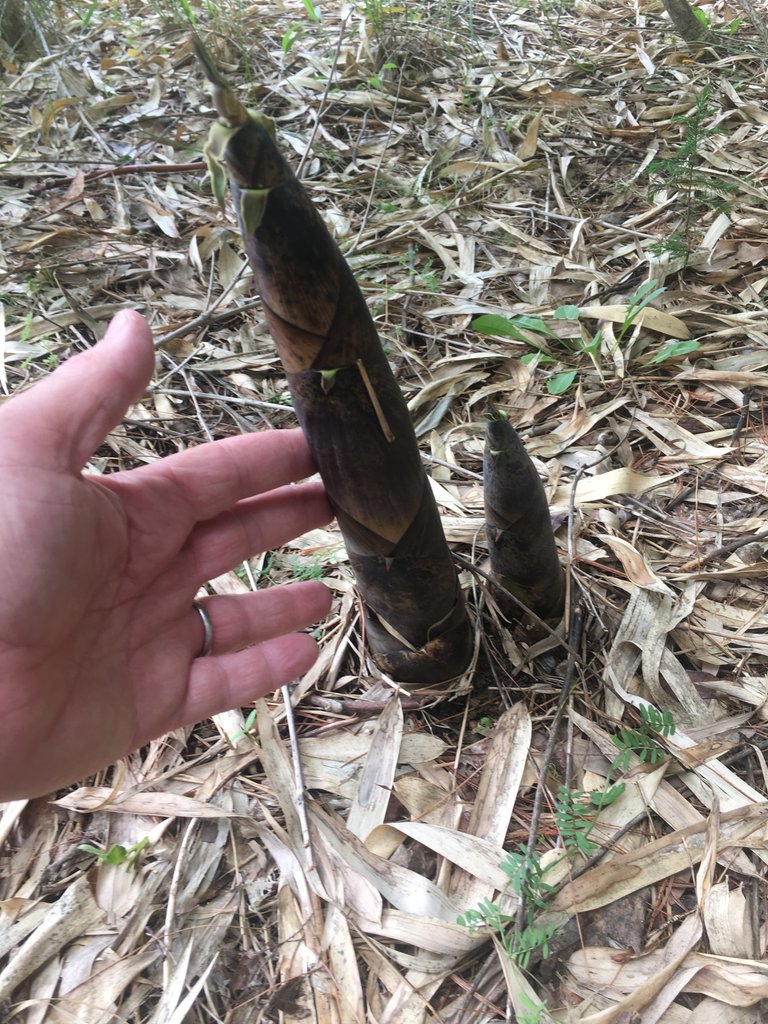 I saw lots of new shoots protruding from the ground. The shoots had no leaves as of yet and were all roughly 1 to 3 feet high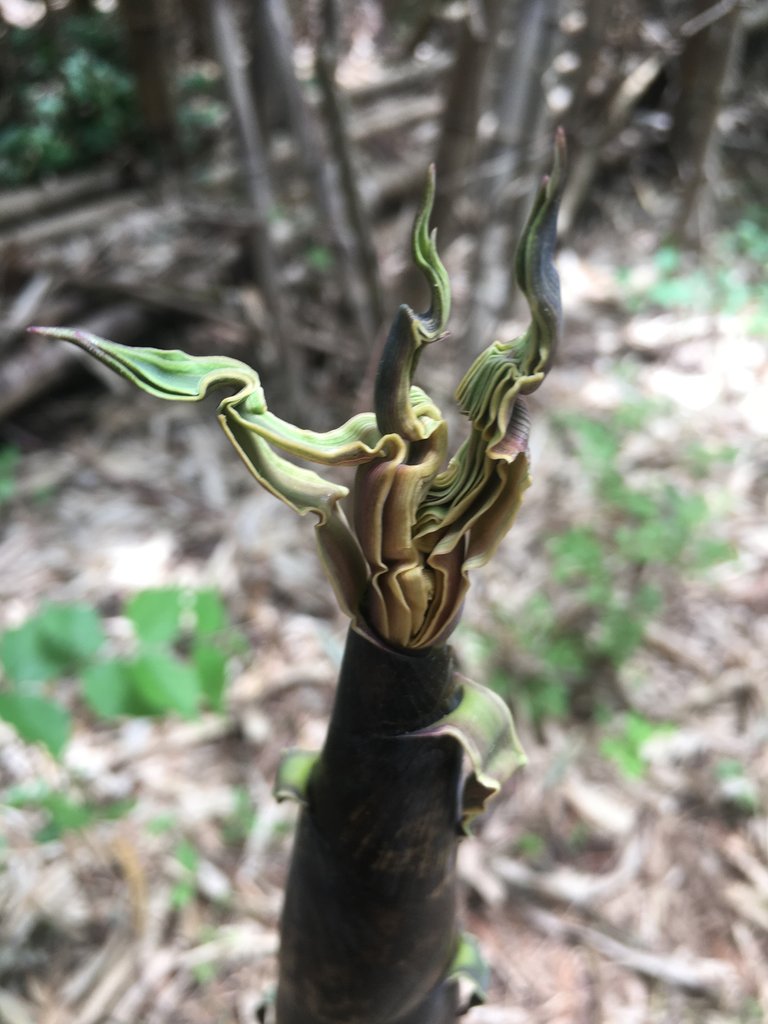 Here is a close up of the new Bamboo shoot. You can see where the leaves are starting to sprout out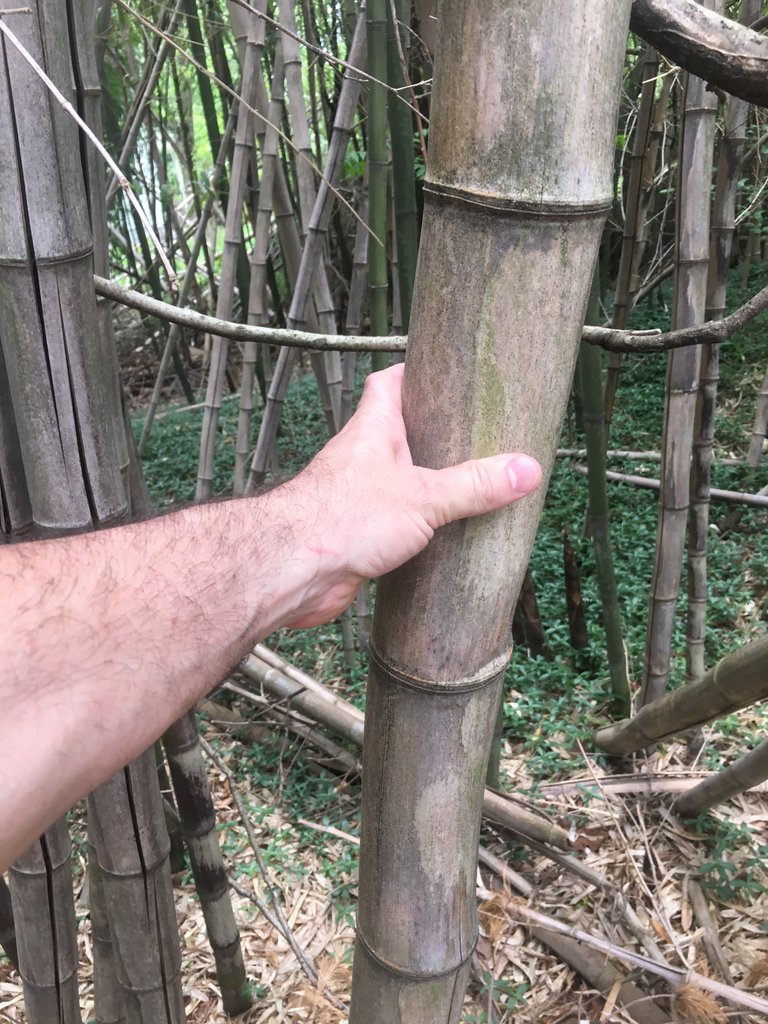 This stuff is no joke. Some of the old dead shoots, like this one, had a rough diameter of 5-6 inches. This one pictured here was probably more like 3" and had a height of roughly 20 to 30 feet.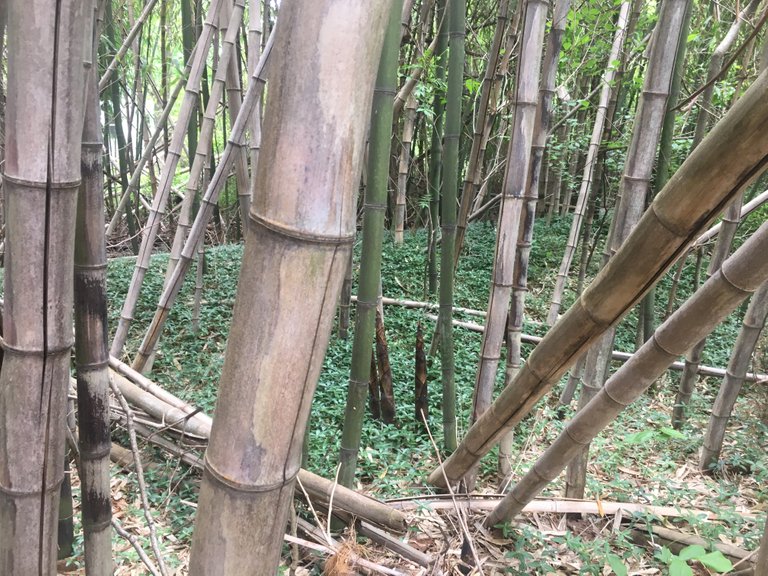 A look into the Bamboo forest. You will notice some ground cover in this picture. There were patches of it here and there.
Now back to the story...
Then almost as suddenly as I thought this was so COOL, I started to think about the potential of this plant being invasive.
If you perform an internet search for "Why isn't Bamboo on the New Jersey invasive plant list?" Most likely you will encounter the New Jersey's Invasive Species Strike Team website found here NJISST explains that Bamboo spreads slowly by way of rhizomes. To be considered for listing as an invasive species, the plant would have to have quick and spontaneous spreading characteristics similar to Knotweed or Phragmites (a fancy name for common reed)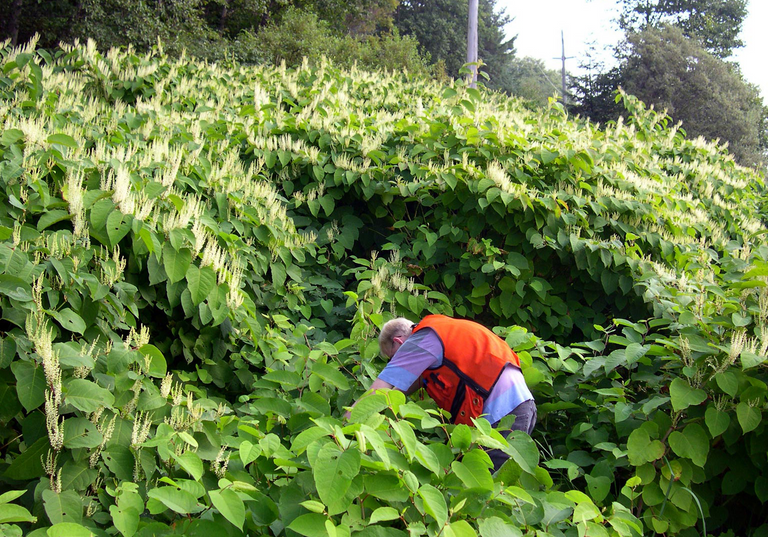 Japanese Knotweed - Source
What do you think this guy is looking for in that jungle mess??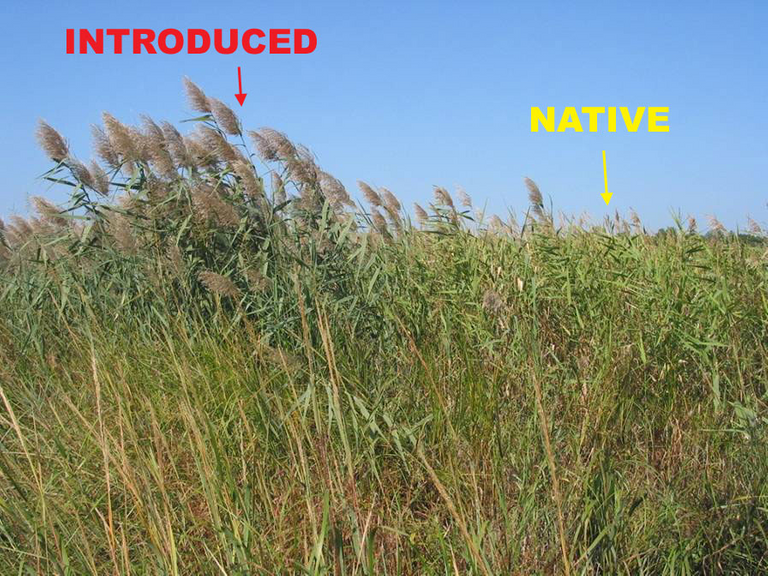 Common Reed or .. The tongue twister .. Phragmites
Both of these plants I see on a daily basis littered throughout the South Jersey landscape. Fast spreading characteristics such as through seed or plant fragment would increase Bamboos chance of being considered invasive. So for now it doesn't pose a true threat due to it's slow creeping nature.
I guess the moral to the story is, take the time to explore your surroundings. If you don't know the answer to that question you've been pondering.. look it up. I'm kinda glad I did.
Thank you for swinging by my blog and checking out the post. Have a great day!


All words, pictures and art pieces are the sole property of B D Miller Gallery, unless otherwise noted and credited, and are not to be reproduced or copied without the prior written consent of B D Miller Gallery.

About Me ~ The Artist
My art work incorporates a wide variety of subject matter, including landscape, seascape, cityscape, and still life images. My works are the product of a continuing process of exploration through which I seek to portray personal and visionary interpretations of my surroundings. My paintings are impressions of places and events from everyday life, an interpretation of my imagination, and personal responses to what I see and feel on a daily basis. More recently I have invested generous amounts of time into my landscape painting. I am surrounded by natural and man made beauty, which inherently presents itself in the tri-state area, and almost demands that I paint it.
Not everything is art. Art is not everything, but it comes close. Art is everywhere and all the time. Art makes you experience the beauty of the world, the people in it, and the places we call home. Art itself is so influential that it can tell stories, show feelings, and express passion or fury. Art exists in addition to language; expression of sensations and thoughts, revealing a way of thinking too subtle and delicate for words.
For me art requires love, honesty and perseverance. In return, it reveals some personal, non-analyzable, and creative untamed passion. For the public, art with its magnificent beauty, improves mood and health and builds better human beings and communities. It engages the intellect, softens the heart, strengthens the soul and frees the spirit.

If Your Interested In Purchasing Any Of My Work:
They can be found for sale in
OR
My Etsy Store
If you don't see the piece in either shop, It may still be drying. Let me know and I can upload it as soon as possible to be available. Or you can always make me an offer (in SBD or STEEM) in the comments section of this post. If we agree on a price, I will then ship the painting to you. (shipping costs will be determined by your location).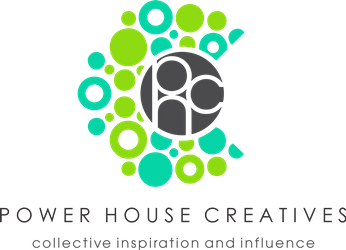 JOIN OUR DISCORD COMMUNITY
SUBSCRIBE TO OUR COMMUNITY FEED
LIKE OUR FB PAGE
FOLLOW US ON TWITTER


I Proudly Support:


Pepper with Molly's old baby in his mouth.. Shame on you Pepper for stealing Molly's baby! Oh trust me, he knows what he's doing. He knows we will cahse him around for it so he made a game out of it :-)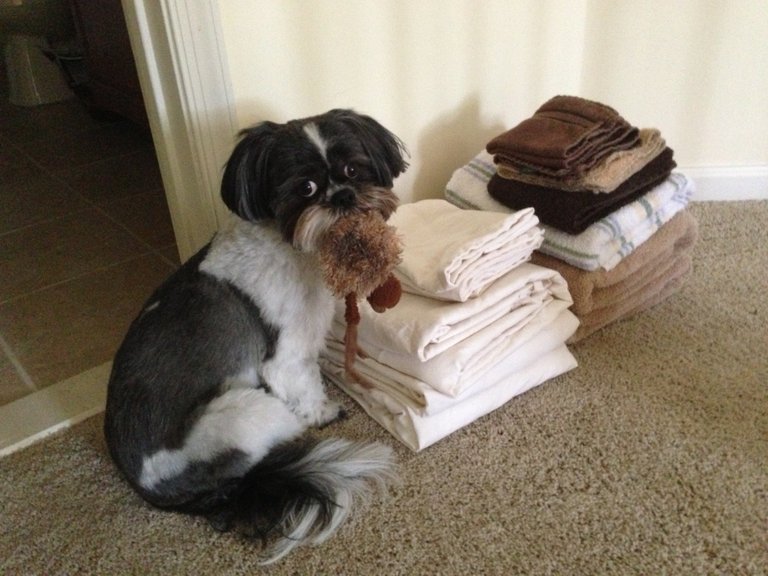 "Dogs have boundless enthusiasm but no sense of shame. I should have a dog as a life coach." – Moby