The fall season has arrived, and that means we are also approaching holiday season art shows and a general ramping up in the activity level of the commercial end of art.
I am always surprised at how many of my creative peers view themselves as "artists" or "musicians" or some other form of creative worker — and they consider their creative fields to be their work — but yet they don't actually approach what they are doing like it were a job.
Which, of course, it ultimately is.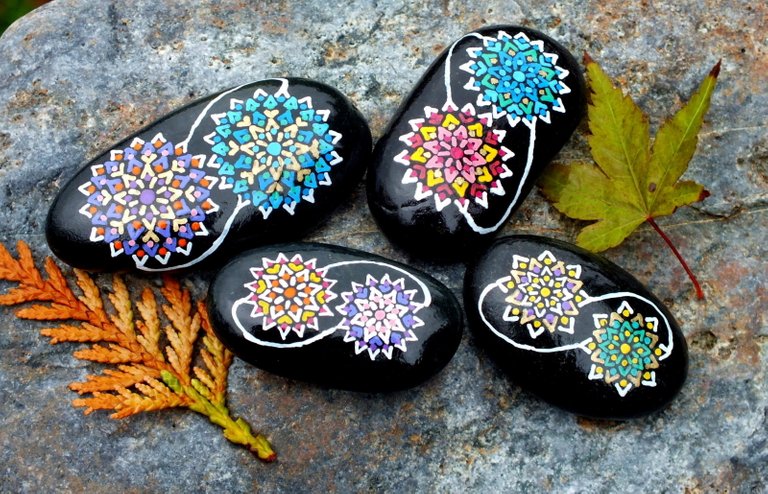 I call these "Infinity Stones"
Waaah.... But That's no FUN!
As often as not, I spend more time managing schedules, events, doing accounting, managing social media and web sites, updating blogs, creating eBay and Etsy listings... as I actually do creating.
The business of art is often not all that much fun, but it still has to be taken care of... at least if you are serious about "getting anywhere" with your creative endeavors.
Because I also worked in the art gallery business for almost 20 years, I had the opportunity to meet hundreds of fellow artists, and to make note of those who seemed to be going places, and those who might have had great talent but still — often to their regret and frustration — felt stuck in a cycle of endless obscurity.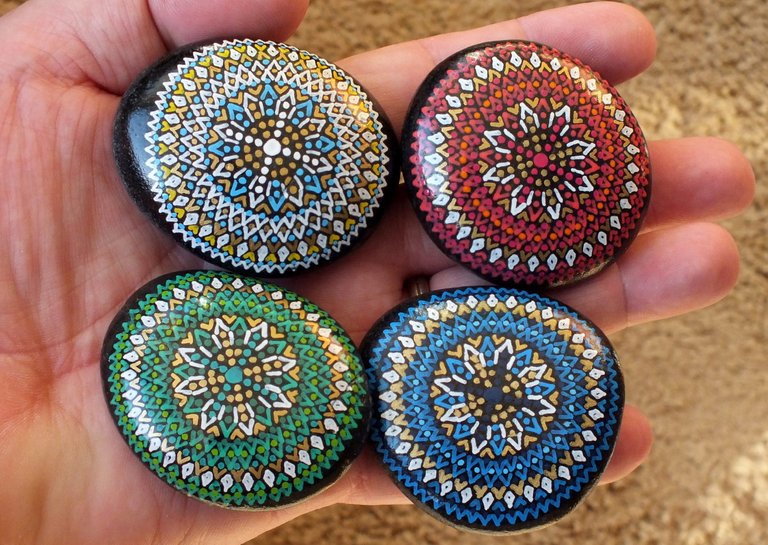 "A matching set of four, for the four directions. VERY time consuming to create!*
It's Not About "Fortune and Fame!"
The thing I find interesting and noteworthy is that most of my peers who have built commercial success are NOT in it for the money.
There is often a misperception among creative types that "caring about the money" is the equivalent of "selling out." But that doesn't really hold true for any of the successful artists I have known, and know. Their objective is basically to be at a point in life where their art is self-supporting.
Meaning that they do not have to work as retail sales clerks or waiters at some diner, in order to fund the time needed to pursue their creativity. In fact, their art is so important to them that they do the work (that might not be so fun!) in order to stay with their creativity on a full-time basis.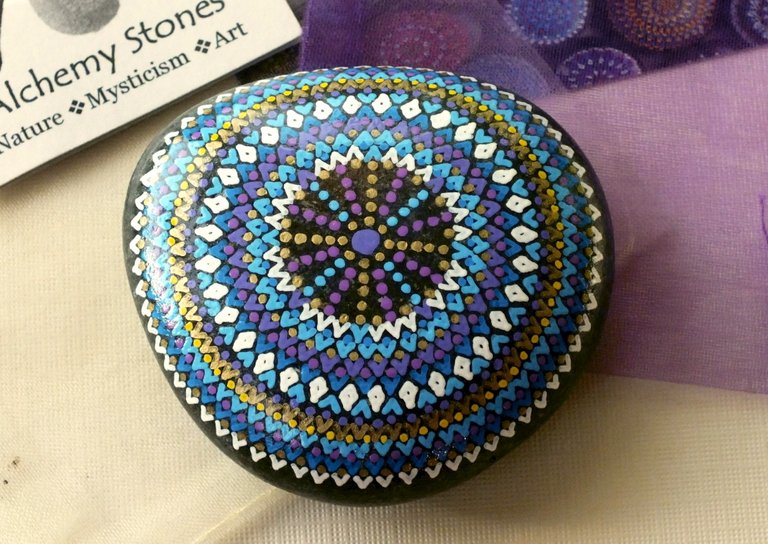 A newer mandala style I have been working with...
Finding Your Level of "Ambition"
As you know, my "gig" is painting on beach stones. Whereas I have been doing it for a little more than a decade, I am by no means commercially successful at it.
Now your first thought might be "Yeah, but who can REALLY expect to making a living painting on ROCKS!?!?!"
Well, actually... several of my peers (who started at about the same time as I) do precisely that. Not as a matter of "luck" or somehow "being discovered" by a wealthy patron... but through persistence, perseverance and hard work.
For example, these peers have 600,000 and 145,000 followers on their Facebook pages, respectively! You don't come to that simply as a result of sitting back and waiting for it. I happen to be acquainted with both, and what they have in common is precisely that they may be Artists, but they very earnestly treat their Art as their work, just like a neurosurgeon or accountant would.
Of course, not everyone is that ambitious... myself included... but I do find that their example offers a useful lesson in what it takes.
Thanks for reading!
2019.09.26 AS-TXT-020