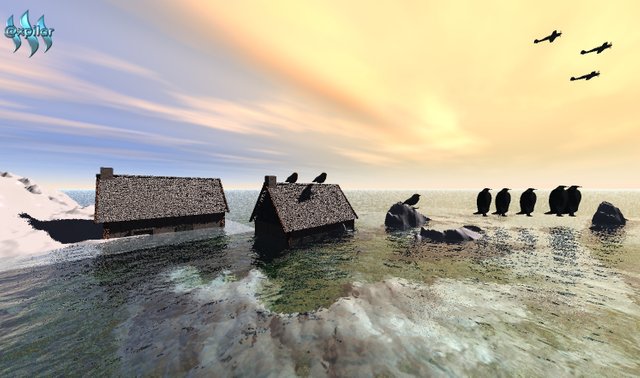 Climate change has completely affected the Arctic, large masses of ice are being melted by global warming, a new environment is being formed altering existing animal life and revealing again some traces of ancient peoples of the region, among them "Qaanaaq" where the Dorset and Thule walked through the High Arctic who came from Greenland and Alaska to hunt marine and land mammals more than 700 years ago.
The Dorset and Thule visited the Arctic in the warmer seasons to settle in the region where mammals were abundant, prepared bows and arrows for hunting and had small deposits made with whale bones. The Qaanaaq region became the epicenter of hunters who migrated from all over Europe, bringing with them some diseases that killed the Dorset tribe, leaving the Thule as the main inhabitants of the village. This town was shaken by the extreme temperatures leaving it under the thickest ice layers.
Several expeditions have been made looking to achieve important discoveries, in the last days, it was possible to see some modern houses in ruins used by Eskimos, which are estimated to be from the 1920's. Apart from the reappearance of Qaanaaq, a group of penguins were observed seeing a new environment to which they will have to adapt.

El cambio climático ha afectado completamente el ártico, grandes masas de hielo están siendo derretidos por el calentamiento global, un nuevo entorno se va formando alterando la vida animal existente y dejando ver nuevamente algunos rastros de antiguos pueblos de la región, entre ellos "Qaanaaq" donde los Dorset y los Thule paseaban por el Alto Ártico quienes llegaban desde Groenlandia y Alaska para cazar mamíferos marinos y terrestres hace más de 700 años atrás.
Los Dorset y Thule visitaban el Ártico en las temporadas más cálidas para asentarse en la región donde los mamíferos abundaban, preparaban arcos y flechas para cazar y disponían de pequeños depósitos hechos con huesos de ballenas, la región Qaanaaq llegó ser el epicentro de los cazadores que migraban desde toda Europa, trayendo consigo algunas enfermedades que acabaron con la tribu Dorset, quedando los Thule como principales habitantes del pueblo. Este pueblo fue sacudido por las extremas temperaturas dejándolo bajo las más espesas capas de hielo.
Varias expediciones se han realizado buscando lograr importantes descubrimientos, en los últimos días, se pudo ver unas viviendas modernas en ruinas usadas por esquimales, las cuales se estiman sean de los años 1920, Aparte de la reaparición de Qaanaaq, se observaban un conjunto de pingüinos viendo un nuevo entorno al cual tendrán que adaptarse

Photographic references are a practical way to create stories. This time I leave a short fictional story based on an image of the author's friend @xpilar that caught my attention. I hope you liked it.
This is an Invitation to join #ccc for Guaranteed 👍 Daily Income 💵 and Payout 💸 for Newbies (2.0) 🐟 🐜 🐛 in #ccc 👣 and Follow 👣 the Honor Code 🏅 - the Creed (Conditions and Limits Inside)
AND
the latest update <<< please click to read.