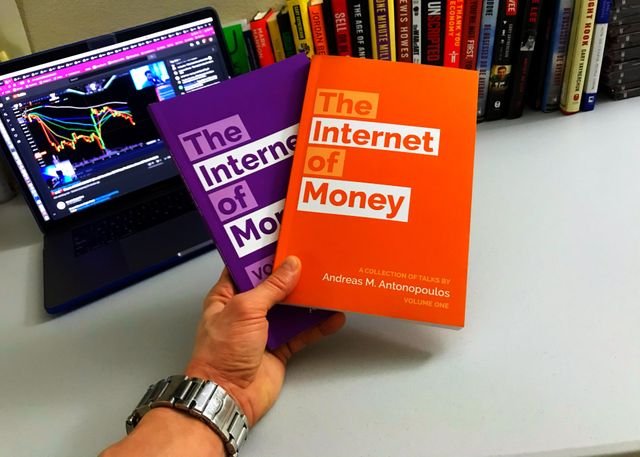 Have you read "The Internet of Money" Vol 1 & 2 by Andreas Antonopoulos yet? These two books will change your mindset about "Money" and how it will also change your perception of Bitcoin.
There are so many people that are involved in Bitcoin and Crypto but still have no idea what it "really" is and what it can do.
They just look at the price and want it go to the moon! Fair enough, we all want it go to the moon. LOL
For a few years, people ask me about Bitcoin. Instead me explaining it to them (which can take months to do), I just tell them go buy these two books and get back to me later on. But ya know what?... 99% of them won't but that's understandable, it just means that they were never really interested. Oh Wells.
If you really want to know what "BITCOIN" really is, I highly recommend everyone to read these two books. It will make you want to sell everything you have and buy some Bitcornnnns :)
Keep On STACKIN! 😎😎😎😎😎😎
~ Charles Fuchs
For those who's interested in following my "Content" and "Daily" Posts... you can just follow me @stackin to get my updates.
You Can Follow Me Here:
➡️ UpTrennd: https://uptrennd.stackin.co
➡️ Facebook: https://facebook.stackin.co
➡️ Twitter: https://twitter.stackin.co
➡️ Instagram: https://instagram.stackin.co
➡️ Steem: https://steem.stackin.co
Crypto.com: Get The World's First ELITE Cryptocurrency MCO Debit Card and we both get $50! NOTE: You must stake 50 MCO to get the $50 AND 2% cashback on all purchases.

Must use Ref code: ( mqanqykcym )
PI NETWORK: Pi is a new digital currency you can mine on your mobile phone for free without draining the battery or using data.
BYBIT: Want To Trade Bitcoin with 100X Leverage? Create Your Free Bybit Account 30 seconds and claim your $60 Welcome Bonus!