In the early days of the Internet, there was an anarchist tone to those who were involved. The possibilities of a digital system that was free from the control of governmental entities was exciting. At the same time, the view was that peer-to-peer would radically change how everything was conducted.
Three decades later, we realize this did not turn out as envisioned. The Internet became a hotbed of surveillance, mostly by tech giants that follow everything we do. There is also the tendency to censor those opinions that fall outside the viewpoint of the corporate entities. Governments also have their hand in the equation by garnering the data from the private companies that are doing the surveillance.
Thus, while there was an improvement in communications, we did not see the massive crumbling of the power structure that some were dreaming about.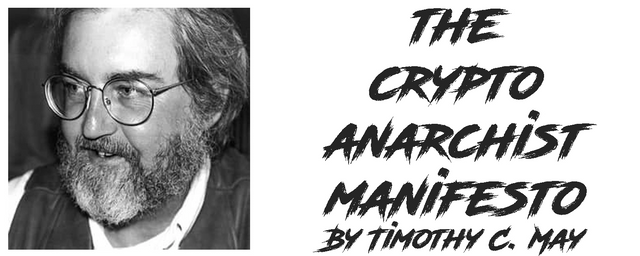 In 1988, Timothy May put together the manifesto. Here is what it says:
Interactions over networks will be untraceable, via extensive re- routing of encrypted packets and tamper-proof boxes which implement cryptographic protocols with nearly perfect assurance against any tampering. Reputations will be of central importance, far more important in dealings than even the credit ratings of today. These developments will alter completely the nature of government regulation, the ability to tax and control economic interactions, the ability to keep information secret, and will even alter the nature of trust and reputation.
The technology for this revolution — and it surely will be both a social and economic revolution — has existed in theory for the past decade. The methods are based upon public-key encryption, zero-knowledge interactive proof systems, and various software protocols for interaction, authentication, and verification. The focus has until now been on academic conferences in Europe and the U.S., conferences monitored closely by the National Security Agency.
But only recently have computer networks and personal computers attained sufficient speed to make the ideas practically realizable. And the next ten years will bring enough additional speed to make the ideas economically feasible and essentially unstoppable. High-speed networks, ISDN, tamper-proof boxes, smart cards, satellites, Ku-band transmitters, multi-MIPS personal computers, and encryption chips now under development will be some of the enabling technologies.
The State will, of course, try to slow or halt the spread of this technology, citing national security concerns, use of the technology by drug dealers and tax evaders, and fears of societal disintegration. Many of these concerns will be valid; crypto anarchy will allow national secrets to trade freely and will allow illicit and stolen materials to be traded. An anonymous computerized market will even make possible abhorrent markets for assassinations and extortion. Various criminal and foreign elements will be active users of CryptoNet. But this will not halt the spread of crypto anarchy.
Combined with emerging information markets, crypto anarchy will create a liquid market for any and all material which can be put into words and pictures. And just as a seemingly minor invention like barbed wire made possible the fencing-off of vast ranches and farms, thus altering forever the concepts of land and property rights in the frontier West, so too will the seemingly minor discovery out of an arcane branch of mathematics come to be the wire clippers which dismantle the barbed wire around intellectual property.
Arise, you have nothing to lose but your barbed wire fences!
https://news.bitcoin.com/the-crypto-anarchist-manifesto/
This sounds a lot like the viewpoint many of us have today regarding the evolution of the Internet. Obviously, May's forecast has not come true as of yet.
So what is different this time?
When I ponder that question, I am brought to another point: how would things have been different if commerce was written into the original protocols? Would we be in a different situation if the Internet did for commerce what it did for information?
The answer to these questions is going to be tested over the next decades. We now have an opportunity to see what evolves. Cryptocurrency fixed a major gap in the original Internet by making commerce native. In my mind, this is a game changer.
May stated this:
"Combined with emerging information markets, crypto anarchy will create a liquid market for any and all material which can be put into words and pictures."
Today, because of the development of cryptocurrency, we are not limited to only those things that can be put into words or pictures. People can transfer value on anything they so desire. They also can do this direct via peer-to-peer transactions.
Does this help to bring about the vision that May and others had so long ago? I believe it does.
The ability to "silo" the Internet is diminishing. Companies such a Google, Facebook, and Amazon were about to take control because of their ability to monetize what was taking place. Advertising became the overwhelming favorite for of commerce on the Internet. This put these companies in a powerful position as their ecosystems grew.
We now see a shift where anyone can monetize anything via cryptocurrency. There is no need to deal with these mega-entities just to be able to offer wares out to others. Of course, there is still the question of where the masses are assembled and, for now, that is in the silos.
We also see that data is becoming an issue that many are awakening to. Not only are people realizing it has value but the holders of said data do a terrible job protecting it. If blockchain (along with other technologies) offer a more secure system, companies that hold data in a similar manner as today are putting themselves at extreme risk.
Hopefully more people start to adopt the "crypto-anarchist" mindset. We have allowed these corporations and their shareholders to get very wealthy at the expense of humanity. Now, we are starting to see the tool put in place that will allow people to opt out of the present system.
This is a vision I believe these early Internet adopters had and it is something we should keep pushing today. Never has it been more important.
---
If you found this article informative, please give an upvote and resteem.
Image from article linked.