A lot of people are confused by the words anarchy and anarchism. From "without Archons" it literally means without rulers. Some think it means "without rules" which is not the case. Rules can be implemented in many ways and still have no rulers. For example, smart contracts can be voluntarily agreed to which enforce payments, proposal approvals, custodian selection, and more. One of the reasons people substitute the word "voluntaryism" for anarchy is because of this confusion and because it highlights the key principle (the non-aggression principle or NAP) which separates being ruled by a ruler vs. owning yourself and the consequences of your actions. All human interactions should be voluntary and you can not delegate a right to someone else which you yourself do not have.
The "should" here assumes a commonly shared goal of increasing human well-being. There are nuances to this and requirements for long-term, adult rational thinking. Children, for example, might be okay with actions that eventually destroy their home if it makes them feel good in the moment. Adults, in contrast, consider their long-term well-being which includes protecting the environment they live in. This is just one example for illustration.
To understand these principles does not require utopian thinking. They are also not in conflict with what some call "human nature" (a purposefully vague term). Some humans can act a bit destructive, narcissistic, and sociopathic. That's why social structures based on anarchy are so important. Removing a system of rulership means removing the opportunity for these bad actors to violently dominate others (as they do now in the current system which celebrates being ruled).
My comments above were inspired by @larkenrose's facebook post recently, which I reshared: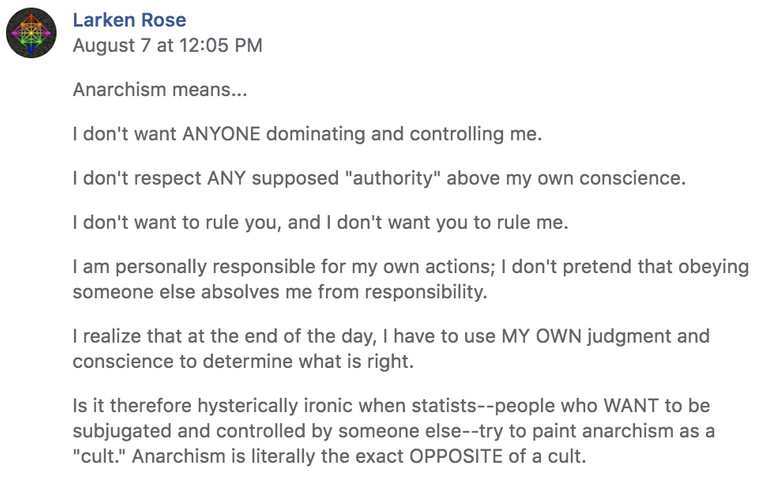 Anarchism means...

I don't want ANYONE dominating and controlling me.

I don't respect ANY supposed "authority" above my own conscience.

I don't want to rule you, and I don't want you to rule me.

I am personally responsible for my own actions; I don't pretend that obeying someone else absolves me from responsibility.

I realize that at the end of the day, I have to use MY OWN judgment and conscience to determine what is right.

Is it therefore hysterically ironic when statists--people who WANT to be subjugated and controlled by someone else--try to paint anarchism as a "cult." Anarchism is literally the exact OPPOSITE of a cult.
---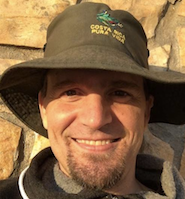 Luke Stokes is a father, husband, programmer, STEEM witness, DAC launcher, consultant, and voluntaryist who wants to help create a world we all want to live in. Learn about cryptocurrency at UnderstandingBlockchainFreedom.com







I'm a Witness! Please vote for @lukestokes.mhth