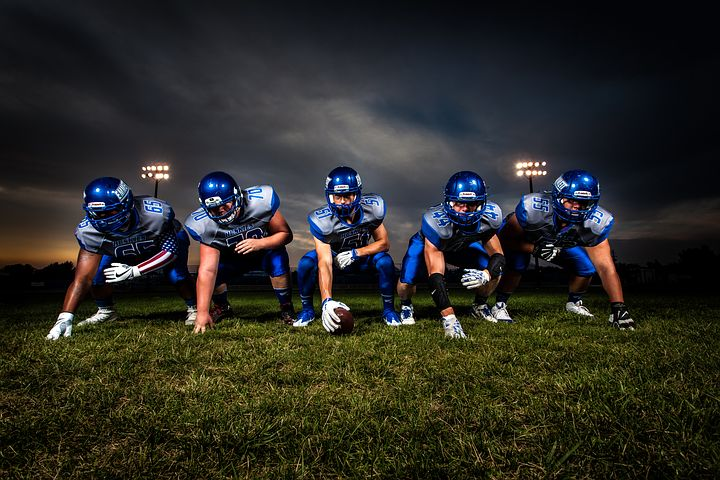 source
What a season we had this year! Restrictions or not teams had to play
and earned their spot in the playoffs next weekend.
This year proves to be different through the pandemic and the game continues.
The game did not change much expect limited fans were allowed to watch in some cities.
Quite a few remembrances to see Brady playing for another team.
I cannot believe Cowboys losing Dak still play to reach playoffs.
I have to say this is the year for Aaron Rogers.
Mahomes is still the same.
After a year off, big Ben came back to lead them to playoffs contention.
Henry is a running machine.
Even Tua is the guy, Fitzpatrick looks like he wants to bring Dolphins to the playoffs.
So much positive on the game and now the seriousness will continue.
Among teams with a positive record, Dolphins with Brian Flores did a great job.
If you recall last year the team has to start from scratch. They were tanking to get Tua.
So far Tua is there but no specialty yet cause the expectations are not met this season.
Hopefully Tua can prove not just accurate throws but winning mentality is part of his plan. Dolphins has a great spot in the draft this year.
Jets finally parted ways with Adam Gase. Couple years ago he used to be with Dolphins. I am talking about AFC East where Bills are the new sheriff in town.
Patriots are still searching for the next Brady.
Hopefully Jets can quickly gain back their identity and play great football.
PLAYOFFS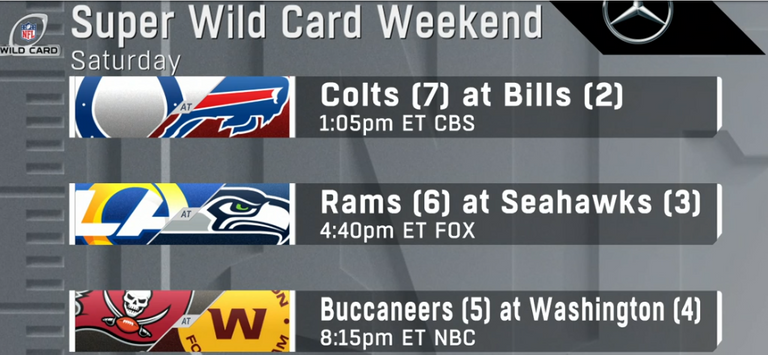 source
I can easily pick three teams that will advance through that wildcard next Saturday.
At the same time all six teams will play to win.
I feel strongly Bills will advance due to Josh impressive season as a QB willing to throw and run at due time. Again this is playoffs and hearts will be broken.
Seahawks are in the right place to put Rams out of contention. Donald is still around to be a great defensive player. I know Rams has a QB problem. Wait to be seen but everything favors Seattle.
This is Brady proving he can play great football after reaching 40+.
If Bucs continue to play that great for the last three weeks, Washington has little chance to win.
Never say never, upset is common place in NFL.
Brady play your cards.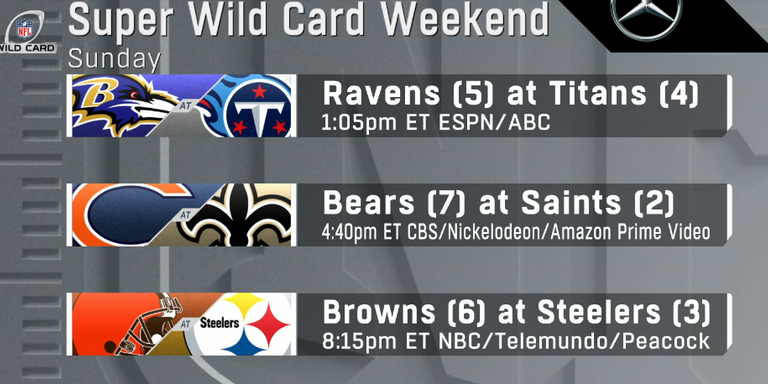 source
Ravens vs Titans could be ugly from the beginning. Both teams do run the football. Hard to say which way the game will go. Lamar can do trick on the fields so does Henry. The team that will play mistake free wins the game.
I want to take the Saints with open arms. Bears need to play the game and reduce the running game from get go.
Not sure how they have a chance to win against a Saints team ready to play
anyway possible to win.
Browns vs Steelers should be the fun game of the day. Last year Browns were a team we all laughed at due to QB did more talking than playing.
So far they were put to the test and playoffs in the making.
Fun fact it is a rematch of this week as well.
Only this time big Ben will play. I gravitate toward Steelers with their armada
to win this time. It will be a fun game for Cleveland to prove they are serious.
Since it is wildcard weekend coming there are two teams not listed.
Kansas Chiefs and Green Bay Packers. They won a bye week and getting ready for their opponents the week after.
I hope they do not lose their rhythm.
At the same time they are fresh and be ready to get the game rolling.
Will you be watching next week?