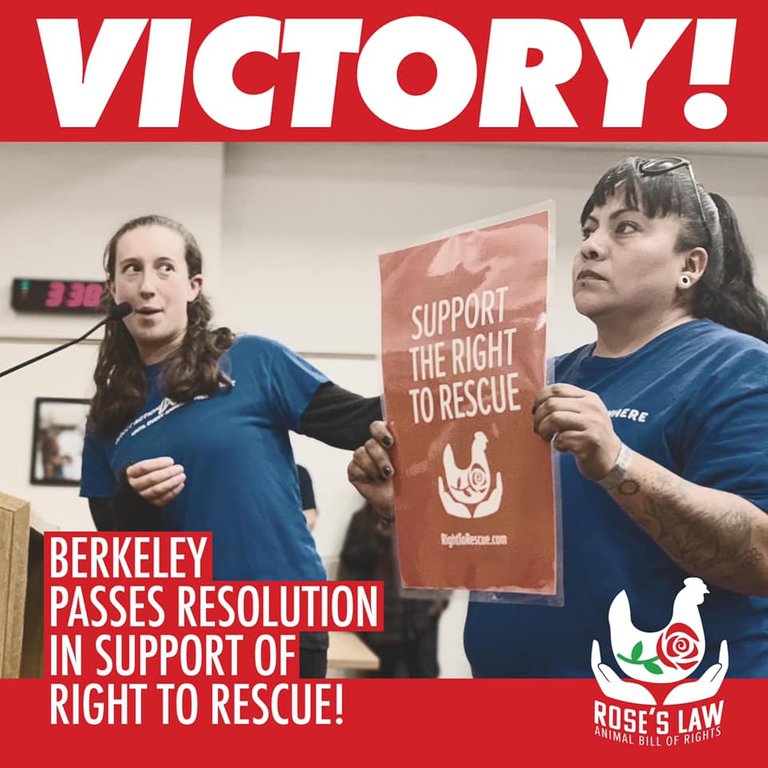 The city council of Berkeley, CA voted on the resolution yesterday "Support for Non-Violent Activists and Protections of Animals in Commercial Operations" and they voted YES! Although mostly symbolic, the resolution is a huge step forward for animal rights and gaining the #righttorescue!

If you are unfamiliar with the right to rescue movement and Rose's Law, in short it is a movement calling for protections for citizens who expose factory farm conditions and who provide aid to animals on those farms. There are a handful of activists currently facing multiple felony charges and another dozen or so facing misdemeanors simply for documenting factory farm conditions and rescuing dying animals.
The 73 page document detailing the history (including the police and veterinary reports detailing the conditions of the birds at the organic, free-range chicken farm my sister was arrested at) as well as the resolution document itself are both available under item 25 here, but I have highlighted the resolution text below:
NOW THEREFORE, BE IT RESOLVED by the Council of the City of Berkeley that the Mayor and City Council hereby declare that the 21 individuals being prosecuted in Sonoma County are non-violent activists who were investigating and attempting to expose the abuses of nonhuman animals in commercial animal operations.
BE IT FURTHER RESOLVED that the Mayor and City Council encourage the Sonoma County District Attorney to dismiss such prosecution or exercise leniency, and to devote the resources that could be saved from these actions to instead investigate and prosecute animal cruelty in commercial animal operations in Sonoma County.
BE IT FURTHER RESOLVED that the Mayor and City Council encourage law and regulatory enforcement agencies in California, including the California Attorney General and the California Department of Food and Agriculture, to investigate and prosecute animal cruelty in commercial animal operations throughout California.
BE IT FURTHER RESOLVED that the Mayor and City Council urge the California State Legislature to pass laws expanding the protection of nonhuman animals raised in commercial animal operations from abuse.
BE IT FURTHER RESOLVED that the Mayor and City Council affirm the commitment of the Berkeley City Council to the protection from all suffering and harm of all animals both within Berkeley and around the world.
BE IT FURTHER RESOLVED that a copy of this resolution shall be sent to Sonoma County District Attorney Jill Ravitch, Assembly member Buffy Wicks, State Senator Nancy Skinner, Congresswoman Barbara Lee, Senator Dianne Feinstein, Senator Kamala Harris, and California Attorney General Xavier Becerra.
San Francisco will be voting on the same resolution, so Berkeley passing this resolution sets a precedent that SF will likely (hopefully) follow. From there, we could see other influential cities in California like Los Angeles follow suit and show support for the #RightToRescue.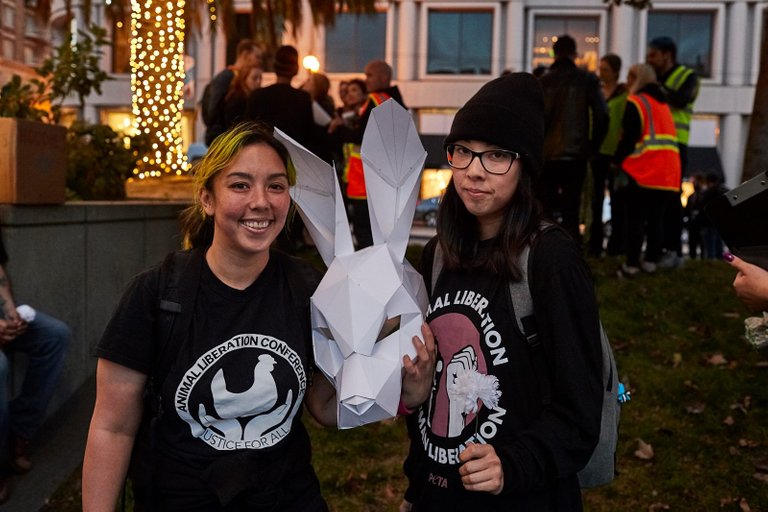 Photo by Michael Goldberg, 2018
My older sister (above, left) was one of 58 activists who were arrested on both felony and misdemeanor charges in Sonoma last year at one of the farms. Exactly one year and one day after her arrest, I (above, right) was arrested in San Francisco for civil disobedience.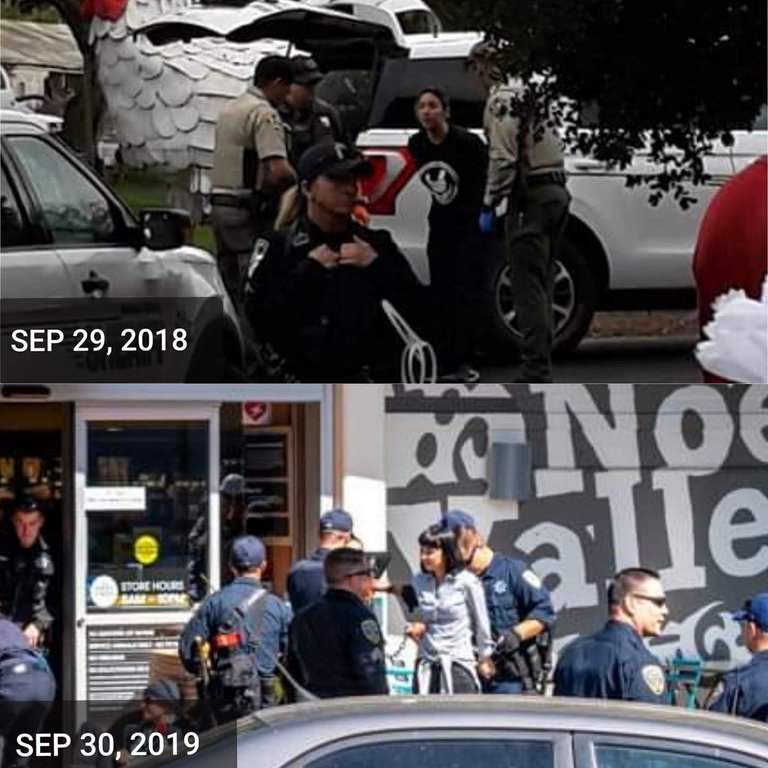 Big sister (top), little sister (me, bottom)
Neither of us had our charges formally filed and have not had to appear in court, but others have not been so lucky.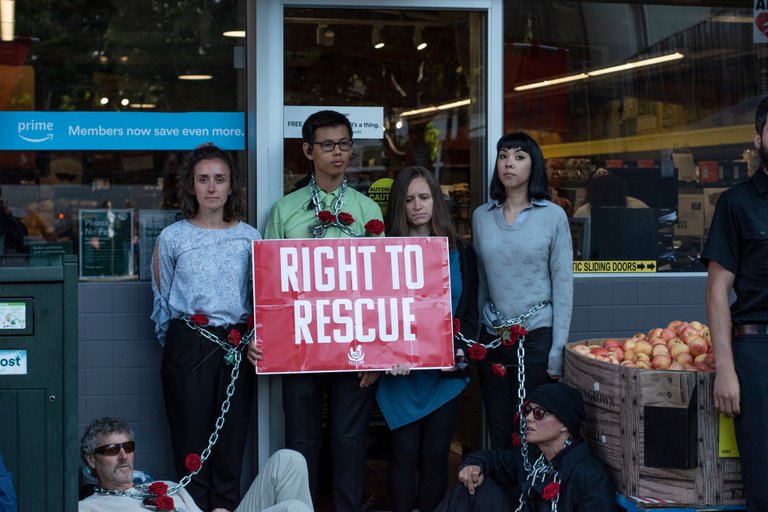 Photo by Efrem Devries, 2019. I am on the right in the gray sweater.
If you are interested in reading about the Sonoma County cases and the activists being charged, visit the Right to Rescue Website. You can also read about the cases in other states as well as print your own #RightToRescue poster to display publicly and show your support for this global movement. Signatures are also being collected, as well as donations that go towards legal fees, investigations, and directly helping animals through open rescue.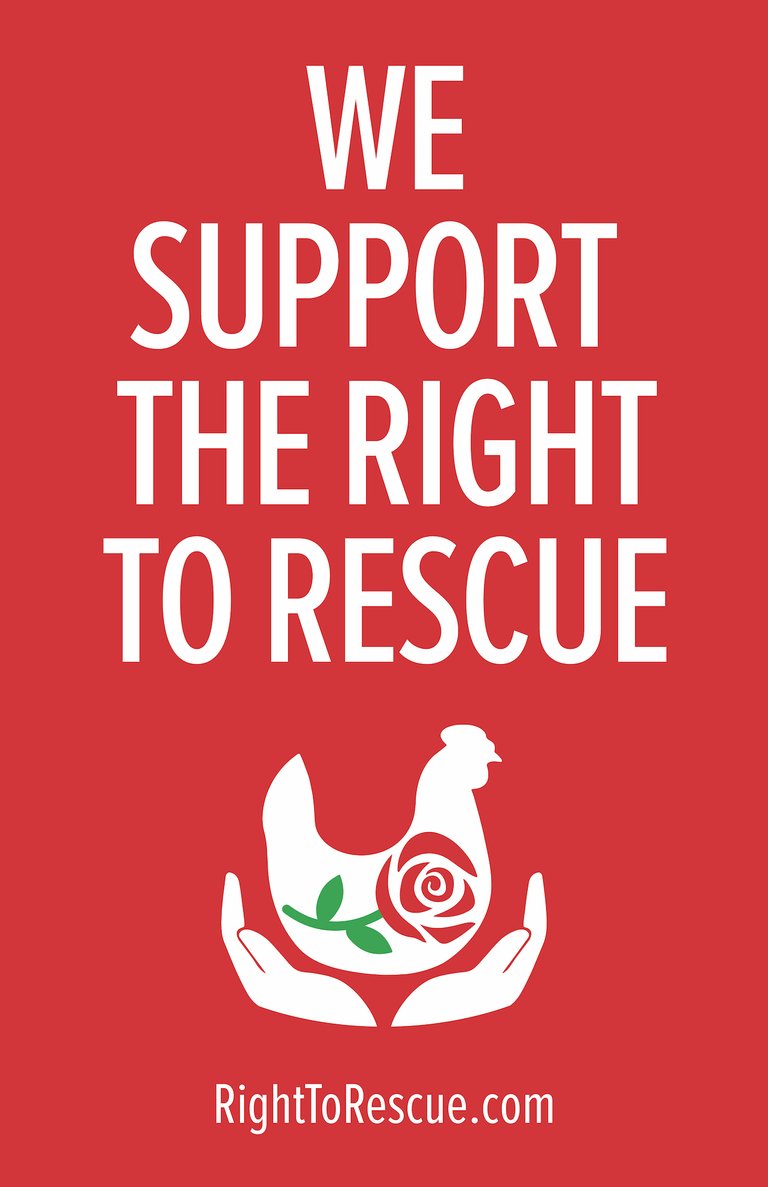 Thank you for reading! And if you are interested in keeping abreast with #RightToRescue, animal rights, and activism, I am considering starting a community (at the suggestion of @kommienezuspadt, my acting steemit/blockchain adviser and guide) on the new beta site and will be sharing info about that once I explore the site a little more.