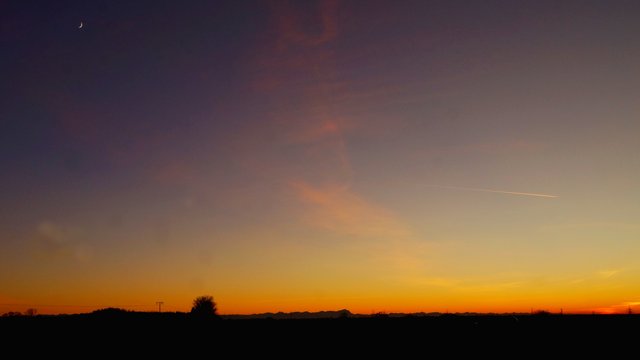 My Actifit Blog #513 | 30 December 2019 |
With full sun and temperatures far below zero degrees (minus 6 degrees Celsius) a short walk is really fun.
More activity was unfortunately not possible today. Please note the tiny crescent moon on the top left of the picture. I wanted to get the moon a little bit closer with my zoom, but without a tripod it did not work out.
One more sleep and then off to Munich for my last 10 km run this year!
Keep your fingers crossed for me that everything works well. Between 1500 and 2000 runners are expected.

Bei voller Sonne und Temperaturen weit unter Null Grad (minus 6 Grad Celsius) macht ein kurzer Spaziergang richtig Spaß.
Mehr Aktivität war heute leider nicht drin. Bitte beachtet die winzige Mondsichel links oben auf dem Bild. Ich wollte den Mond mit meinem Zoom noch etwas näher ranholen, aber ohne Stativ ging da nichts.
Noch einmal schlafen und dann auf nach München zu meinem letzten 10 km Lauf in diesem Jahr!
Drückt mir die Daumen, dass alles gut klappt. Es werden zwischen 1500 und 2000 Läufer erwartet.

Stats for Today
Walking: 2 km
Current Total 2019: 4 177 km
Activity Count: 6 775 steps

(counted by my Fitbit device synced with actifit fitness tracker)
Activity Type:
Walking, Daily Activities
Current Actifit User Rank: 61 (+12.30)*
*Holding 123.00 AFITX tokens
Rewarded Activity Reports: Level 7/10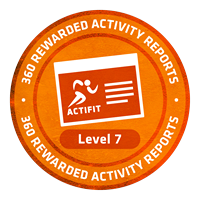 Next Badge: Level 8 needs to have 540 Rewarded Activity Reports!
The last 10K Run Contest in this year I have registered for, will be on 31.12.2019, the famous Silvester Run around the Olympic Area in Munich!
Who is joining me?

How to start your actifit/steem account:
• Buy some STEEM first!
• STEEM is an investment, not only a blogging platform!
• You can use Bitvavo or any other exchanges which trade STEEM
• Signup for an actifit/STEEM-account here
• Download the app for Android or IOS
• Join Actifit's community on Discord for discussions and help
• Follow @actifit for daily News and Statistics
• Read the Official White Paper for further information on the project!
• Please vote for @actifit as witness!! The team is doing an excellent job!
• Get upvotes from @actifit by posting your daily activities!
• Make at least 5K steps daily! Now you are ready to go to the Moon!
• Distance to the Moon is avg. 385K km! Enjoy your lifelong travel! 😄


This is the actifit posting account of @peter2017, an ambitious guy with a bunch of old bones. I'm trying to enhance my health and fitness mainly by walking, running, cycling and swimming.
Please support and follow my progress! Thanks so much!
Life is Motion! Live an active Lifestyle to stay healthy and fit!




Photos © by actifit-peter
Who-Am-I ?