Hey everyone! Been noticing a lot of users recently that have their RC at 100% and aren't claiming accounts, figured a post reminding them about why it would be a good decision to spend some time claiming them could be good for the future. A lot of big accounts are claiming accounts right now and this in turn increases the cost of actions on the blockchain through RC, good thing is that these parameters can be increased or decreased depending on the need. If you aren't claiming accounts though it could mean that you are letting the others claim more - in a way.
Who knows with the demand of accounts in the near future, right now there of course is not a lot and @steem (steemit's account) is the one still creating most of new accounts while claiming new ones with their RC. Right now for example they still have 36,900 accounts ready to be created for new users looking for one and as far as I'm aware their account creation times have decreased by a lot since they annouced it in a @steemitblog post some time ago. It's always handy to have a few claimed accounts available though instead of having to pay 3 Steem to create one if you stumble on someone who wants one or you have friends you want to invite yourself to Steem.
One site I use mainly for this and because of the ease of claiming multiple accounts at once is steeminvite.com, here is a screenshot of me letting the bot claim accounts for me: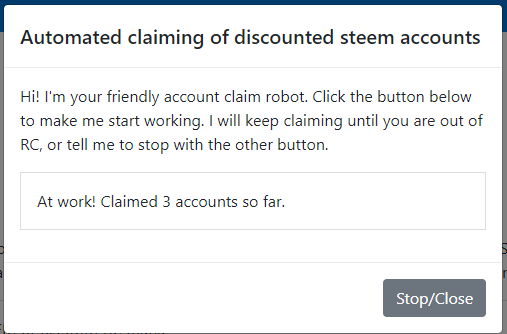 It is really convenient and you can just let it work while it depletes your RC. It will also let you know how many accounts you have and how many you could potentially create with your liquid Steem!

The invite system is also really great, you can send someone and invite either to their email or just create a link to send it to them directly, this is what I've been doing when inviting new Gods Unchained players onto Steem and it has worked great so far! All they have to do is choose a username and save their seed + keys and then you create it with your active key and they can use the account, but remember to spare so SP delegation so they can use it more too. I believe with 0 SP you can still comment a few times per day but already with 15 that increases to 10+ comments I think, and these problems will of course go away soon when we'll implement the planned resource credit delegation too. Making it so that people who invite a lot of users don't have to be delegating out a ton of SP meaning they'd lose out on curation rewards because of it, they can directly delegation RC instead and since the majority are constantly at 100% RC when using Steem regularly they are not going to miss it unless they really like claiming free accounts. :P
Another site you can use is Steemworld.org (created by @steemchiller) and similar to steeminvite.com (created by @pharesim) they won't store your keys as they are just kept on your browser so they are safe to use. You'll just have to use posting + active key of course so don't keep too much liquid on your account in general to remain safe, remember that savings exists allowing you to withdraw funds within 3 days.
So anyway, are you consistently claiming accounts? Why not if no? :)
---