Molly's Game is a real story about a lady called Molly Bloom. She was originally a skier, but was injured whilst training to qualify for the Olympics. That put an end to her sporting career.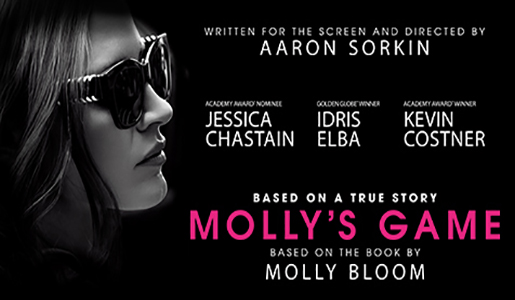 Source : http://getthechance.wales/2018/01/09/review-mollys-game-jonathan-evans/
Molly took time off after her injury and went to Los Angeles. She worked as a waitress at a bar and ended up helping her boss Dean to run his underground poker game. The games are attended by a lot of wealthy and famous people who play with high stakes and she earns a lot of money from tips. Over the years, Molly learnt a lot about the games, and builds up a good rapport with the players. Dean is worried that she will end up running the show and when he feels he can't control her anymore, he fires her.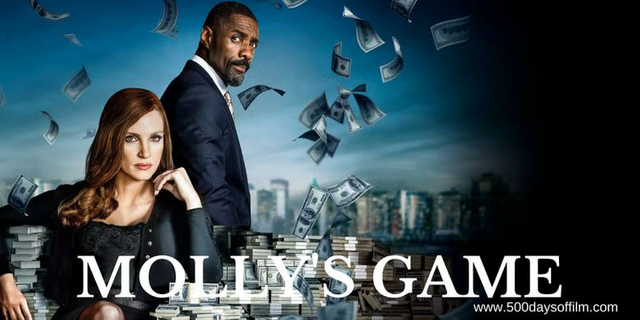 Source : https://www.500daysoffilm.com/molly%27sgamereview/
Eventually Molly starts her own poker games and some of Dean's players follow her over. She becomes very successful but then she had a run in with a whale as she didn't agree with his unethical approach to the game. The whale becomes upset and leaves her game taking a lot of the other players with him. Molly then moves on to New York where she has to start afresh as she has less contacts there. She eventually manages to find some wealthy players, but when some of them don't pay up for their losses, it falls on her to foot the bill. Even then, she refuses to take a cut from the games as that would make it illegal gambling.
Molly's run of bad luck doesn't stop there. She recruited some wealthy Russian and Italians to the game, and it turns out they were mafias who cause more trouble for her. And finally, one of her players from Los Angeles was accused of running a Ponzi scheme. Molly is dragged into this by the authorities but refuses to reveal who plays at her games to protect them. She is also investigated by the FBI for her dealings with the mafia. All this ends her games when the FBI seizes her assets and demands records of her players, which she still refuses to hand over. Luckily, in the end Molly escapes prison sentence and is left with a USD200k fine.
---
I love Jessica Chastain as an actress and she plays Molly so well in the movie. You can see how she progress from an injured skier where her Olympic dreams are shattered, to a stong minded woman in a male dominated tough world. Pretty much most of the movie is focused on Molly and she carries the film from start to finish.
---
※ The following part is needed to put filled in and added to your text, as otherwise it will not be included later on phase II on Triple A.
※ 리뷰 하단에 다음 두가지 항목 포함 필수 (미포함 시 차후 자체사이트에 반영 안됨)