Just In Time
Efficiency. That's a magical word in capitalist parlance. In the never-ending quest for better returns on investment and profit maximization, there's no greater foe than costly inefficiencies. That's why the "just-in-time" manufacturing and supply chain workflow has become so popular among those who seek to maximize profits and minimize costs.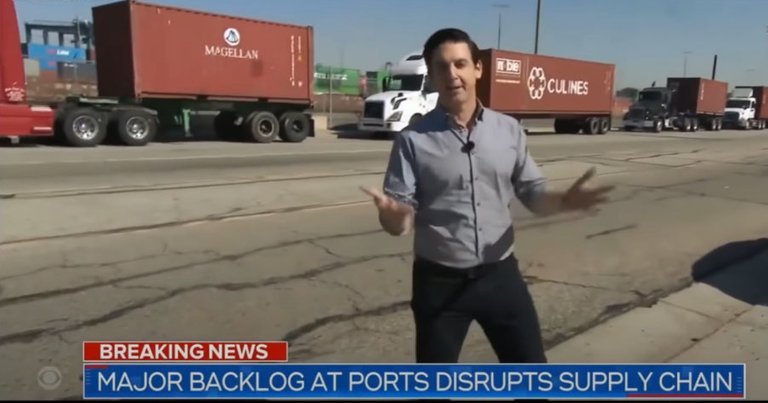 source: YouTube
Regular people like you and I like to keep something extra of the things we may need in case of emergency; we've seen this in practice when, at the beginning of the pandemic, toilet paper, hand sanitizer and other related products were sold out in a matter of days or weeks. However, the fact that these products were sold out so quickly, was a sign that the socioeconomic system in which we all operate doesn't hold that same opinion. Storing products for later use is inefficient, you see? Keeping warehouses full of stuff that can not be sold immediately is a costly business, and only keeps profits down. This is where the just-in-time philosophy of manufacturing and supply chains enter the picture.
The just-in-time supply chain method, is the process of only moving material right before it's needed. This way, warehouses don't have to store as much of the material because they only have as much on hand as they need at any particular time. Just-in-time was the reason why Fauci had to resort to telling untruths about the effectiveness of wearing masks; there just weren't enough of them! As attractive the idea of keeping supplies to a minimum is in the eyes of the capitalist owners of manufacturing and supply chains, the pandemic has clearly shown that this system can not cope with spikes in demand, and has shown itself to be extremely fragile when one link in the chain has a temporary hiccup.
This just-in-time idea was developed by Toyota in the 1970s and is therefore a true child of late stage capitalism. Seeing its success in maximizing profits, and forced by the demands of market competition, this philosophy was soon copied by other manufacturers. Not only that; it was soon discovered that this idea works just as well in other segments of the economy, most notably in finances and human resources. The latter affects regular people most directly, where hiring and firing takes place on a just-in-time basis, resulting in many temporary jobs without any benefits or security. As always, the negative effects of capitalism are outsourced to the people on the bottom rung of the socioeconomic ladder.
In the end, cost-efficiency isn't efficient at all in a real world with real people and a real environment. When profits are the measure of all things, all things lose and only the few on top of the profit economy win. We're the Titanic, heading straight toward the iceberg. And when we've hit it and going under, the band on the deck will still be playing. It's time we realize that only fundamental changes in the way we organize society can steer the ship away from certain doom. The below linked video explains all this and more; I hope you watch it, and that you read the other posts I've written about capitalism's inherent contradictions and failings. Our Titanic doesn't need to sink, but we have to see the iceberg before we can avoid it, just in time...
Capitalism (Not COVID) Broke the Supply Chain
---
Thanks so much for visiting my blog and reading my posts dear reader, I appreciate that a lot :-) If you like my content, please consider leaving a comment, upvote or resteem. I'll be back here tomorrow and sincerely hope you'll join me. Until then, stay safe, stay healthy!

Recent articles you might be interested in:





Thanks for stopping by and reading. If you really liked this content, if you disagree (or if you do agree), please leave a comment. Of course, upvotes, follows, resteems are all greatly appreciated, but nothing brings me and you more growth than sharing our ideas.

---
---