Century Of The Selfie (repost)
Warning: this post may offend some people. And that's just it: so many people seem to get so easily offended nowadays. You can see this in the exaggerated virtue-signaling in movies and on TV, the online "discussions" between so called politically correct left versus the absolutely free to insult anyone alt-right...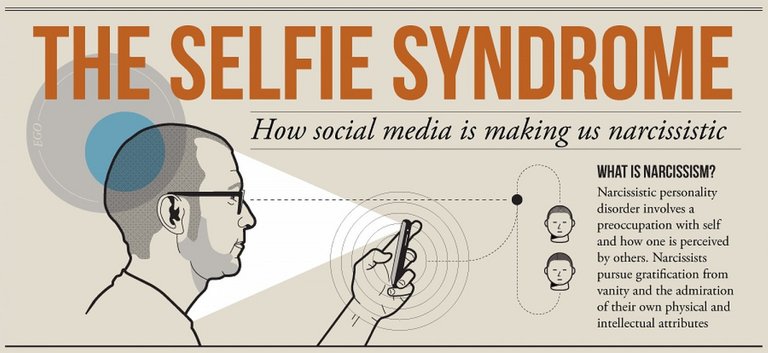 image by Muhammad Rafizeldi - source: Flickr
I don't want to dig in to the whole left-right discussion as it's a media fabricated dichotomy anyway, designed to create an illusion of "choice" when election time comes around again. The electorate will cast their votes according to hyped scandals in meaningless discussions about identity politics, who said what in which manner, gay-rights and stem-cells, abortion, immigration, walls between countries, late night tweets... While all the time economical and geopolitical strategies are pushed to the background to hide the simple fact that all parties are just the same where it really matters.
No, I want to talk about the way all sides are getting more and more encapsulated by their own confirmation bubble and want to try and place this in a larger perspective of modern developments in technology and western society. I'm talking about the age of the selfie. An age in which our own self has become the measure of all things. Especially the so called millennials have been brought up with a strong sense of self; they've been told their entire live that they're special, that they to can make it, if they only put their mind to it. A large part of them have been getting used to instant gratification through regular dopamine shots provided by likes, upvotes, follows and upward pointing thumbs on their favorite social media.
Or did Whitney start all of this..?
Whitney Houston - Greatest Love Of All
And there is no truth other than your own. Everybody knows there's no absolute truth, there's only the reality as you perceive it. What happens to persons that think there's no higher authority than themselves? Well, first they're left in utter confusion without realizing it themselves: they're left with the rather odd notion that there is no objective truth, and that's the truth... And second they take selfies. A whole lot of selfies, carefully selected out of a thousand tries, hastily uploaded in anticipation of the dopamine shots flowing in with the almost instant upvotes. And when our latest selfie, or the picture of that amazing cake you just baked, doesn't get the anticipated likes and upvotes... depression sets in.
How often do you check your mobile? Do you put your mobile on the table when having dinner with family or friends? If so, realize you're putting the real people you're with in second place, you're being selfish and acting like an addict. This selfishness is cultivated by our economy, and is now turbo-charged by our ever present mobile dopamine reservoir. Millennials are often called the most narcissistic generation in human history. Sometimes even called the "me me me generation". This is true in my observation, but they're not to blame. They are, like all of us, the product of their cultural environment and the first to have to deal with a life of constant connectivity and instant gratification and the dangers of getting trapped in an inescapable confirmation bubble.
This is why my heart bleeds a little when I see videos like the one linked above. She's a lovely looking lady and I bet she's a very nice person to... But so utterly consumed by herself it's not even funny. I know it's not as simple as I illustrate here and that there's a lot to say about these accusations. It's never simple where the human psyche's concerned. This is just the opinion of a generation-x dude, not the truth. But is Trump the most narcissistic "leader of the free world" we've ever seen? And if so, is that a coincidence?
And also, please let's be aware of the other side of this medal; there's an equally great problem with a lot of people having very low self-esteem. For them social media can be a blessing in disguise, I don't know. What I do know is that none of this is intended to insult anyone in any way...
Just wanted to share this in the hope no one will be too offended by this old man's opinion. Not everyone that takes selfies is selfish or a narcissist. Not everyone that brings the mobile to every social event is a dopamine addict. And ultimately we're all guilty of the environment we all create together for each other; like I said, no one here is to blame because everyone is to blame. And I'm really curious what your thoughts are on this subject, dear reader, because it's an important but complicated problem that concerns all of us.
How to Take The Perfect Selfie
---
Thanks so much for visiting my blog and reading my posts dear reader, I appreciate that a lot :-) If you like my content, please consider leaving a comment, upvote or resteem. I'll be back here tomorrow and sincerely hope you'll join me. Until then, stay safe, stay healthy!

Recent articles you might be interested in:





Thanks for stopping by and reading. If you really liked this content, if you disagree (or if you do agree), please leave a comment. Of course, upvotes, follows, resteems are all greatly appreciated, but nothing brings me and you more growth than sharing our ideas.

---
---