[ESP-ENG]¿Te gustan las historias de Romance? Conoce La Dama y su Mayordomo-Do you like Romance stories? Meet The Lady and her Butler

Saludos juventud.
En esta ocasión hablaré un poco de un Manhwa(Koreano) autor Jade, el cual me gustó mucho por su historia y drama. Se trata de Sooha y Taesoo quienes son los personajes principales y otros como: Jonhyuk y Soojung, quienes se relacionarán con los protagonistas en muchas situaciones y aspectos.
This time I will talk a little bit about a Manhwa(Korean) author Jade, which I liked a lot for its story and drama. It is about Sooha and Taesoo who are the main characters and others like: Jonhyuk and Soojung, who will relate to the main characters in many situations and aspects.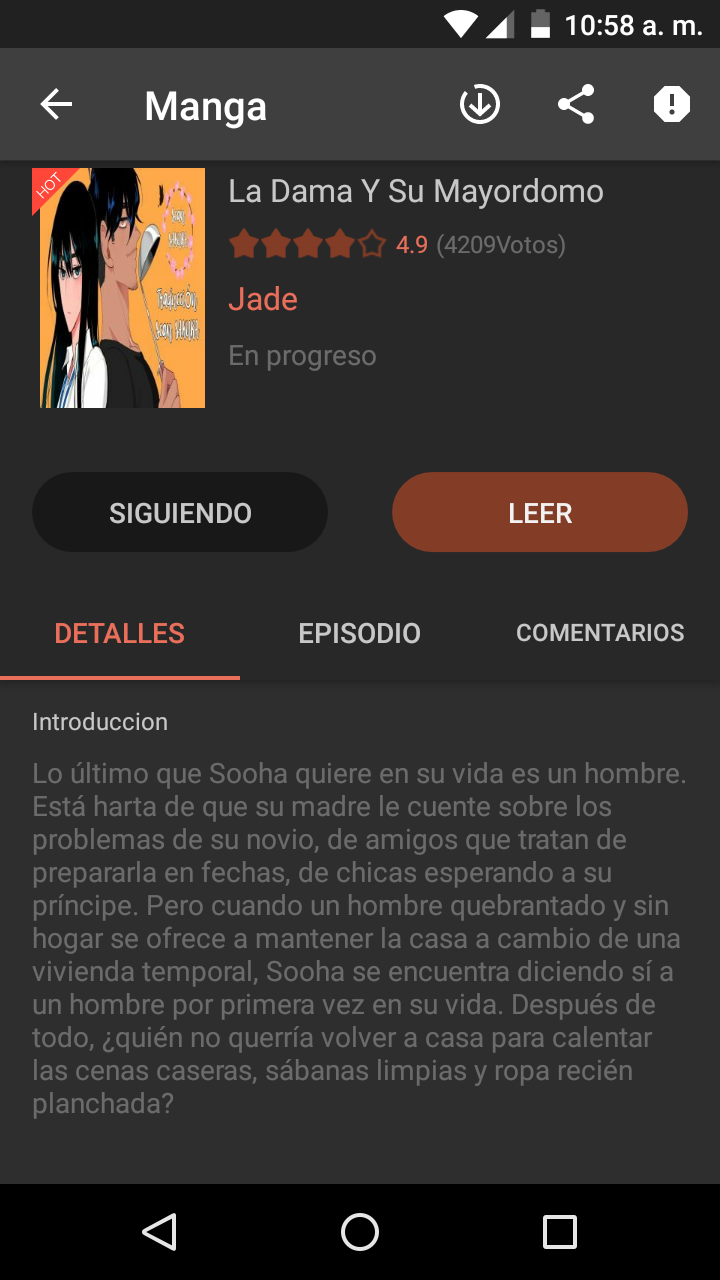 Breve introducción- Short introduction.
Fuente-Source

Este Manhwa se estrenó en el año 2017 emitiéndose su último capítulo en 2020. Como lector uno se adentra en la historia, obviamente esperando un final que sea considerado bueno o malo. Sooha el personaje principal no quiere saber nada de ningún hombre, a menos que sea de algún empleo. Por una equivocación llega a su apartamento Taesoo quien organizó todo el lugar, limpiando todo después que Sooha lo golpea y lo desmaya. Al despertarse le explica su versión y le dice que no tiene donde quedarse y que lo deje permanecer allí a cambio, mantendrá en orden el apartamento.
This Manhwa premiered in the year 2017 airing its last chapter in 2020. As a reader one goes into the story obviously expecting an ending whether it is considered good or bad. Sooha the main character does not want to know anything about any man unless he is from some job. By a mistake Taesoo arrives at his apartment who organized the whole place, cleaning everything after Sooha hits him and faints him. When he wakes up he explains his version and tells her, he has nowhere to stay and let him there and he will keep the apartment in order.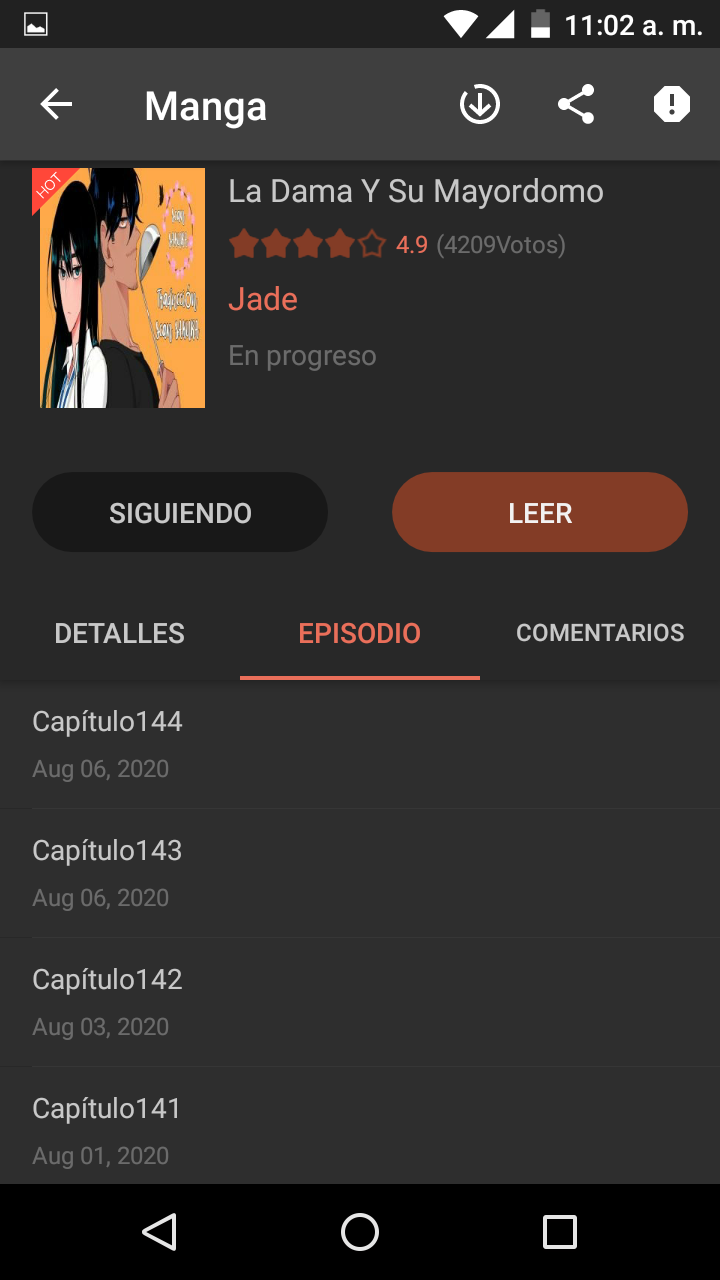 Un total de 144 capítulos- Total of 144 chapters.Fuente-Source
Además, hay momentos en el drama que se les dedica a Jonhyuk y Soojung, en los cuales sentirás muchas ganas de vengarte de cierto personaje. Estos personajes pasarán por muchos problemas desde su infancia, los cuales marcaron su vida y afectaron su toma de decisiones siendo adultos.
Also, there are moments in the drama dedicated to Jonhyuk and Soojung, where you will feel like taking revenge on a certain character very much. These characters will go through many problems from their childhood, which marked their lives and affected their decision making as adults.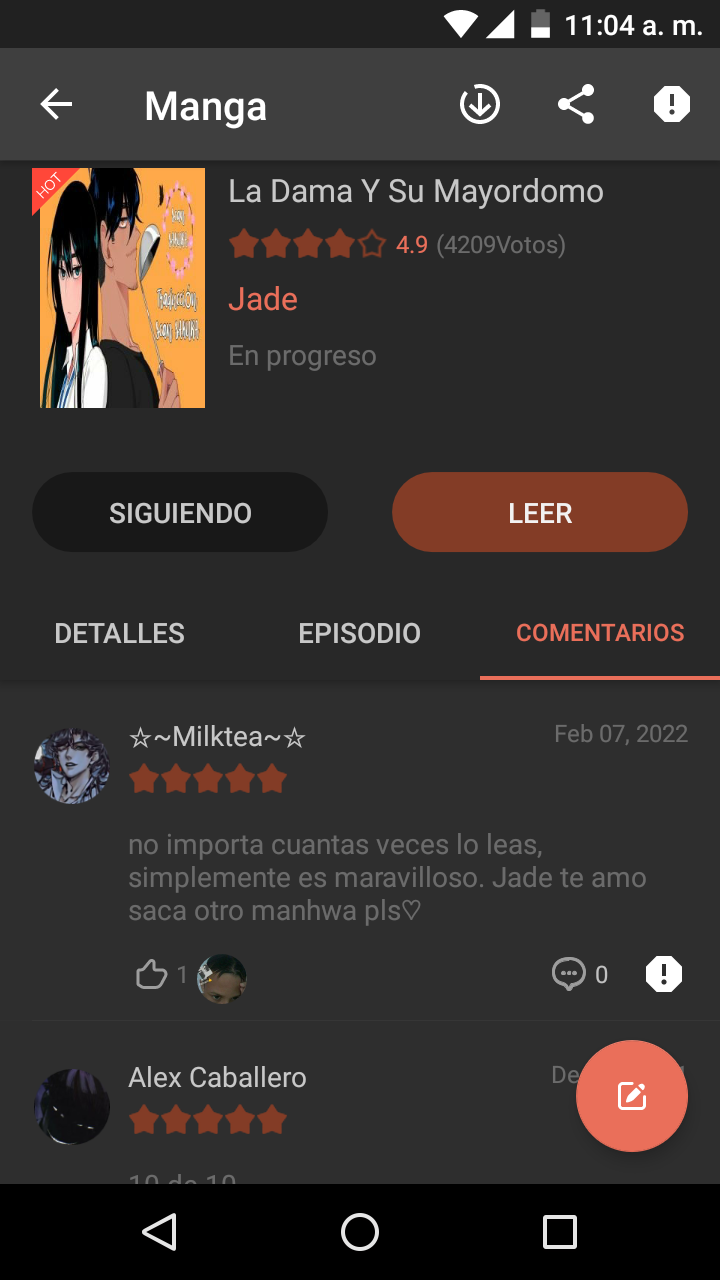 Aquí se puede ver el último comentario positivo.- Here you can see the last positive comment.Fuente-Source
Les puedo asegurar que este Manhwa no los decepcionará, ya que observarán la historia desde el punto de vista de los personajes y seguro los ayudará a reflexionar mucho.
I can assure you that this Manhwa will not disappoint you, as you will observe the story from the point of view of the characters and it will surely help you to reflect a lot.
Gracias por visitarme y leer, hasta otras publicaciones.
Thanks for visiting and reading, see you soon for more posts.

Las capturas de pantalla fueron tomadas desde mi teléfono celular BLU R1 HD por la aplicación Manga Dogs para teléfonos Android enlazado a través del servidor NineManga
Traductor utilizado Fuente
Mi Introduccion en Hive @zozokun
Bandas elaboradas por @epicur0
Agradecimientos a @mikalonny por la revisión y estilo
Screenshots were taken from my BLU R1 HD cell phone by the Manga Dogs app for Android phones linked through the server NineManga
Translator used Source
My Introduction to Hive @zozokun
Bands developed by @epicur0
Thanks to @mikalonny for review and style
---
---