¿Y ahora entonces?
Guao cuando uno cree que todo esta tranquilo, nunca falta algo que lo cambia todo, entonces uno se queda como con aquellas ganas de todo.
Y que no contamos con alguien para desahogarnos, menos que estas personas @hivecatarsis ADMIN, @elizabeths14 MOD, @laloretoyya MOD, crearon esta #Catarsis consultorio y que todos aqui somos psicologos, que escuchan nuestras quejas.
Pues esto empieza hoy lunes 27 de septiembre, mi mama le toco colocarse la segunda dosis de la vacuna Covid19, temprano le pague un servicio de transporte un moto-taxi, ya que vive lejos y no quería que caminara para que no llegara agotada, aunque la carrera era hasta el control delos buses para que lo tomara vacío.
Y a mi hermano menor como anda mas activo en s bicicleta le dije que se fuera temprano al Instituto de Salud Publica, para que fuera hacerle la cola. Luego mi hermano me escribe y me dice que ya mi mama había llegado. Hasta ahí todo bien.
Yo le hubiese acompañado, pero no contaba con suficiente efectivo para el bus, como debo salir el miércoles a buscarle una cita a ella, debía ahorra, menos mal que ella me entendió. Ella quedo en lo de la vacuna y mi hermano fue hacerle unas compras a mi mama y lo mas importante a la ferretería donde ella dias antes había mandado a comprar una cocina eléctrica de una sola hornilla.
Para que entiendan el 08 de septiembre yo tenia en mi casa la tarjeta de debito de mi mama, llame a mi hermano a que pasara viendo esta cocinas eléctricas, que ofrecía una ferretería de mi ciudad, las busque en su cuenta de Instagram:
Wow when you think everything is calm, there's never something that changes everything, then you're left with that desire for everything.
And that we do not have someone to vent, less than these people @hivecatarsis ADMIN, @elizabeths14 MOD, @laloretoyya MOD, created this #Catarsis office and that we are all psychologists here, who listen to our complaints.
Well this starts today Monday September 27, my mom had to get the second dose of the vaccine Covid19, early I paid her a transport service a moto-taxi, since she lives far away and did not want her to walk so she would not arrive exhausted, although the race was to the control delos buses so she could take it empty.
And my younger brother, since he is more active on his bicycle, I told him to go early to the Instituto de Salud Publica, so that he could wait in line. Then my brother wrote me and told me that my mother had already arrived. So far so good.
I would have gone with her, but I didn't have enough cash for the bus, as I had to leave on Wednesday to get an appointment for her, I had to save money, fortunately she understood me. She stayed at the vaccinations and my brother went shopping for my mother and most importantly to the hardware store where she had sent to buy a one burner electric stove a few days before.
So that you understand that on September 8 I had my mom's debit card at home, I called my brother to see this electric stove, which offered a hardware store in my city, I looked for them on his Instagram account: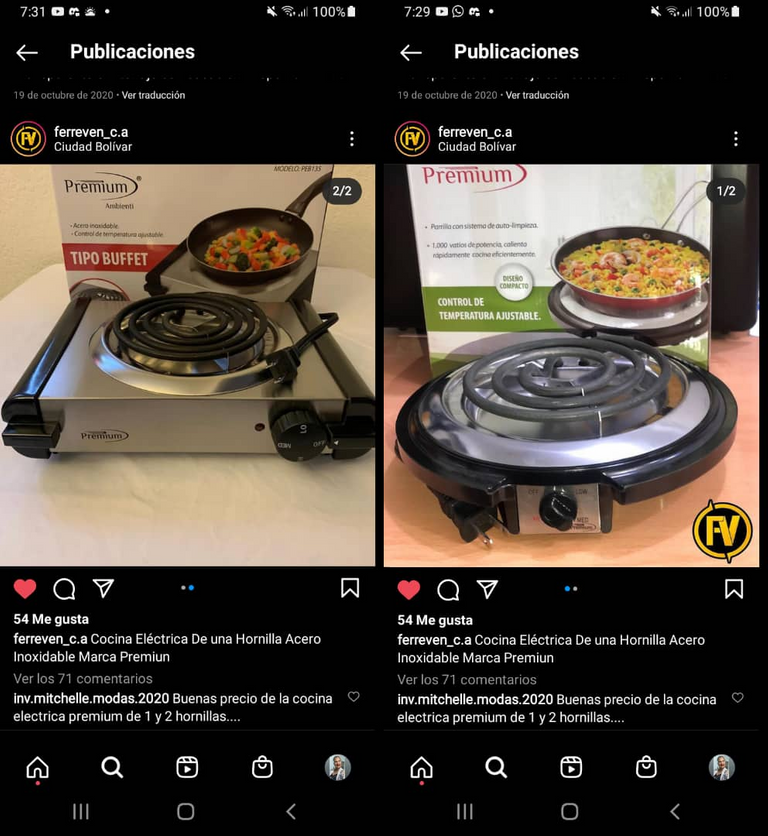 Hice unos captures en mi celular y se los mande a mi hermano por WhatsApp, el me dijo que iba a pasar a verlas, ver los precios y venir a buscar la tarjeta de debito.
Cuando el llega a la ferretería me envía estos mensajes que hice unos captures:
I made some captures on my cell phone and sent them to my brother by WhatsApp, he told me that he was going to see them, see the prices and come to get the debit card.
When he arrives at the hardware store he sends me these messages that I made some captures:
Esos eran los precios la que es como cuadrada 35$ y la otra redonda 26$ marca Premium. Después mi hermano vino a buscar la tarjeta, como anda en bicicleta reposo un rato en casa, le guarde desayuno y se fue.
Como yo reviso los estados de cuentas bancarias de mi mama, le dije de cuanto disponía, mi mama es docente jubilada y pensionada.
Al llegar de nuevo a la ferretería resulta que le dicen que se habían equivocado de precios que la cuadrada es de 35$ y la redonda es de 26$, se la sacan y se la prueban.
Those were the prices, the square one $35 and the round one $26 Premium brand. Then my brother came to pick up the card, as he rides a bicycle he rested for a while at home, I saved him breakfast and he left.
As I check my mom's bank statements, I told him how much I had, my mom is a retired and pensioned teacher.
When she went back to the hardware store, they told her that they had the wrong price, the square one was $35 and the round one was $26, they took it out and tried it on her.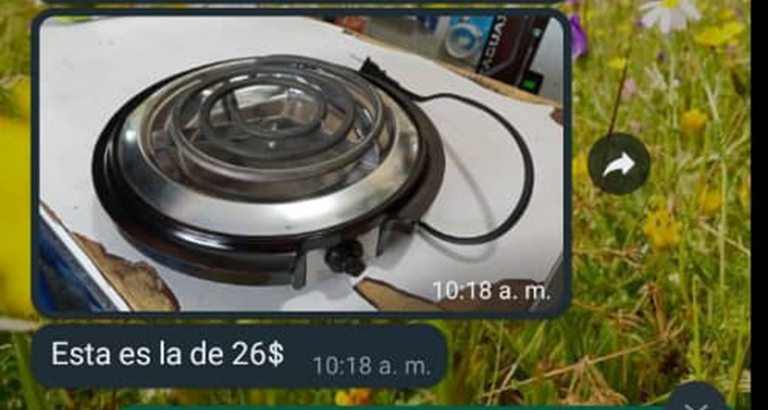 La probaron y todo bien, calentó en los tres niveles, le dijeron que la garantía era de 15 dias (como mucho), mientras se enfriaba, hacia el pago en taquilla, regreso por la cocina ya en su casa y se fue, ya que al día siguiente se la llevaría a mi mama al fundo.
Luego pasados unos dias llamo a mi mama, le pregunto como esta funcionando la cocina me dijo que bien, todo chévere, yo feliz, porque la cocina de mi mama se daño, el problema del gas, por lo menos soluciono en algo.
They tested it and everything was fine, it heated in the three levels, they told him that the warranty was for 15 days (at most), while it cooled down, he made the payment at the box office, returned for the stove already in his house and left, because the next day he would take it to my mom to the farm.
After a few days I called my mom, I asked her how the stove was working, she told me it was fine, everything was great, I was happy, because my mom's stove was damaged, the gas problem, at least she solved something.

La semana pasada me dice mi hermano: " voy donde mi mama que la cocina no quiere prender la voy a buscar para traerla a la ferretería por lo de la garantía", yo le dije que estaba bien.
Llamo a mi mama para preguntarle si ella no habría hecho mal uso de la cocina, me dijo que no. Mi hermano se la trajo.
Hoy mientras quedo vacunándose, el fue a le ferretería como dije arriba, y me llama para decirme que: "aqui no quieren cambiar la cocina, que según ellos no dijeron nada de garantía, ni que yo fuera loco, si me dicen eso no vengo hasta acá, ni que hubiese costado 5 dólares", yo que estaba del otro lado de la línea me dio una furia, una tibiera, una CATARSIS, una impotencia, porque de poder haber ido hasta allá, a la ferretería, también les digo sus cosas.
Last week my brother told me: "I'm going to my mom's, the stove won't turn on, I'm going to bring it to the hardware store because of the warranty", I told him it was fine.
I called my mom to ask her if she hadn't misused the stove, she said no. My brother brought it to her. My brother brought it to her.
Today while he was getting vaccinated, he went to the hardware store as I said above, and called me to tell me that: "here they do not want to change the stove, according to them they did not say anything about warranty, not that I was crazy, if they tell me that I do not come here, not that it would have cost 5 dollars", I was on the other side of the line and I was furious, shivering, CATARSIS, impotence, because if I could have gone there, to the hardware store, I also tell them their things.

Pero ese mal rato, rabia y mas que mi mama pierda su dinero que con tanto esfuerzo tenia ahorrado, para que vengan ellos con ese fraude, si ellos venden no fabrican la cocina, pero pienso yo que deben de dar garantía, mas al costo que tiene, la garanta debía ser mas tiempo.
Entonces ahora cuando debamos comprar cosas hay que estar pendiente de todos esos detalles y estar seguro que den garantía.
But that bad time, anger and more that my mom lost her money that she had saved with so much effort, for them to come with this fraud, if they sell not manufacture the kitchen, but I think they should give warranty, but at the cost it has, the garanta should be longer.
So now when we have to buy things we have to be aware of all these details and be sure that they give warranty.
Entonces para relajarme y que esta Catarsis se me quitara me tome un poquito de Sangría je je.
So to relax and to get rid of this catharsis I drank a little bit of Sangria heh heh.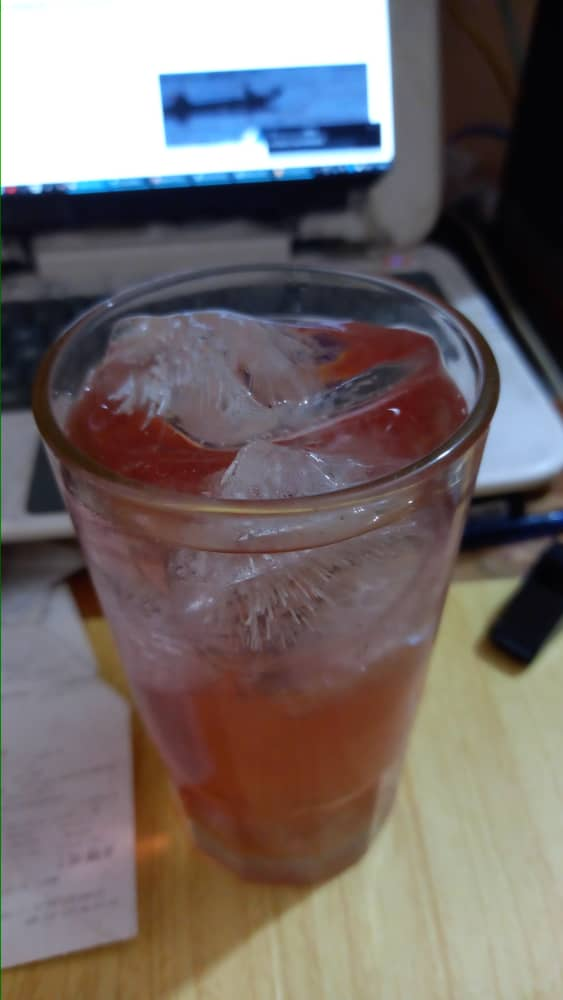 ---
---