Reciclando Muñequitas hice esto. Esp-Eng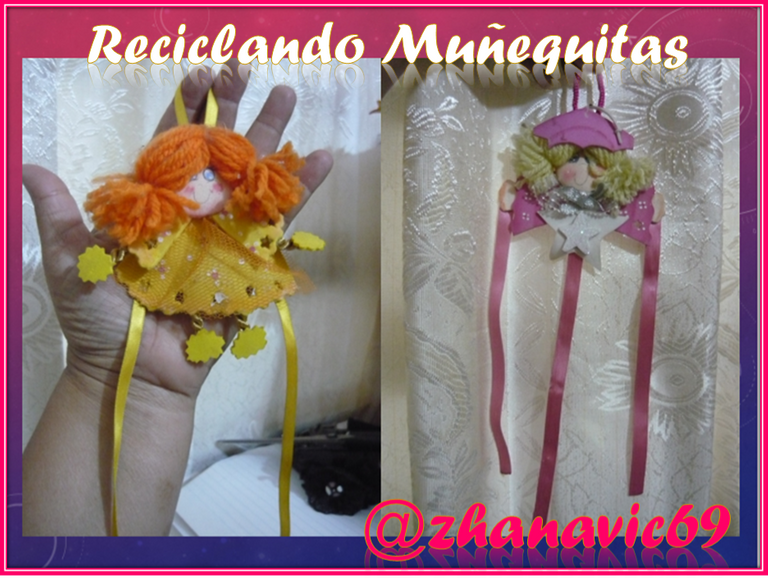 Cuando hago limpieza en mi casa, en mi cuarto y en el cuarto loco o deposito aprovecho de ir botando cosas que en verdad ya no se pueden usar de nuevo, ni queriendo, porque cuando lo boto es porque así es, porque mire que para yo botar o desechar algo le meto mucho ojo.
When I do cleaning in my house, in my room and in the crazy room or deposit I take the opportunity to throw away things that really can no longer be used again, not even wanting to, because when I throw it away is because it is so, because look that for me to throw away or discard something I put a lot of eye.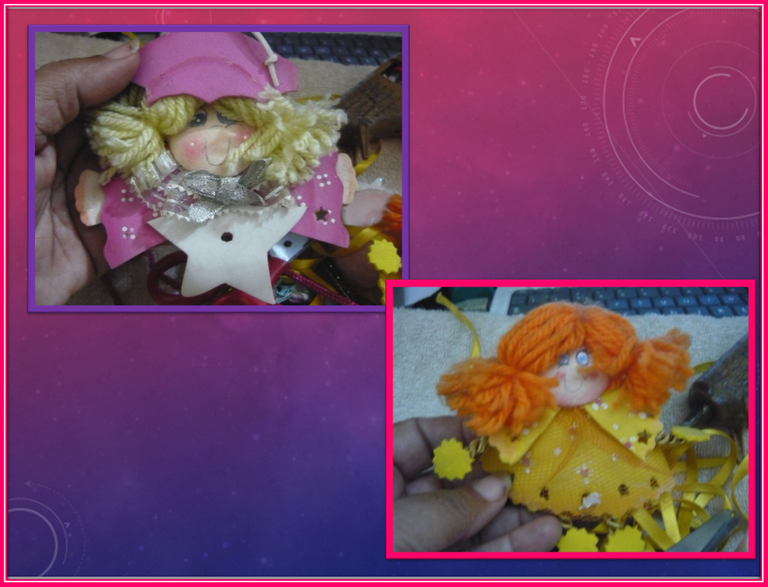 Así fue que en mi cuarto encontré estas lindas muñequitas, que me regalaron hace muchos años como distintivos cuando mi hija mayor estaba en preescolar y ahorita esta en segundo semestre de enfermería, unos cantos años verdad je je. Casi que las boto, pero dije ¡No!, voy a ver que hago con ellas con tal de no botarlas, porque son tan lindas, así que ya verán lo que hice.
So it was that in my room I found these cute little dolls, which were given to me many years ago as badges when my oldest daughter was in preschool and now she is in her second semester of nursing, a few years ago. I almost threw them away, but I said No, I'm going to see what I can do with them, because they are so cute, so you will see what I did.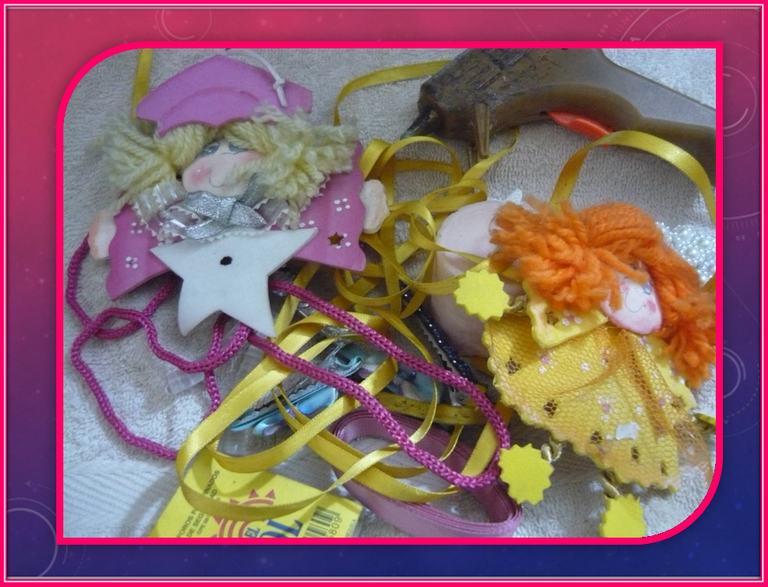 Aquellas personas que hace manualidades siempre tiene guardadas muchas cosas, que voy comprando y van quedando de otras manualidades que ya he hecho, entre esas cosas busque: cintas y cordones, silicón y pistola, vela y fósforos, tijera, regla.
Those people who make crafts always have saved many things that I buy and are left over from other crafts that I have already done, among those things look for: ribbons and cords, silicone and gun, candle and matches, scissors, ruler.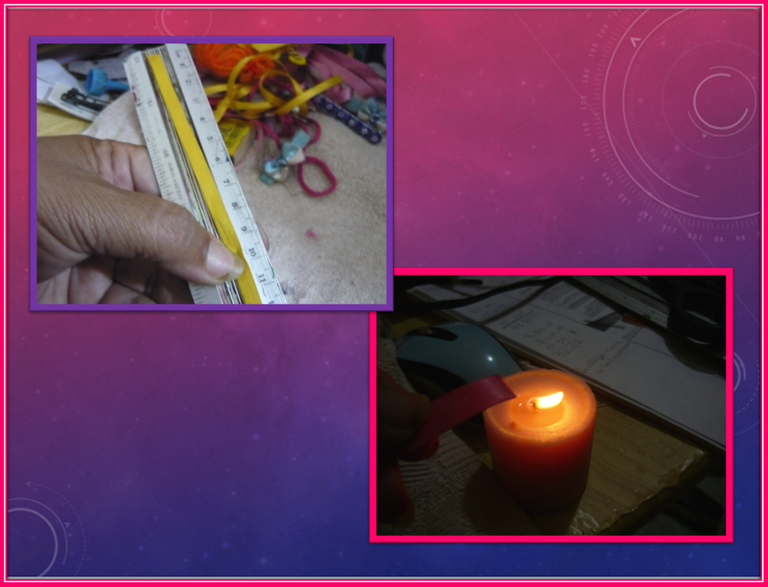 Primero tome medidas de largo de las cintas y cordones, luego les queme los extremos con la vela encendida, con cuidado de no quemarme, esto es para que no se deshilachen.
First take length measurements of the ribbons and cords, then burn the ends of them with the lit candle, being careful not to burn myself, this is so they don't fray.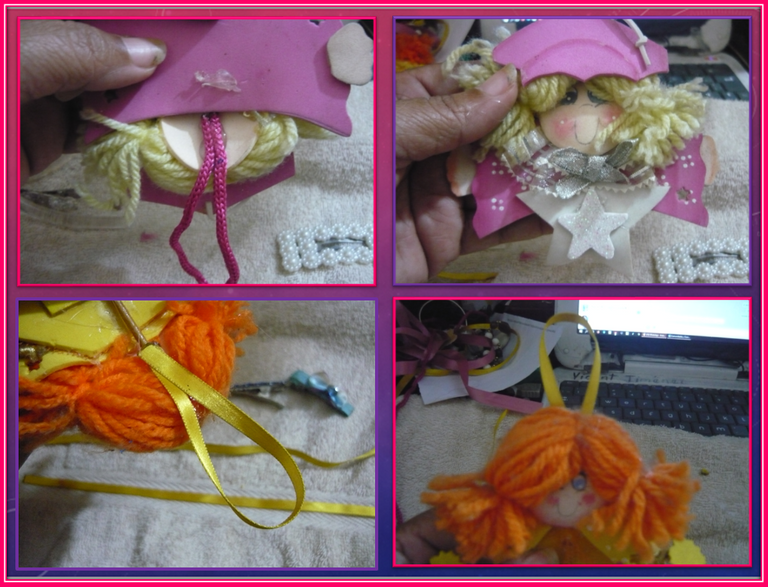 Primero pegue en la parte de atrás las cintas y cordones que servirán para colgar las muñequitas. Con el silicón caliente.
First glue on the back the ribbons and cords that will be used to hang the dolls. With the hot silicone.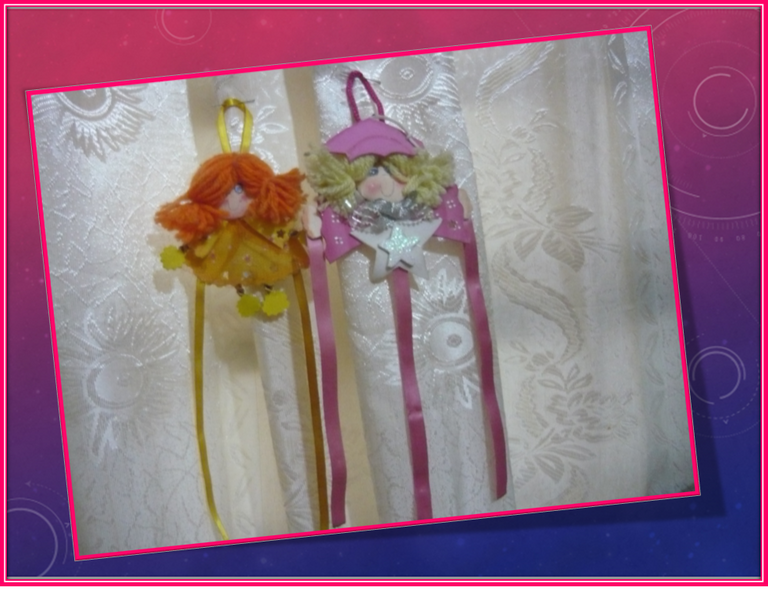 Luego pegue las cintas, que estas servirán para colocar en ellas las ganchetes si son pequeñas mucho mejor. Como son dos a la rosada, tres cintas y a la amarilla 2 cintas.
Then glue the ribbons, that these will serve to place on them the hooks if they are small much better. As there are two to the pink one, three ribbons and to the yellow one 2 ribbons.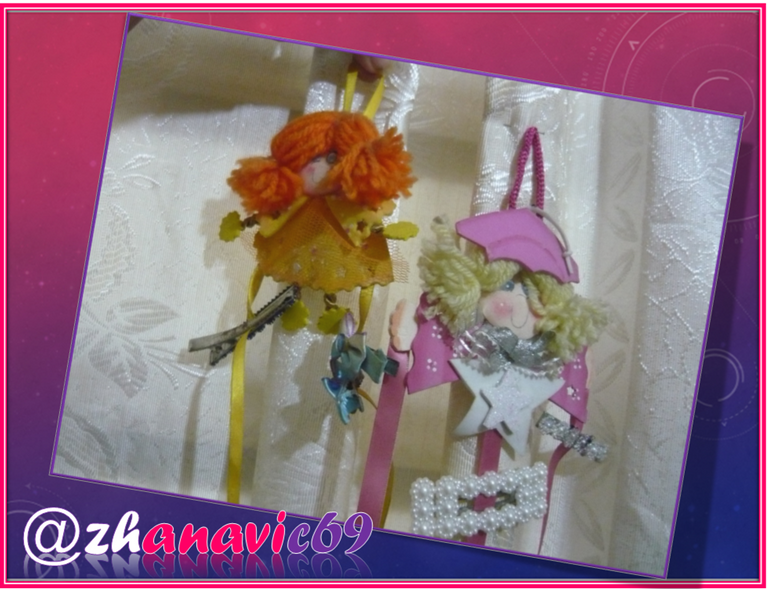 Y ya tengo esas dos muñequitas como unas porta ganchitos para niñas, como ya mi niña es muy grande je je, los regalare a mis sobrinas, ya les tengo el regalo de navidad je je.
And I already have those two little dolls as a little hook holders for girls, as my little girl is already very big heh heh, I will give them to my nieces, I already have the Christmas present heh heh heh.

Y eso fue todo, salve a las muñequitas de botarlas y se que ese detalle harán felices a quien se los regale, un placer haber compartido esto con ustedes, no tiene mucha ciencia pero hay que tener paciencia.
And that was it, I saved the dolls from throwing them away and I know that this detail will make happy whoever you give them, a pleasure to have shared this with you, it does not have much science but you have to be patient.
Todas las fotos las tome con mi cámara Panasonic, las edite en PowerPoint.
All the pictures were taken with my Panasonic camera, I edited them in PowerPoint.

---
---