Iniciativa: Dulce o Salado 🎂🍭🍬🍨/ Initiative: Sweet or Savory 🍔🍕🍬🍨 Esp-Eng
Hola amiga @carmenvmc encontré esta rica iniciativa creada por ti, menos mal que por ver no engordamos, sino ya estaría súper gordita yo. Porque no es tanto lo que coma sino que asimilo todo hasta el agua.
Hello friend, I found this delicious initiative created by you, thank goodness we don't get fat, otherwise I would be super chubby by now. Because it's not so much what I eat but that I assimilate everything, even water.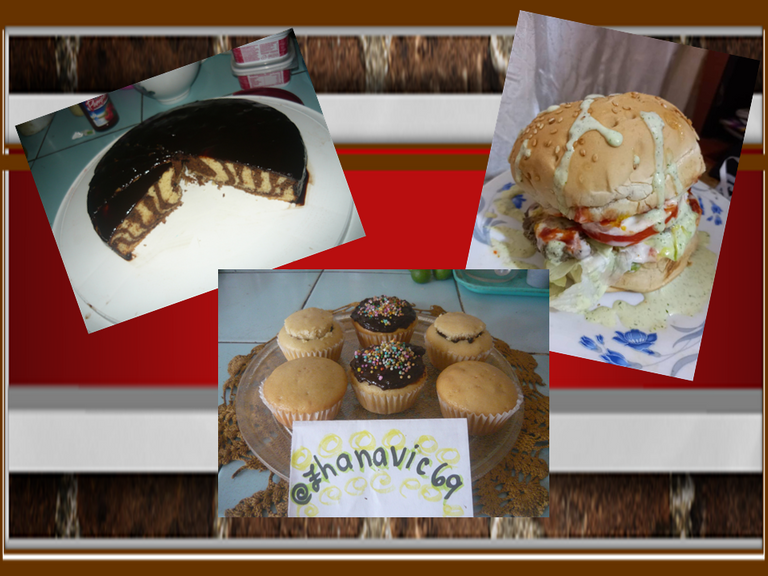 Mis delicias. /// My delicacies.
Bueno mientras voy respondiendo, buscare algo para picar je je je, ahora el cuestionario:
Well while I'm answering, I'll look for something to snack hehehehehe, now the questionnaire

Que que prefiero, dulce o salado, uh.... ambos porque nuestro cuerpo y organismo nos pide de todo pero no exceso, mi muy salado mi muy dulce, en mi casa tengo el problema es que mi hija es la que hace los almuerzos, y tiene un descontrol con la sal, parece que no prueba lo que cocina y siempre se lo digo, de a poco vaya agregando la sal, porque después es difícil quitar la sal.
What do I prefer, sweet or salty, uh.... both because our body and organism asks us for everything but not excess, my very salty my very sweet, in my house I have the problem is that my daughter is the one who makes lunches, and has a lack of control with salt, it seems that she does not try what she cooks and I always tell her, little by little go adding salt, because then it is difficult to remove the salt.

Dulce: Torta de Chocolate/ Salado: Pasticho///Sweet: Chocolate Cake/ Savory: Pasticho

La comida rápida o chatarra como también le dice, será rápida si la preparan en esos lugares porque si la hago yo en la casa no ja ja, pero si es mas saludable, pero como tenemos derecho de darnos un rico gusto, esos perros calientes que le ponen de todo con muchas salsas, ni hablar de las hamburguesas, que para completar con una gran Coca Cola je je, así después pase dias en ayunas ja ja ja.
Fast food or junk food as it is also called, it will be fast if they prepare it in those places because if I make it at home I don't ha ha, but if it is healthier, but as we have the right to give us a rich taste, those hot dogs that put everything with many sauces, not to mention the hamburgers, which to complete with a large Coca Cola he he he, so then spend days fasting ha ha ha ha ha.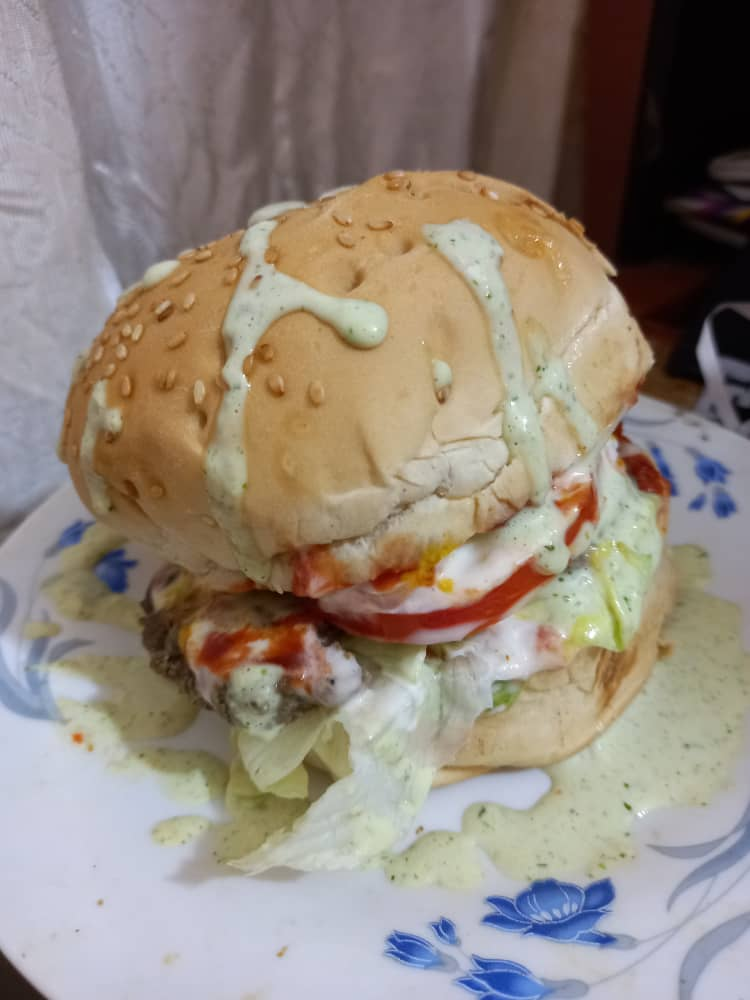 Hamburguesa ///Hamburgers

Mas vale chocolate negro conocido, que chocolate blanco no conocido, je je, porque el negro desde que tengo gusto de sazón siempre he comido del negro en sus diferentes presentaciones. Si es Savoy, porque Savoy con sabor venezolano, que dicen que nuestro chocolate es el mejor del mundo.
Better known dark chocolate than unknown white chocolate, heh heh, because since I have a taste for seasoning I have always eaten black chocolate in its different presentations. If it is Savoy, why Savoy with Venezuelan flavor, they say that our chocolate is the best in the world.

Imagínate si me gustara que yo misma hago tortas, una de chocolate toda, rellena y cubierta, trufas que me quedan suavecitas uhmmm que se deshacen en la boca, las tabletas de Savoy en sus diferentes presentaciones. Una taza de chocolate caliente cuando hace frio, o una bien fría cuando hace calor como el Toddy.
Imagine if I would like to make my own cakes, a whole chocolate cake, filled and covered, truffles that are soft and melt in your mouth, Savoy bars in their different presentations. A cup of hot chocolate when it's cold, or a cold one when it's hot like Toddy.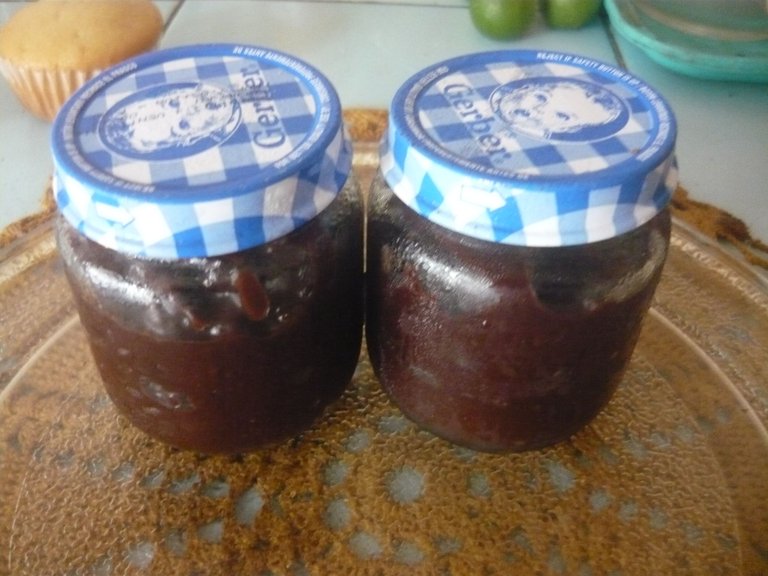 Crema o Ganache de Chocolate. /// Chocolate Cream or Ganache

Pues las que hago yo mis tortas, trufas, suspiros, alfajores, pero también me gustan los helados si este viene con diferentes sabores como: dulce de leche, chocolate (que no puede faltar), torta y mantecado.
Well, the ones I make my cakes, truffles, suspiros, alfajores, but I also like ice cream if it comes with different flavors such as: dulce de leche, chocolate (which can't be missed), cake and mantecado.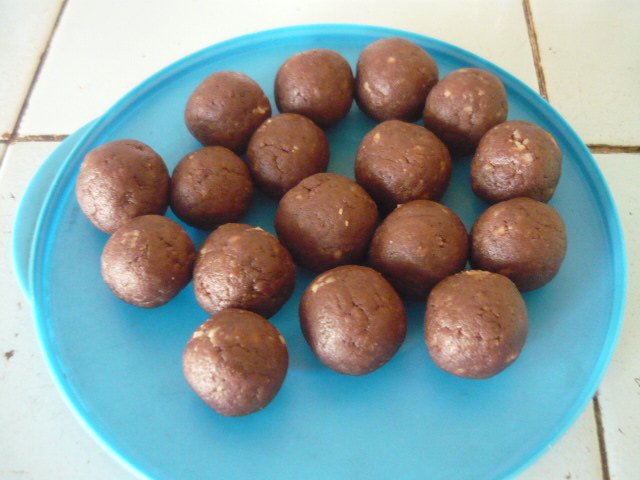 Mis Trufas de chocolate. /// Chocolate Truffles
Y hasta aqui llegue con la comelona je je, las fotos propias tomadas con mi cámara Panasonic, editadas en PowerPoint, todo lo que ven lo prepare yo.
Invito a: @loirabarajas04 @vicent21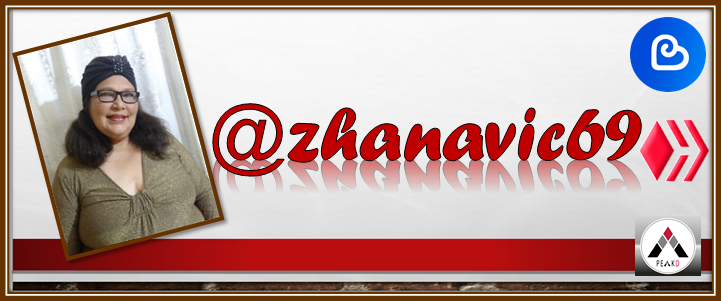 ---
---