The Real Value of HBD - An Unfair Match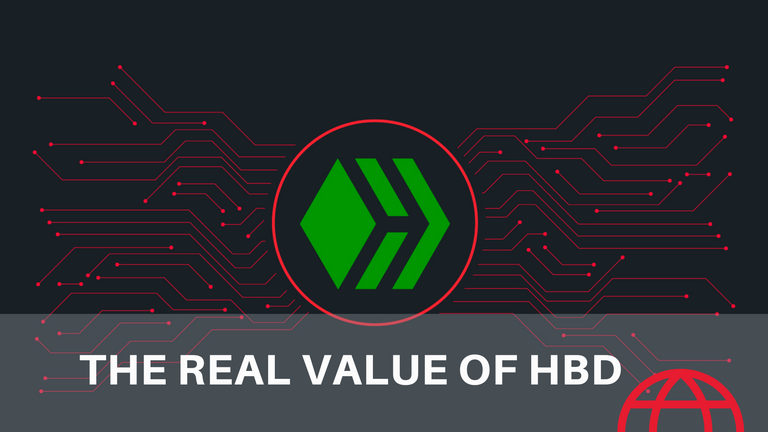 Hive Backed Dollars (HBD) - the stable coin of the Hive blockchain and one of the primary rewards authors and curators earn for engaging in the Hive blockchain is an interesting and revolutionary development on not just in the Hive blockchain, but in the crypto world in general.
With the help of HBD, you come to see and appreciate the token more as you would a real currency instead of seeing it like another cryptocurrency that is plagued with crypto inherent feature - volatility.
HBD is real money, in fact, HBD is the US dollars in disguise. So, instead of pegging my currency and local economy just against the US dollars, why not do it the crypto way?
The Outlook
In this post, we hope to stack HBD up against my local economy and currency in terms of purchasing power, but not limited to that. I will dwell on matters such as:
The value of HBD against the Nigerian Naira
The purchasing power of HBD in my community
The impact of inflation on HBD in my community
Budgeting with HBD
Investing HBD
Without further ado, let's begin.
---
The value of HBD against the Nigerian Naira
Ideally, one HBD should be equal to one US dollar, definitely an ideal situation which we all hope to attain at some point on the Hive blockchain. But, let's dwell on the idea scenario.
With that in mind, if HBD is pegged to exactly 1 US Dollar, this value could be fragmented into the two common financial markets here in Nigeria.
The Nigerian financial space is highly fragmented, with two main markets currently operational and assigning different values to the naira-dollar relationship. These markets are illustrated below:

The above values are average estimated values based on my recent transactions. Based on this, it is clearly evident that making you are holding more value if you can transact with the CBN (Central Bank of Nigeria) rate instead of using the black market rate, but as Nigeria may have it, the CBN rate is not available to the common man, you have a transaction limit of 20 USD per month as an individual and 50 USD per month as a business, this may sound quite absurd, but it is not a joke, it is a fact we have to deal with down here.
So, since we have to deal and live on the black market rate for HBD as Nigerians, all I will be sharing will be based on the black market exchange rate at roughly 600NGN/HBD.
The purchasing power of HBD in my community
In a community where more than half of its residents live below 5 HBD per day, you will agree that 1 HBD is significant.
Let me put things in a little more contest, my current job earns me less than 3 HBD for each day of work (about 2.4 HBD/day), and that is even above the current minimum wage. Here are some more figures:



HBD is worth much in my community, as seen above, with a very little amount of HBD, you can get yourself a healthy meal in a local restaurant or even a flashy restaurant if you want. If your purchases are mostly local services and products, you can see that with a very small amount of HBD, you can do alot locally.
The impact of inflation on HBD in my community
With the increase in inflation lately, that could be blamed on a lot of local factors as well as global factors. The consequence of this is price hikes. Here are some numbers:
| Items | Initial price (HBD) | Current Price (HBD) |
| --- | --- | --- |
| Fuel/gas | 0.275 | 0.33 |
| Shoes | > 5 | > 7 |
| Standard pot of soup | > 4.2 | > 6 |
| Soft drinks | 0.16 | 0.25 |
| Energy drinks | 0.33 | 0.58 |
| Smartphones | > 41.7 | > 58.3 |
| Laptop | > 165 | > 250 |
| Beer | > 0.42 | > 0.58 |
These changes in price as a result of inflation may not look too significant to some, but it is! According to this Trading Economics report on Nigeria's inflation, there is a constant 0.1% monthly increase in price of basic commodities in Nigeria, (mine) while the income value is constantly retrogressing.
For example, my monthly income from my part-time job has remained 40,000NGN and equivalent of 111.1 HBD when I was employed in 2019, currently, this 40,000NGN is an equivalent of 66.6 HBD, that is a massive 40% reduction in value.
Budgeting with HBD
With HBD looking more interesting than my native currency, if I should earn more HBD, here is what my monthly budget will look like:
| S/N | Item | Cost in HBD |
| --- | --- | --- |
| 1 | Transportation | 14 HBD/month |
| 2 | Food | 37.3 HBD/month |
| 3 | Healthcare | 8.3 HBD/month or less |
| 4 | Internet | 8.3 HBD/month |
| 5 | Shelter | 16.7 HBD/month |
| 6 | Wardrobe | 8.3 HBD/month |
| 7 | Fun | 16.7 HBD/month |
| 8 | Miscellenous | 16.7 HBD/month |
| 9 | Home wares | 16.7 HBD/month |
| 10 | Savings | 50 HBD/month |
| $ | Total | 218 HBD/month |
Interesting budget with an income of 66.6 HBD. Thanks to other side hustles, I am currently able to fund this simple lifestyle. Trust me, it is a very simple lifestyle, compared to people in other parts of the world, and even some persons around me.
---
Investing HBD
With very few safe investment opportunities available locally, the best approach is to source for one yourself. My first go to is to swap some HBD to USDT after converting them to Hive and thereafter saving them as USDT at 16% APR with my crypto exchange - Roqqu.
I also hope to go into the development of some applications to operate a business model around the Apps as a Service (AaaS) model, however, this will need more HBD savings and time, as each project should cost an upward of 5,000 HBD.
Final Words
With HBD looking more interesting than my native currency, the worthwhile goal currently is to earn more in HBD than in my native currency, as with it, I can beat inflation more successfully.
Posted Using LeoFinance Beta
---
---