Cheers! Let's try cannabis beverages!
Cheers! Let's try cannabis beverages!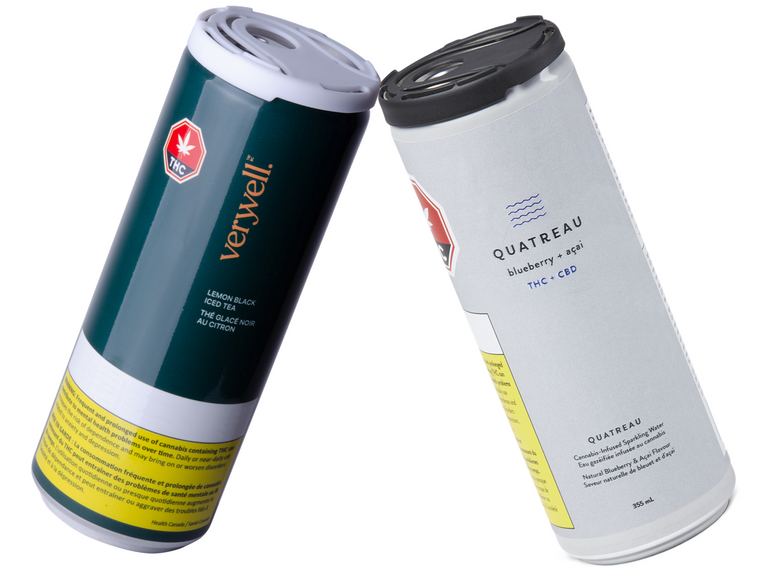 So a lot of beverages are now available. We have tried two : Quatreau blueberry + açai and Verywell. Lemon black iced tea.
Quatreau
Quatreau is produced by Canopy Growth. Taste is ok : at first, you have a strong sparkling water taste and after you taste the blueberry and acai. The taste is good and it stays in your mouth for a long time. I don't like sparkling water, but it's soft. If you like sparkling water, you'll probably love it. At the end of the can, you can taste cannabis a lot : it's not bad, but you lose the blueberry and acai taste.
The beverage contains 2 mg CBD and 2 mg THC and it's a blend. I guess it's the bubble, but get the effect quite fast. I had a little visual buzz like : 'ooohhhh, look at my hands'. But it doesn't stay, after 5 minutes it's gone. I was left relaxed and life was soft. I didn't feel any more effect, but I only took one can.
Verywell.
Verywell is made by Truss which is a joint venture between Molson-Coors and Hexo. This association make me say that when cannabis is legal at the federal level in the States, Molson-Coors will buy Hexo. That's another story.
The taste is really more interesting and better. You can taste cannabis right from the start and it mixes very well with the lemon black iced tea taste. They don't try to hide the cannabis flavor, they blend it with complementary ones. It's really good.
The beverage contains 2,5 mg CBD and 2 mg THC, it's also a blend. It's also sparkling water, but it has a lot less bubbles, so the effect doesn't come right away. After a while, you have a calming effect. It's really light, like drinking one or two beers : you have a little effect if you take time to think of it.
Conclusion
It's a battle between a weed company and a beverage company, and it shows on the products. On the buzz side, Quatreau wins easily. On the taste side Verywell. wins easily. I don't like sparkling water, so maybe I was biais.
If you look at Truss products, you see that they take the market seriously and focus on taste : they have a lot of products with different tastes. If you look at Canopy Growth, they're the only company to have beverages that aren't blend : they have products with only Candyland and Hindu Kush. They seem to they take the weed side more seriously.
---
---