Zaku's Splinterlands Reports | Guild Brawl | Sunday Monsters Shopping | QUIZ |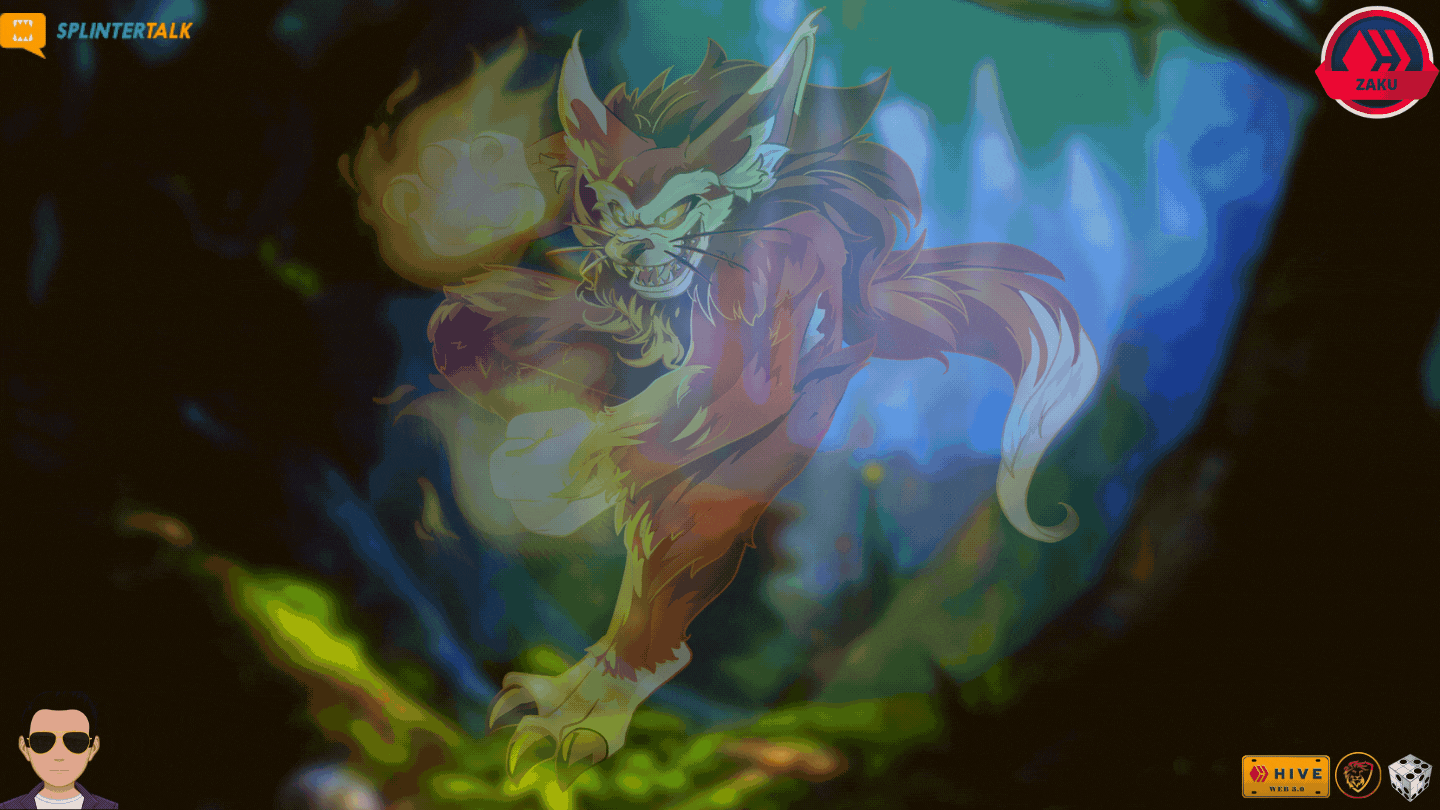 Hello my fellow splinterlands lovers!
I hope you all are doing well in your life and also enjoying the Splinterlands game. It has been 14 days since I shared my splinterlands activity, so here I am back with another splinterlands report. Today I am going to share about our guild The Guild of Neoxian Latest brawl, My recent Splinterlands Monster Card Purchases & A Quiz for Splinterlands lovers.

THE GUILD OF NEOXIAN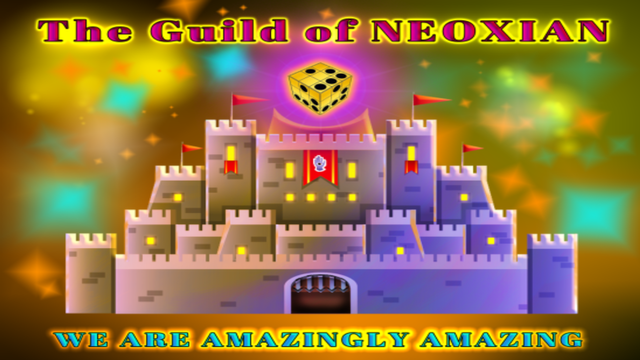 First of all, I want to congratulate all of our guild players, who have been part of our recent brawl fight. Once again we crushed all other guilds and came in first. We had some tough guilds as our opponent this time including Immortal Gods 2, Team Possible, PeakMonsters [PREMIERE], And several other strong Guilds. But all of our members did exceptionally well this time and snatched out the top place with their performance together. As a reward, the guild got 105 Crown and each guild member that fully participated in the guild brawl got 6563 Merits.
---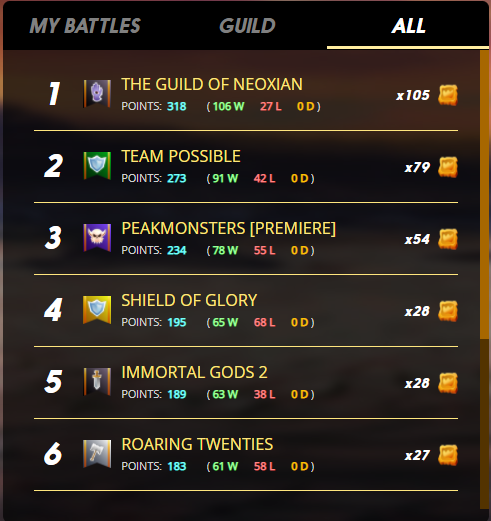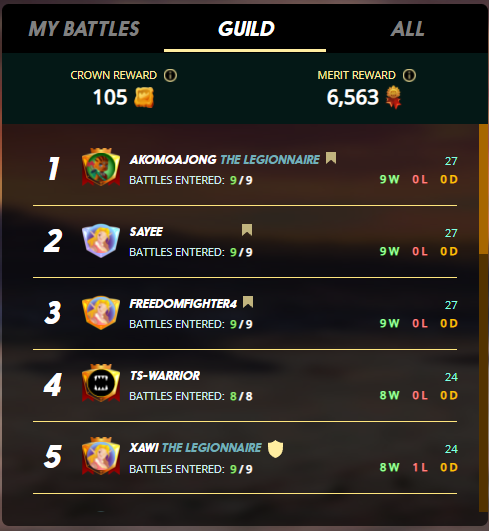 ---
Welldone @akomoajong @sayee & @freedomfighter4 for being the top 3 performers of our recent Guild Brawl, I send 500 DEC each of you as appreciation. Best of luck for the next one 👍

As you guys know that I also got 6563 merits, so I spend those on guild shop and bought 3 Gladius Case Packs and the result is 👇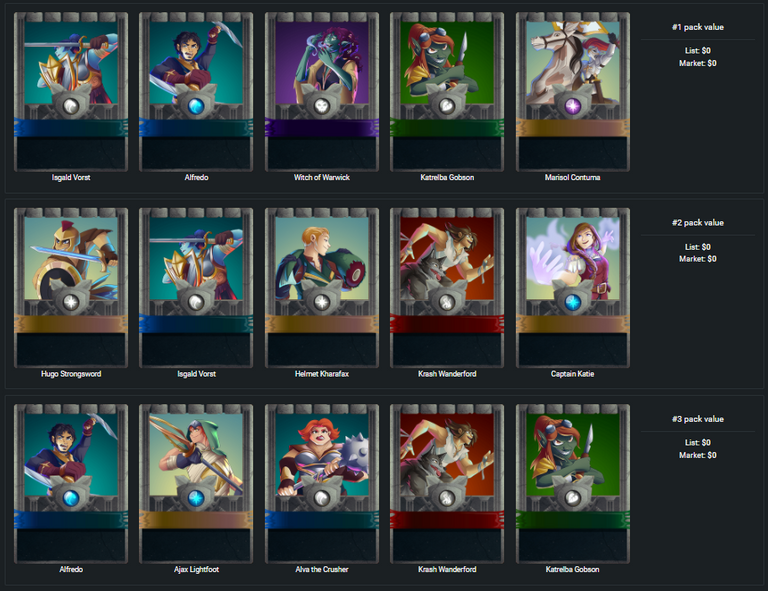 1 epic, 4 rare, and 10 common monsters, But no gold foils. I was hoping for some gold foil cards because My account plays gold foil frays. Hopefully next time I will get one.

SUNDAY MONSTER SHOPPING

Yesterday I bought some missing Chaos Legion gold foil cards for my deck. The first one is 1 mana neutral unit CHAOS AGENT common gold foil card. 20 BCX Chaos Agent cost me total $55.917 (Approx $2.80/BCX). I used MonsterMarket to purchase those cards, which gave me 3% cashback (Approx $1.67/437.295 DEC) saving.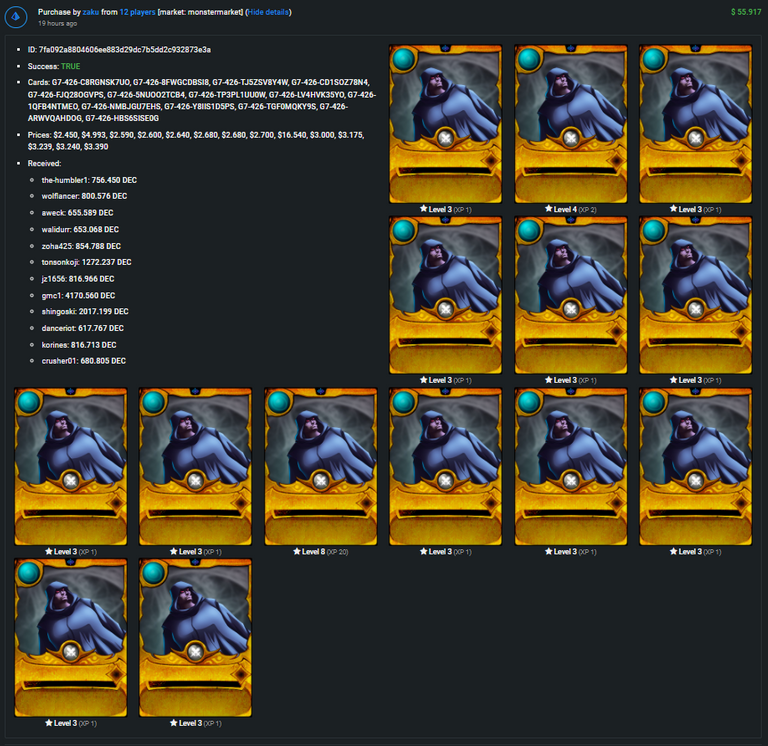 ---

The next card I bought for my deck is 9 mana neutral unit Gold Foil Legendary LEGIONNAIRE ALVAR Chaos Legion card. 2 BCX (Lvl 3) LEGIONNAIRE ALVAR cost me $319 ($159.5/BCX). I used MonsterMarket to purchase those cards, which gave me 3% cashback (Approx $9.57/2540.079 DEC) saving.
---
Then I bought another Common neutral unit Gold Foil monster 6 mana SUPPLY RUNNER. 20 BCX (Lvl 8) Cost me a total of $47.530 (Approx $2.37/BCX). This card is really useful for ranged attack battles, if you placed him well with Yodin Zaku summoner then it can give you great results on the battleground. And by using MonsterMarket to purchase this card, I got ($1.426/378.465 DEC) Cashback.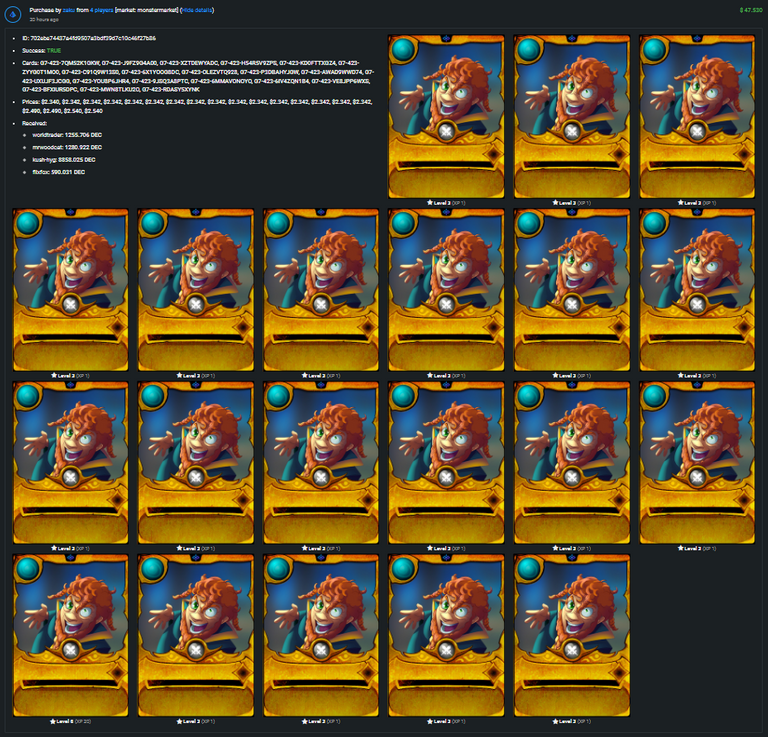 ---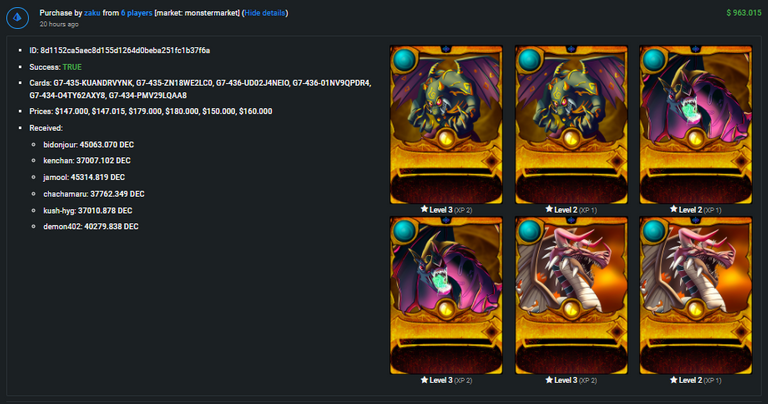 Then I did another big purchase, I bought 3 different Chaos Legion Dragon unit Gold Foil Legendary Cards & Those are VOID DRAGON, ZYVAX VUUL & DESERT DRAGON. 2 BCX VOID DRAGON cost me $359, 2 BCX ZYVAX VUUL cost me $294.015 & 2 BCX DESERT DRAGON cost me $310, All those cost me a total of $963.015. For this purchase, I got $28.90/7655.938 DEC Cashback from MonsterMarket.
---
And then I can't hold myself and bought 10 BCX Rare Neutral unit Gold Foil XENITH MONK. TBH it seems overpriced because that 10 BCX cost me a total of $143.20 (Approx $14.32/BCX). If I wait for general sale then I'm sure I will get at much cheaper price, But can't wait that much time because of those delicious gold foil tournaments. So I bought at that price and got $4.29/1117.564 DEC Cashback from Monstermarket.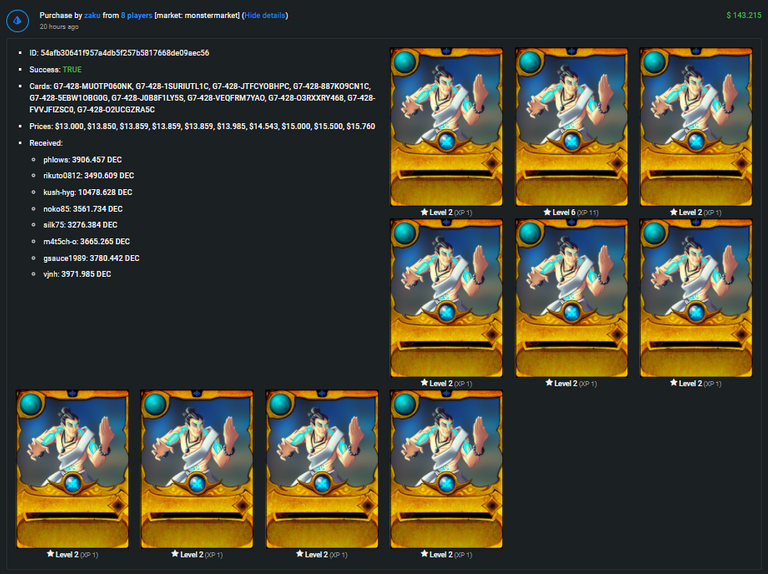 ---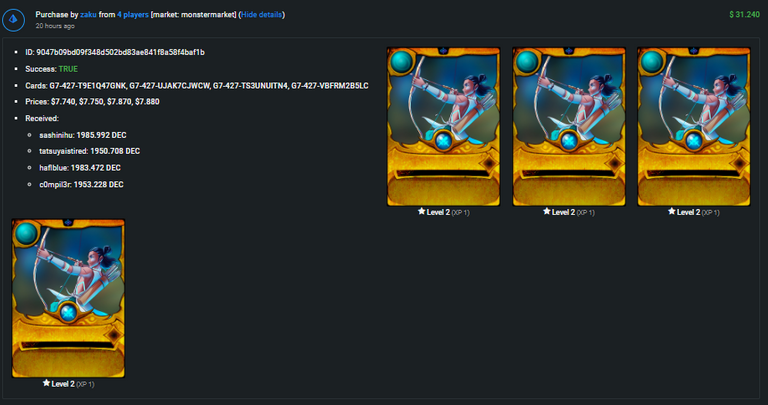 ---
The last purchase I did is 2 Mana Rare Neutral Gold Foil 4 BCX XENITH ARCHER & 6 Mana Epic Neutral Gold Foil 3 BCX MAGI OF CHAOS. I already had those cards but at a low level so I leveled up them. Those two monsters cost me a total of $147.24 & I got $4.417/1171.858 DEC cashback from MonsterMarket.
---
All at once yesterday I spend a total of $1620 on those 7 cards, But the fun part is I used MonsterMarket to purchase those cards, which gave me 3% cashback (Approx $48.60/13301.199 DEC) saving.

QUIZ TIME

Which Monster have 2 Ranged attack, 4 Speed, 5 health at max Level ?
---
QUIZ REWARD: 1 Voucher
HOW TO PARTICIPATE:
Leave a comment with your answer & your splinterlands username.
The person who will comment the right answer at first will be the winner of this contest and will get 1 Voucher.
Contest window will be opened till next Quiz & winner announcement post publish.
If no one able to answer the correct answer then the quiz reward will be added with next quiz reward.
ONLY ONE ACCOUNT PER PERSON to be eligible. (Please do not take advantage by using multiple accounts to submit multiple entries and also by removing then rewrite your new entry more than one time.)
Edited comments will not be considered valid.
Example participation : Username: zaku, Answer : Monster Name
Best of Luck

Previous Quiz: Which Monster have 3 Magic attack, 2 Speed, 3 health at max Level?
Previous Quiz Answer: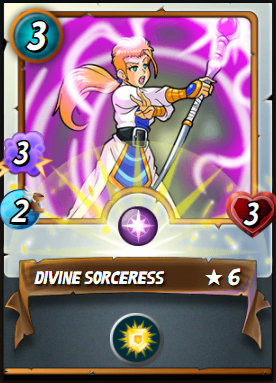 Previous Quiz Winner: Congratulation @magalli !!

You guessed it Right and You got 1 voucher on your hive-engine wallet.

---

---
---