[ESP-ING] 🐥Gorro para bebé con motivo de un lindo pollito.🐥 || 🐥Baby bonnet with cute chick motif.🐥
---
¡Hola comunidad de Hive!
Hello Hive community!
---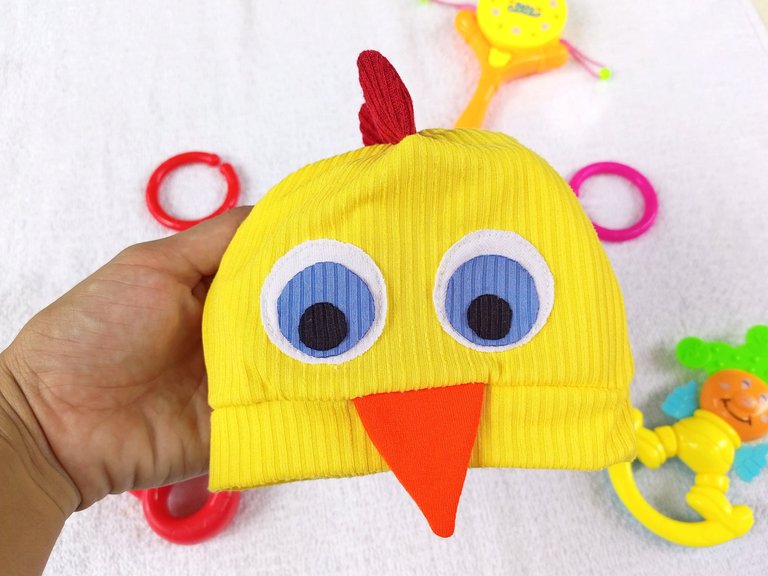 ---
Hola queridos Needleworkers, feliz inicio de fin de semana, espero se encuentren de maravilla 🤗♥️ hace días les compartí un lindo mono para bebé que realicé para el pequeño Aaron, este mono es parte de un lindo conjunto de pollito que me encargaron para él con motivo de celebrar su cumple mes número 2, el conjunto quedó hermoso, y el lo lució muy tierno, hoy les quiero mostrar con elaboré el bello gorrito de pollito que sin dudas el el toque especial del conjunto.
Hello dear Needleworkers, happy start of the weekend, I hope you are feeling wonderful 🤗♥️ days ago I shared with you a cute baby jumpsuit that I made for little Aaron, this jumpsuit is part of a cute set of chick that I was commissioned for him to celebrate his birthday month number 2, the set was beautiful, and he looked very cute, today I want to show you how I made the beautiful chick hat that undoubtedly the special touch of the set.
---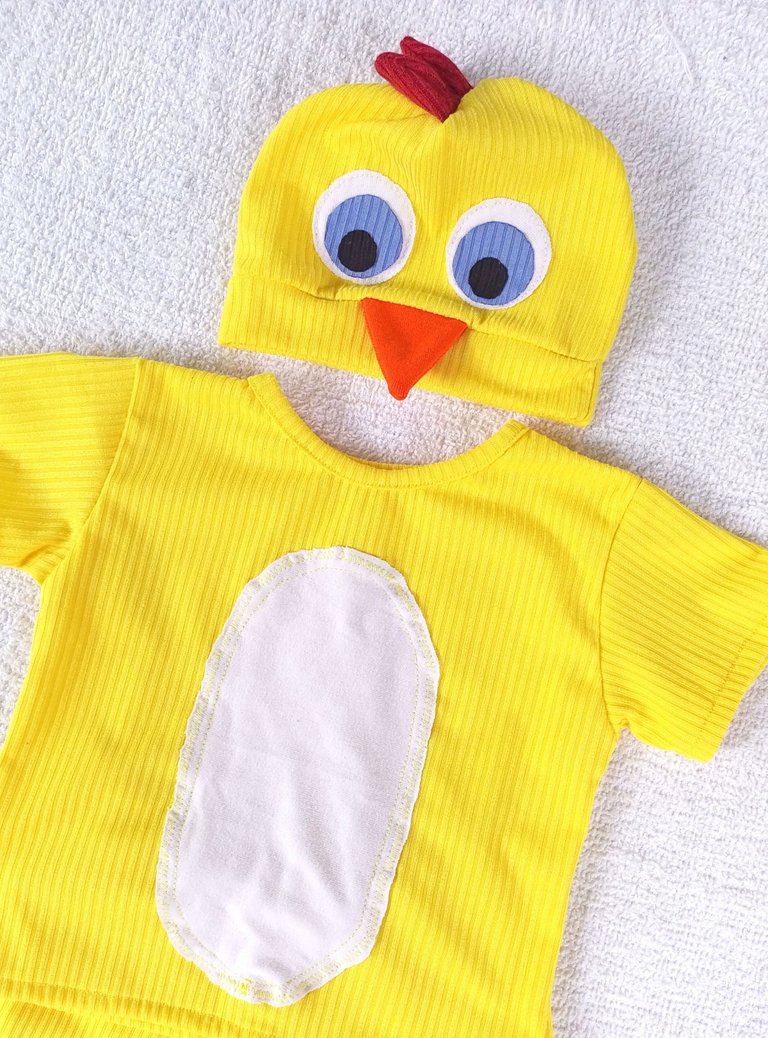 ---
Cómo les conté anteriormente estuve trabajando con la tela micro rib en este caso amarillo, y también ocupé algunos retazos en blanco, azul y negro para elaborar los ojos del pollito, así mismo un retazo de rojo para la cresta, así que luego de juntar los retazos, y busqué el hilo, alfileres y agujas, me puse a trabajar...
As I told you before I was working with the micro rib fabric in this case yellow, and I also used some white, blue and black scraps to make the eyes of the chick, as well as a piece of red for the crest, so after gathering the scraps, and looking for the thread, pins and needles, I got to work ....
---
🧵🧷🧵🧷🧵🧷🧵🧷🧵🧷🧵🧷🧵🧷🧵🧷🧵
---
Necesitaremos || We will need
---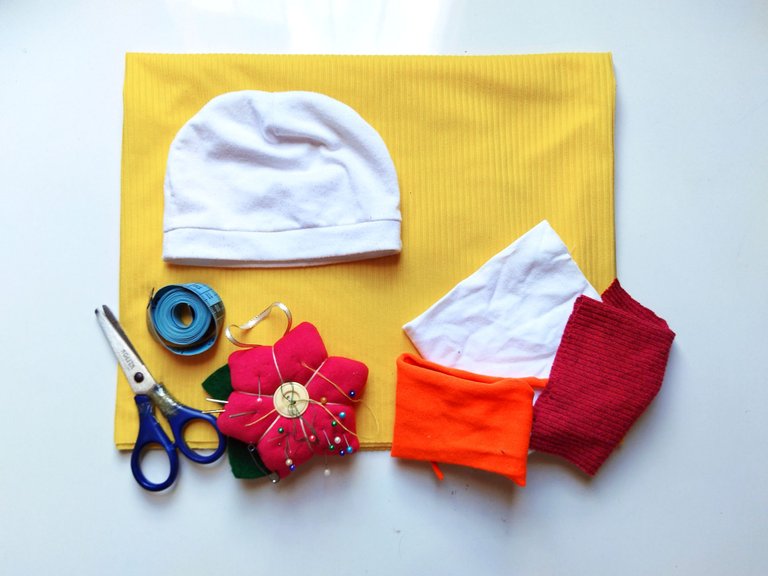 ---
Medio metro de tela micro rib amarillo
Retazos de tela roja, blanca, naranja, azul y negro
Hilo amarillo
Alfileres
Tijera
Elástica
Cinta métrica
Gorro ejemplo
Aguja y máquina de coser
Half a meter of yellow micro rib fabric
Red, white, orange, orange, blue and black fabric scraps
Yellow thread
Pins
Scissors
Elastic band
Tape measure
Sample hat
Needle and sewing machine
---
🧵🧷🧵🧷🧵🧷🧵🧷🧵🧷🧵🧷🧵🧷🧵🧷🧵
---
Paso 1 || Step 1
---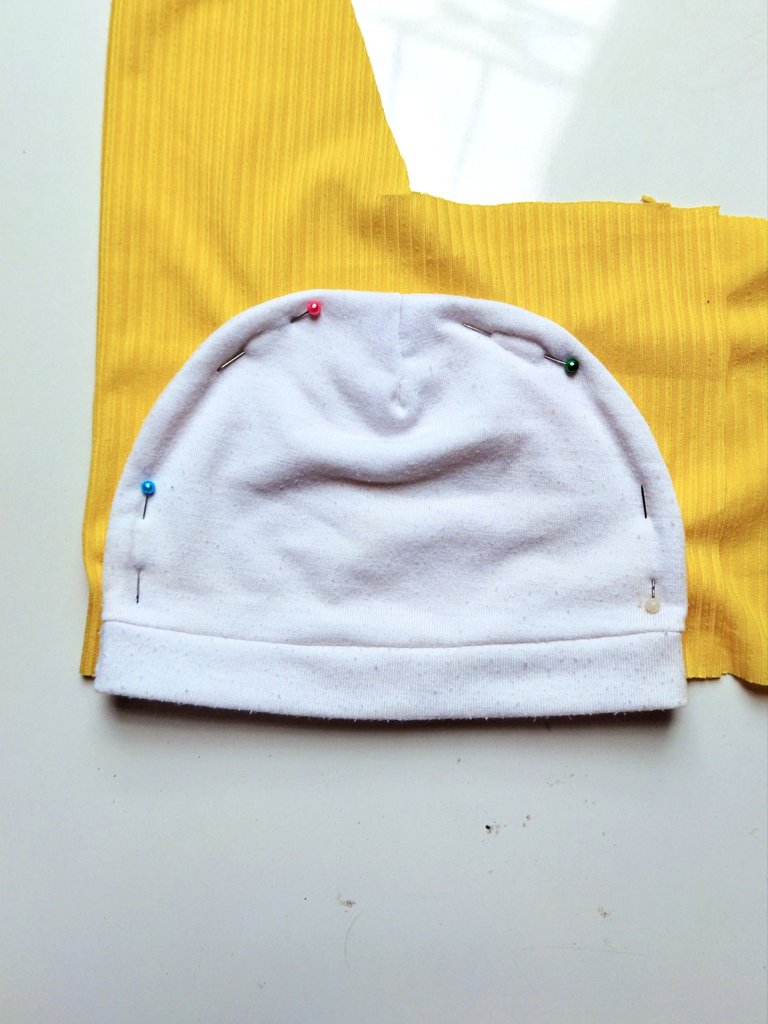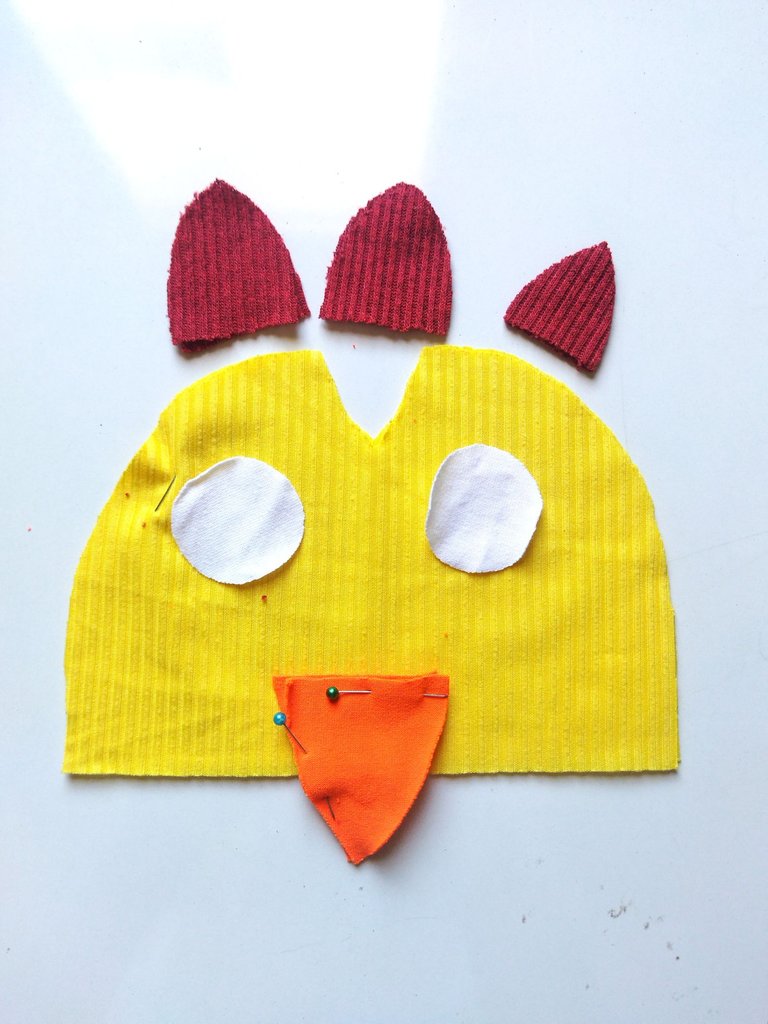 ---
Extendemos la tela en un superficie plana, luego colocamos el gorro modelo sobre la tela, vamos a cortar de la tela colocando el lado que más estira en dirección horizontal para que el gorro tenga más elongación, cortamos las piezas dejando 1cm de margen de costura, para este gorro necesitamos sacar dos piezas iguales. Luego de tener las dos piezas del gorro vamos a doblar a la mitad y en la arte súper vamos a cortar una pinza de 2 cm de ancho.

Vamos a cortar también 6 rectángulos en color rojo para la cresta, el pico va en color naranja también con forma de rectángulo y los ojos del pollito.
We spread the fabric on a flat surface, then we place the model hat on the fabric, we are going to cut the fabric placing the side that stretches more horizontally so that the hat has more elongation, we cut the pieces leaving 1cm seam allowance, for this hat we need to get two equal pieces. After having the two pieces of the hat we are going to fold in half and in the super art we are going to cut a clip of 2 cm wide.
We will also cut 6 rectangles in red for the crest, the beak will be in orange also in the shape of a rectangle and the eyes of the chick.
---
Paso 2 || Step 2
---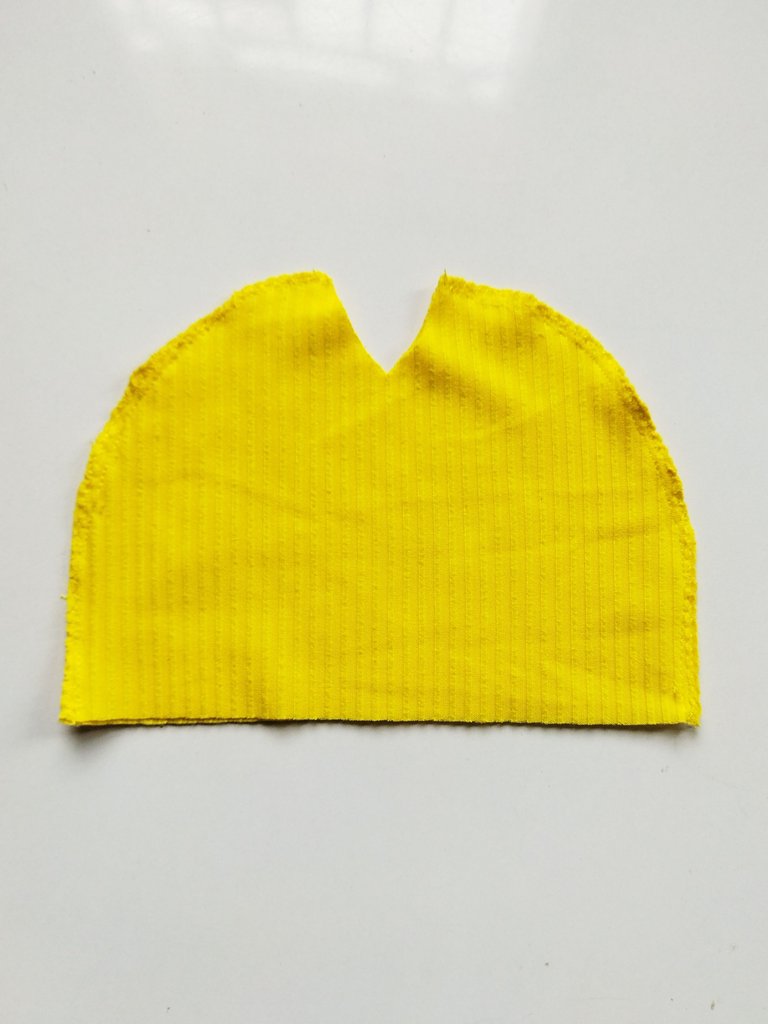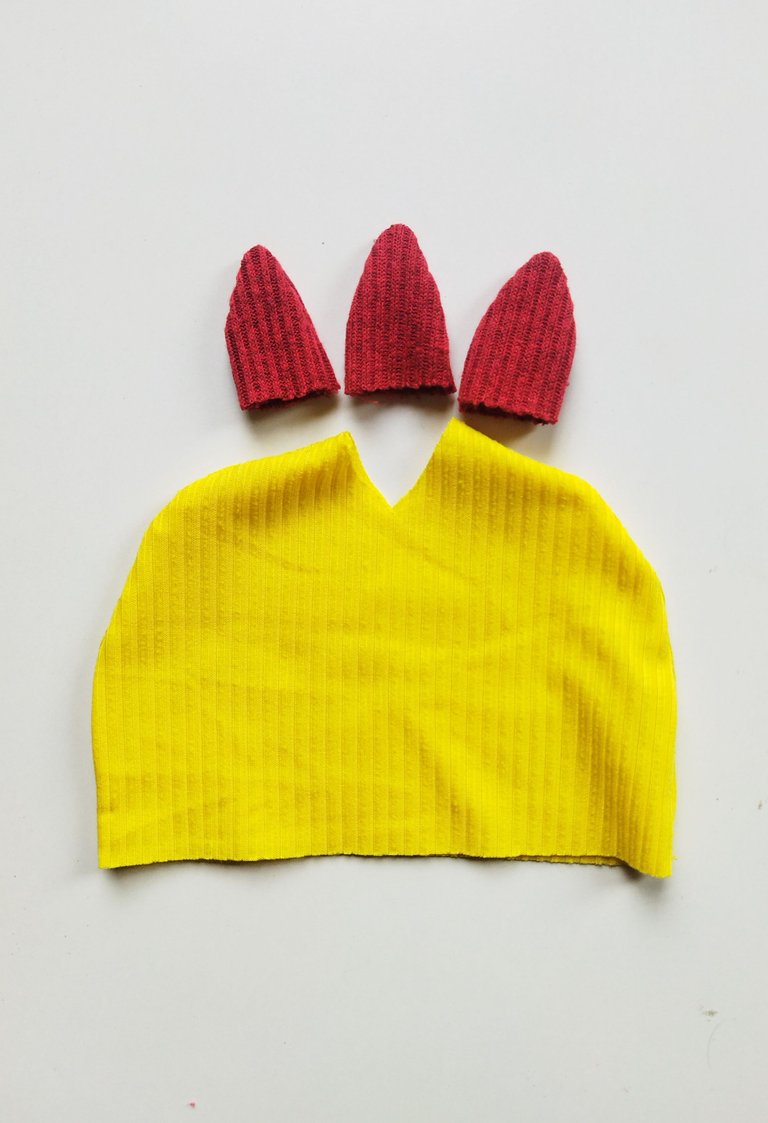 ---
Comenzamos a coser y nos toca unir las dos circunferencias del gorro, cosemos con recta y luego con costura en zigzag, vamos a dejar las pinza sin coser.

Juntamos los retazos de tela y vamos a coser la cresta, cosí cada pico por separado.
We start sewing and it's time to join the two circumferences of the hat, we sew with straight and then with zigzag stitching, we are going to leave the darts without sewing.
We join the pieces of fabric and we will sew the crest, sew each peak separately.
---
Paso 3 || Step 3
---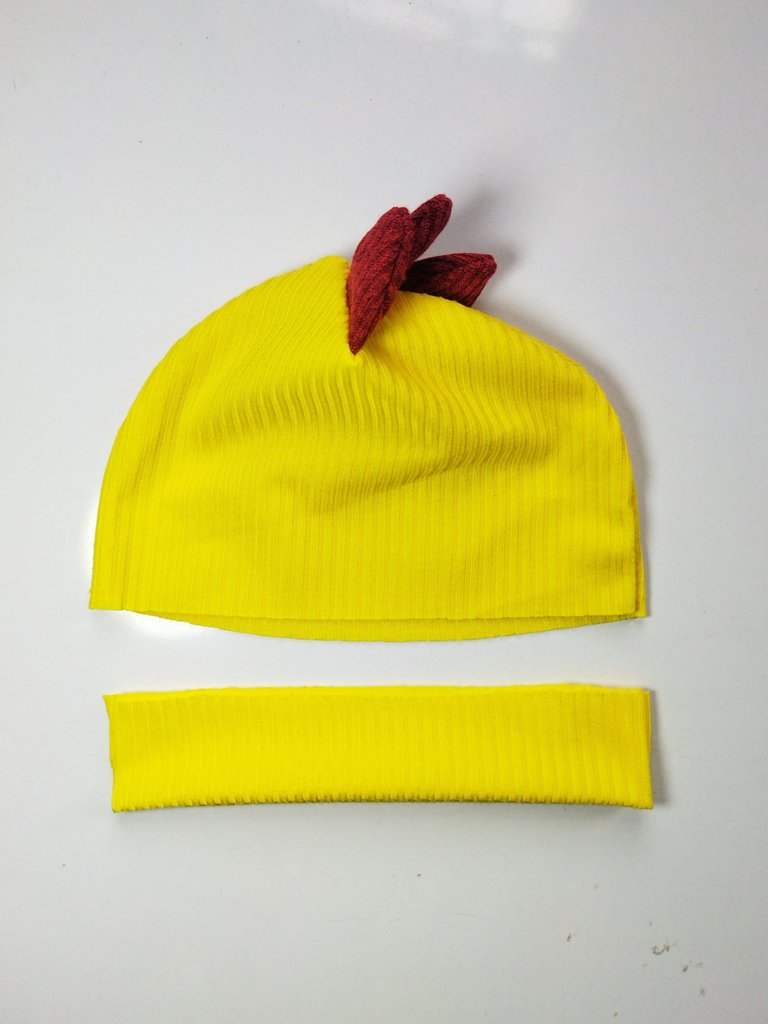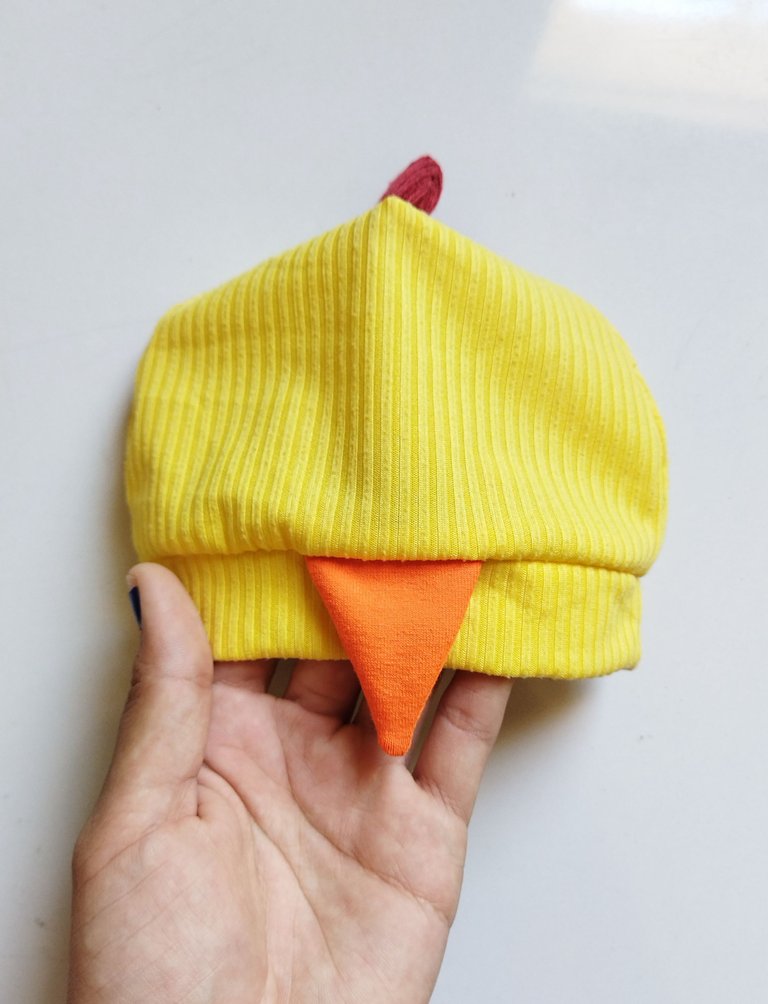 ---
Cosí la cresta en la abertura de la pinza que dejamos, ahora vamos a coser el ruedo del gorro, corté una tira de 8 cm de ancho y la doblé a la mitad para luego coserla en el contorno del gorro, aprovechando esta costura coloqué el pico en esta zona del gorro.
I sewed the crest in the opening of the clip that we left, now we are going to sew the rim of the hat, I cut a strip of 8 cm wide and folded it in half and then sew it in the contour of the hat, taking advantage of this seam I placed the peak in this area of the hat.
---
Paso 4 || Step 4
---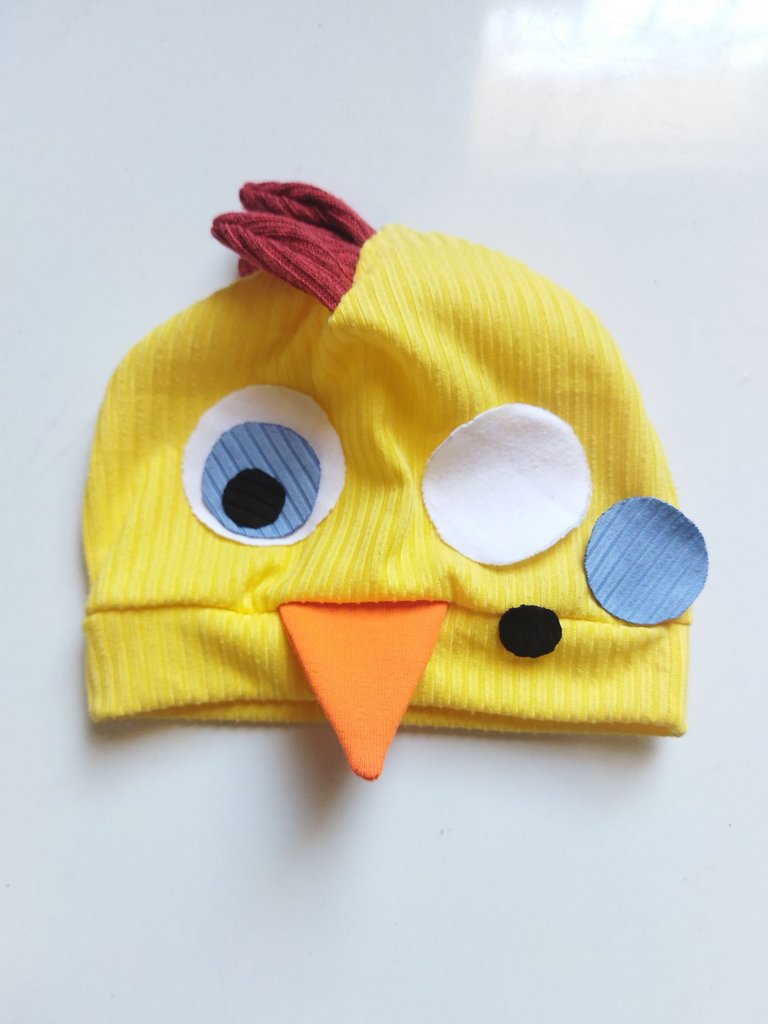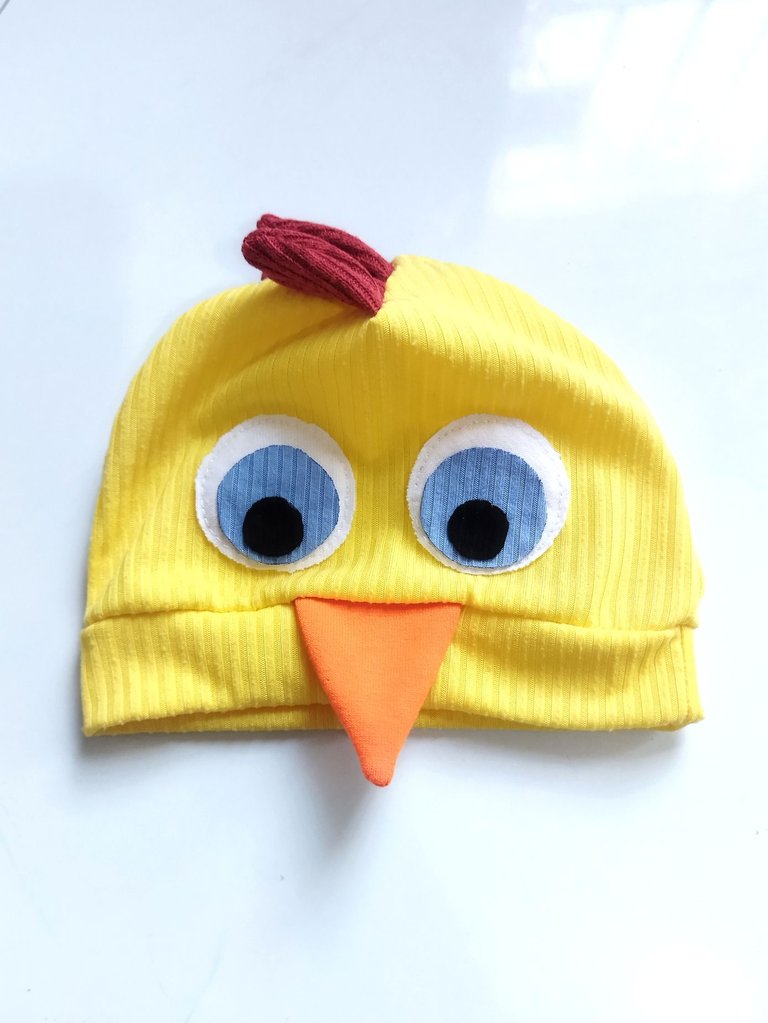 ---
Es hora de darle vista a este pollito, corte círculos de varios tamaños, el más grande en blanco, luego azul y negro, está parte la cosí a mano para que me quedara más prolija.
It's time to see this chick, I cut circles of various sizes, the largest in white, then blue and black, this part I sewed by hand to make it neater.
---
Resultado final.
Final result.
---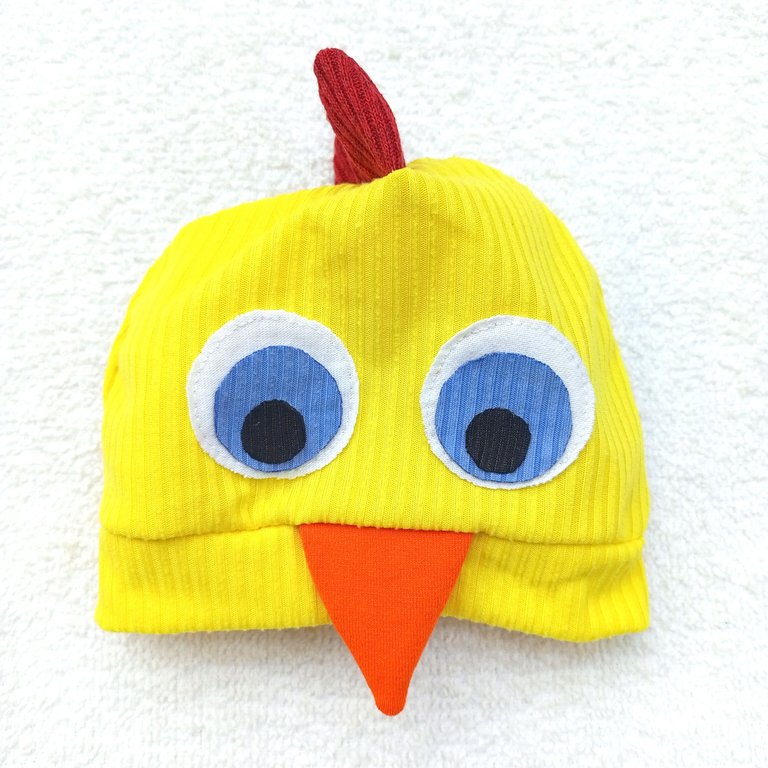 ---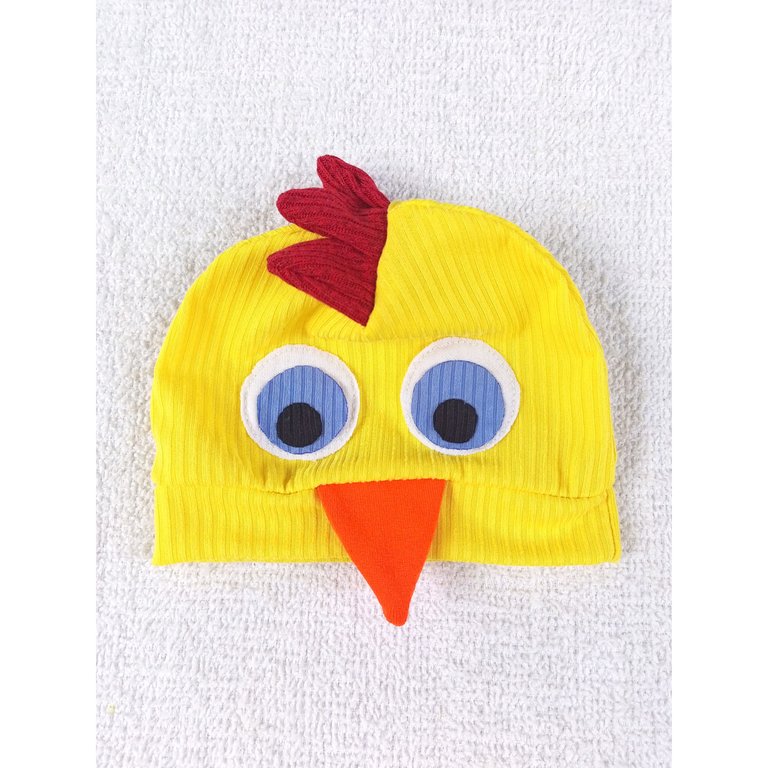 ---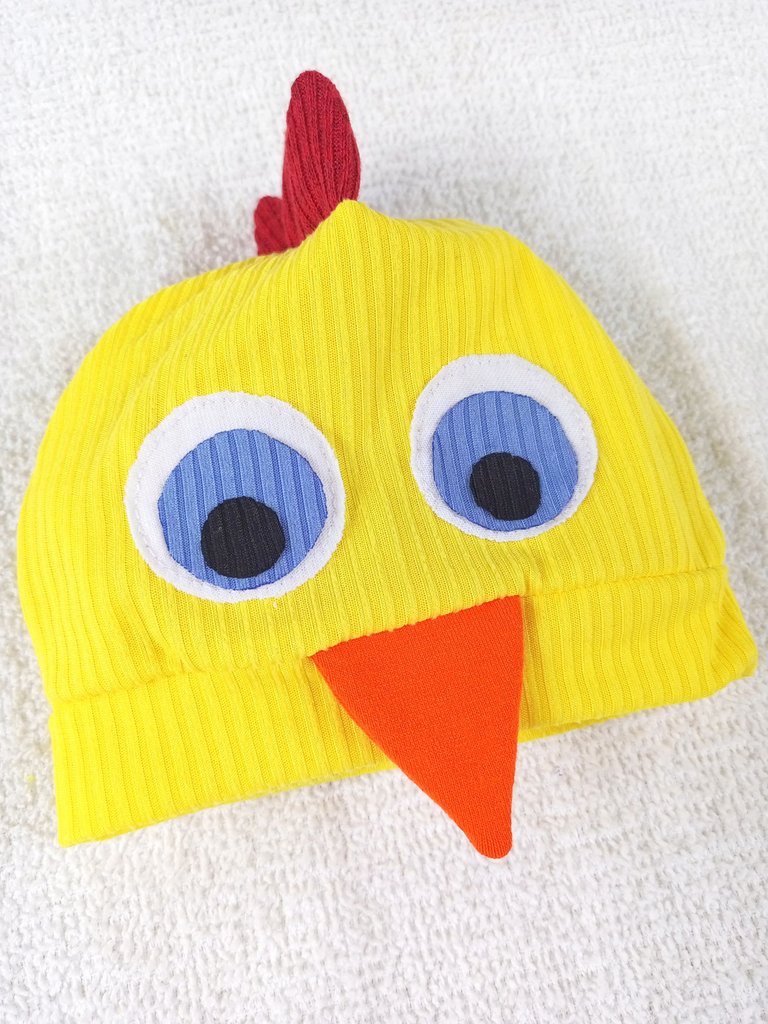 ---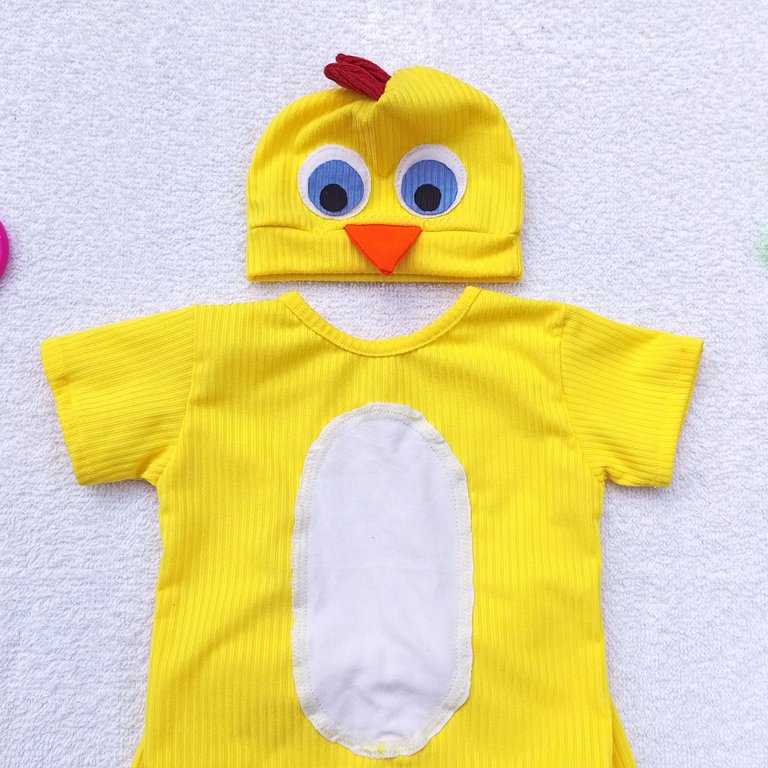 ---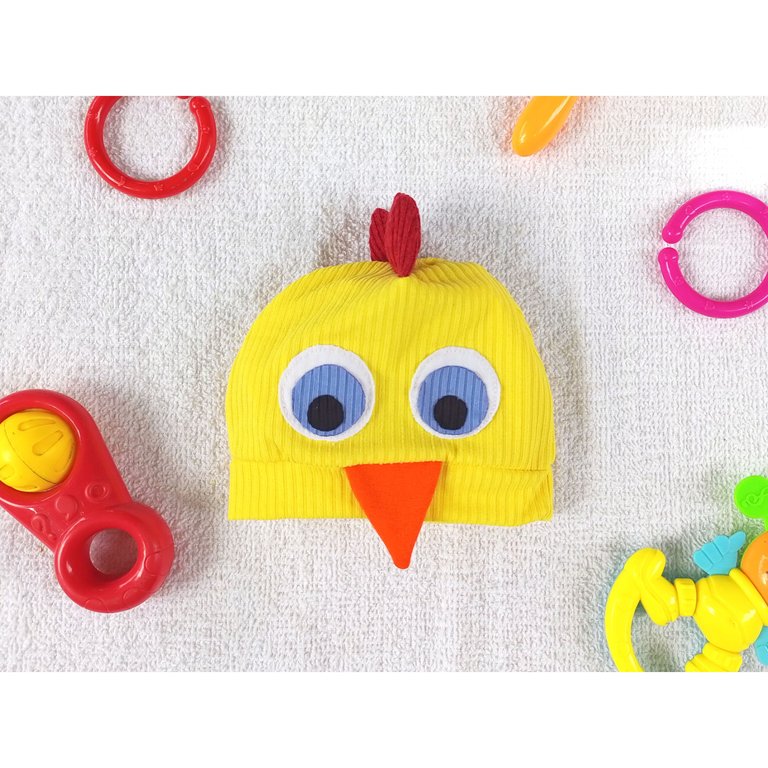 ---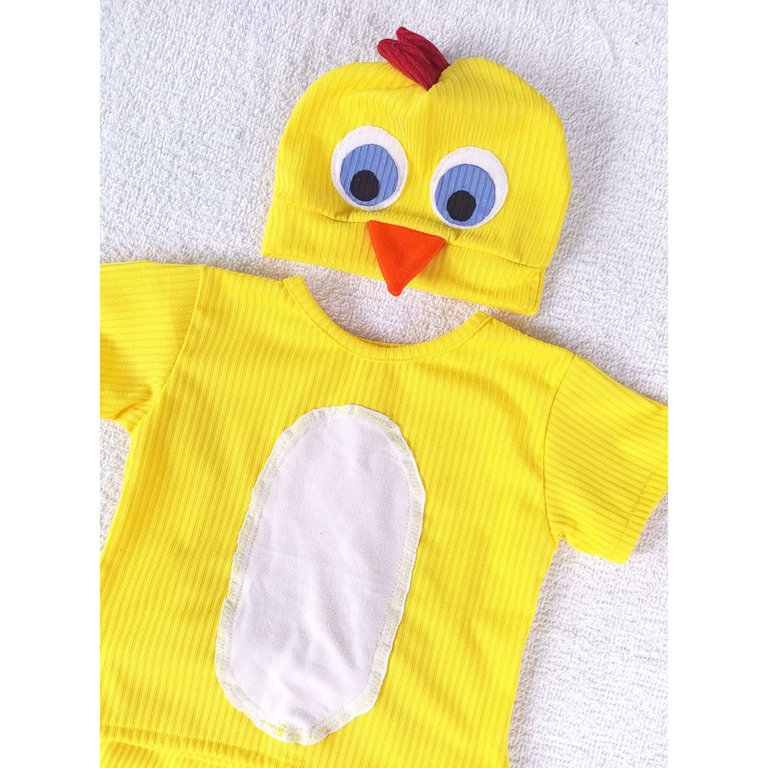 ---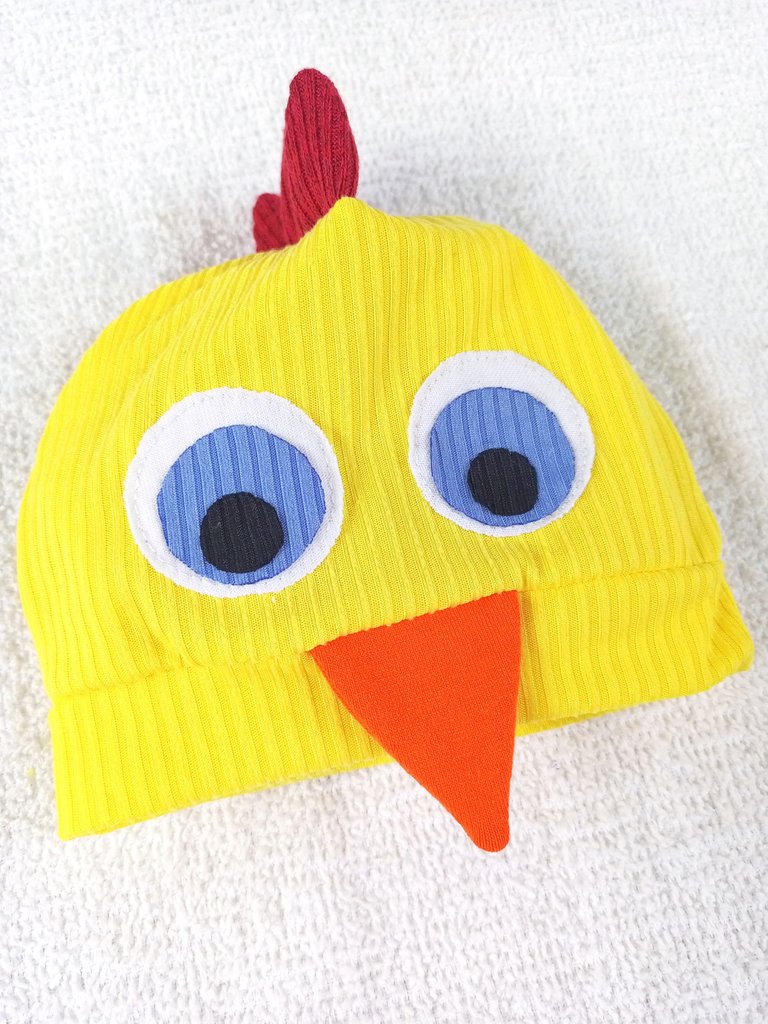 ---
Así quedó el resultado final de este tierno gorro de pollito, amé como quedó, espero pronto mostrarles el conjunto completo y algunas fotitos de Aarón, Espero de corazón que les hay gustado y si has llegado hasta aquí mil gracias por leer mi post ❤️🥰 un fuerte abrazo. Nos leemos luego.
So was the final result of this cute chick hat, I loved how it turned out, I hope soon to show you the complete set and some pictures of Aaron, I hope you liked it and if you have come this far thank you very much for reading my post ❤️🥰 a big hug. See you later.
---
All images are my property / Todas las imágenes son de mi propiedad
Camera: Xiaomi Redmi 9T.
Translation: Deepl.com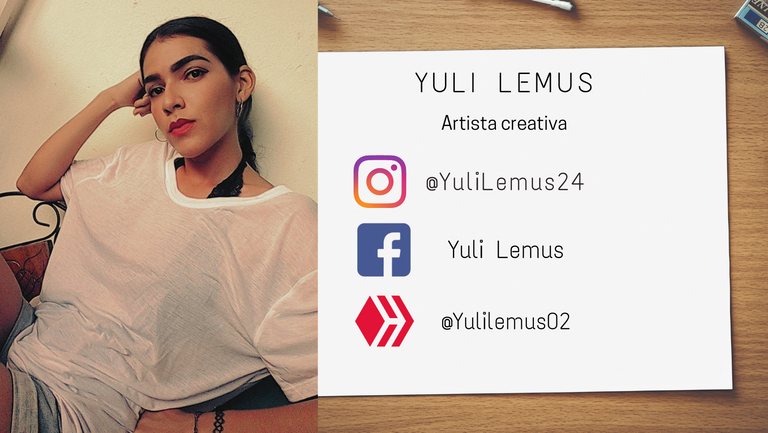 ---
---