[ESP-ING] DIY: braga manga corta diseño para niña. || DIY: short sleeve panties design for girl.
---
¡Hola comunidad de Hive!
Hello Hive community!
---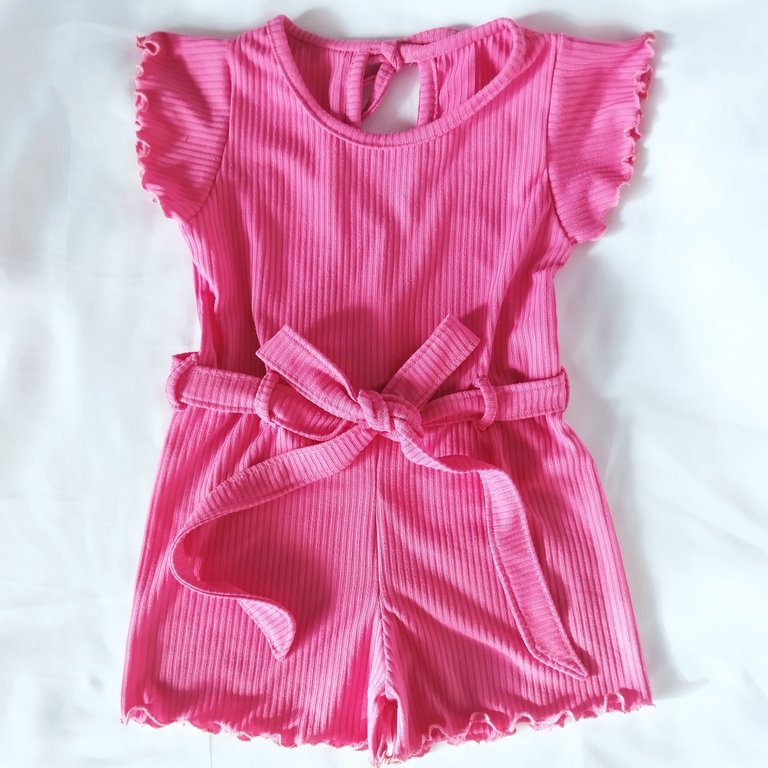 ---
Saludos queridos Needleworkers, feliz lunes de agujas. ♥️ Espero tengan una semana muy productiva. Tengo ya varios días que no comparto mis costuras por acá y es que me encuentro trabajando como decoradora, este trabajo he consumido gran parte de mi tiempo y yo soy de esas que se sientan a coser y tengo que tener la mente despejada para poder hacerlo, por eso estos días no he podido adelantar nada de esos proyectos que tengo pendiente. Así que poco a poco he intentado ir culminando este proyecto que ya había cortado y cosido algunas piezas, hoy les hablo de una hermosa braga para niñas en color fucsia, el corte de está braga es muy sencillo pero hermoso.
Greetings dear Needleworkers, happy needlework Monday. I hope you have a very productive week. I have several days that I do not share my sewing here and I am working as a decorator, this work has consumed much of my time and I am one of those who sit to sew and I have to have a clear mind to do it, so these days I have not been able to advance any of those projects I have pending. So little by little I've been trying to finish this project that I had already cut and sewed some pieces, today I'm talking about a beautiful fuchsia panties for girls, the cut of this panties is very simple but beautiful.
---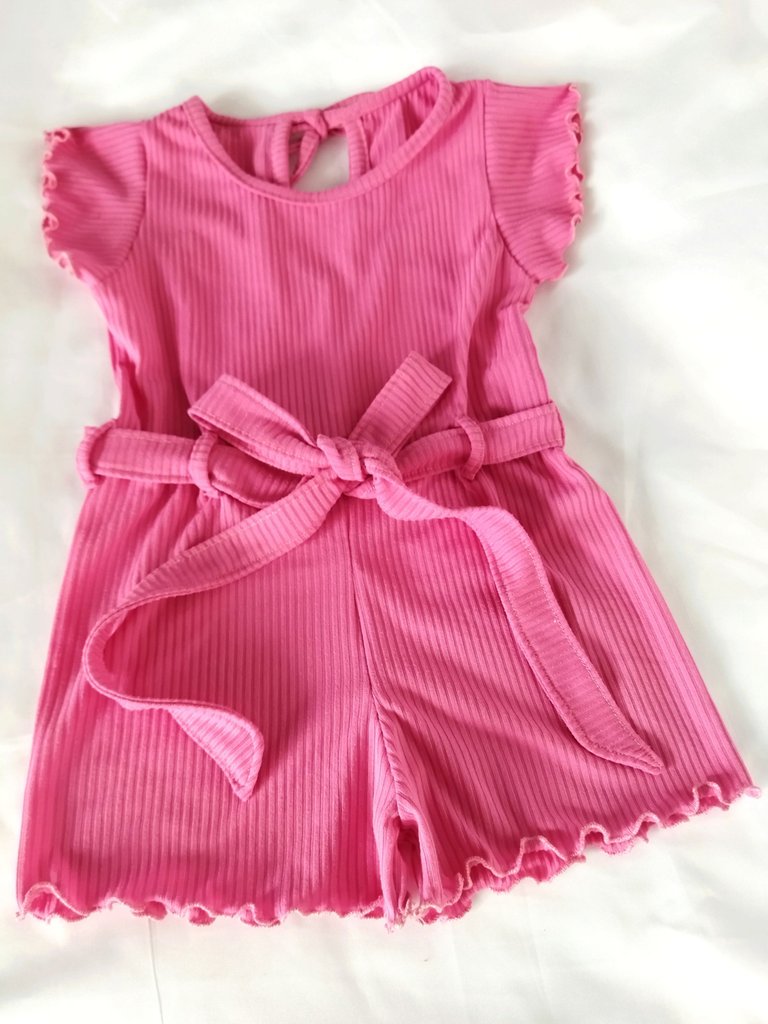 ---
Hace tiempo que quería realizar una braga así, pues me parece que quedan muy lindas y en niñas mucho más, el color fucsia me encanta y le da un toque de dulzura. Quise colocarle el cinturón pero por un momento dude en si dejárselo o no, pues con esta tela el lazo quedaba muy caído pero luego me decidí en dejárselo. Espero que puedan disfrutar de este proyecto de costura y si desean realizarlo en casa ve por tu tela, hilo, aguja y ¡comencemos a trabajar.!
I've been wanting to make a panty like this for a long time, because I think they look very pretty and even prettier on little girls, I love the fuchsia color and it gives a touch of sweetness. I wanted to put the belt but for a moment I hesitated whether to leave it on or not, because with this fabric the bow was very droopy but then I decided to leave it on. I hope you can enjoy this sewing project and if you want to make it at home go get your fabric, thread, needle and Let's get to work!
---
🧵🧷🧵🧷🧵🧷🧵🧷🧵🧷🧵🧷🧵🧷🧵🧷🧵
---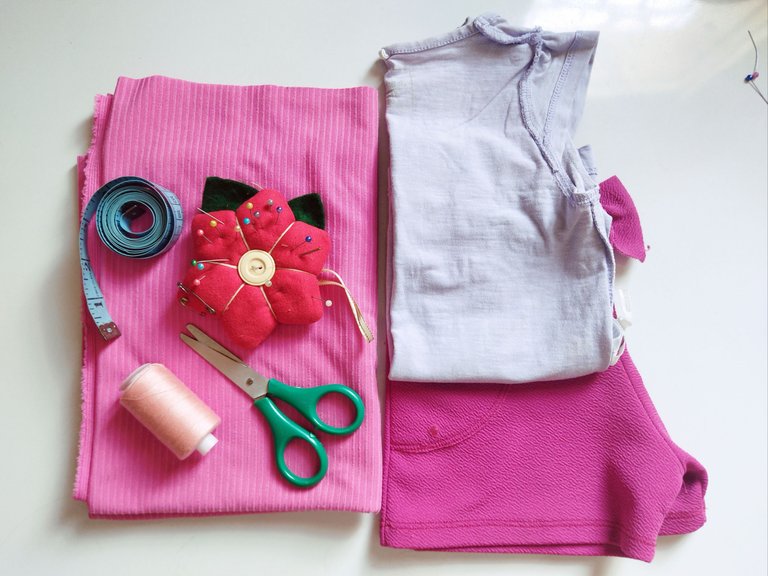 ---
Para este proyecto necesitaremos tela micro rib fucsia, utilicé hilo a tono, Alfileres, Tijera, Cinta métrica, una camisa y short modelo, Aguja y máquina de coser.
For this project we will need fuchsia micro rib fabric, I used matching thread, pins, scissors, tape measure, a model shirt and shorts, needle and sewing machine.
🧵🧷🧵🧷🧵🧷🧵🧷🧵🧷🧵🧷🧵🧷🧵🧷🧵
---
¡Comenzamos! || ¡We start!
---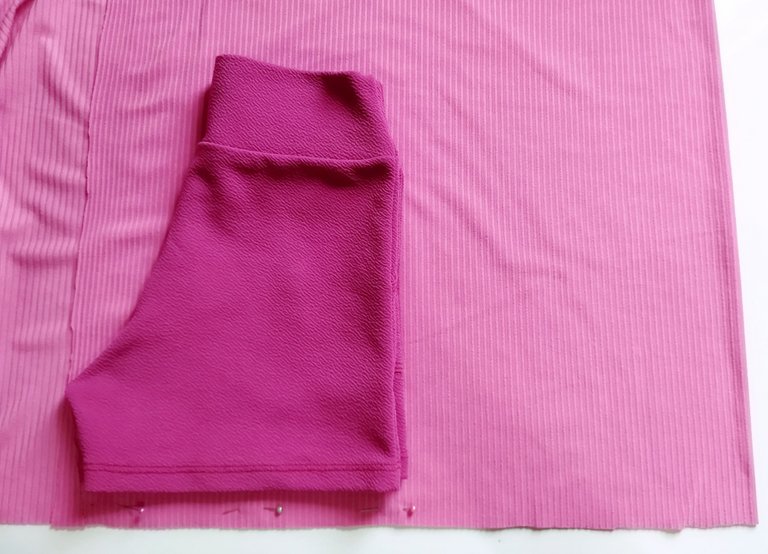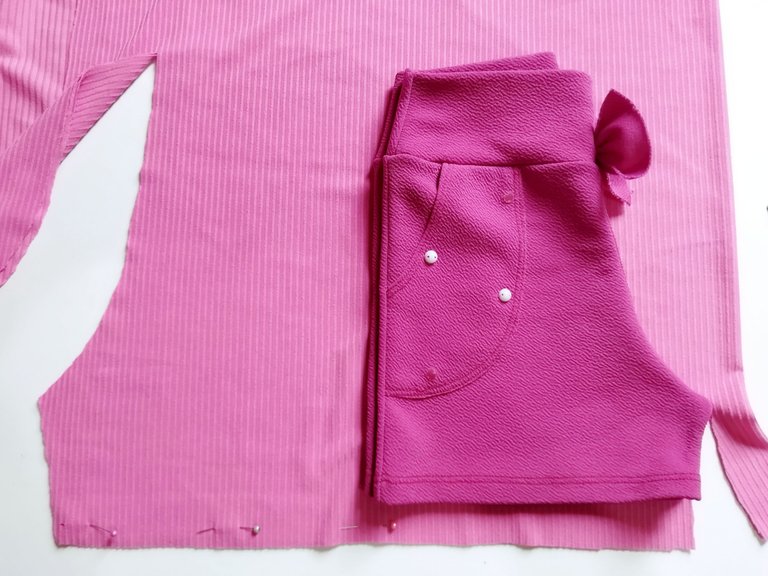 ---
Comenzamos colocando la tela sobre una superficie plana, vamos a doblar el short y colocarlo sobre la tela, cortamos de la tela colocando el lado que más estira en dirección horizontal, cortamos el tiro trasero dejando 1cm de margen de costura, luego sin mover la tela vamos a colocar el short del lado delantero y cortamos, para este pantalón necesitamos sacar dos piezas así que cortamos con la tela doble.
We start by placing the fabric on a flat surface, we will fold the shorts and place it on the fabric, we cut the fabric placing the side that stretches the most horizontally, we cut the back seam leaving 1cm seam allowance, then without moving the fabric we will place the shorts on the front side and cut, for this pants we need to take out two pieces so we cut with the double fabric.
---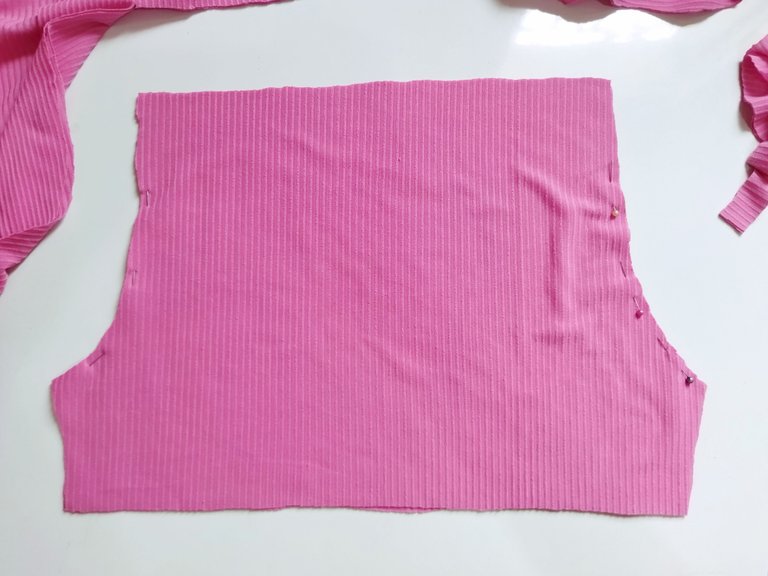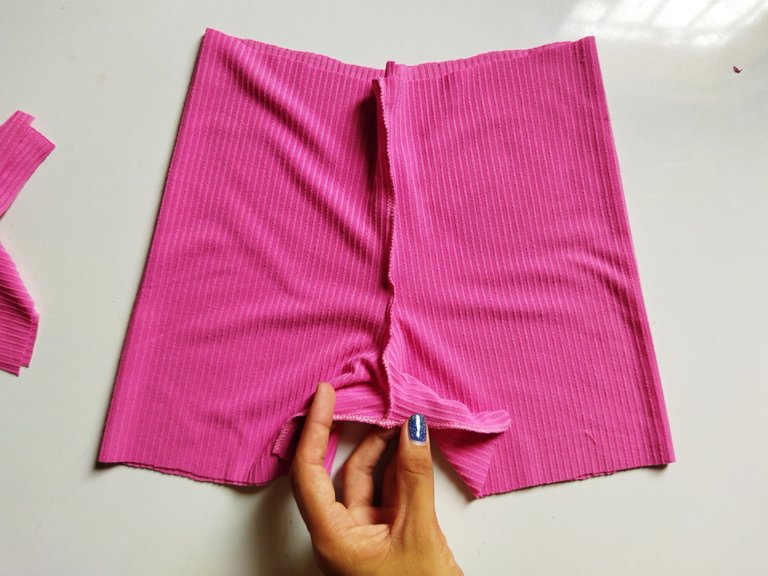 ---
Después de tener la dos piezas cortadas, enfrentamos los derechos y sujetamos con alfileres los tiros como te muestro en la imagen luego cosemos con costura recta y luego zigzag para rematar la orilla. También cosí la entrepierna y para el ruedo de las piernas le hice unos lindos ruffles con la puntada en ojal, si no te gusta de esta forma puedes hacer un dobladillo sencillo.
After having the two pieces cut, we face the right sides and pin the straps as shown in the picture, then we sew with a straight seam and then zigzag to finish the edge. I also sewed the crotch and for the hem of the legs I made some nice ruffles with the buttonhole stitch, if you don't like this way you can make a simple hem.
---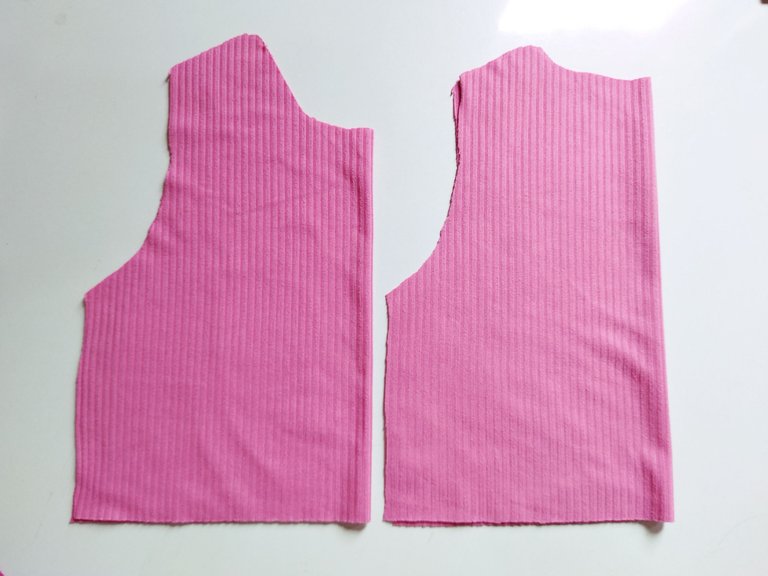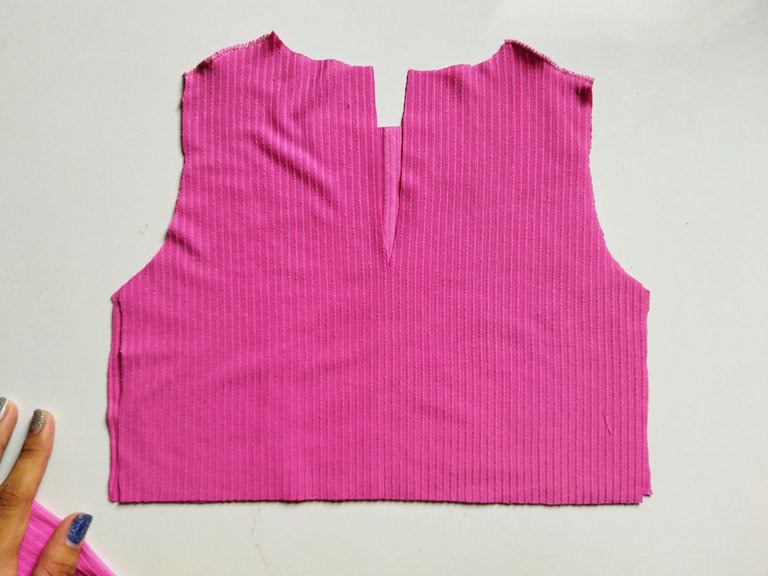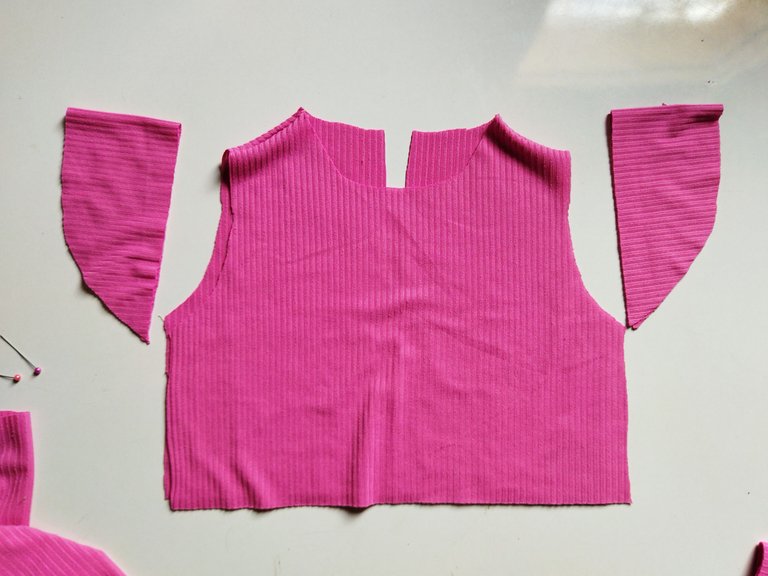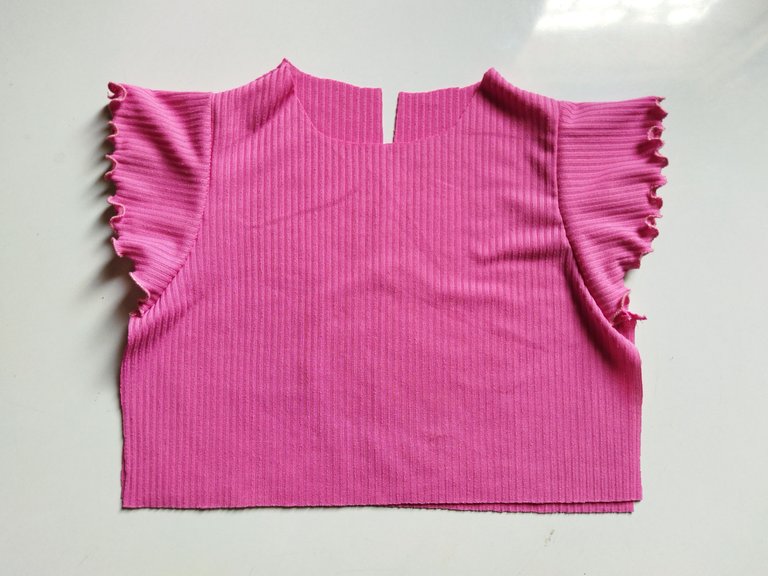 ---
Para la parte de la blusa, coloqué la tela nuevamente y saqué dos piezas (delantera y trasera), a la pieza trasera le hice una abertura que inicialmente le iba a colocar un botón pero terminé haciendole una tira.

Cosi los hombros de las dos piezas de la blusa, y luego coloqué las mangas, obté por unas mangas cortas y sencillas con ruffles en los bordes, después de coser las mangas coloqué las dos piezas enfrentando sus derechos y cosí los costados.
For the blouse part, I placed the fabric again and took out two pieces (front and back), to the back piece I made an opening that initially I was going to put a button but I ended up making a strip.
I sewed the shoulders of the two pieces of the blouse, and then I placed the sleeves, I got some short and simple sleeves with ruffles on the edges, after sewing the sleeves I placed the two pieces facing each other and sewed the sides.
---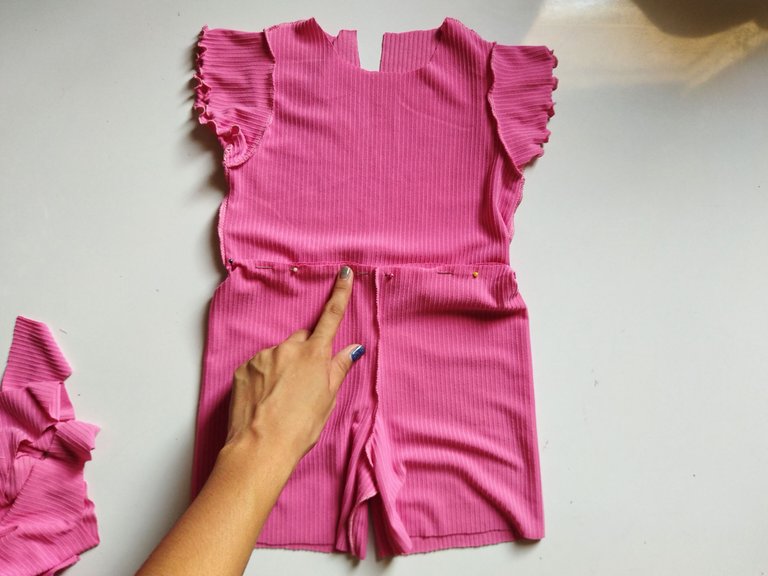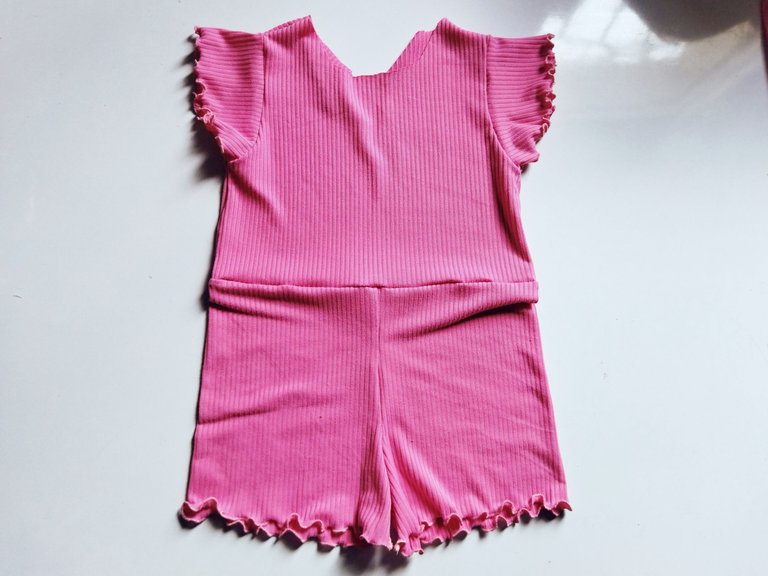 ---
Teniendo las dos piezas listas por separado, vamos a coser para unirlas, sujeté con alfileres la cintura de la braga y pasé costura recta y luego en zigzag.
Having the two pieces ready separately, let's sew to join them together, I pinned the waistband of the panty and sewed straight and then zigzag stitching.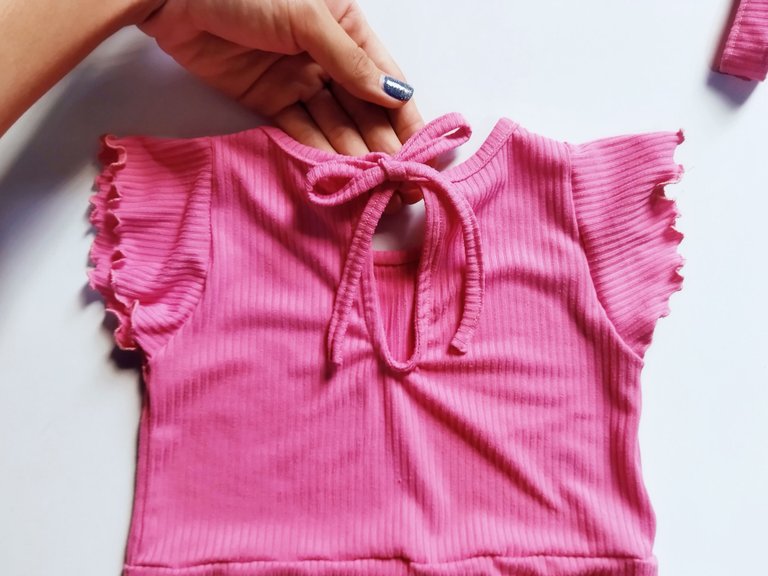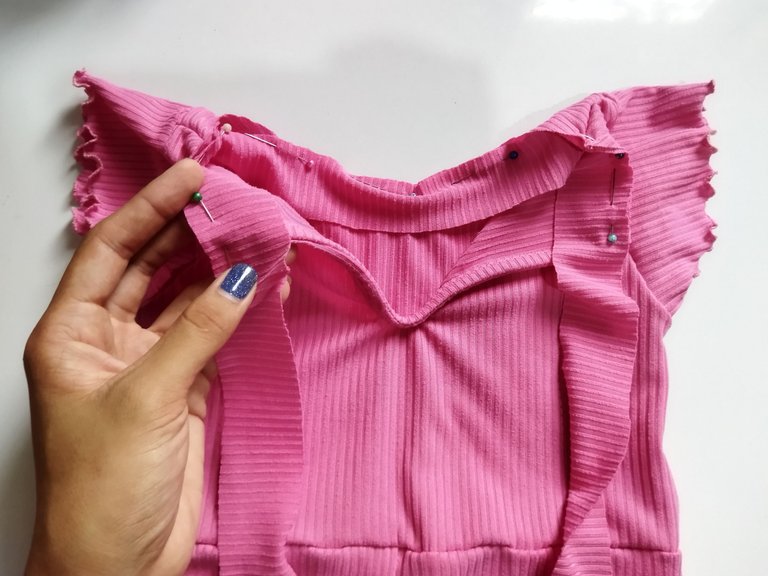 ---
Con una tira de 4cm de ancho realicé el vivo del cuello y lo lleve hasta la parte trasera dejando una tira para ajustar la parte de atrás.

Como detalle final realicé el cinturón y con unas trabillas que cosí en la cintura terminé está bella braga.
With a 4cm wide strip I made the neckline and took it to the back leaving a strip to adjust the back.
As a final detail I made the belt and with some loops that I sewed at the waist I finished this beautiful panty.
---
---
Resultado final.
Final result.
---
---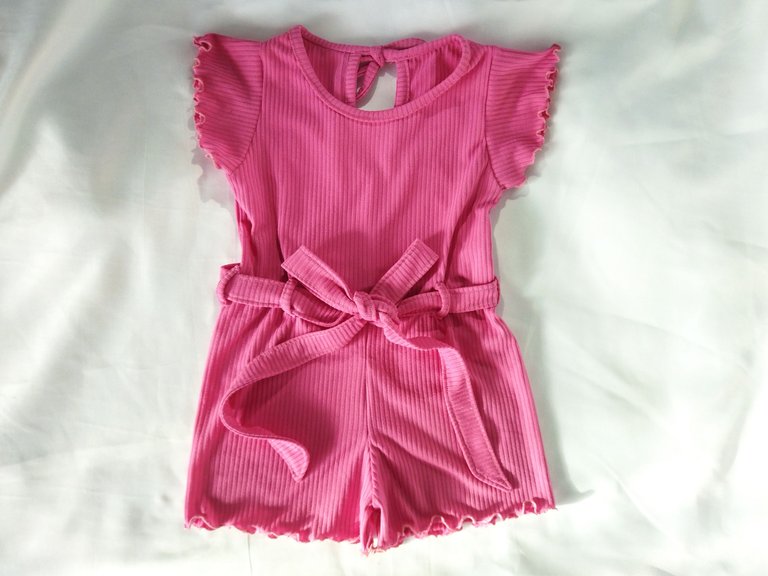 ---
Y así quedó el resultado final de esta hermosa braga, a mí me encantó como quedó y aún que no me dió tiempo de tomarle fotos a mi bebé Sheyla con ella les digo que le quedó hermosísima, Espero de corazón que les hay gustado este post y si has llegado hasta aquí mil gracias por leerme ❤️🥰 un fuerte abrazo, gracias por el apoyo y nos leemos luego.
And so was the final result of this beautiful panty, I loved how it turned out and even though I did not have time to take pictures of my baby Sheyla with it I tell you that it was beautiful, I sincerely hope you liked this post and if you have come this far thank you for reading me ❤️🥰 a big hug, thanks for the support and see you later.
---
All images are my property / Todas las imágenes son de mi propiedad
Camera: Xiaomi Redmi 9T.
Translation: Deepl.com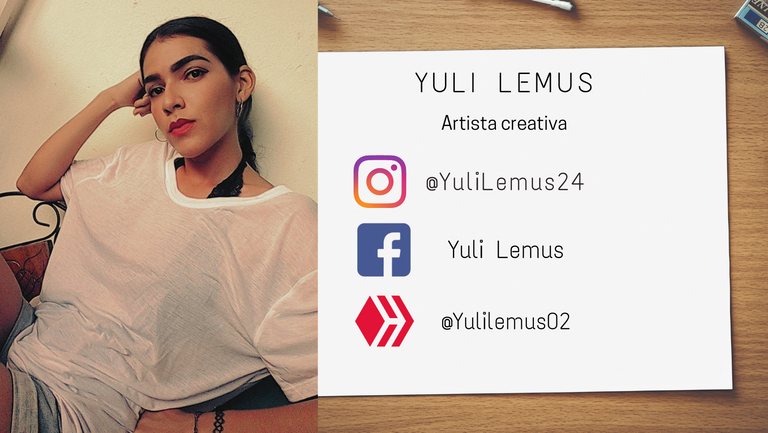 ---
---