[ESP-ING] 🌹DIY: Blusa ruffle en estampado floral 🌹|| 🌹DIY: Ruffle blouse in floral print 🌹
---
¡Hola comunidad de Hive!
Hello Hive community!
---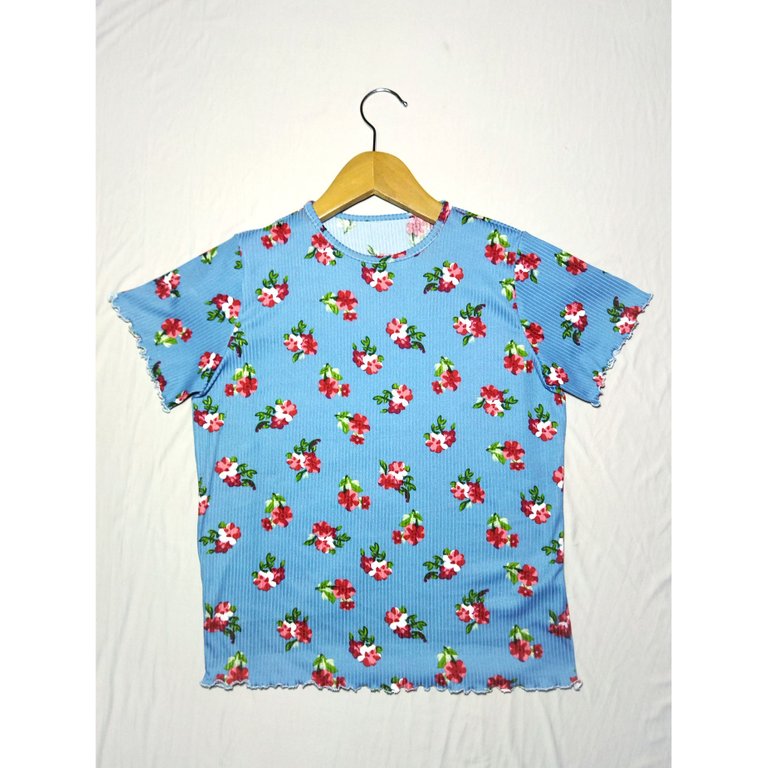 ---
Hola queridos amantes de la costura, feliz y maravilloso martes, heces días que no compartía con ustedes por acá, me tome unos días de vacaciones 🤣🤣😂 a veces es bueno detenerse y descansar, y aprovechando que se acercaba mi cumpleaños (que fué el pasado domingo 24 me tomé unos días para poder celebrar y compartir en familia 😁 pero antes de tomarme estos días de relax terminé un pedido que tenía pendiente, se trata de una blusa ruffle en estampado floral, me encantó de este estampado el contraste de los colores pues el fondo es una azul casi grisáceo y las flores en color rojo que resaltan bastante.
Hello dear sewing lovers, happy and wonderful Tuesday, it's been days since I last shared with you here, I took a few days off 🤣🤣😂 sometimes it's good to stop and rest, and taking advantage of my approaching birthday (which was last Sunday 24 I took a few days to celebrate and share with family 😁 but before taking these days of relaxation I finished an order I had pending, it is a ruffle blouse in floral print, I loved this print the contrast of colors because the background is an almost grayish blue and red flowers that stand out quite a lot.
---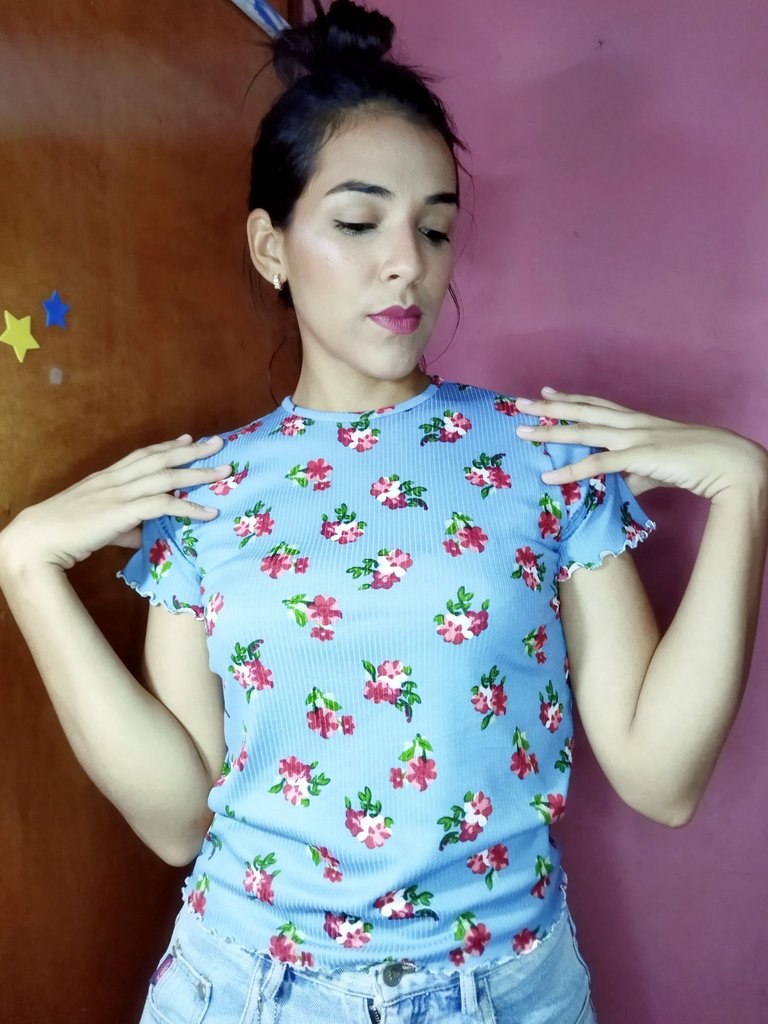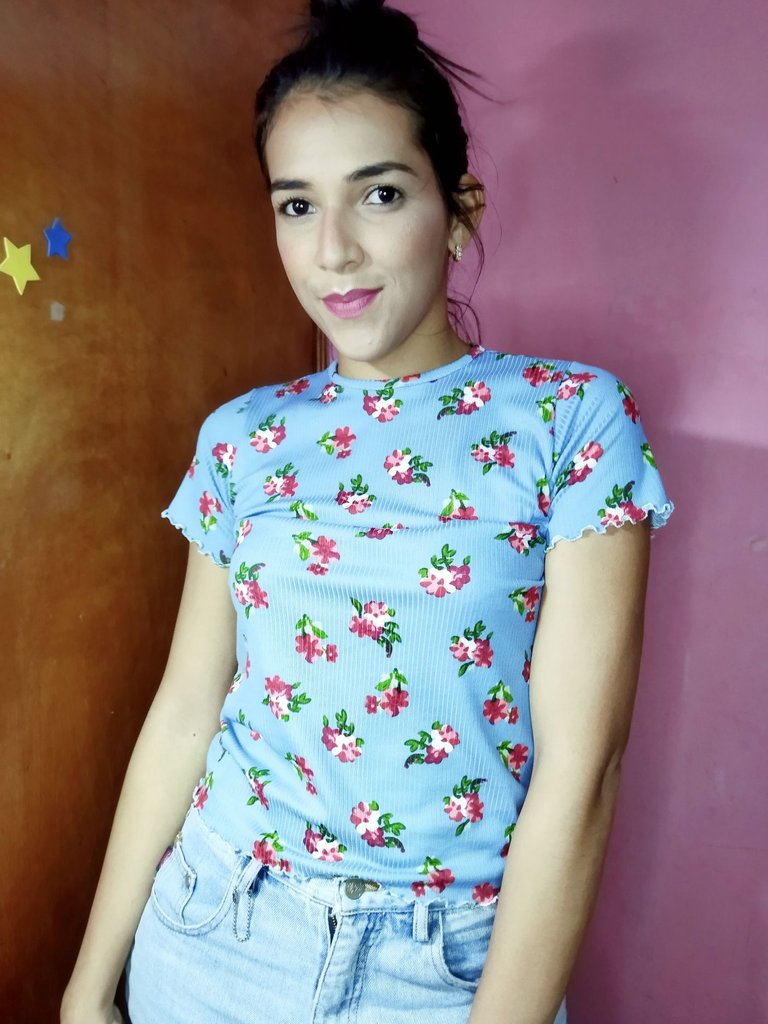 ---
Este tipo de blusas es muy fácil de hacer y no necesitas tener máquina overlock para hacer los ruffles, así que si quieres aprender a realizar esta hermosa blusa ve por tu hilo, tela y aguja.
This type of blouse is very easy to make and you don't need an overlock machine to make the ruffles, so if you want to learn how to make this beautiful blouse get your thread, fabric and needle.
---
🧵🧷🧵🧷🧵🧷🧵🧷🧵🧷🧵🧷🧵🧷🧵🧷🧵
---
Necesitaremos || We will need
---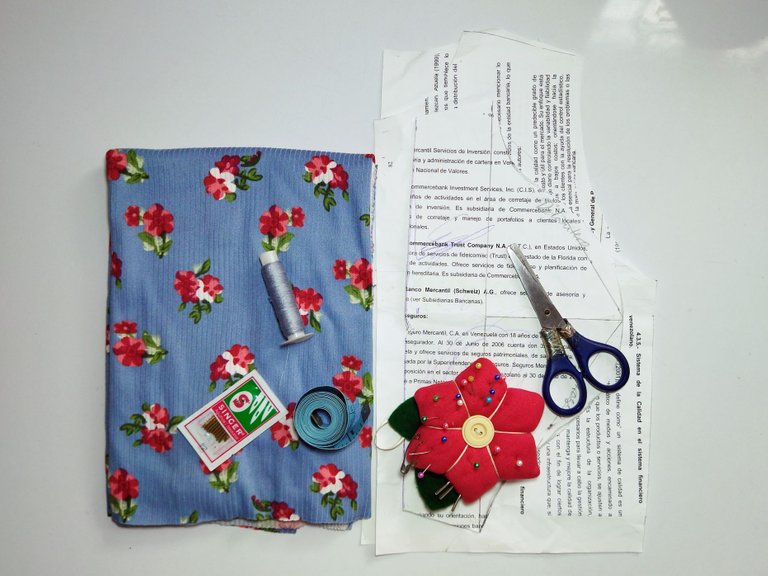 ---
Medio metro de tela micro estampado
Hilo blanco o azul
Alfileres
Tijera
Cinta métrica
Patrón
Aguja y máquina de coser
Medio metro de tela micro estampado
Hilo blanco o azul
Alfileres
Tijera
Cinta métrica
Patrón
Aguja y máquina de coser
---
🧵🧷🧵🧷🧵🧷🧵🧷🧵🧷🧵🧷🧵🧷🧵🧷🧵
---
Paso 1 || Step 1
---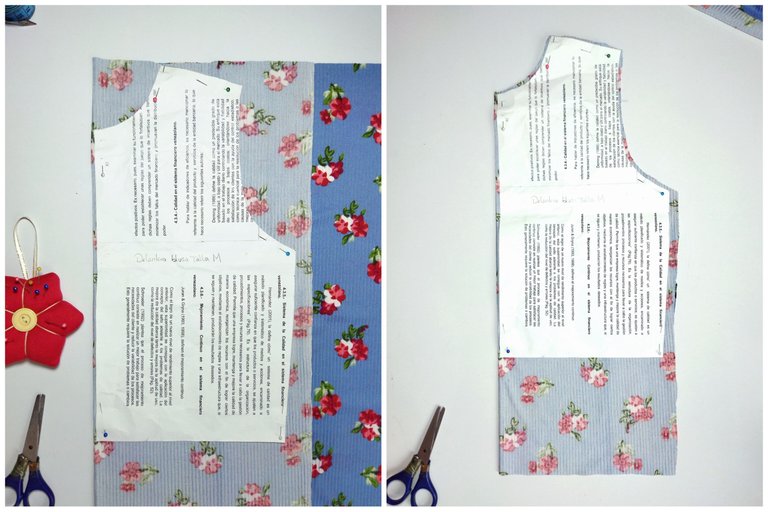 ---
Comenzamos doblando la tela y colocándola en una superficie plana, colocamos el patrón sobre la tela y lo sujetamos con alfileres, vamos a cortar de la tela colocando el lado que más estira en dirección horizontal, necesitamos sacar dos piezas (1 pieza delantera y 1 pieza trasera), Debemos tener en cuenta del centímetro que debemos dejar para el margen de costura, también agregué unos centímetros más del largo de la blusa.
We start by folding the fabric and placing it on a flat surface, we place the pattern on the fabric and pin it, we are going to cut from the fabric placing the side that stretches the most in horizontal direction, we need to take out two pieces (1 front piece and 1 back piece), We must take into account the centimeter that we must leave for the seam allowance, I also added a few centimeters more than the length of the blouse.
---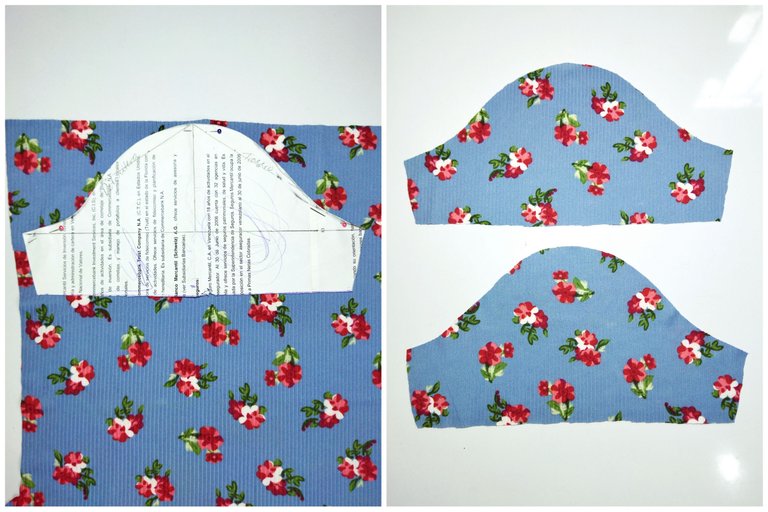 ---
Cortamos las mangas también, coloqué el patrón sobre la tela para que se haga más cómodo cortar lo sujetamos con alfileres, sacamos dos piezas para las mangas.
We cut the sleeves as well, I placed the pattern on the fabric to make it more comfortable to cut, we pinned it, we took out two pieces for the sleeves.
---
Paso 2 || Step 2
---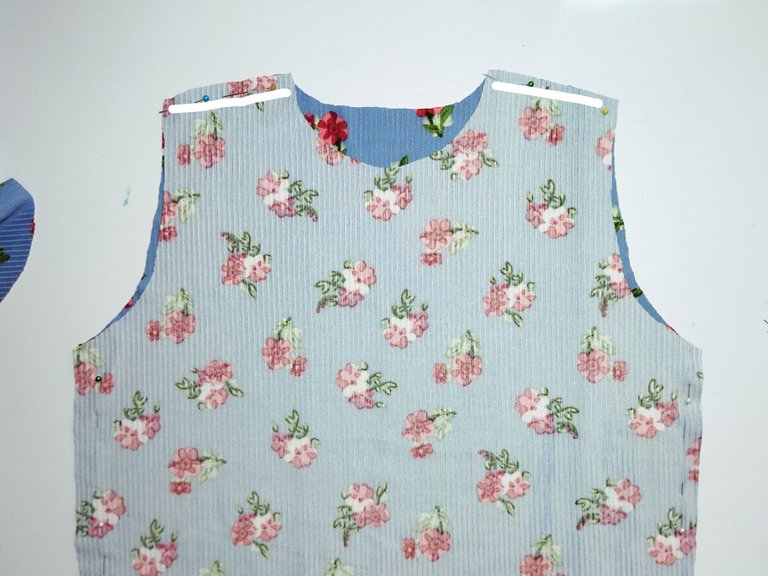 ---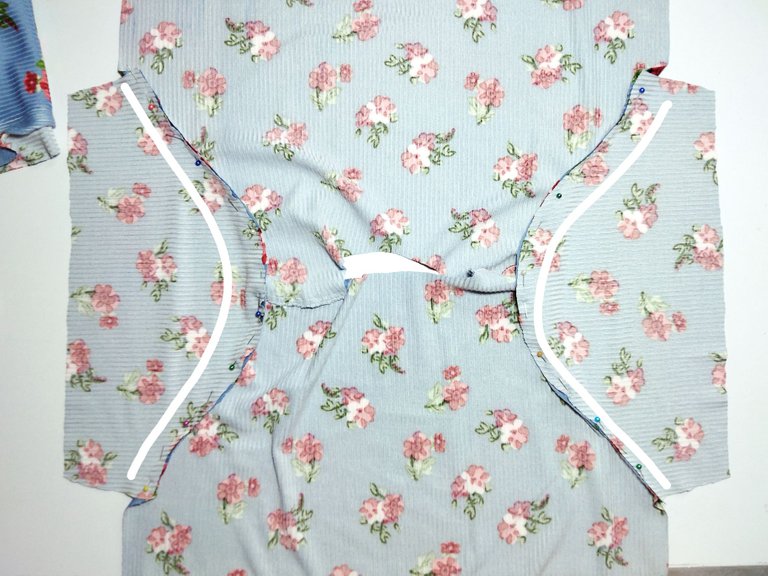 ---
Después de tener la dos piezas cortadas (Delantera y trasera), enfrentamos los derechos de ambas piezas. Y sujetamos con alfileres las hombros de la blusa, como te muestro en la imagen. Pasamos costura recta y luego zigzag para rematar la costura en los hombros.

Teniendo los hombros de la blusa ya cosidos vamos a sujetar las manga a la sisa de la blusa, me ayude con alfileres y luego fuí a la máquina y pasé costura recta y zigzag para un mejor acabado en los bordes (👀 OJO!!! Muy pendiente de la dirección de la tela, el derecho y el revés).
After having the two pieces cut (front and back), we face the right sides of both pieces. And pin the shoulders of the blouse, as shown in the picture. We pass straight seam and then zigzag to finish the seam on the shoulders.
Having the shoulders of the blouse already sewn we are going to attach the sleeves to the armhole of the blouse, I helped myself with pins and then I went to the machine and passed straight seam and zigzag for a better finish on the edges (👀 EYE!!! Very aware of the direction of the fabric, the right and the wrong side).
---
Paso 3 || Step 3
---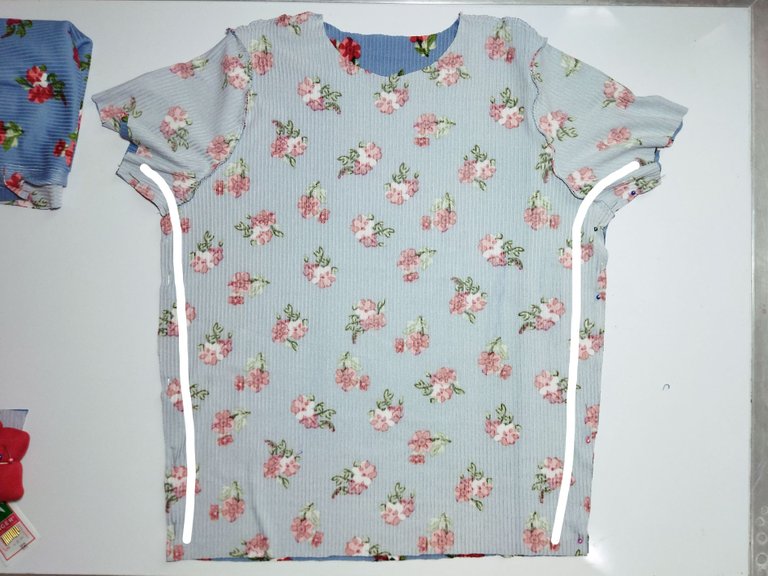 ---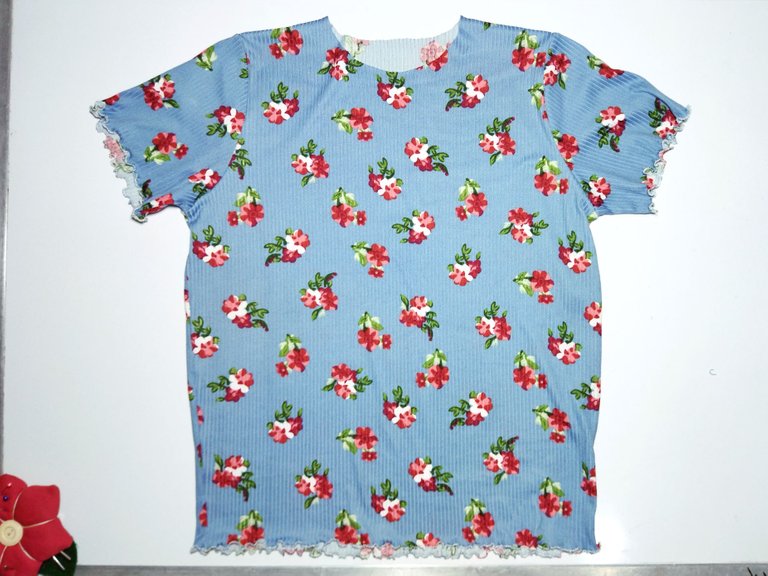 ---
Proseguimos enfrentando los derechos de la blusa con las mangas cosidas y vamos a pasar costura desde el borde de las mangas hasta los costados cerrando los dos lados, acostumbró a pasar costura recta y zigzag.

Luego volteamos la blusa y pasamos costura de overlock en los bordes de las mangas y el ruedo, si no tenemos overlock como en mi caso podemos colocar la costura en zigzag con el largo de puntada en 1,5 y pasamos estirando la orilla de la tela lo más que podemos para que nos quedé un lindo faralao.
We continue by facing the blouse with the sleeves sewn and we will sew from the edge of the sleeves to the sides closing both sides, I used to sew straight and zigzag seams.
Then we turn the blouse over and overlock the edges of the sleeves and the hem, if we do not have overlock as in my case we can place the zigzag seam with the stitch length in 1.5 and we pass stretching the edge of the fabric as much as we can so that we have a nice faralao.
---
Paso 4 || Step 4
---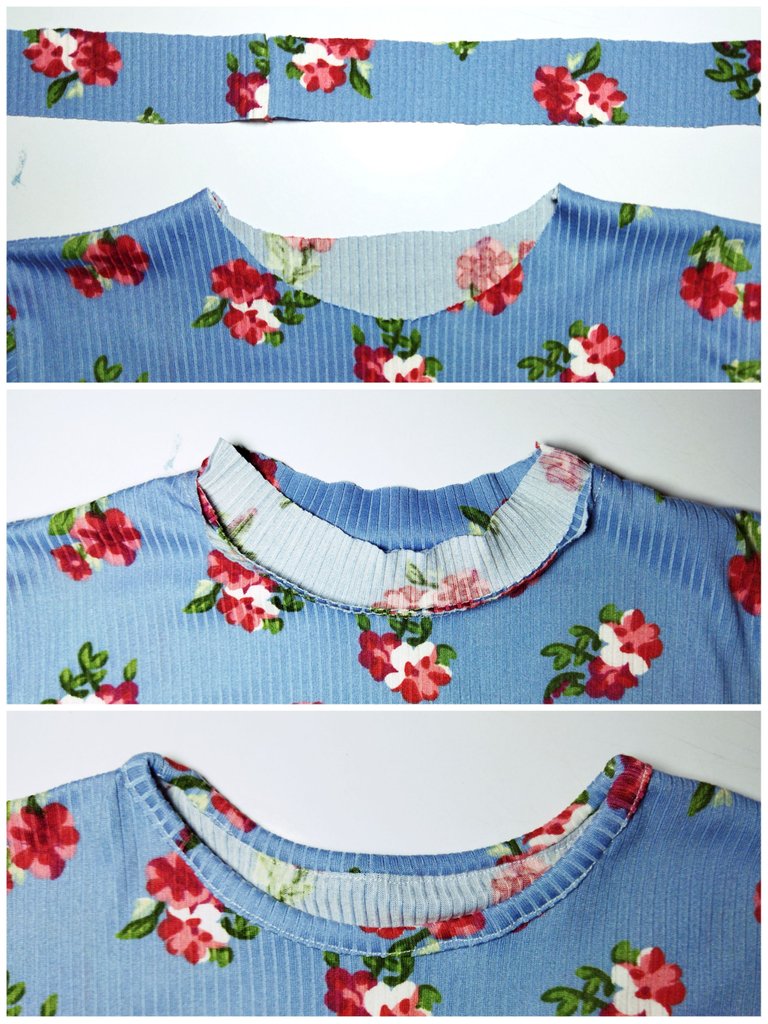 ---
Por último cortamos una tira de 3 cm de ancho para coser el vivo del cuello, colocamos la tira al contorno del cuello, cosemos con el derecho de la tira hacia el revés del cuello de la camisa, luego de tenerlo cosido vamos a doblar la tira a la mitad, doblemos nuevamente hacia el contorno del cuello y sujetamos con alfileres para luego coser y ya tendríamos el vivo del cuello listo.
Finally we cut a strip of 3 cm wide to sew the collar, we place the strip to the contour of the collar, we sew with the right side of the strip to the back of the collar of the shirt, after having it sewn we will fold the strip in half, fold again to the contour of the collar and fasten with pins and then sew and we would have the live collar ready.
---
Resultado final.
Final result.
---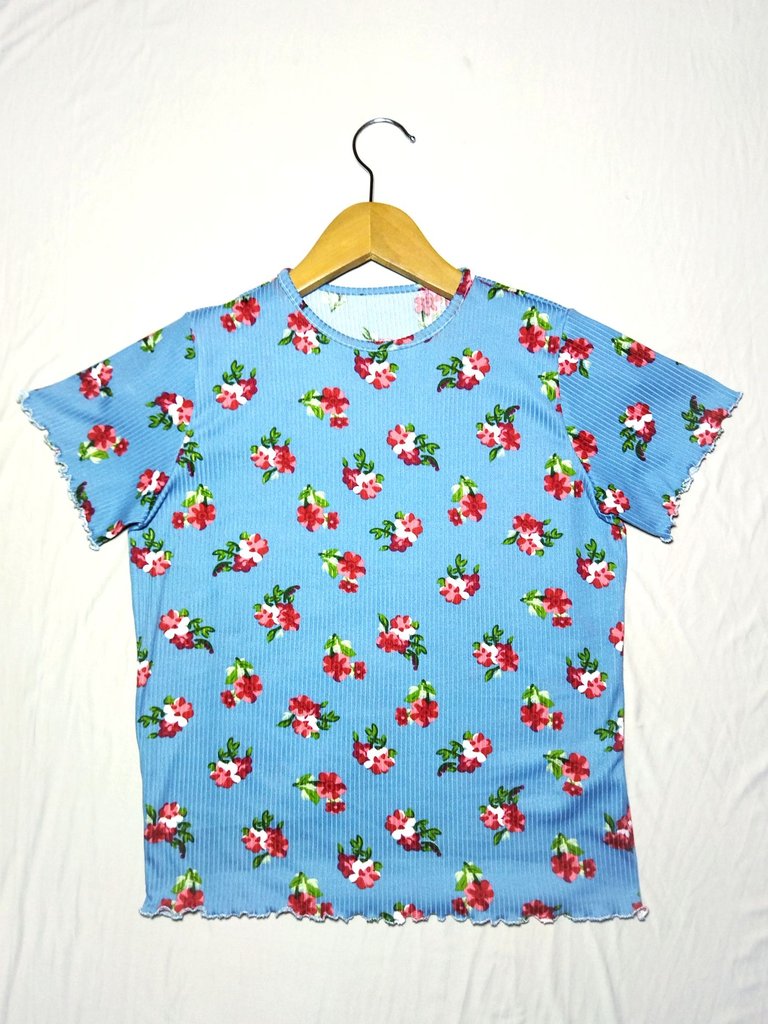 ---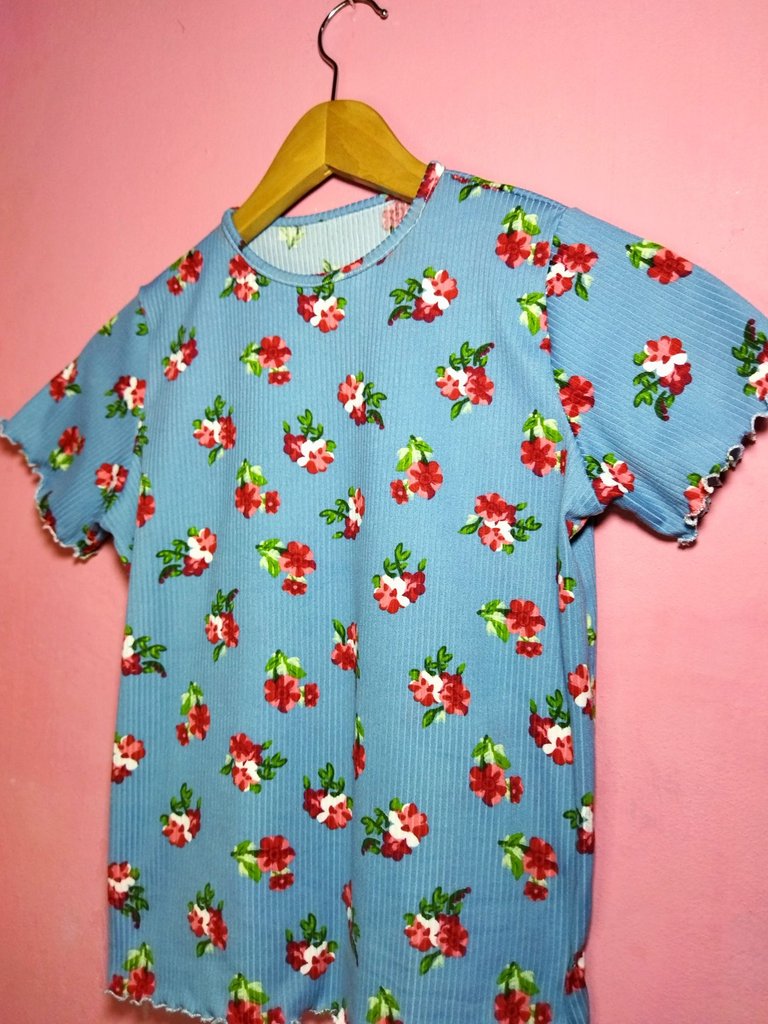 ---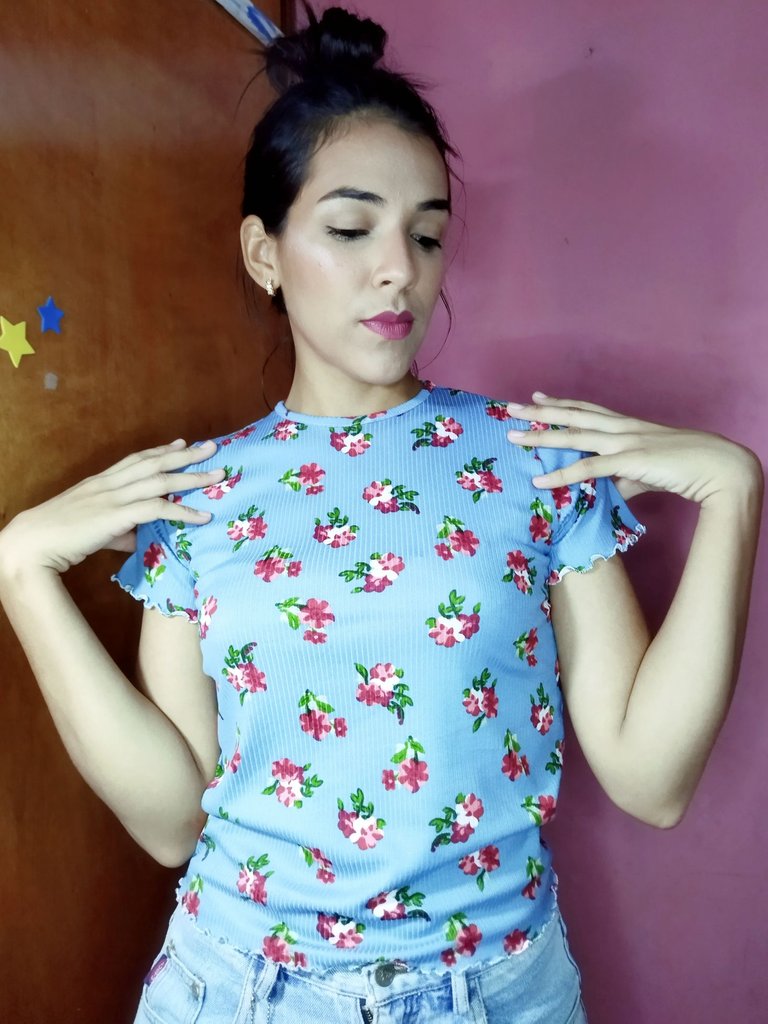 ---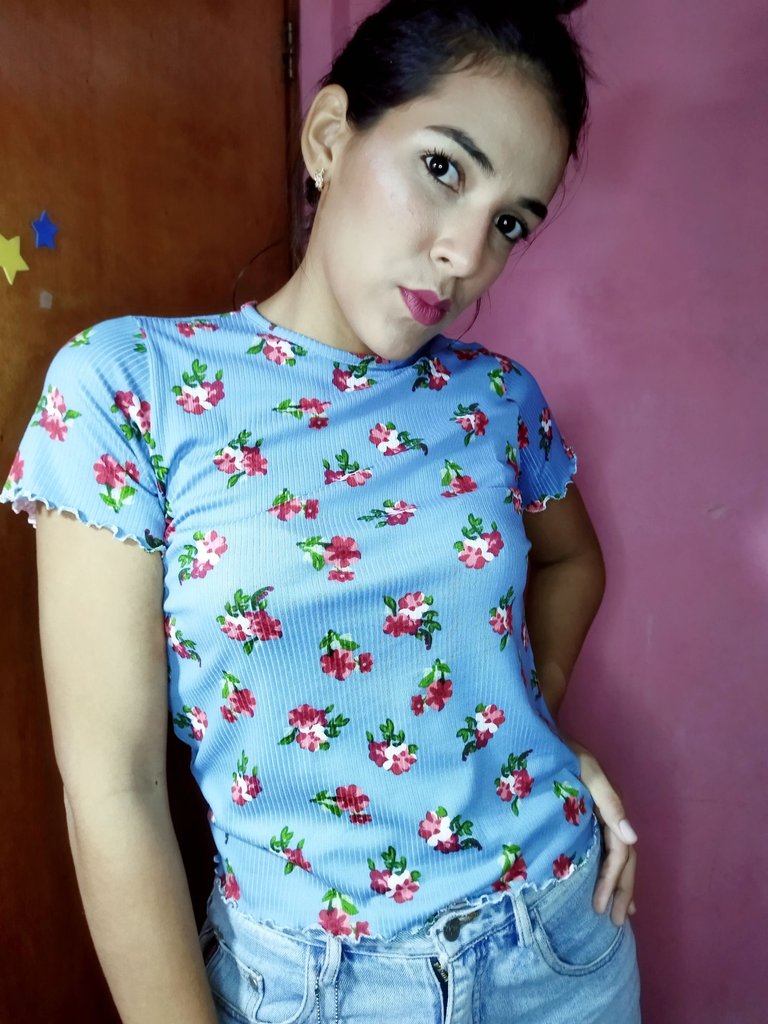 ---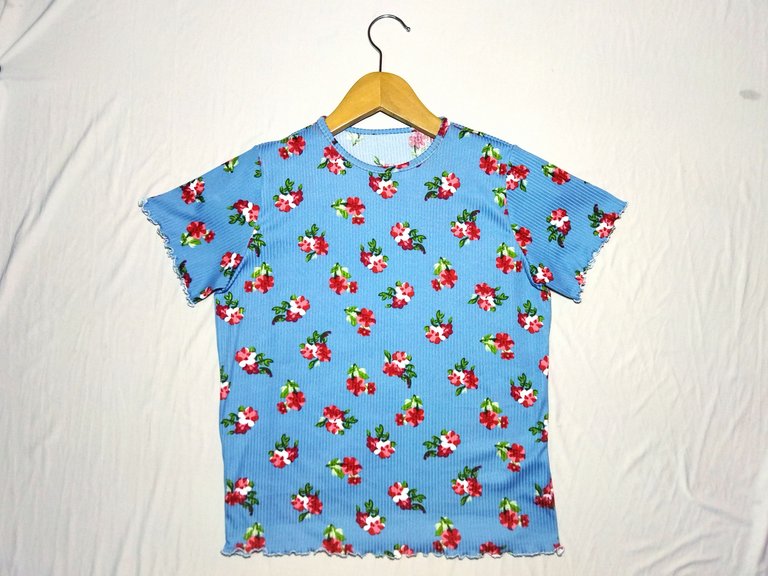 ---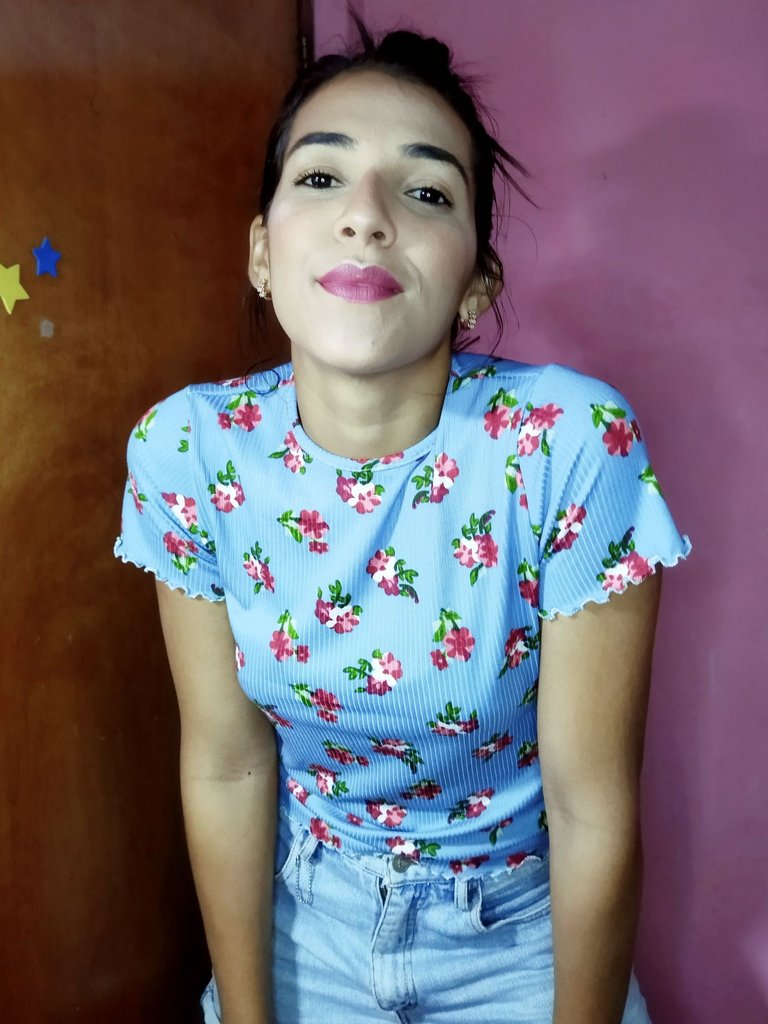 ---
Amigos así quedó el resultado final de esta hermosa blusa con ruffles en las mangas, a mí me encantó totalmente, el estampado me pareció tan bello y elegante, hasta aquí esta publicación espero que les hay gustado tanto como a mí y si llegaste hasta aquí mil gracias por leer mi post ❤️🥰 un fuerte abrazo.
Friends this was the final result of this beautiful blouse with ruffles on the sleeves, I totally loved it, the print seemed so beautiful and elegant, so far this publication I hope you liked it as much as I did and if you got this far thank you for reading my post ❤️🥰 a big hug.
---
All images are my property / Todas las imágenes son de mi propiedad
Camera: Xiaomi Redmi 9T.
Translation: Deepl.com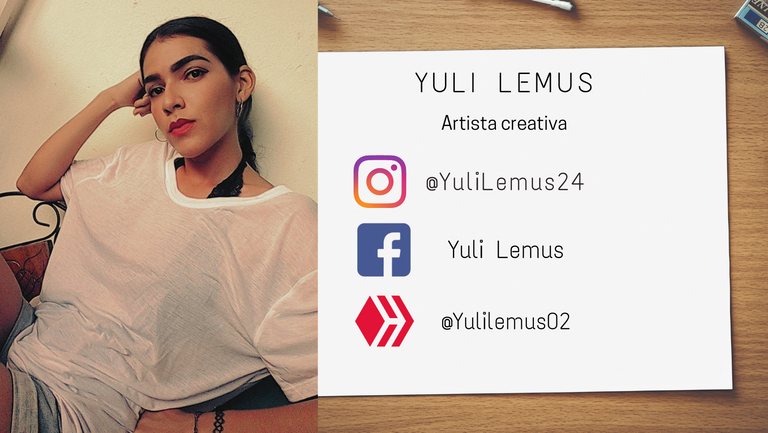 ---
---