Once in Chali Resort
Hello, Hive friends! How are you all?
I wish all of you are fine and happy.
November is gone by the end of the day and here comes December. How fast the time had rolled by!
Way back when was younger, I am very excited when December comes thinking Santa would actually come and give gifts to children like me but I realized that Santa is not real. Even in movies, Sant only comes to places where snow happens; sadly the Philippines does not have snow.
But a different excitement about December when I got employed and was invited to Christmas Parties each year.
Each year, our boss would be generous enough to give us a Christmas party, and here are some of the memories I took at the 6th party that I attended.
On the morning of December 18, 2021 ( it was actually my second child's birthday but we decided to celebrate it during Christmas so we can save on the expenses) we still get to work finishing what we needed to in the office.
Travelling
But when the evening came, I and my co-workers went down to the venue and on the way, I had this spectacular view of the sea along the highway. We are going downhill at that time.
I was very excited to see the sea since I don't usually see the sunset with it. Whenever I go to the city, I do it early in the morning and as much as possible, I go home early or late at night depending on how long my transaction would take me.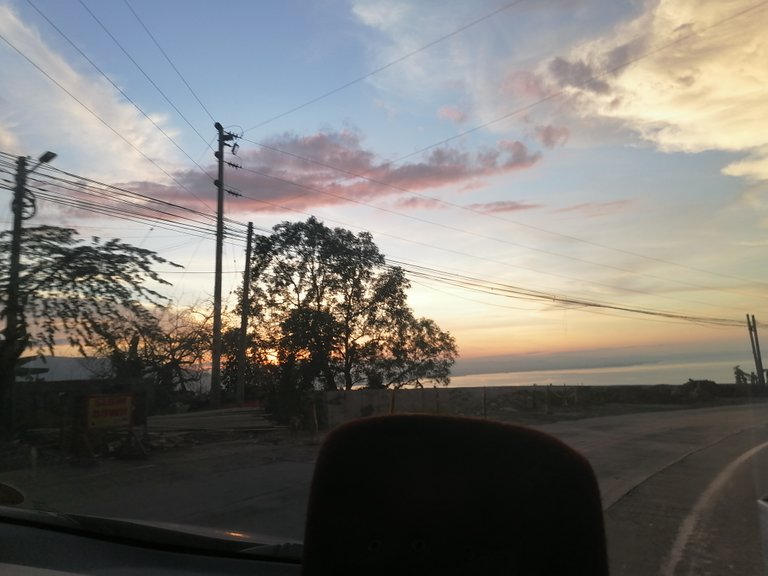 When we arrived in the city, my perception changed as we have already descended from the hill. Colorful clouds and different lights from cars and houses can be seen. No wonder why people get attracted to the city lights.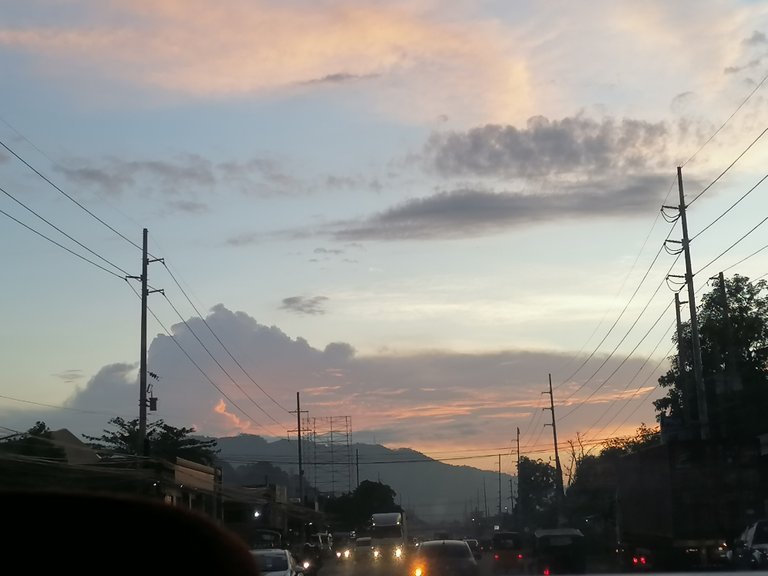 The Arrival
It did not take us very long to reach Chali beach resort.
I was not able to get a go picture at the entrance since I was only hitch riding with my co-workers. They are only specific in taking pictures of their faces but not in taking pictures of the surroundings and teh beauty of nature.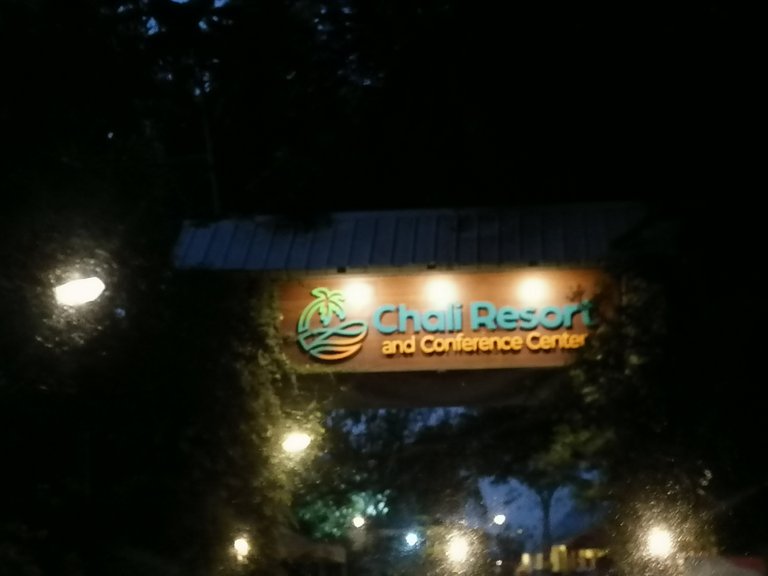 In the center of the parking lot, a huge tree stood and it was majestic but it would have gotten better if they had an idea of doing these lights and decoration to it. But I guess it was because of the tree's massiveness that they let it alone.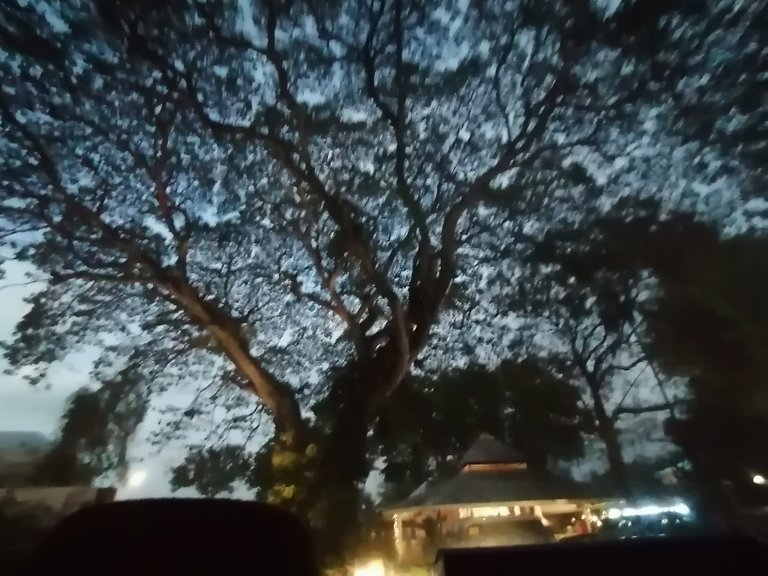 This fountain also caught my attention but I was
not able to come near it and see if it has fish in it or if anybody had decided to make it into a wishing well.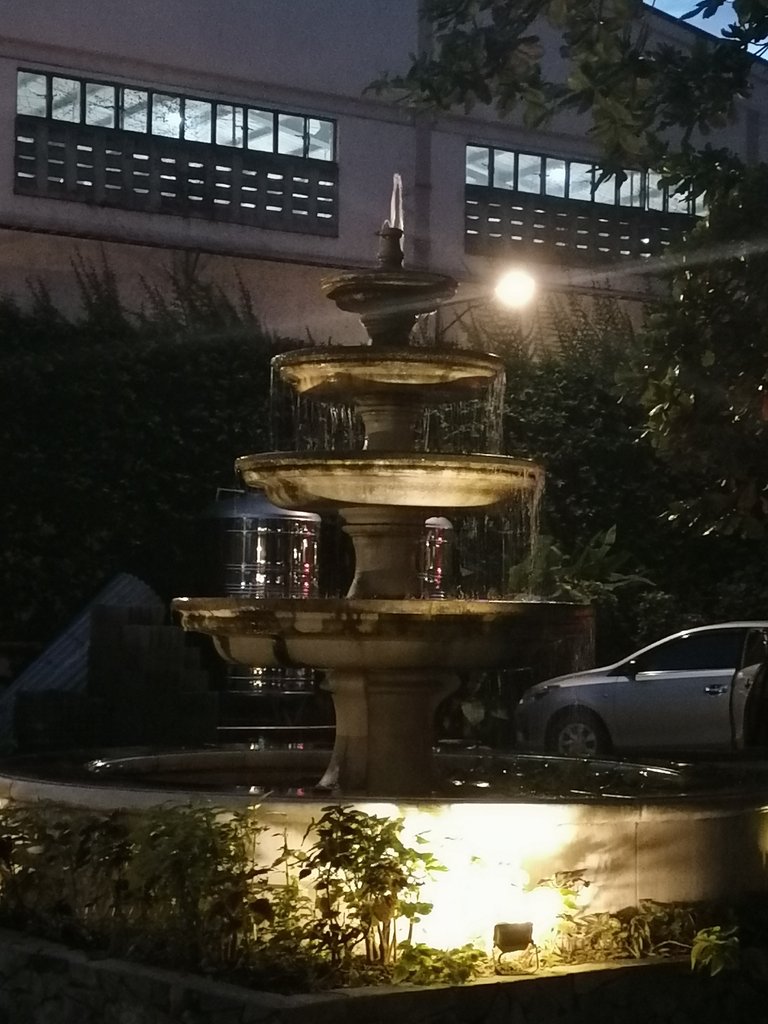 At the Lobby
When at teh lobby, my co-workers were too busy registering themselves, and since they were too busy, I took pictures around as I waited for them to get into the venue.
I rarely get into these types of environments to say about the ambiance and all. You decide it with the pictures that I took. For me, it was wonderful, and probably, the management did everything to make it look nice and neat as possible.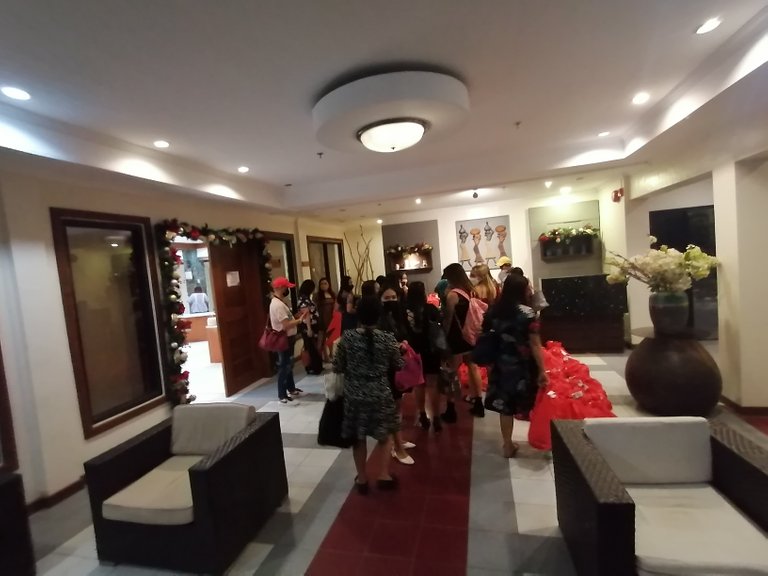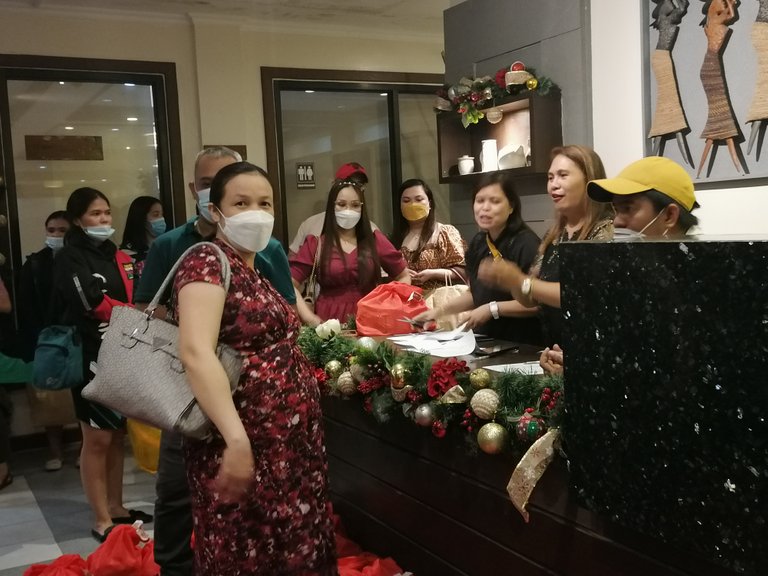 Not sure what to call this space but it could be a waiting area and it looks very comfortable to sit in.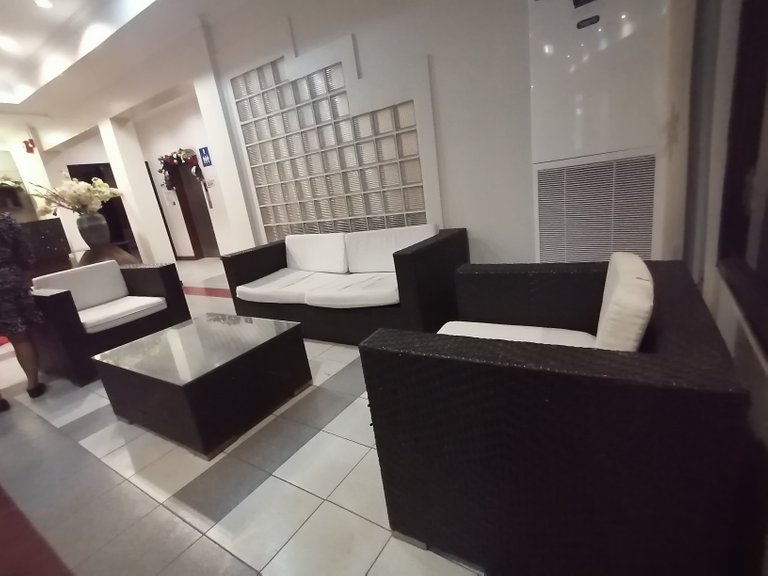 Here is Sir Greg waiting for his return too! He looks so comfy in the chair.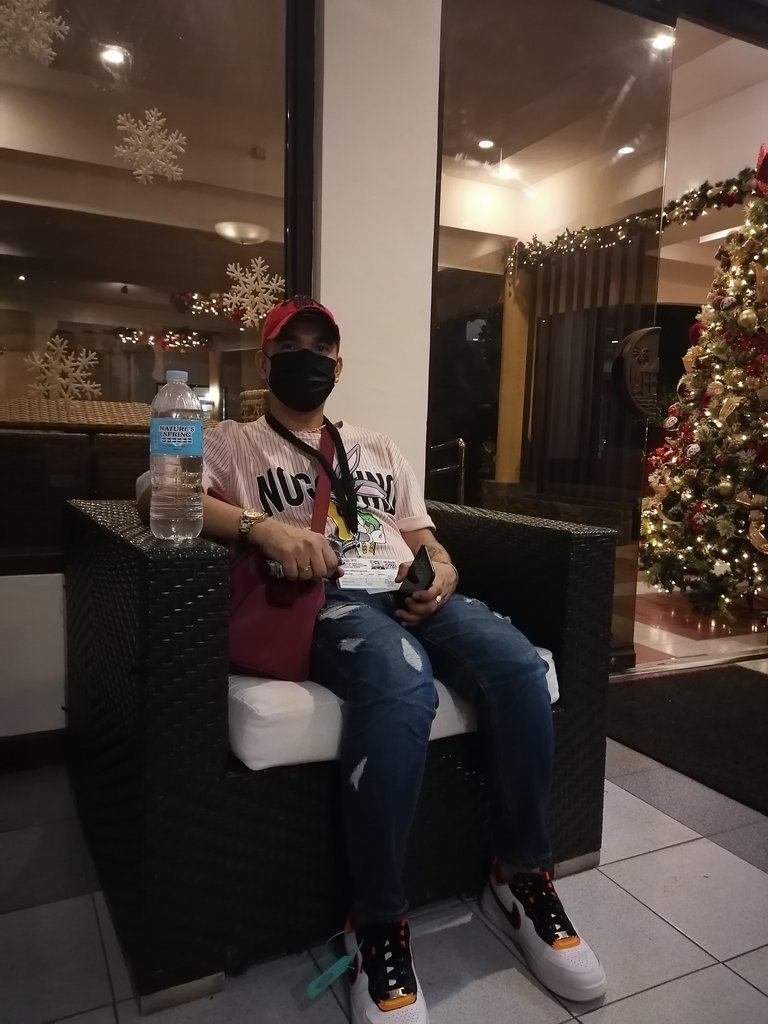 Beside the post are delicate-looking vases and flowers in them but I wonder if they were real.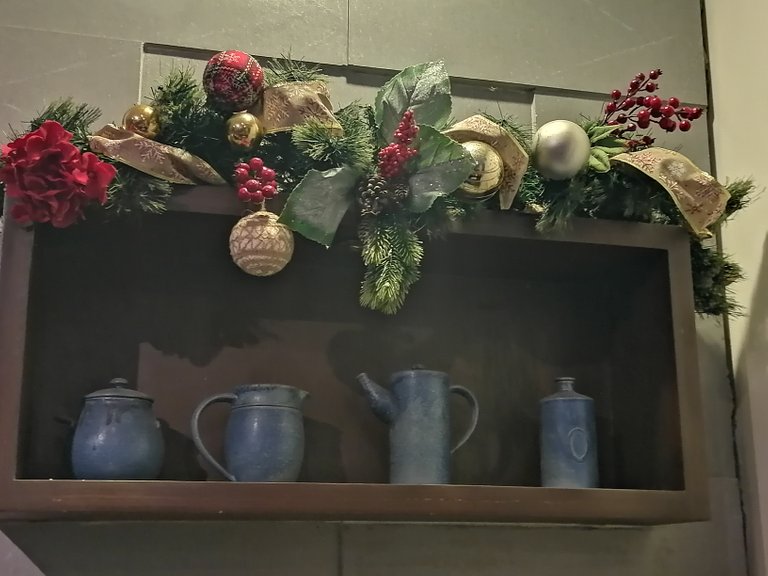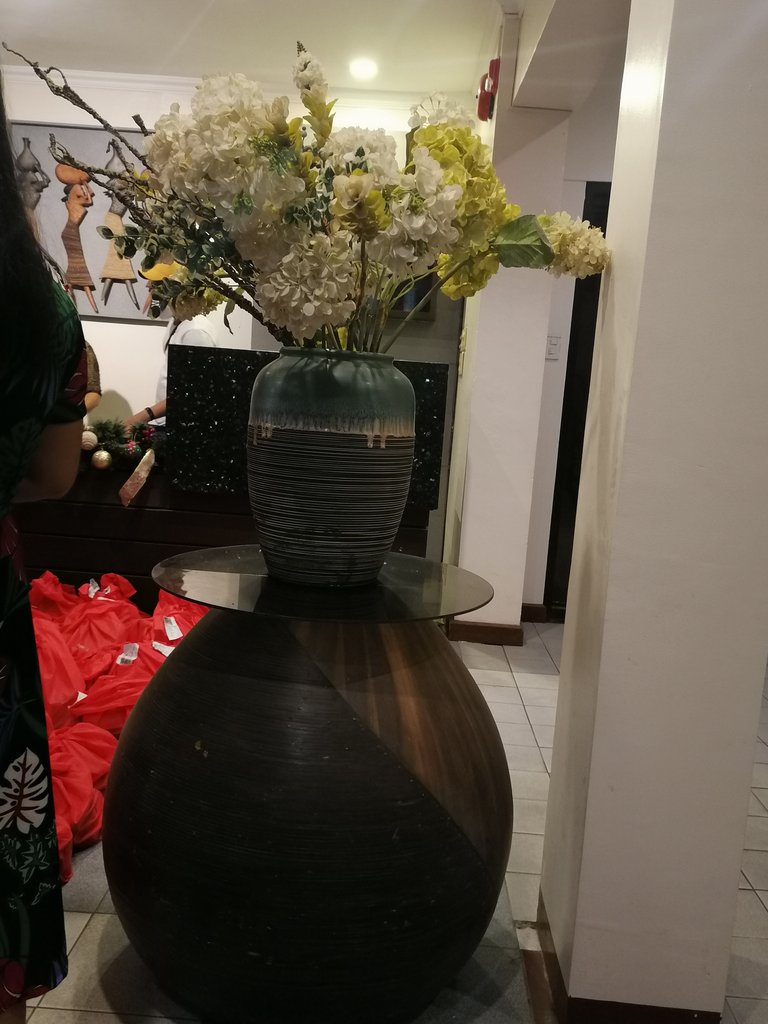 The door is even a work of art but too bad I was not able to take a photo of it being closed.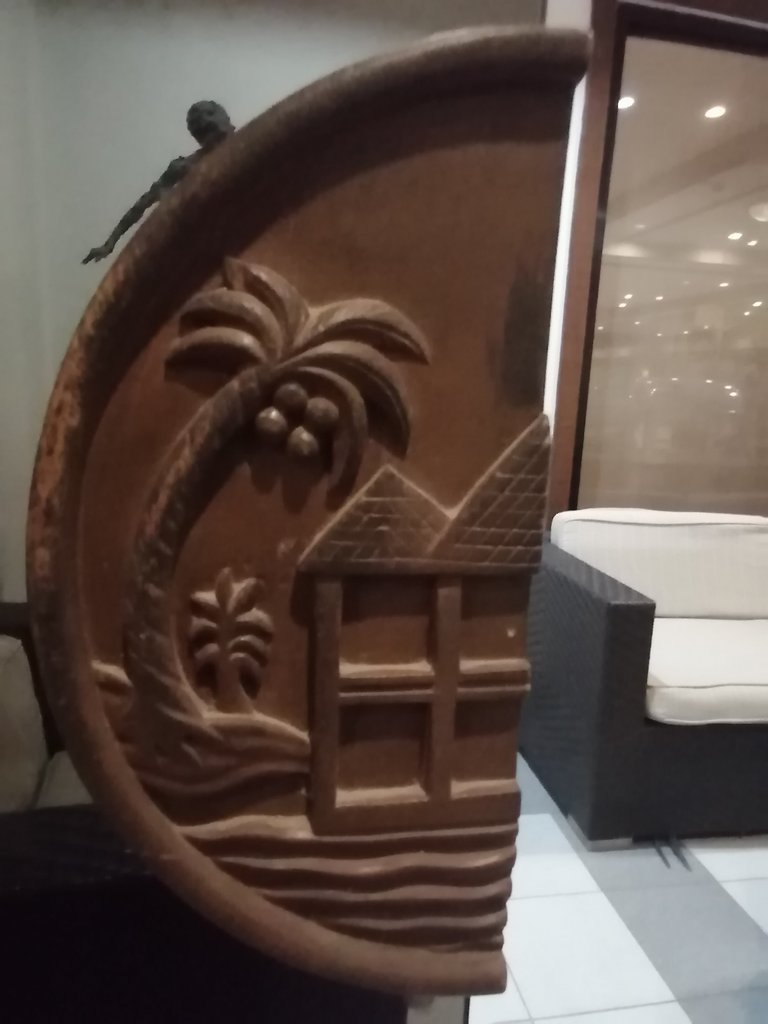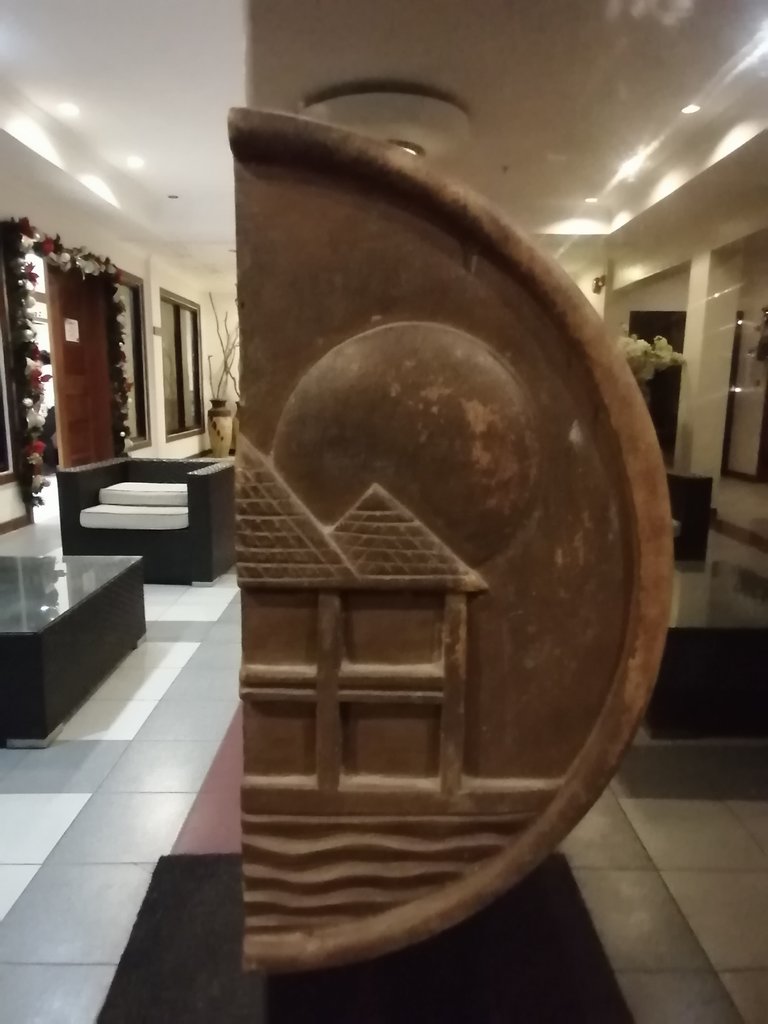 Mirrors were hung on the wall too.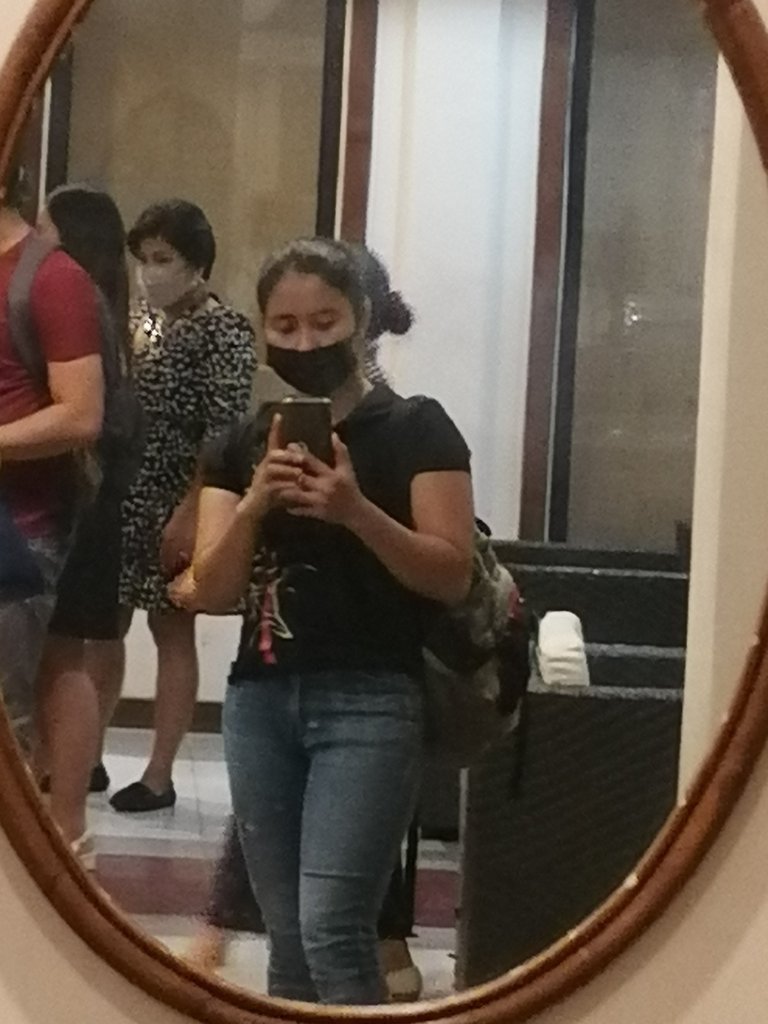 The Christmas tree is so festive and is full of adornments and it looks so wonderful.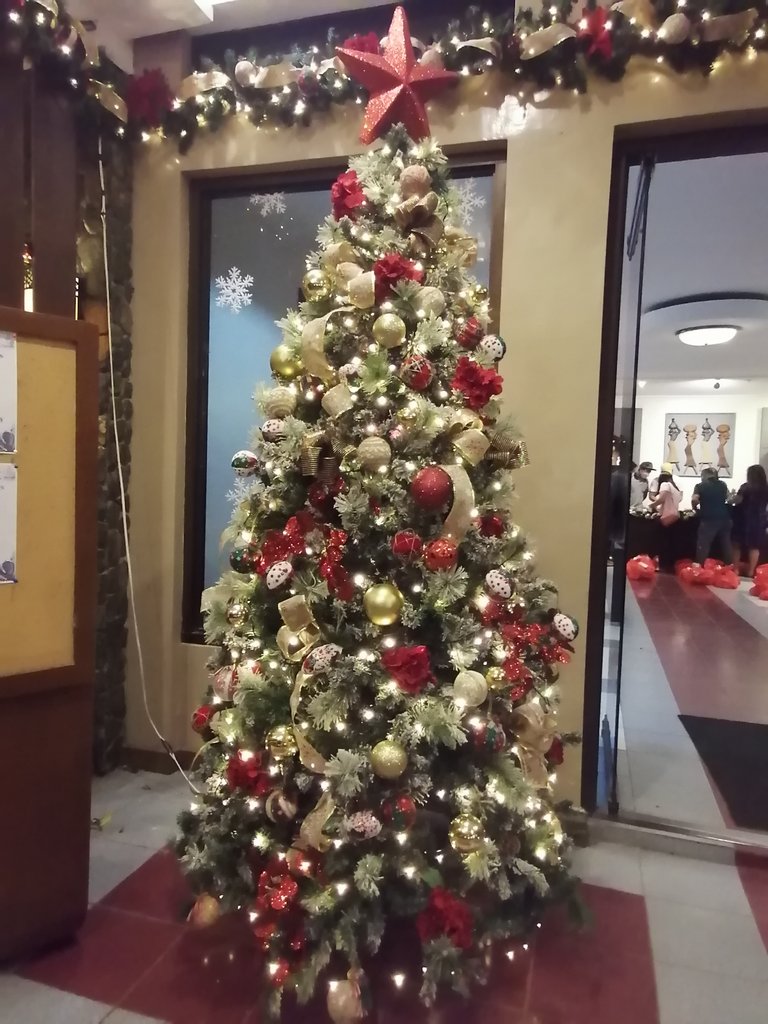 And here are some of the Christmas balls that brought uniqueness to the tree.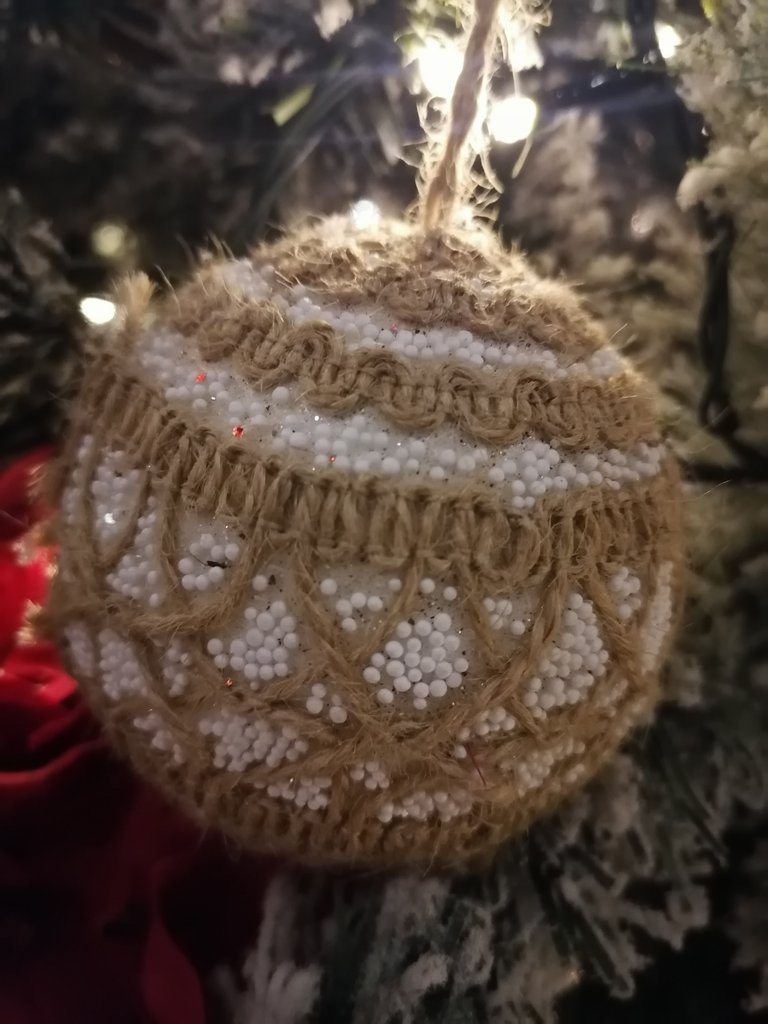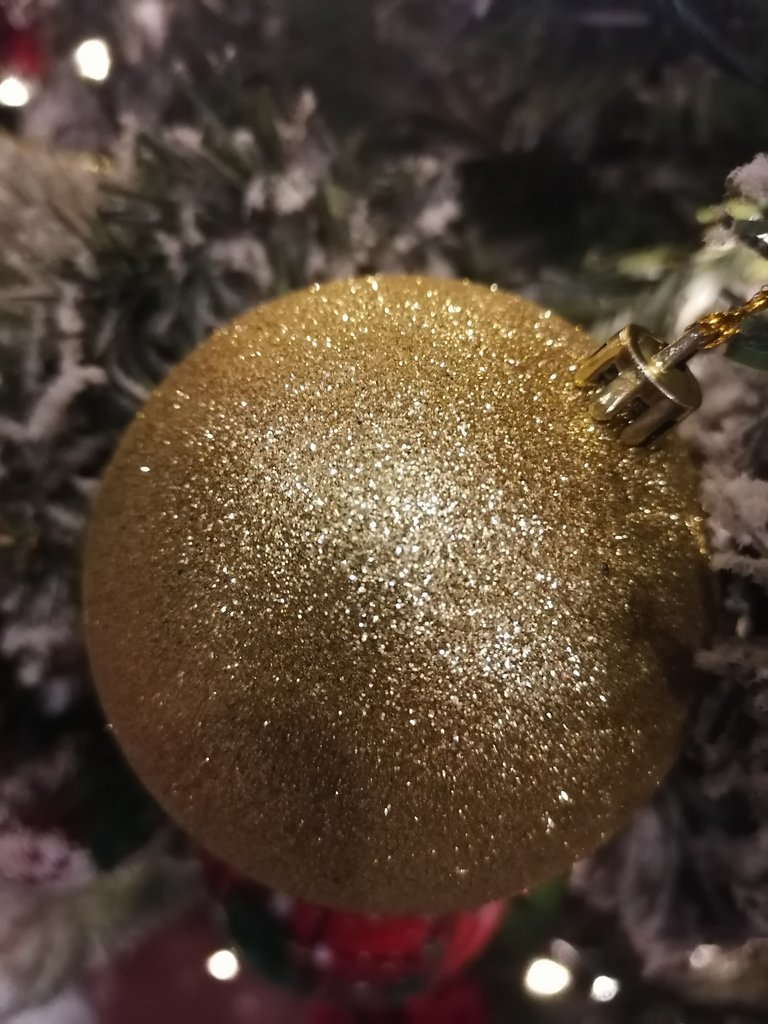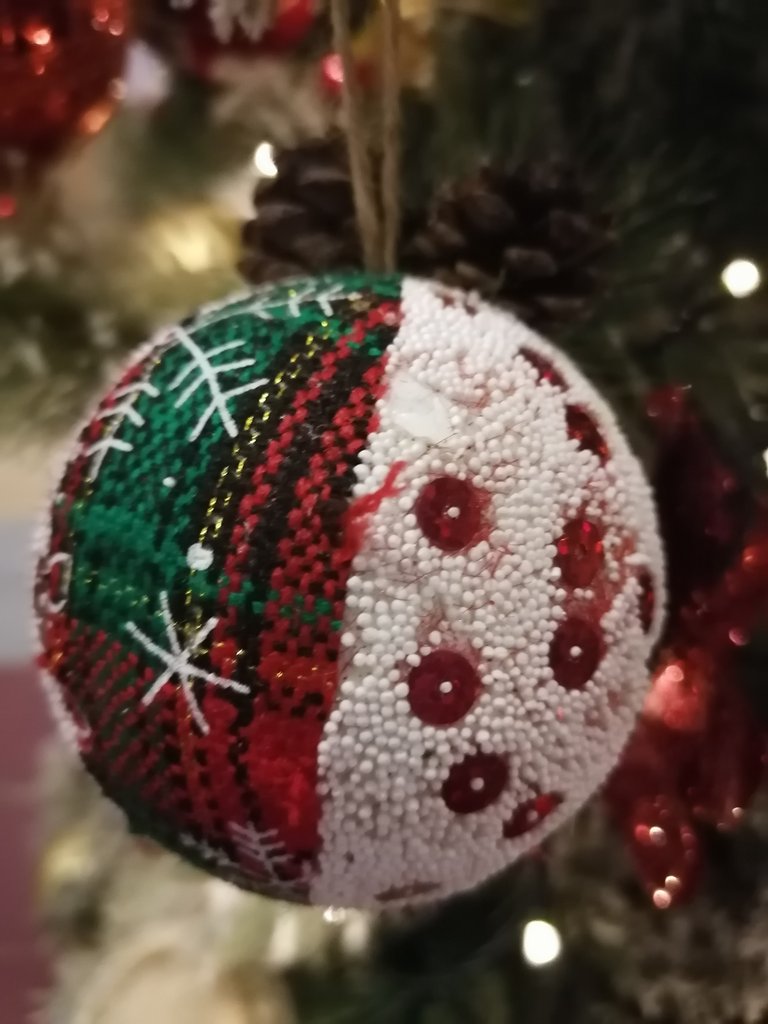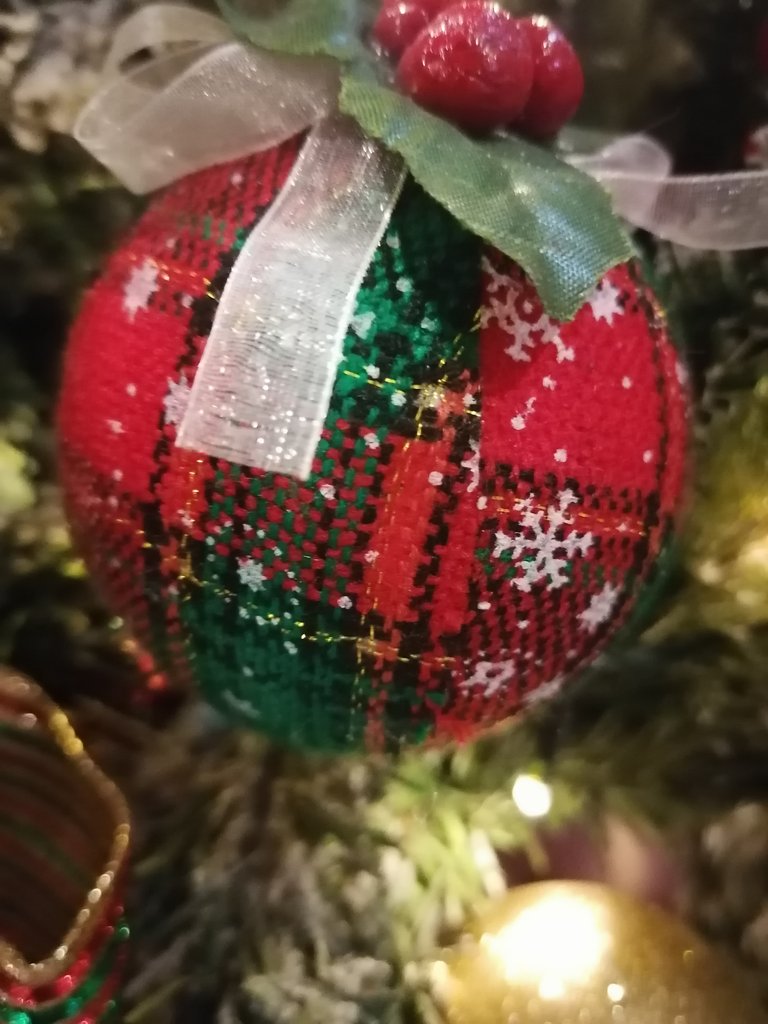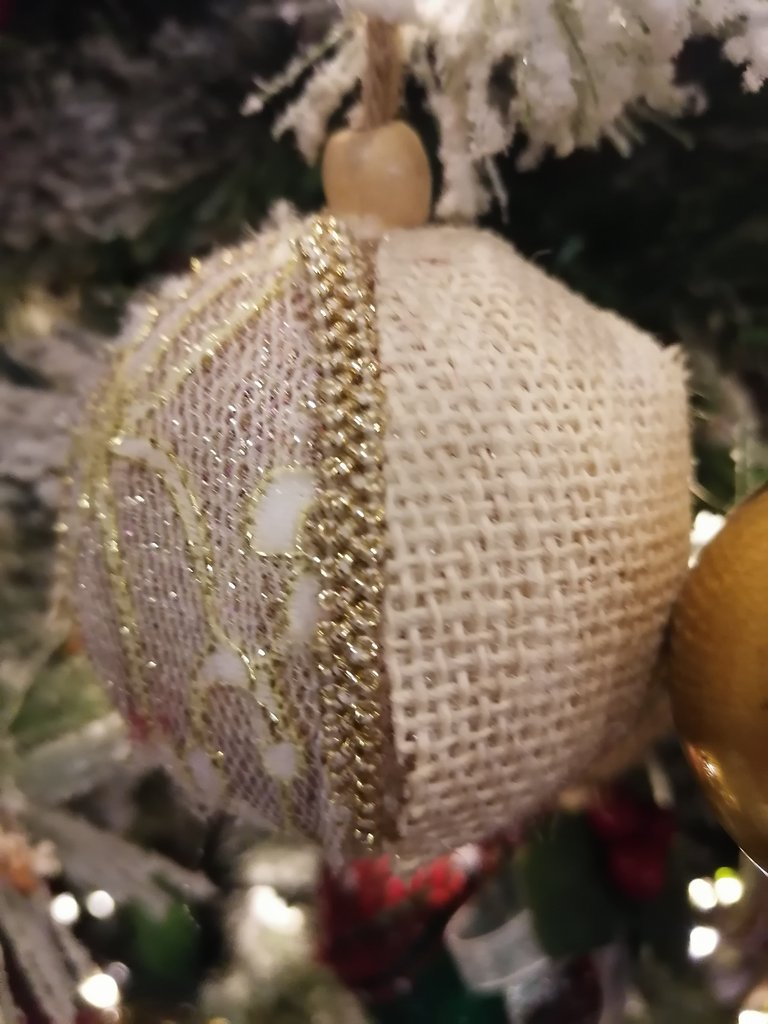 The Party
The dining table settings are so Christmassy too!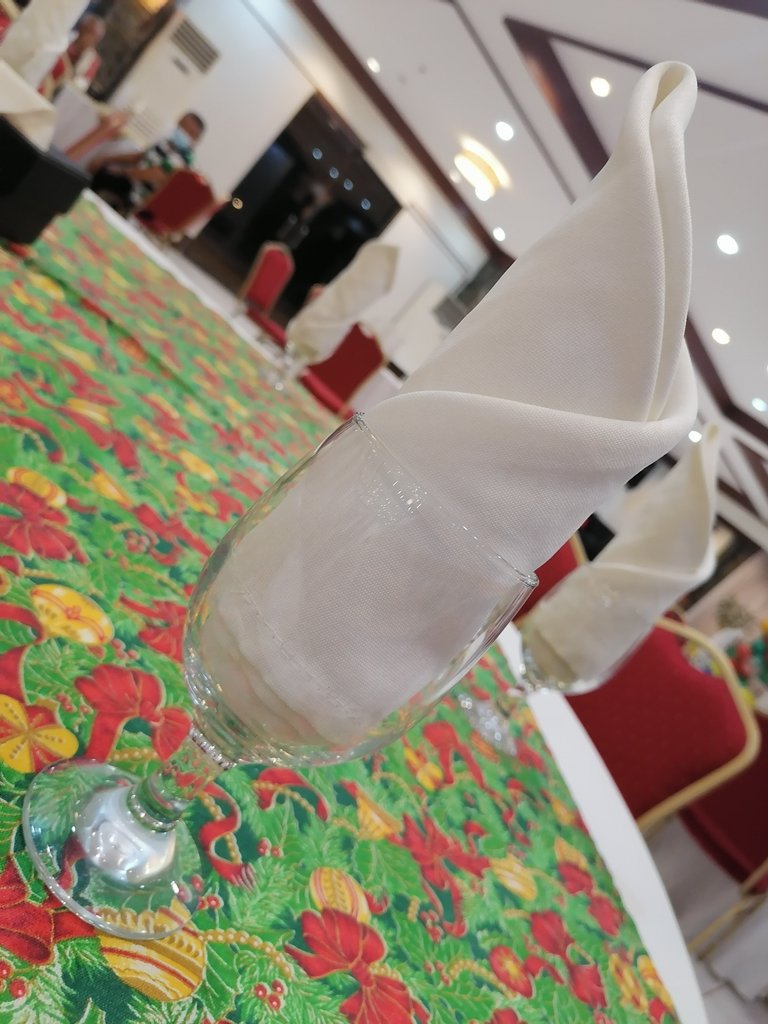 But I bet this waiter got very tired of serving parties left and right. He was there to help set up the buffet.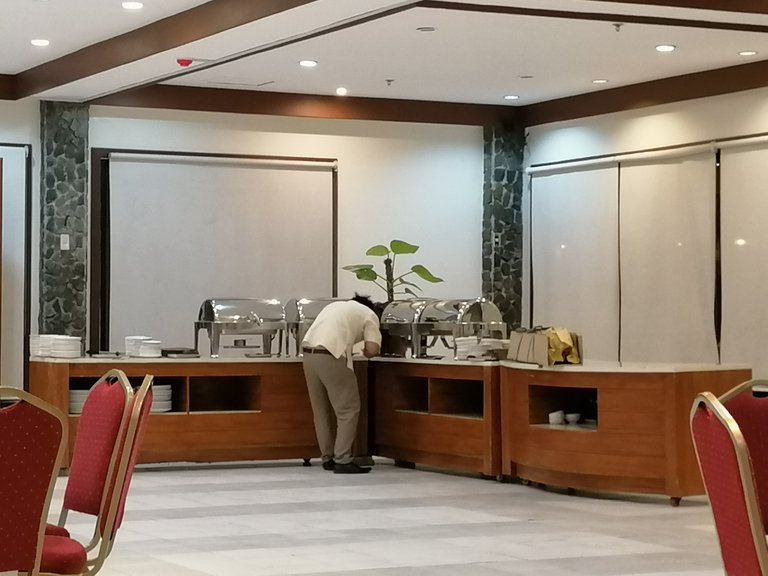 Just a few minutes before the party started, I was able to take a picture of the stage and teh gift that the company is going to give in draw lots.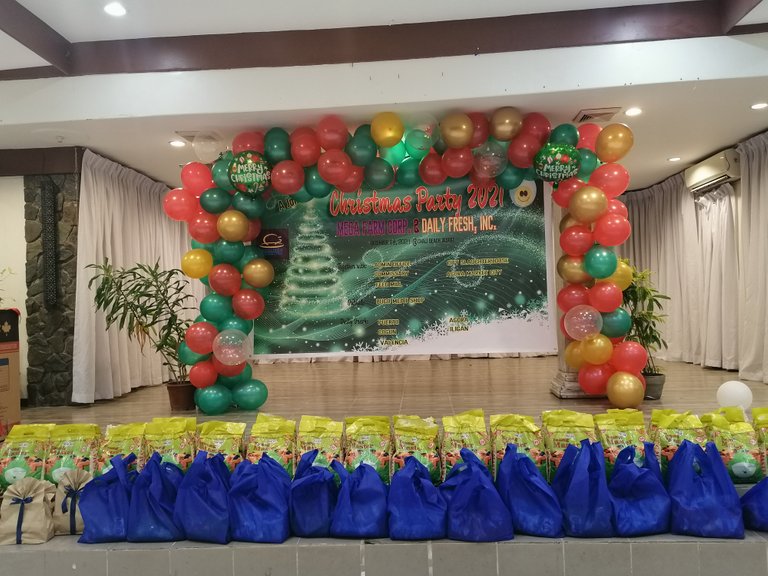 Some of the raffle prizes were groceries like milk, chocolate drink, and rice but the higher prices consisted of electronic devices like rice cookers, electric fans, and oven toasters, and the major prize was the marks and spencer refrigerator.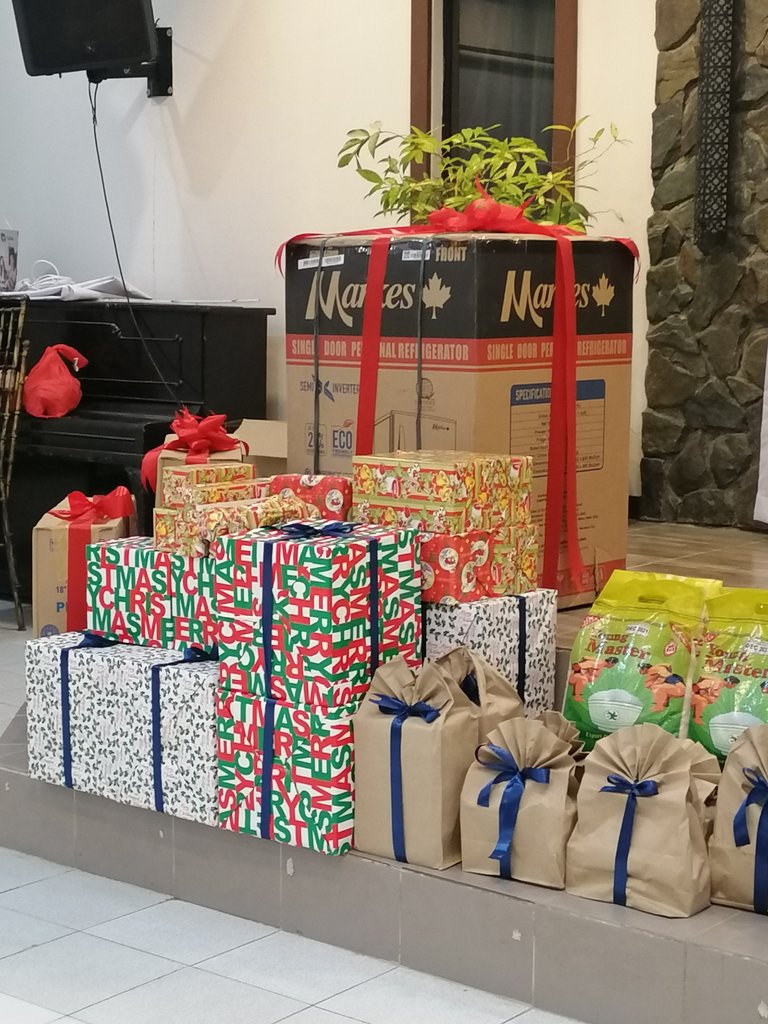 The Host was this beautiful lady who knows her way of making the boys go loud and she made the party more fun.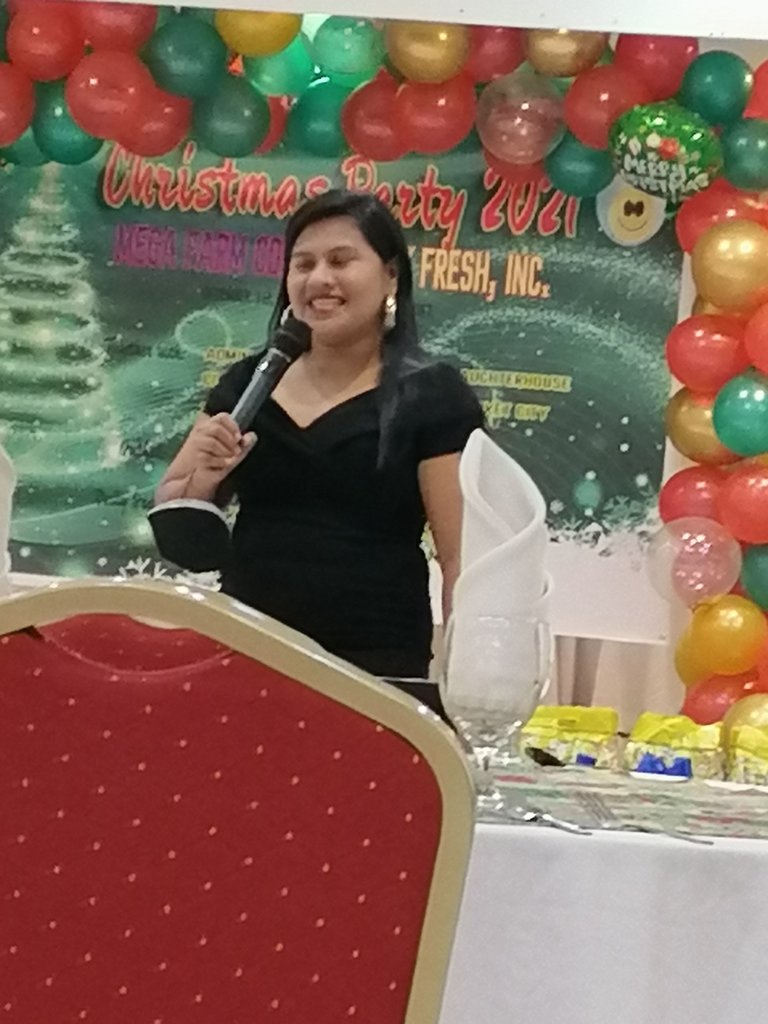 Here are my women co-workers and oh, I never thought they's be dressing up all too well that I look like I am fish out of the water! They were all so prepared ad I did not even have makeup on!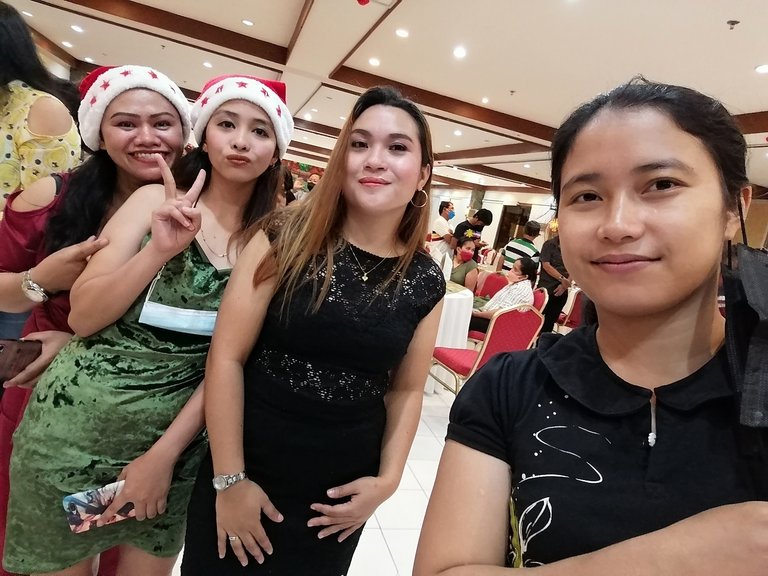 Dinner is done before the fun and the food was great. There are too much delicious food on the table and everyone was filled.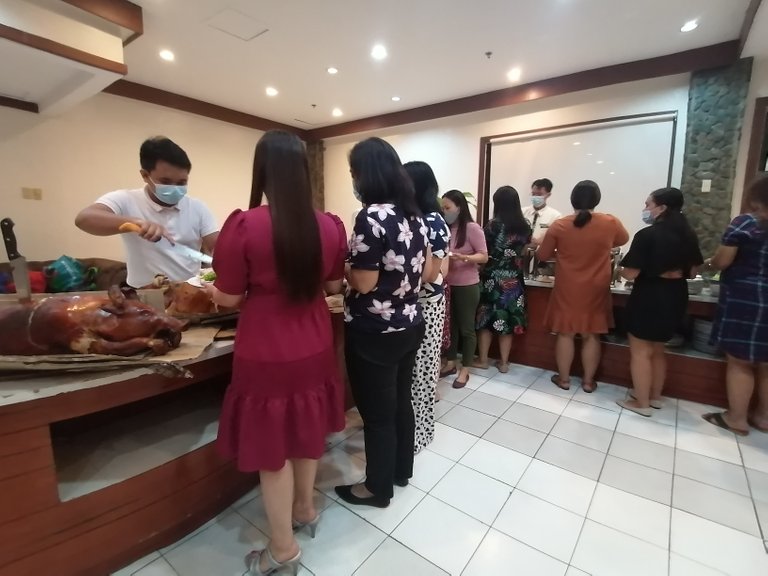 The girls are now dressed up in their costumes for their dance number and they even have their Christmas hats on. Oh, they look splendid in this candid shot.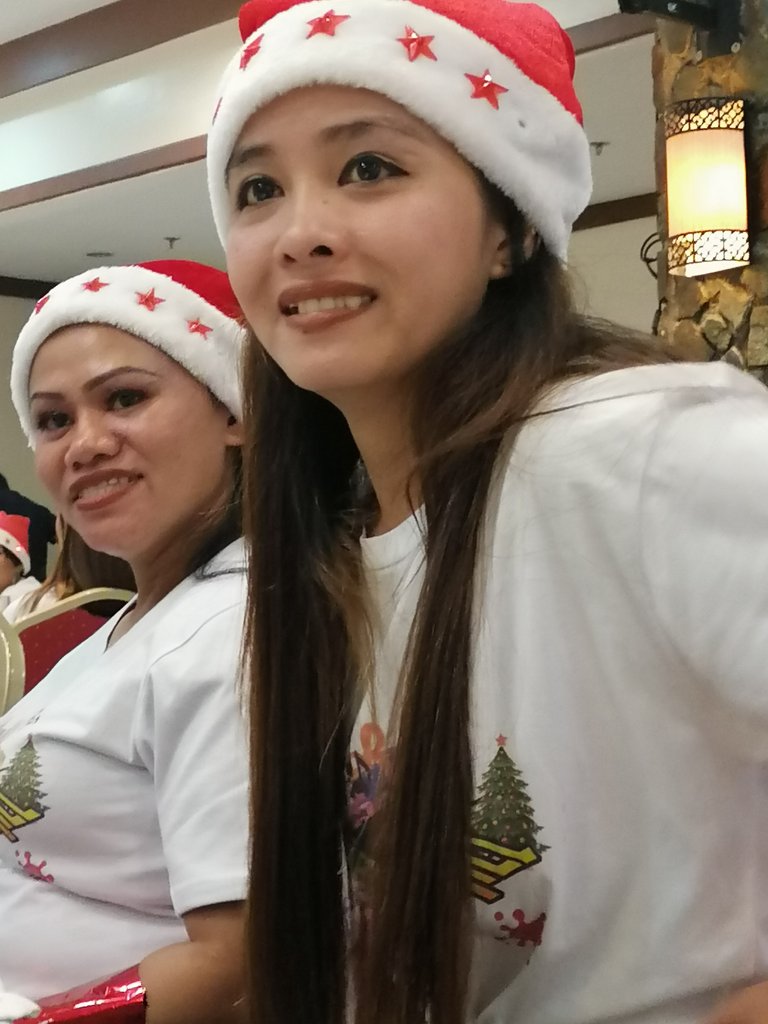 Going home
I won 5-kilo rice in the raffle and when the grand prize was won, the party ended soon. We all had fun and everyone made another wonderful memory with everyone.
I was offered a ride byte the general manager along with the co-workers that were going home in his direction and I was glad I was because getting on a commute late at night is very difficult.
So I waited again in the lobby and took pictures of the beauty around that I missed.
There was this lovely piece of art where women were carrying something in their heads and the details caught my attention.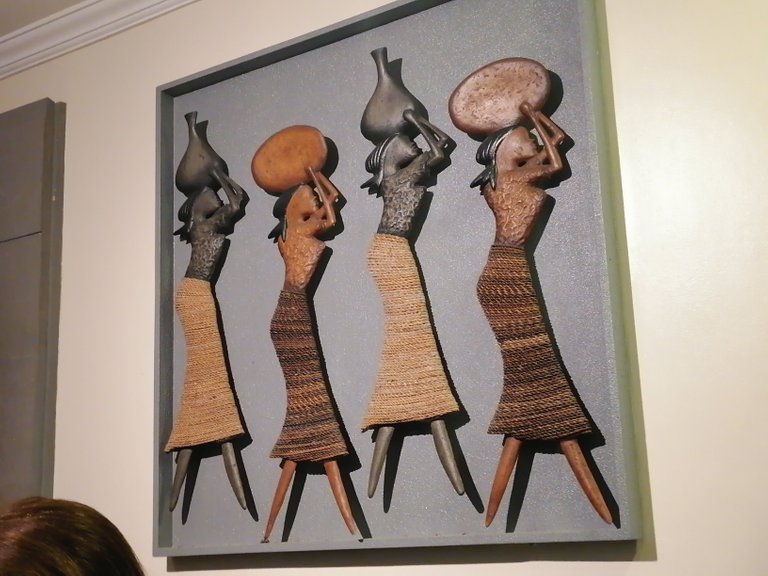 Their skirts were made up of rope and it looks so unique.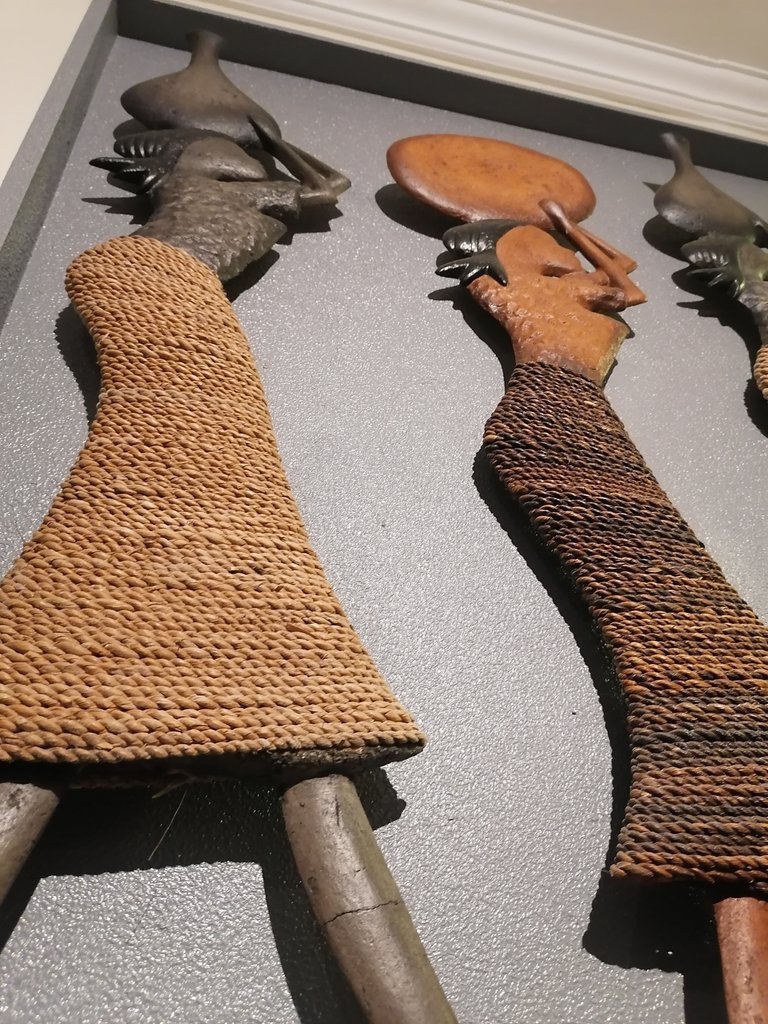 Also, I caught a glimpse of this sculpture; it was wonderfully done yet there are no signatures in it to know who the artist might be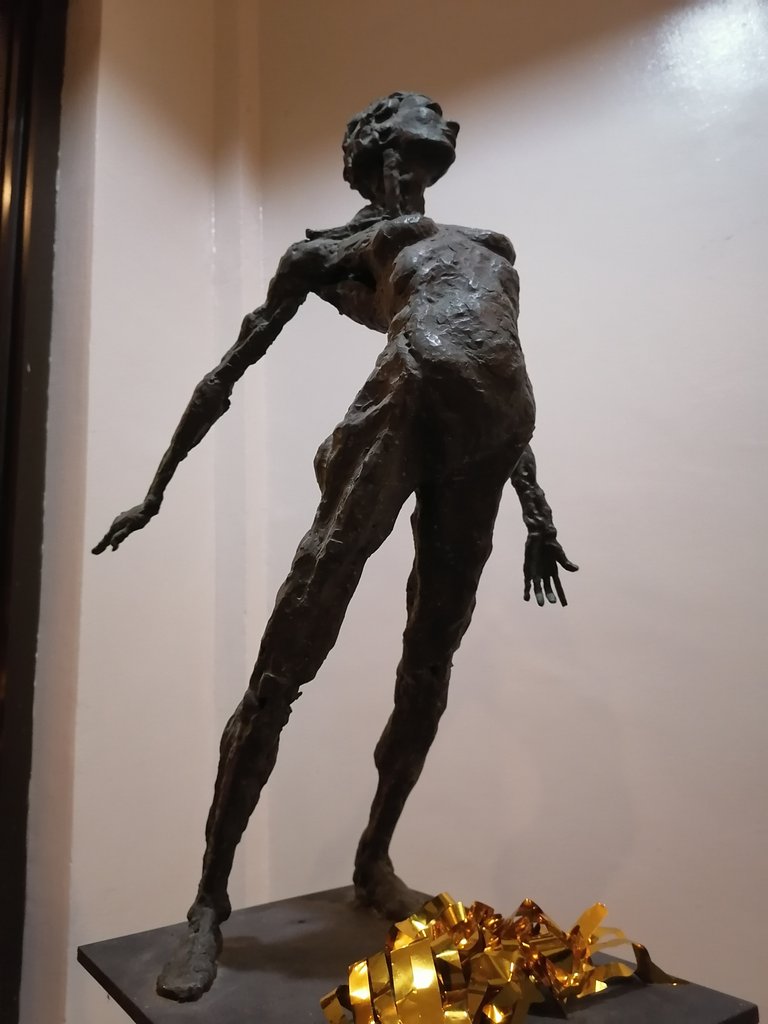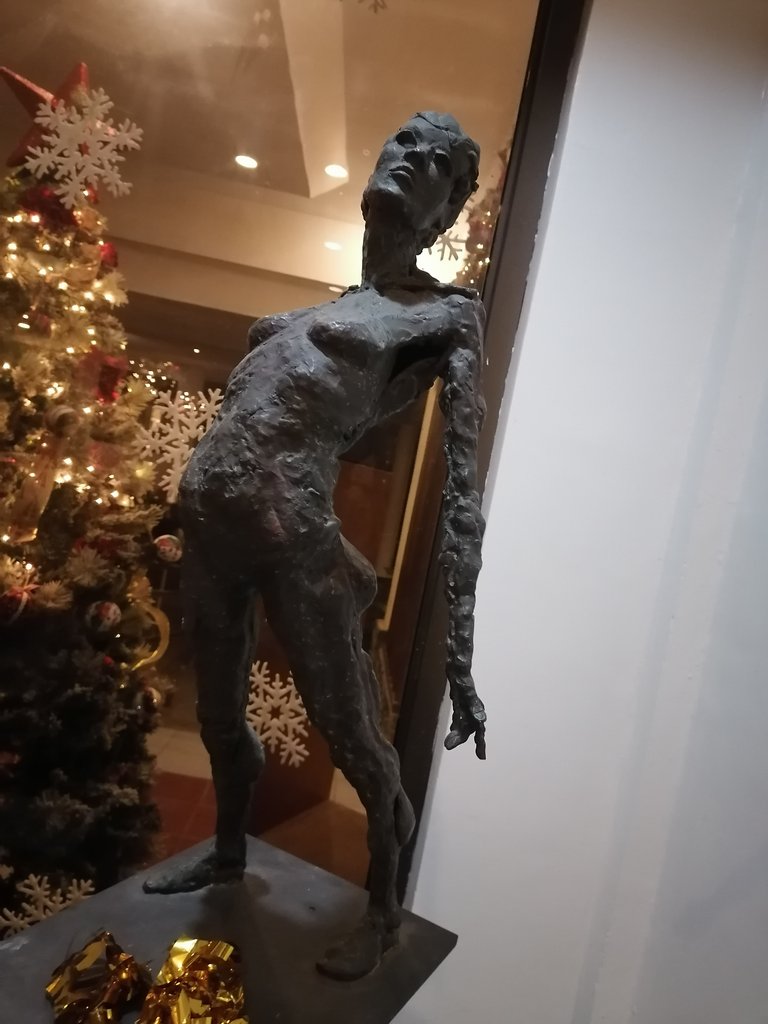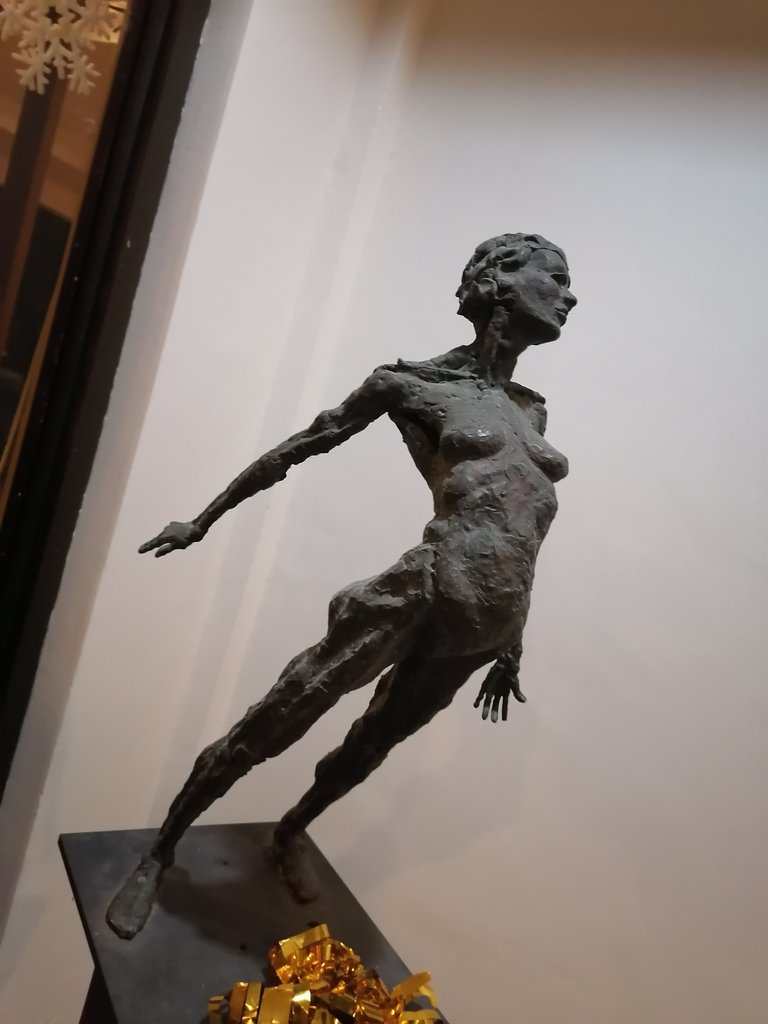 Their garbage cans are a work of art as well. This delicate furniture is made by hand.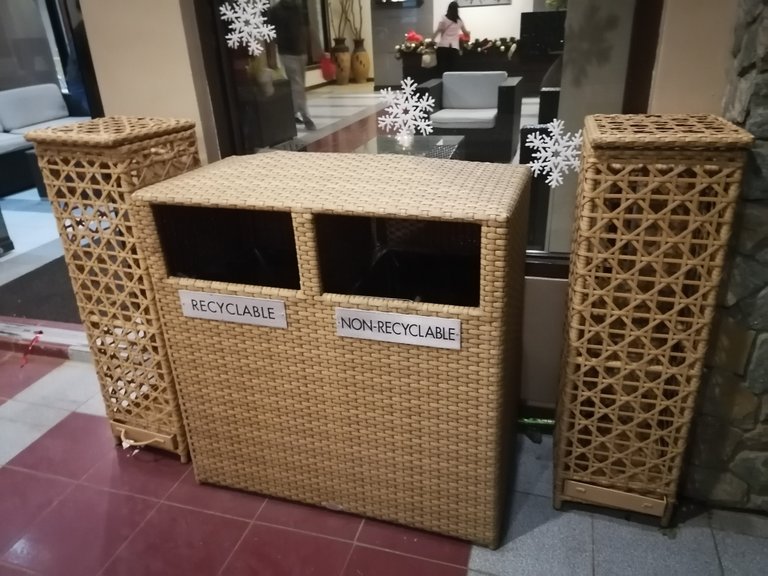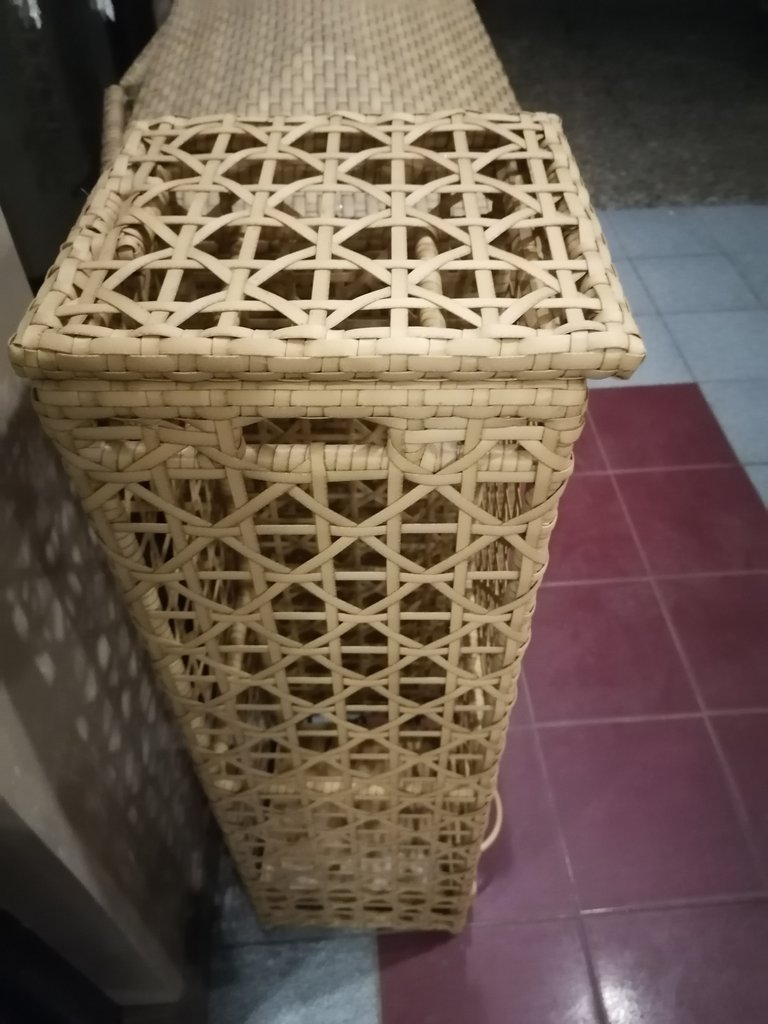 As I walked to leave the establishment, the hallway was also decorated with this wonderful Christmas decoration but no one seemed to notice them because they were above.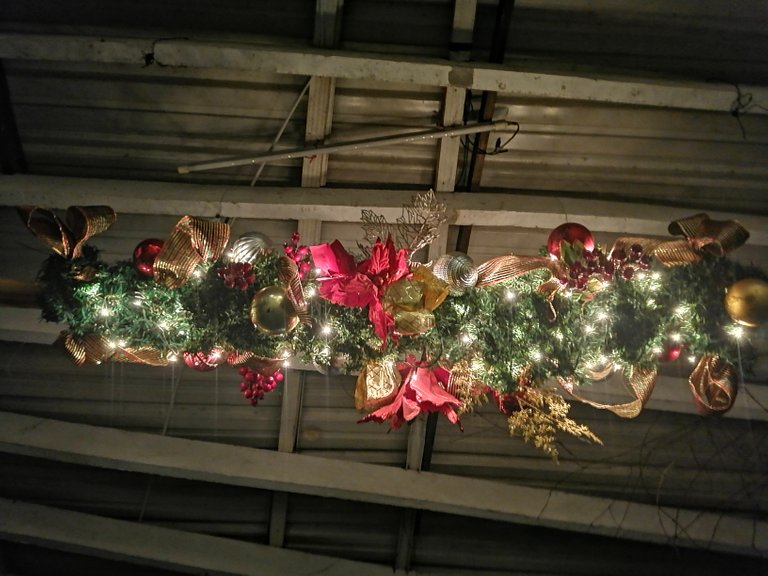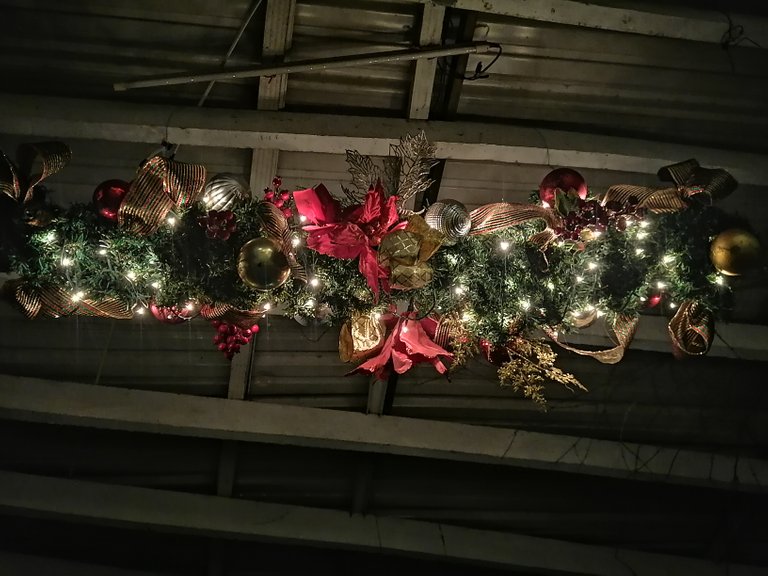 So that was how the party went last year. last day, it was announced that we are still having our Christmas party this year and will be held in another venue. Boy, I'm very excited about it.
Last year, I manifested and hoped that the major prize will be mine and that was not realized. This year, I will not be hoping about it and will enjoy every moment. Memories would be teh best thing that I can have, right?
What about you, do you have plans this coming Chirstmas?
---
---