#ZonaSur getting to know the town of El Hatillo || #ZonaSur conociendo el pueblo de El Hatillo
I live on the outskirts of Caracas, in a municipality that bears the name of the town that during the 19th and early 20th century communicated the Venezuelan capital, Caracas, with the Valles del Tuy, a rich agricultural area: El Hatillo.
Today this is part of what is called the Gran Caracas, which are the main settlements around the city. However, the town of El Hatillo, thanks to timely legislation, still retains the colonial village look that made it a tourist center long ago.
---
¡Versión en español, más abajo!
Spanish version below!
---
However, this town also suffered the consequences of the Covd-19 and tourism decreased to a great extent. For this reason, a project that has been underway for several months (although it was born 10 years ago) has been reactivated with the aim of restoring tourism to the area. A tourism project that seeks to publicize the number of wonderful restaurants and food places that are located in the center of town.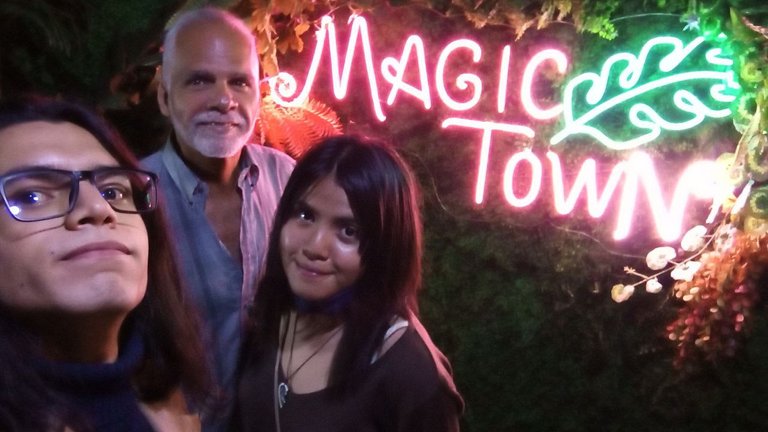 At the entrance of one of the visited places
En la entrada de uno de los locales visitados
Zona Sur (South Zone)
Although I do not know the origin of the name, there are two possible explanations. El Hatillo is actually located in the southeast of Caracas, yet it is the only area south of the city with important spaces for tourism.
But it can also be based on the fact that the town is divided into two parts and these activities take place in the southern part.
This activity takes place on the first Friday of every month, between 7 and 10 pm and consists of a tour of 15 different places (mainly gastronomic), to learn about their characteristic facilities, the menus they offer, etc.
My son had already participated in several editions of this event and when he told me about the experience, it seemed to me that it was not interesting, that going to "see" restaurants was not funny at all.
However, for the first Friday of this month of June, I decided to accompany him and I was able to corroborate that it is an experience that must be lived....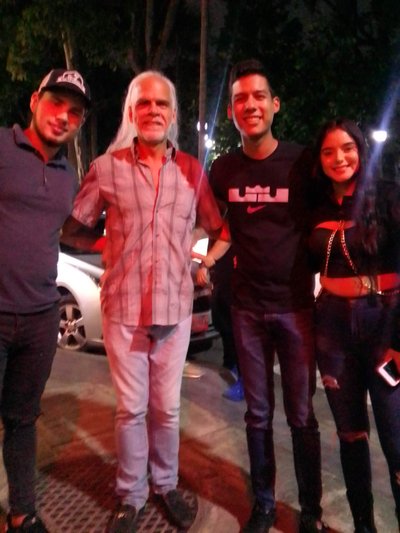 El Hatillo is so popular that the first thing I did was to meet some hivers friends that I didn't know in person until that day: @maximilianoflute and @salvadorhr18.
El Hatillo es tan popular que lo primero que hice fue encontrarme con unos amigos hivers que no conocía en persona hasta see día: @maximilianoflute y @salvadorhr18.
Arrival
The first step is to get to the center of town where the promoters of the event will give you the guide with the list of the participating locals in each opportunity, as well as the map of the town, with the indications of the locals and it is there where each local visited will place its sticker to show that you were there.
I, having lived in the area for more than 20 years, was the first to be surprised by the number of extraordinary places we have as neighbors. Restaurants and take-away food places to satisfy all tastes: desserts, chocolates, Creole food, German, Japanese, French and whatever you can imagine.
Apart from the surprise for the dimensions of the premises and the good taste that accompanies their designs, what I liked the most was the warm and pleasant treatment in each of the places we visited.
It is important to point out that each event is themed, so each month they have a theme that will accompany the tour. On this occasion, in June, it was all about savory food, so many of the places offered tastings. Even the sweet shops managed to offer some salty snacks, such as the famous Venezuelan tequeños, or the well-known nachos.
Being a small town, the whole tour is done on foot, so the streets are more crowded than usual and give it a festive atmosphere and make it much more pleasant to walk through its streets lined with colonial-looking houses.
One is free to consume or not in the places you visit, but the mere fact of knowing them and discovering the amount of wonders they contain, easily consumes the three hours that the event lasts.
When you collect the 15 stickers that indicate that you have completed the tour, you fill out the form with your data and go on to compete for a prize, which on this occasion was a cake offered by one of the participating businesses.
The guide with maps and stickers
El mapa con guías y los stickers
The closing
This activity has been gaining many followers (among which I count myself now, as I am waiting for the next one, which will be on July 1st and will have as its theme: fashion) and has generated a great movement, both of tourism from the area, as well as foreign groups that come to know this beautiful town.
Of course, at the end of the tour, you feel like sitting down to enjoy drinks or food and everyone has the option to go to one of the places visited or to one of the many others that are located in the same area.
In our case we went to a brewery that has live music, because they were going to present that night a musician friend, the vibraphonist Alfredo Naranjo.
This place is dedicated to the production of craft beer and in order to get to know the different types they offer, we ordered a tasting that includes eight short glasses with all the varieties, which come with explanatory cards of each of the beers.
Without a doubt, this is a wonderful and fun tourism project that I am sure will once again boost tourism in our beloved town of El Hatillo.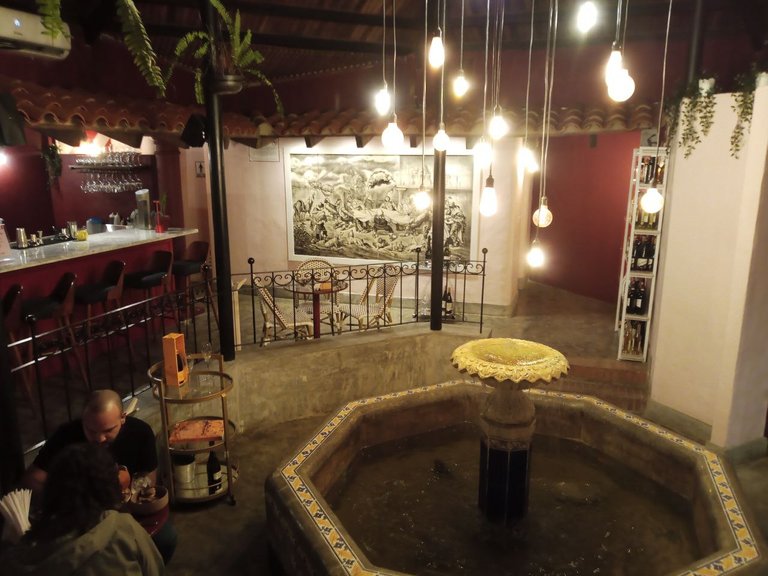 La Salumería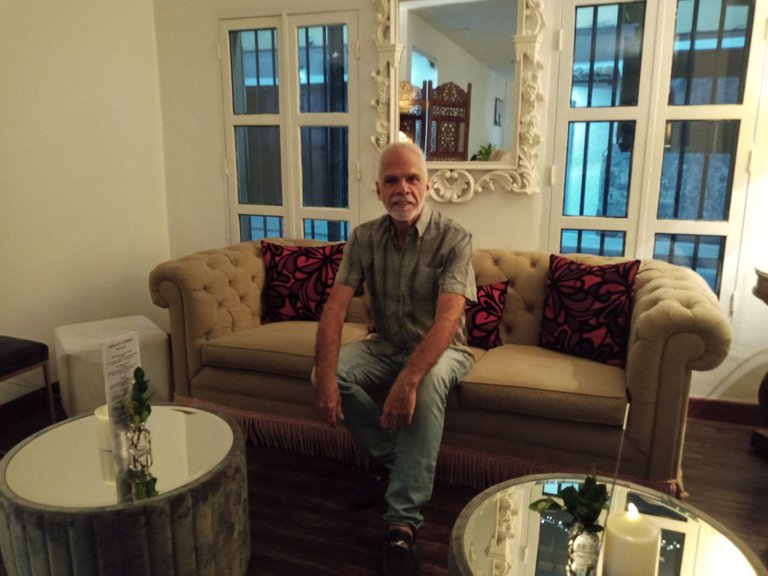 Lounge at Hajillos
Lounge en Hajillos

Español
Vivo en las afueras de Caracas, en un municipio que lleva el nombre del pueblo que durante el siglo antepasado y comienzos del siglo XX comunicaba a la capital venezolana, Caracas, con los Valles del Tuy, zona rica en desde el punto de vista agrícola: El Hatillo.
Hoy en día este forma parte de lo que se llama la Gran Caracas, que son los principales enclaves alrededor de la ciudad. Sin embargo, el pueblo de El Hatillo, gracias a oportunas legislaciones, aún conserva el aspecto de pueblo colonial que lo convirtió hace mucho tiempo en un centro turístico.
Pero también este pueblo sufrió las consecuencias del Covd-19 y el turismo mermó en gran medida. Por esta razón se reactivó un proyecto que ya lleva varios meses en ejecución (aunque hace 10 años que nació), con miras a devolverle el movimiento turístico a la zona. Un proyecto turístico que busca dar a conocer la cantidad de maravillosos restaurantes y locales de comida que se encuentran ubicados en el centro del pueblo.
Mi pequeña Suiza
Zona Sur
Aunque desconozco el origen del nombre, hay dos posible explicaciones. El Hatillo realmente se encuentra en el sureste de Caracas, sin embargo es la única zona al sur de la ciudad con importantes espacios para el turismo.
Pero también puede basarse en el hecho de que el pueblo está dividido en dos partes y estas actividades se desarrollan en la parte sur.
Esta actividad se lleva a cabo el primer viernes de cada mes, en un horario entre las 7 y las 10 de la noche y consiste en un recorrido por 15 locales diferentes (principalmente gastronómicos), para conocer sus instalaciones características, los menús que ofrecen, etc.
Mi hijo ya había participado en varias ediciones de este evento y cuando me contaba de la experiencia, a mí me parecía que no era interesante, que ir a "ver" restaurantes no tenía ninguna gracia.
Sin embargo, para el primer viernes de este mes de junio, me decidí a acompañarlo y pude corroborar que es una experiencia que hay que vivirla...
La llegada
El primer paso es llegar al centro el pueblo donde las promotoras del evento te entregarán la guía con la lista de los locales participantes en cada oportunidad, así como el mapa del pueblo, con las indicaciones de los locales y es allí donde cada local visitado colocará su sticker para demostrar que estuviste allí.
Yo, que tengo más de 20 años viviendo en la zona, fui el primer sorprendido con la cantidad de locales extraordinarios que tenemos de vecinos. Restaurantes y locales de comida para llevar, para satisfacer todos los gustos: dulcería, chocolatería, comida criolla, alemana, japonesa, francesa y lo que puedas imaginar.
Aparte de la sorpresa por las dimensiones de los locales y el buen gusto que acompaña sus diseños, lo que más me gustó fue el trato tan cordial y agradable en cada uno de los lugares que visitamos.
From restaurants with giraffes and wild motifs to coffee for sale.
Desde restaurants con jirafas y motivos salvajes hasta venta de café
Es importante destacar que cada evento es temático, por lo que cada mes te indican el motivo que acompañará el recorrido. En esta ocasión, la de junio, se trataba de comida salada, por lo que muchos de los locales ofrecieron degustaciones. Inclusive los locales de dulces se las arreglaron para ofrecer uno que otro snack salado, como los famosos tequeños venezolanos, o los archiconocidos nachos.
Por tratarse de un pueblo pequeño, todo el recorrido se hace a pie, por lo cual las calles se ven más pobladas que de costumbre y le dan un ambiente festivo y que hacen mucho más agradable recorrer sus calles lenas de casa de aspecto colonial.
Uno tiene la libertad de consumir o no en los locales que visitas, pero el solo hecho de conocerlos y descubrir la cantidad de maravillas que contienen, se consume fácilmente las tres horas que dura el evento.
Al reunir los 15 stickers que indican que completaste el recorrido, llenas la planilla con tus datos y pasas a concursar por un premio, que en esta ocasión era una torta ofrecida por uno de los negocios participantes.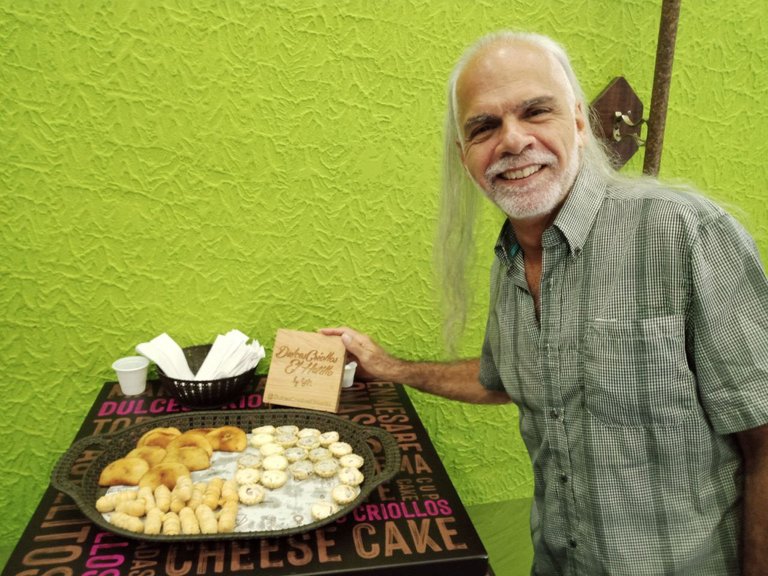 La Dulcería Criolla
El cierre
Esta actividad ha ido ganando muchos adeptos (entre los cuales ahora me cuento yo, pues estoy esperando el próximo, que será el 1° de julio y que tendrá como tema: la moda) y ha generado un gran movimiento, tanto de turismo de la zona, como grupos extranjeros que vienen a conocer este hermoso pueblo.
Por supuesto, al finalizar el recorrido, le quedan ganas a uno de sentarse a disfrutar de bebidas o comidas y cada quien tiene la opción de irse a alguno de los locales visitados o a uno de los muchos otros que se encuentran ubicados en la misma zona.
En nuestro caso nos fuimos a una cervecería que tiene música en vivo, pues iban a presentar esa noche a un amigo músico, el vibrafonista Alfredo Naranjo.
Este sitio se dedica a la fabricación de cerveza artesanal y para poder conocer los distintos tipos que ofrecen, pedimos una cata que incluye ocho vasos cortos con todas las variedades, que vienen acompañados con unas tarjetas explicativas de cada una de las cervezas.
Sin duda, se trata de un proyecto turístico maravilloso y divertido que estoy seguro va a volver a impulsar el turismo en nuestro querido pueblo de El Hatillo.
Chocolate & Tequeños
---
After Party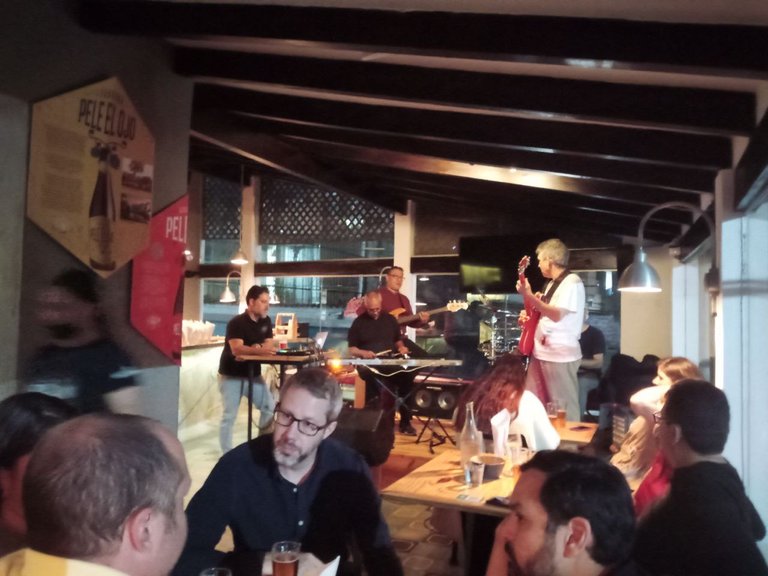 Alfredo Naranjo & group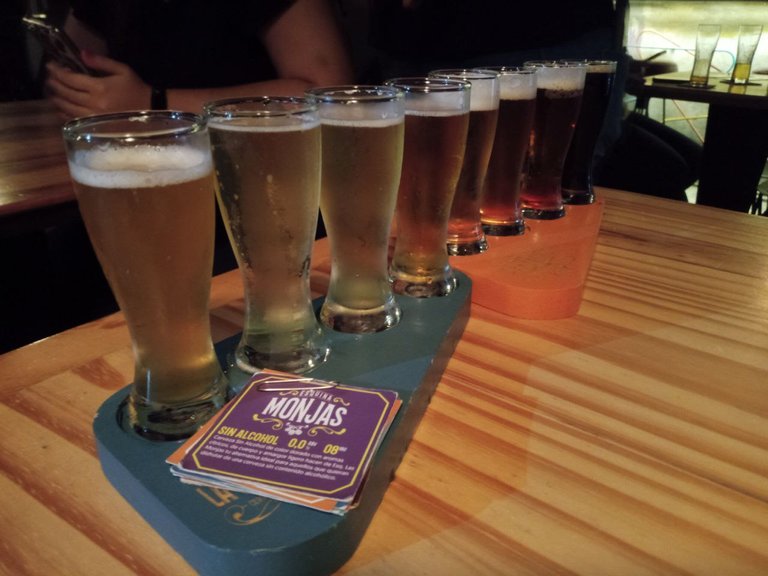 Beer tasting || Cata de cervezas
---
All images are my own, except where the source is indicated.
Todas las imágenes son mías, excepto donde está indicada la fuente.

If you don't have an account at Hive yet, I invite you to read my post My Hive Testimony || Mi testimonio Hive
Si aún no tienes cuenta en Hive te invito a leer mi publicación My Hive Testimony || Mi testimonio Hive

---
---