Hive Open Mic Week 109 - El Papalote (Cover)
---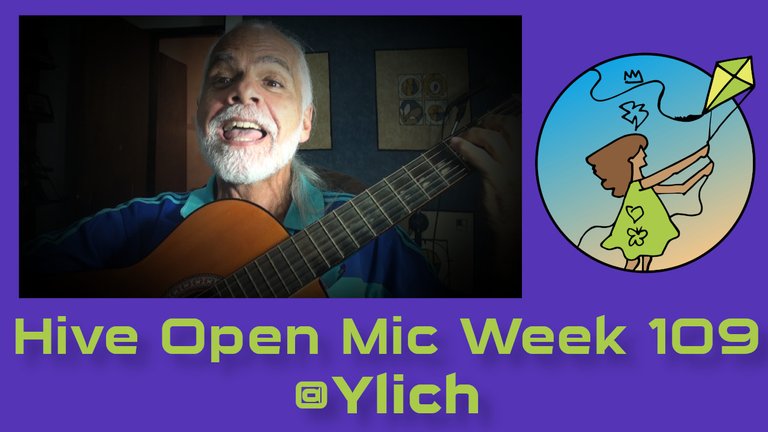 El papalote || The paper kite
Throughout Latin America the Papagayo (Paper kite), as we call it in most of Venezuela, has always had a strong following among children. However, in other parts of the country and in other Spanish speaking countries it has many names, cometa, cometín, volantín, barrilete, chiringa and many more. In Cuba it is called Papalote and the well-known singer-songwriter of that island, Silvio Rodriguez, used it to compose this song that is more about one of its manufacturers, one of those sad characters of our people, the drunkard, the madman... and tells us about his skills in building the best kites and about his sad end. A song that reflects to a great extent one of those tragedies of our Latin American peoples, which was also lived in Cuba before the revolution.
Although, in general, I prefer more cheerful songs (and this week's theme lends itself to that), I wanted to include this song today, because I think it is of great beauty, both musically and poetically, as well as reflecting part of the Latin American reality.
So with this Papalote, I make my entry to the Hive Open Mic, week 109.

En toda América Latina ha siempre tenido muchos seguidores entre los niños el Papagayo, tal como lo llamamos en gran parte de Venezuela. Sin embargo, en otras partes de la país y en los otros países de habla hispana tiene muchos nombres, cometa, cometín, volantín, barrilete, chiringa y muchos nombres más. En Cuba se le llama Papalote y el conocido cantautor de esa isla,Silvio Rodríguez, se aferró a él para componer esta canción que trata más bien sobre uno de sus fabricantes, uno de esos tristes personajes de nuestros pueblos, el borracho, el loco... y nos narra sus habilidades en construir los mejores papagayos y de su triste final. Una canción que refleja en gran medida una de esas tragedias de nuestro pueblos latinoamericanos, que también se vivía en Cuba antes de la revolución.
Aunque, por lo general, prefiero temas más alegres (y el de esta semana se presta para eso), quise incluir esta canción hoy, porque me parece que es de gran belleza, tanto en lo musical como lo poético, además de reflejar parte de la realidad latinoamericana.
Así que con este Papalote, hago mi entrad al Hive Open Mic, semana 109.

Lyrics || Letra
Será por tu vivienda
Hecha de ruinas y de misterios
Porque rompías la roca
Para ganarte un par de medios
O por tus tirapiedras
Los más famosos de la loma
Con la mejor horqueta
De la guayaba y duras gomas
Será por todo esto
Que mi memoria se empina a ratos
Como tus papalotes
Los invencibles, los más baratos
Y te levanta en peso
Narciso "El Mocho" para ponerte
Junto a los elegidos
Los que no caben en la muerte

El papalote
Cae, cae, cae, cae, cae
El papalote
Cae, cae, cae, cae, cae
Se va a bolina la imaginación
Buena cuchilla la picó

Una vez de tus manos
Un coronel salió brillando
Qué pájaro perfecto
Cuántos colores, qué lindo canto
Ninguno de nosotros iba a volarlo
Ya se sabía
Era un encargo caro del que mandaba
Del que tenía
Llevabas en el puño
Aquel dinero de la tristeza
Dinero de aguardiente
Del sol de Cuba, de la cerveza
Y te seguimos todos a celebrarlo
Sucios y locos
Para ti Carta Oro
Y caramelos para nosotros

El papalote
Cae, cae, cae, cae, cae
El papalote
Cae, cae, cae, cae, cae
Se va a bolina la imaginación
Buena cuchilla la picó

La gente te chiflaba
Cuando en la tarde subías borracho
Tú contestabas piedras
Y maldiciones a tus muchachos
Eras el personaje
De los trajines de tu pueblo
Eras para la gracia
Eras un viejo, eras negro
Una noche el respeto
Bajó y te puso bella corona
Respeto de mortales
Que muerto al fin te hizo persona
Pobre del que pensó
Pobre de toda aquella gente
Que el día más importante
De tu existencia fue el de tu muerte

El papalote
Cae, cae, cae, cae, cae
El papalote
Cae, cae, cae, cae, cae
Se va a bolina la imaginación
Buena cuchilla la picó

---

Music community logo by @ikasumanera | Banner by @equipodelta


@ylich
http://ylich.com
https://sptfy.com/ylich
---
If you don't have an account at Hive yet, I invite you to read my post My Hive Testimony || Mi testimonio Hive
Si aún no tienes cuenta en Hive te invito a leer mi publicación My Hive Testimony || Mi testimonio Hive
---
▶️ 3Speak
---
---