De cenizas y paseos || About ashes and walks #Chronos

Aunque vengo de la formación de una familia luchadora, de combatientes por ideales y principios, también ha estado allí el optimismo como un primer valor de referencia.
Muy dentro de esa característica tan arraigada en nuestra cultura afrocaribeña, hasta las mayores tristezas se enfrentan con alegría.
Esta es mi crónica más reciente, de un evento que apenas sucedió el día de ayer.
Although I come from the formation of a fighting family, of warriors for ideals and principles, optimism has also been there as a first reference value.
Very much within that characteristic so deeply rooted in our Afro-Caribbean culture, even the greatest sadness is faced with joy.
This is my most recent chronicle, of an event that only happened yesterday.
English version below!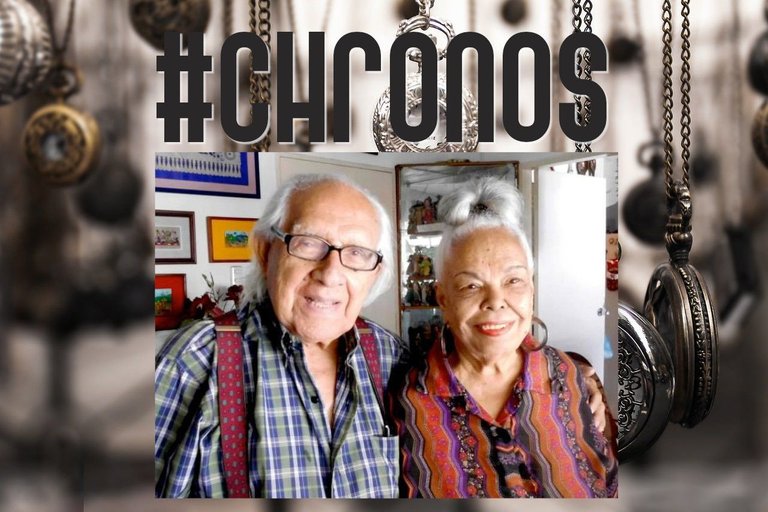 Una deuda que teníamos pendiente desde hace ya varios años, era la de esparcir las cenizas de mis padres. Mi papá era un amante de las salidas familiares, para lo cual siempre encontraba el momento y el dinero para invitarnos a todos a algún restaurante o paseo y era particularmente amante de la playa, por lo cual uno de los destinos de esos paseos era a comer en uno de dos restaurantes cercanos al pueblo de Naiguatá en el litoral central, un pueblo costero de gran tradición cultural. Ambos restaurantes a una distancia de máximo 500 metros uno del otro y a orillas del Mar Caribe. No había fecha especial, evento extraordinario (o regular), en la que mi papá no tuviera ya prevista una salida de estas y siempre eran una experiencia extraordinaria y hermosa.
Habíamos decidido que ir a esparcir sus cenizas sería un paseo, tal como le gustaba a mi papá organizarlos y que nos iríamos a un restaurante a estar juntos y compartir como familia.
Para nosotros estaba claro que el sitio para hacerlo era en una de sus playas predilectas y aunque mi mamá no era muy amante de la playa, ella seguía a mi padre a donde él fuera. Quizá por esa misma razón, a los seis meses de haber fallecido mi padre, ella le siguió los pasos. Así que a donde lleváramos las cenizas de uno, llevaríamos las del otro.
Realmente, nuestro máximo deseo hubiera sido hacer esta tarea en el estado Falcón, en uno de los cayos del Parque Nacional Morrocoy, específicamente frente al pueblo de Chichiriviche, que fue uno de sus destinos predilectos. Pero coordinar ese viaje se volvió una tarea imposible, tanto así que cuando decidimos cambiar la ubicación para Naiguatá, tampoco lográbamos ponernos de acuerdo y así transcurrieron más de tres años.
Finalmente decidí tomar riendas en el asunto y que de una vez por todas saldáramos esa deuda y como es un viaje de una hora y la diferencia de altura entre el litoral y Caracas es de cerca de 900 metros, necesitábamos coordinar que el vehículo para ir allá estuviera en buenas condiciones. Así pasó una semana y otra, hasta que finalmente decidimos fijar una fecha y dijimos, bueno el próximo domingo no se puede, así que será definitivamente el siguiente.
Tomé el teléfono para agendarlo y para mí sorpresa y un gran impacto para todos nosotros, vemos que la fecha era 3 de octubre, día del cumpleaños de mi madre. Después de asimilar la impresión de esto, entendimos que sí, que se trataba de una reunión familiar, tal como le gustaba organizarlas a mi papá.
El domingo 3, nos reunimos en la casa de mi hermana, donde vivían mis padres anteriormente y donde aún estaban guardadas sus cenizas. Iniciamos el viaje y en exactamente una hora estábamos pasando frente a los viejos y famosos restaurantes, pero seguimos adelante hasta el pueblo de Naiguatá para poder ver los posible lugares para nuestra breve ceremonia. Y así hicimos, llegamos hasta el pueblo y nos regresamos a un punto que nos gustó en el trayecto.
Un sol radiante, una sabrosa brisa con olor marino y la inmensidad del mar frente a nosotros, a un lado de la carretera, fueron el escenario propicio para nuestra tarea. En uno de los lugares más bonitos que encontramos allí, uno de mis hijos y yo bajamos el par de metros que nos separaban del borde del mar.
Cada uno de nosotros tomó una de las cajas y extrajo las bolsitas contentivas de las cenizas de cada uno de mis padres. El que yo tomé, el de mi madre, empezó tener una fuga y sus cenizas empezaron a volar por el aire como celebrando que estaba libre. Y fue tan así, que a todos nos pareció gracioso y no pudimos contener la risa. Algunas olas discretas empezaron a realizar la labor de llevarse poco a poco lo que quedaba de la parte física de mis padres. Allí estuvimos un rato y luego nos fuimos al "Pobre Juan", uno de los dos restaurantes preferidos de mi papá.
Nos instalamos en una mesa ubicada en la terraza que da hacia el mar, donde la distancia hasta el agua no es poca. Allí pedimos unas cervezas y cuando las trajeron decidimos brindar, pero como no habíamos conversado con uno de mis sobrinos que está en el extranjero y que ansiaba poder estar allí, decidimos llamarlo paran brindar junto a él. Cuando se activó la video llamada hicimos el brindis y al chocar los vasos, ha chocado una ola cerca de nuestra ubicación y el agua del mar nos cayó en una buena dosis. La impresión de cada uno de nosotros era como que "ellos" también estaban brindando con nosotros. Fue una sensación muy extraña y más aún cuando los mesoneros del sitio comentaron que eso nunca sucedía allí y tomando en cuenta que el clima estaba espectacular y que no había marea alta, no había nada que explicara aquel baño de agua.
Pedimos algo de comer y nos quedamos compartiendo un rato. Una de las cosas que estoy seguro es que, en tanto años yendo a esos restaurantes, allí no se presentan músicos de calle y nunca incluyen cantantes en sus actividades. Pero para sorpresa nuestra, se presentó una chica de 18, muy linda, con un sobrero de charro mexicano y anunció que iba a cantar algunas canciones. Mi madre, a quien de alguna manera le estábamos celebrando su 97 cumpleaños, era amante de la música mexicana y como si fuera atendiendo una petición, las canciones que cantó la chica eran de las tres con que mi mamá tenía una conexión especial. Por supuesto, también esto nos dejó profundamente impactados.
Así, con el amor característico que nos sembraron, tanto mi madre como mi padre, y con la alegría que siempre predominó en nuestra reuniones familiares, celebramos ese cumpleaños y le dimos una despedida a sus cenizas, pero reforzando su presencia en nuestros recuerdos y nuestros corazones.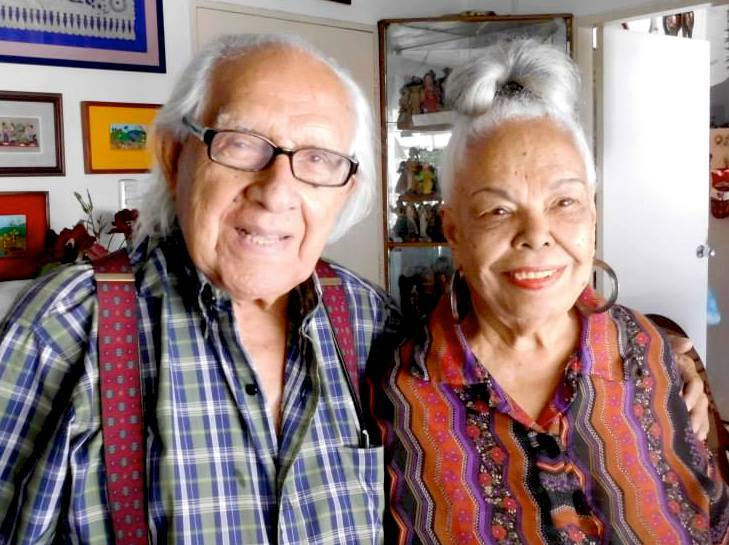 Mis padres, Humberto Orsini y Malú del Carmen || My parents, Humberto Orsini and Malú del Carmen
English version
A debt we had pending for several years was to scatter the ashes of my parents. My dad was a lover of family outings, for which he always found the time and money to invite us all to a restaurant or to a walk, and he was particularly fond of the beach, so one of the destinations of those outings was to eat at one of two restaurants near the town of Naiguatá on the central coast, a coastal town of great cultural tradition. Both restaurants are at a maximum distance of 500 meters from each other and on the shores of the Caribbean Sea. There was no special date, extraordinary (or regular) event, in which my dad had not already planned an outing of this kind, and it was always an extraordinary and beautiful experience.
We had decided that the scattering of their ashes would be an outing, just as my dad liked to organize them, and that we would go to a restaurant to be together and share as a family.
It was clear to us that the place to scatter my dad's ashes was at one of his favorite beaches and although my mom was not a beach lover, she followed my dad wherever he went. Perhaps for that very reason, six months after my father passed away, she followed in his footsteps. So wherever we took the ashes of one, we would take the ashes of the other.
Actually, our greatest wish would have been to do this task in the state of Falcon, in one of the cays of the Morrocoy National Park, specifically in front of the town of Chichiriviche, which was one of her favorite destinations. But coordinating that trip became an impossible task, so much so that when we decided to change the location to Naiguatá, we could not reach an agreement and so more than three years went by.
Finally I decided to take matters into my own hands and that once and for all we would settle that debt and since it is a one hour trip and the difference in altitude between the coast and Caracas is about 900 meters, we needed to coordinate that the vehicle to go there was in good condition. So a week and another week went by, until we finally decided to set a date and we said, well, next Sunday is not possible, so it will definitely be the following Sunday.
I picked up the phone to schedule it and to my surprise and a great shock to all of us, we see that the date was October 3, my mother's birthday. After assimilating the shock of this, we understood that yes, it was a family reunion, just as my dad liked to organize them.
On Sunday the 3rd, we met at my sister's house, where my parents used to live and where their ashes were still kept. We started the trip and in exactly one hour we were passing in front of the old and famous restaurants, but we continued on to the town of Naiguatá to see the possible places for our brief ceremony. And so we did, we made it to the village and turned back to a spot we liked along the way.
A radiant sun, a tasty sea-scented breeze and the immensity of the sea in front of us, on the side of the road, were the perfect scenery for our task. In one of the most beautiful places we found there, one of my sons and I went down the couple of meters that separated us from the edge of the sea.
Each of us took one of the boxes and extracted the bags containing the ashes of each of my parents. The one I took, my mother's, began to leak and her ashes began to fly through the air as if celebrating that she was free. And it was so cute, we all thought it was funny and couldn't contain our laughter. Some discreet waves began to do the work of taking little by little what was left of the physical part of my parents. We stayed there for a while and then we went to "Pobre Juan", one of my dad's two favorite restaurants.
We settled at a table located on the terrace overlooking the sea, where the distance to the water is not short. There we ordered some beers and when they brought them we decided to toast, but as we had not talked with one of my nephews who is abroad and who was anxious to be there with us, we decided to call him to toast with him. When the video call was activated we made the toast and when we clinked our glasses a wave crashed near our location and the sea water fell on us in a good dose. The impression of each of us was like "they" were also toasting with us. It was a very strange sensation and even more so when the waiters at the site commented that this never happened there and taking into account that the weather was spectacular and that there was no high tide or anything else, there was no way to explain that water bath.
We ordered something to eat and stayed there for a while. One of the things I am sure of is that, in so many years going to these restaurants, there are no street musicians there and they never include singers in their activities. But to our surprise, a very pretty 18-year-old girl with a Mexican charro hat showed up and announced that she was going to sing some songs. My mother, to whom we were somehow celebrating her 97th birthday, was a lover of Mexican music, and as if in response to a request, the songs the girl sang were from the three songs my mother had a special connection with. Of course, this too left us deeply impacted.
Thus, with the characteristic love that both my mother and father sowed in us, and with the joy that always prevailed in our family gatherings, we celebrated that birthday and bid farewell to their ashes, but reinforcing their presence in our memories and our hearts.
---
---
Fuente de las imágenes || Image sources [1] | [Restaurant Pobre Juan]
---
Crónicas previas // Previous Chronicles
La llorona / The weeping woman (19)
Humo en ti (Hipnosis 2) / Smoke inside you (Hypnosis 2) (18)
Fragilidad mental (Hipnósis 1) / Mental fragilty (Hypnosis 1) (17)
El falso dueño / The fake owner (16)
La mujer de mis sueños / the woman of my dreams (15)
Un evento teatral, un vuelo y París (Addendum) / A theatrical event, a flight and Paris (Addendum) (14)
Un evento teatral, un vuelo y París (3/3) / A theatrical event, a flight and Paris (3/3) (13)
Un evento teatral, un vuelo y París (2/3) / A theatrical event, a flight and Paris (2/3) (12)
Un evento teatral, un vuelo y París (1/3) / A theatrical event, a flight and Paris (1/3) (11)
El primer beso y las olimpíadas del amor / First kiss and the Olympic games of love (10)
Queso y vidrio: dos polos / Cheese and glass: two poles (9)
Stress laboral y una fiesta familiar / Work stress and a family party (8)
Un baile frenético / A frenetic dance (7)
Un combate berlinés / A Berliner fight #Chronos (6)
Magia en la poesía / Magic in Poetry (5)
Aprender ruso en Caracas / Learning Russian in Caracas (4)
El precio de tus recuerdos / The price of your memories (3)
Teatro, viajes y un nombre / Theater, trips and a name (2)
Catia y el azul / Catia and the blue (1)

Este texto pertenece a mi serie #Chronos. Puedes leer más sobre la misma en Mis crónicas literarias. Si es de tu agrado este estilo y quieres sumarte a la creación de crónicas literarias, te invito a usar la etiqueta #chronos para la misma.
This writing is part of my series #Chronos. You can read more about it on My literary chronicles. If you like this style and want to join the creation of literary chronicles, I invite you to use the hashtag #chronos for it.
---

---
Descarga el poemario de @Ylich

"De la vida, la pasión y de la muerte"

If you don't have an account at Hive yet, I invite you to read my post My Hive Testimony || Mi testimonio Hive
Si aún no tienes cuenta en Hive te invito a leer mi publicación My Hive Testimony || Mi testimonio Hive

---
---