Hive Open Mic Week #171 | Don't Speak - No Doubt (Cover) by @yisusth [ENG/SPA]
---
Greetings to this beautiful community, for me it is a beautiful experience to share in Hive Open Mic Week 171, where we explore the theme of "Divorce/Separation". Thanks to our friend and recent featured artist from our community: @merit.ahama. Today I share my interpretation with the trumpet of "Don't Speak", an alternative rock song by the band No Doubt composed by Gwen Stefani and her brother Eric Stefani. The lyrics are influenced by a personal experience of artist Gwen breaking up with her bandmate Tony Kanal. Like any couple that is going through the separation process, it is often difficult to accept the breakup and asks your ex-partner not to talk to you anymore. The melody is based on a descending scale that creates a feeling of sadness and longing. The harmony is composed of an I-IV-V harmonic progression that is common in pop music. The use of silences, dynamics and repetitions have an incredible emotional charge, you can notice suspense, tension and drama.
Saludos a esta bella comunidad, para mí es una bella experiencia compartir en Hive Open Mic Semana 171, donde exploramos la temática del "Divorcio/Separación". Gracias a nuestra amiga y artista destacada reciente de nuestra comunidad: @merit.ahama. Hoy les comparto mi interpretación con la trompeta de «Don't Speak», una canción de género rock alternativo de la banda No Doubt compuesta por Gwen Stefani y su hermano Eric Stefani. La letra está influenciada por una experiencia personal de la artista Gwen quien rompe con su compañero de banda Tony Kanal. Como cualquier pareja que está pasando por el proceso de separación, muchas veces es difícil aceptar la ruptura y le pide a su expareja que no le hable más. La melodía se basa en una escala descendente que crea una sensación de tristeza y añoranza. La armonía está compuesta por una progresión armónica I-IV-V que es común en la música pop. El uso de silencios, dinámicas y repeticiones tienen una carga emocional increíble, se puede notar suspenso, tensión y dramatismo.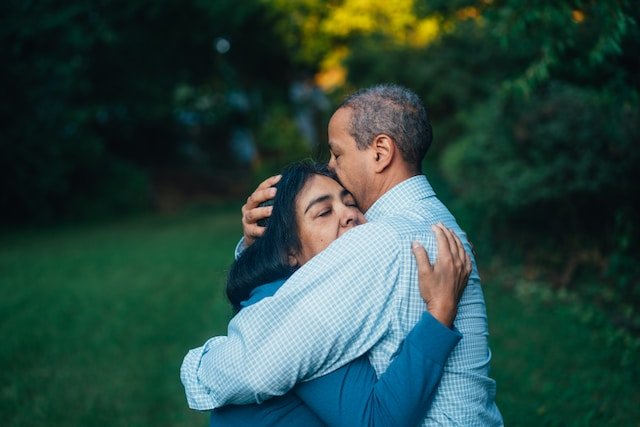 Foto de Gus Moretta en Unsplash

No one joins a couple to fail in marriage and cohabitation. What motivates us to form a family is love. When a marriage establishes its foundation in values, it has a greater chance of success. I see with concern that people make decisions instantly, and often go for the easiest. Although getting married is easier than getting divorced. Divorce has become an instant solution to family and marital instability. Of course, that does not mean that there are irreconcilable situations such as abuse, mistreatment and infidelity. That is another level. There you have to take the plane and go to the country of self-love, and avoid greater evils. Some things can help to repair simple situations, such as communication, strengthening the bonds of respect and trust, repentance, forgiveness, reciprocal support, attention, affection and intimacy.
Nadie se une a una pareja para fracasar en el matrimonio y la convivencia. Lo que nos motiva a formar una familia es el amor. Cuando un matrimonio establece sus bases en valores, tiene mayores probabilidades de éxito. Veo con preocupación que las personas toman decisiones de manera instantánea, y frecuentemente se van por lo más fácil. Aunque casarse es más fácil que divorciarse. El divorcio se ha convertido en una solución instantánea a la inestabilidad familiar y matrimonial. Claro, eso no quiere decir que haya situaciones irreconciliables como el abuso, el maltrato y la infidelidad. Eso es otro nivel. Allí hay que tomar el avión e irse al país del amor propio, y evitarse males mayores. Algunas cosas pueden ayudar a reparar situaciones sencillas, como por ejemplo la comunicación, fortalecer los lazos de respeto y confianza, el arrepentimiento, el perdón, el apoyo recíproco, la atención, la afectividad y la intimidad.
---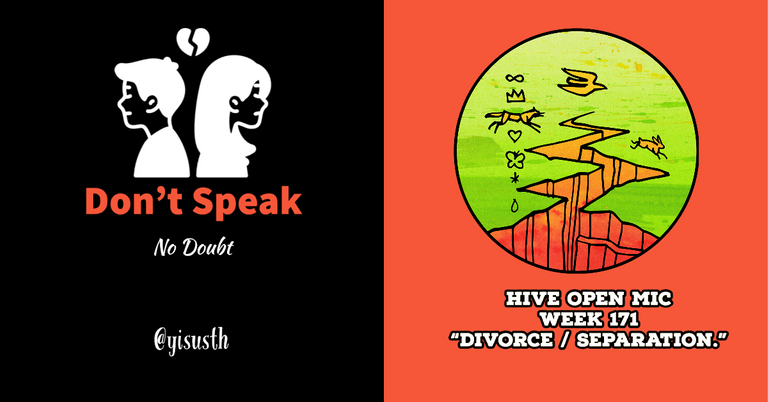 ---
Don't speak
[Verse 1]
You and me
We used to be together
Every day together, always
I really feel
That I'm losing my best friend
I can't believe this could be the end
[Pre-Chorus]
It looks as though
You're letting go
And if it's real, well, I don't want to know
[Chorus]
Don't speak
I know just what you're sayin'
So please stop explainin'
Don't tell me 'cause it hurts
Don't speak
I know what you're thinkin'
I don't need your reasons
Don't tell me 'cause it hurts
[Verse 2]
Our memories
They can be inviting
But some are altogether mighty frightening
[Pre-Chorus]
As we die
Both you and I
With my head in my hands I sit and cry
[Chorus]
Don't speak
I know just what you're sayin'
So please stop explainin'
Don't tell me 'cause it hurts
No, no, no, don't speak
I know what you're thinkin'
And I don't need your reasons
Don't tell me 'cause it hurts
[Bridge]
It's all ending
I gotta stop pretending
Who we are
[Guitar Solo]
[Verse 3]
You and me
I can see us dyin'
Are we?
[Chorus]
Don't speak
I know just what you're sayin'
So please stop explainin'
Don't tell me 'cause it hurts
No, no, don't speak
I know what you're thinkin'
And I don't need your reasons
Don't tell me 'cause it hurts
Don't tell me 'cause it hurts
I know what you're sayin'
So please stop explainin'
Don't speak, don't speak
Don't speak, no
I know what you're thinkin'
And I don't need your reasons
I know you're good
I know you're good
I know you're real good, oh
[Post-Chorus]
La-la-la-la
La-la-la-la
Don't, don't
Ooh-ooh
[Outro]
Hush, hush, darlin'
Hush, hush, darlin'
Hush, hush
Don't tell me 'cause it hurts
Hush, hush, darlin'
Hush, hush, darlin'
Hush, hush
Don't tell me 'cause it hurts
Oh, hush, hush, darlin'
Hush, hush, darlin'
---

---
▶️ 3Speak
---
---