Right Here Waiting - Richard Marx (Cover) [SPA/ENG]
---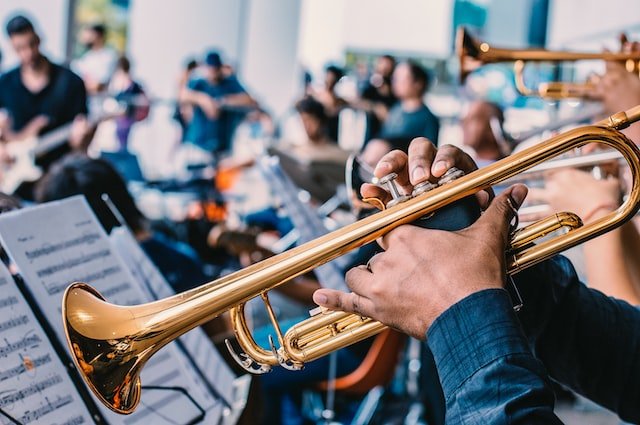 Foto de Bruno Justo Pego en Unsplash
Aprender a respirar es importante para una buena concentración, alcanzar notas que requieren empuje, y completar frases sin interrumpir. En mis inicios con la trompeta, lo primero que te enseñan es a realizar notas largas. Parece algo tedioso, pero es vital para un buen desempeño y para desarrollar tus capacidades respiratorias. Si notan a un bebe dormido, podemos ver que usa un porcentaje alto de su capacidad para respirar, pueden ver sus pulmones llenarse, su abdomen inflarse con naturalidad. Parece que a medida que crecemos van desapareciendo esas habilidades. Seguramente han notado que los trompetistas antes inflaban los cachetes, imagínense, no había equipos de sonido y tenían que almacenar bastante aire y tocar fuerte. Actualmente, se nos enseña que debemos aprovechar el diafragma, este es un músculo que se encuentra en nuestra zona abdominal. Les invito a hacer ejercicios con la respiración diafragmática, pueden acostarse en el piso, o sobre una toalla. Allí pueden hacer varias respiraciones lentas, inhalar y exhalar. Algo que me ayuda, es colocarme las manos en el abdomen, y notar que se llenan cuando respiro. Igualmente, se puede hacer de pie o sentado. Notarán que es algo relajante y que los ayudará a potenciar su voz.
Learning to breathe is important for good concentration, hitting notes that require push and completing sentences without interrupting. In my beginning with the trumpet, the first thing they teach you is to make long notes. It seems somewhat tedious, but it is vital for good performance and to develop your breathing abilities. If you notice a sleeping baby, we can see that he uses a high percentage of his capacity to breathe, you can see his lungs fill, and his abdomen inflate naturally. It seems that as we grow up these abilities disappear. Surely you have noticed that trumpeters used to puff out their cheeks, imagine, there was no sound equipment and they had to store a lot of air and play hard. Currently, we are taught that we must take advantage of the diaphragm, which is a muscle that is located in our abdominal area. I invite you to do exercises with diaphragmatic breathing, you can lie on the floor, or a towel. There they can take several slow breaths, inhale and exhale. Something that helps me is placing my hands on my abdomen and noticing that they fill up when I breathe. Likewise, it can be done standing or sitting. They will notice that it is somewhat relaxing and that it will help them enhance their voice.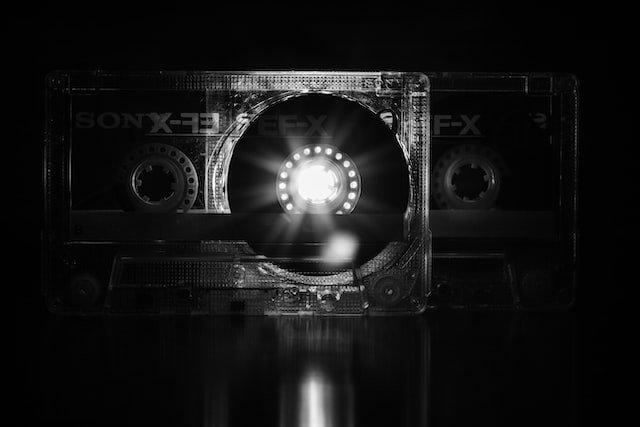 Foto de D A V I D S O N L U N A en Unsplash
Algunas cosas que me han ayudado a mejorar mi respiración es hacer ejercicios aeróbicos, como trotar, nadar o subir en bicicleta. Uno nota la diferencia cuando va a cantar o a tocar un instrumento. Hoy les comparto mi interpretación con la trompeta de «Right Here Waiting» una ballada de Richard Marx. La primera vez que la toque era un niño, y lo hice con el piano. He notado que varias canciones tienen elementos de esta balada, al parecer algunos ingenieros musicales mezclan pequeños pedazos de temas que fueron un éxito en el pasado. Marx escribió esta canción para su esposa, una famosa actriz de los 80 que estaba viajando, grabando una película en Sudáfrica. La canción es parte del álbum Repeat Offender (1989). Que la disfruten.
Some things that have helped me improve my breathing is aerobic exercise, such as jogging, swimming, or biking. You notice the difference when you go to sing or play an instrument. Today I share my interpretation with the trumpet of "Right Here Waiting" a ballad by Richard Marx. The first time I played it I was a child, and I did it on the piano. I have noticed that several songs have elements of this ballad, it seems that some musical engineers mix small pieces of songs that were successful in the past. Marx wrote this song for his wife, a famous actress from the '80s who was traveling, shooting a movie in South Africa. The song is part of the album Repeat Offender (1989). Enjoy.
---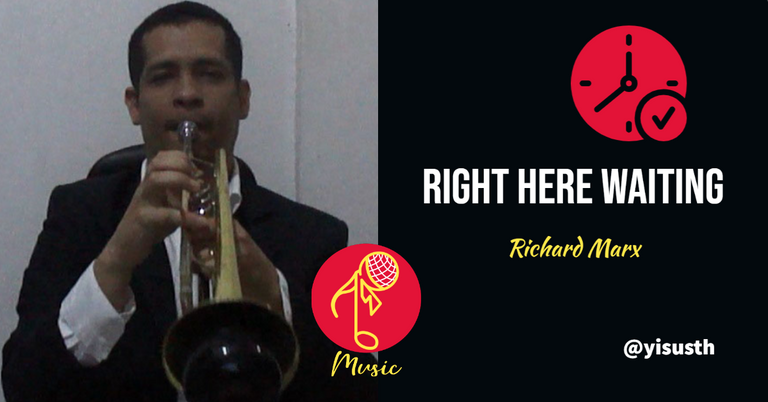 Oceans apart, day after day
And I slowly go insane
I hear your voice on the line
But it doesn't stop the pain
If I see you next to never
How can we say forever?
Wherever you go, whatever you do
I will be right here waiting for you
Whatever it takes or how my heart breaks
I will be right here waiting for you
I took for granted all the times
That I thought would last somehow
I hear the laughter, I taste the tears
But I can't get near you now
Oh, can't you see it, baby?
You've got me goin' crazy
Wherever you go, whatever you do
I will be right here waiting for you
Whatever it takes or how my heart breaks
I will be right here waiting for you
I wonder how we can survive
This romance
But in the end, if I'm with you
I'll take the chance
Oh, can't you see it, baby?
You've got me goin' crazy
Wherever you go, whatever you do
I will be right here waiting for you
Whatever it takes or how my heart breaks
I will be right here waiting for you
Waiting for you
---

---
▶️ 3Speak
---
---