[ESP-ENG] ¡Reunión y Hallacazo Familiar 2022! / Family Meeting and Hallacazo 2022!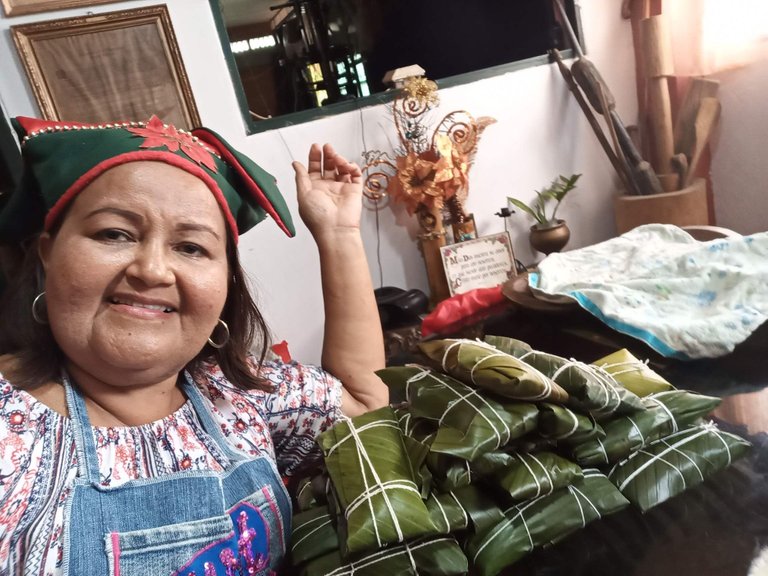 ---

---
¡Saludos a todos amigos de esta hermosa comunidad!. La unión, la paz y la solidaridad dentro del núcleo familiar es muy importante; una de las tradiciones venezolanas son las hallacas y entre todos las podemos hacer y compartir y disfrutar de un momento importante para todos los presentes en esta reunión de hoy 24 de Diciembre de 2022. A pesar de no estar mis 2 sobrinos que están en Chile y hace unos meses irse mi hermano, esposa e hijo para España, no perdemos la tradición y los que quedamos hacemos lo posible para no dejar de pasar bien este día. Espero tenga una "Feliz Navidad" y unión familiar.
Greetings to all friends of this beautiful community! Union, peace and solidarity within the family nucleus is very important; one of the Venezuelan traditions are the hallacas and among all of us we can make and share and enjoy an important moment for everyone present at this meeting today December 24, 2022. Despite the fact that my 2 nephews who are in Chile and A few months ago my brother, wife and son left for Spain, we do not lose the tradition and those of us who remain do our best to not stop having a good time on this day. I hope you have a "Merry Christmas" and family unity.



---

---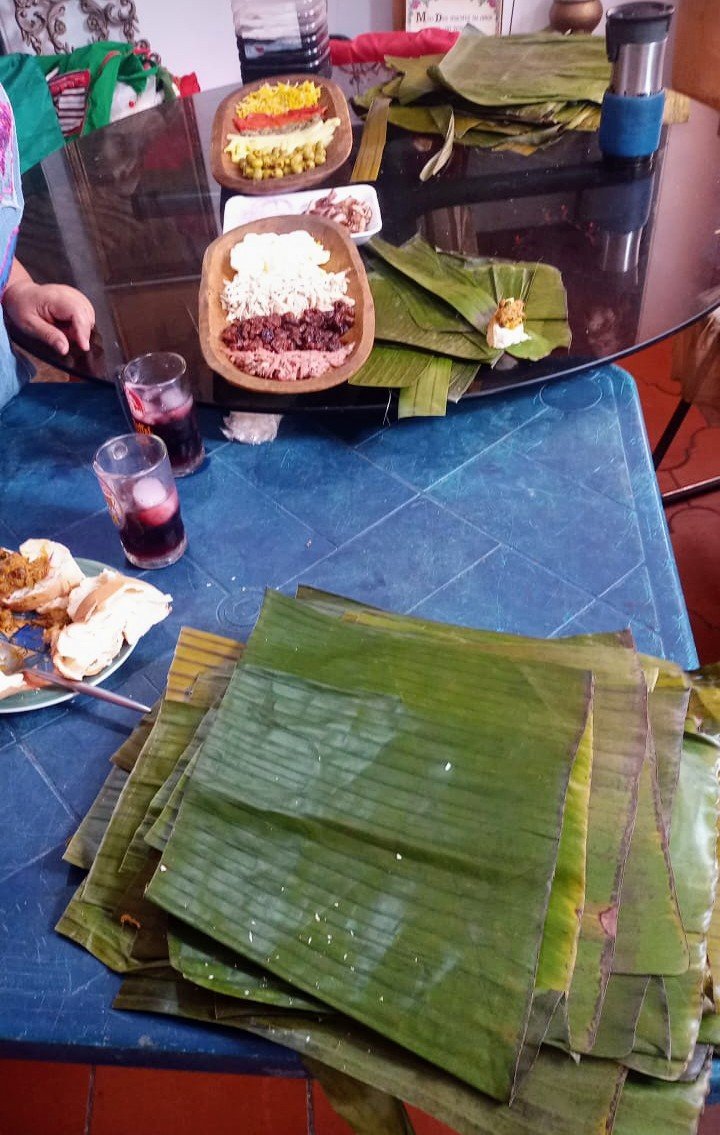 ---
A pesar de la difícil situación de mi país desde hace unos años atrás, logramos reunir y comprar los ingredientes principales para que las hallacas queden sabrosas y todos degustemos.
Despite the difficult situation in my country a few years ago, we managed to gather and buy the main ingredients so that the hallacas are tasty and we can all enjoy them.



---

---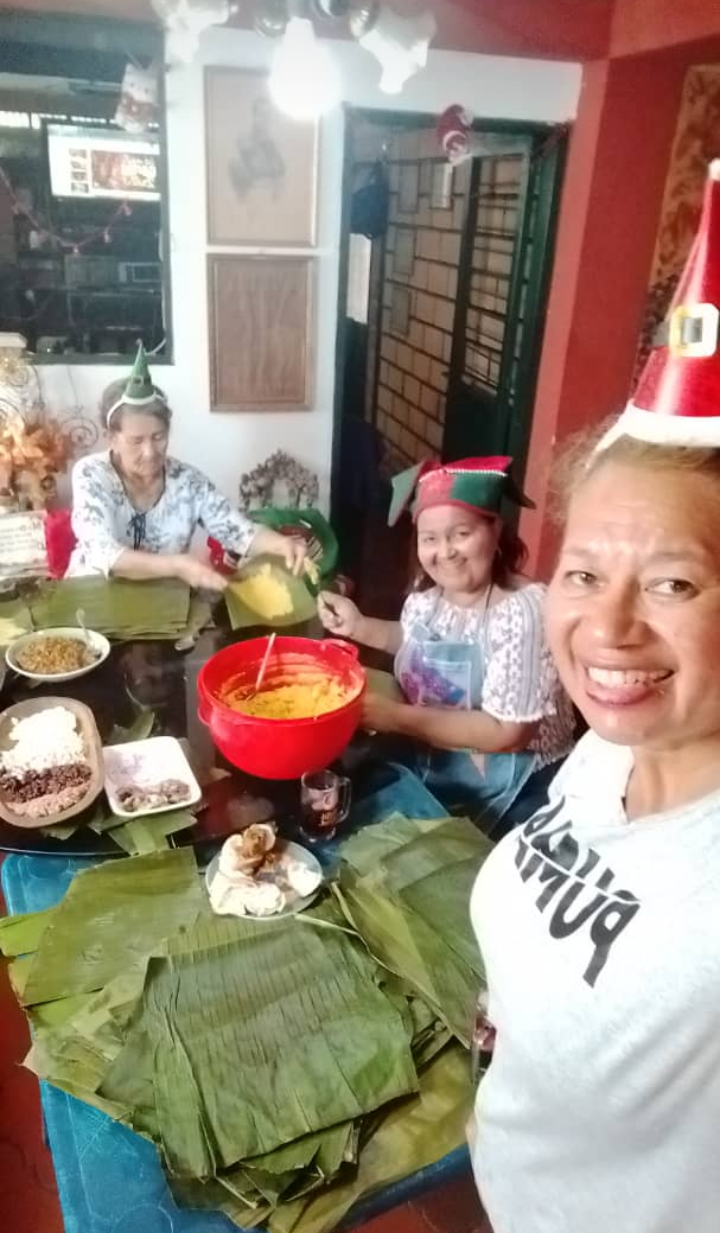 ---
Cada quien del grupo familiar desempeña un rol, mi hermana lava y seca las hojas, luego las aceita. Mi labor es amasar la masa con el onoto y luego coloca en la hoja y se la paso a mi madre quien le coloca el guiso, pasa a manos de mi cuñado que las adorna con pasitas, cebolla, aceituna, tocineta.
Everyone in the family group plays a role, my sister washes and dries the leaves, then oils them. My job is to knead the dough with the annatto and then place it on the sheet and pass it on to my mother who puts the stew on it, it passes into the hands of my brother-in-law who garnishes it with raisins, onion, olives, bacon.



---

---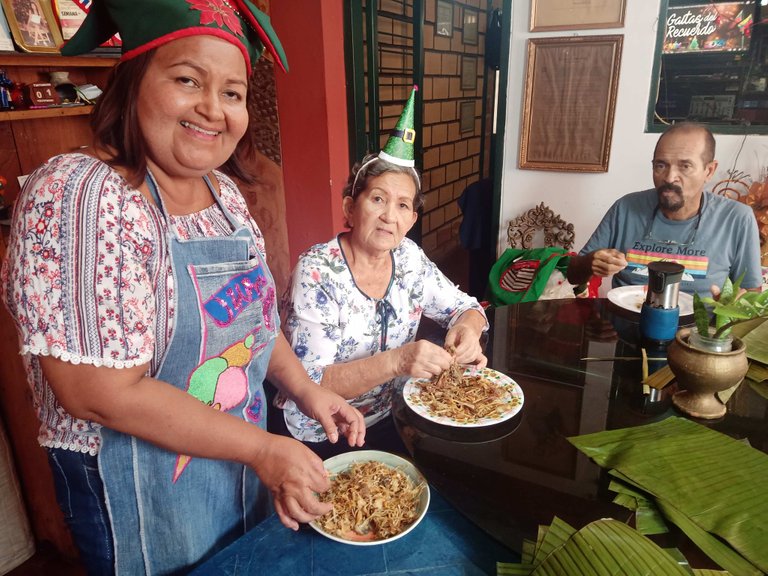 ---
Entre todos colaboramos y pasamos u momento diferente, conversamos y escuchamos música.
We all collaborate and have a different time, talk and listen to music.



---

---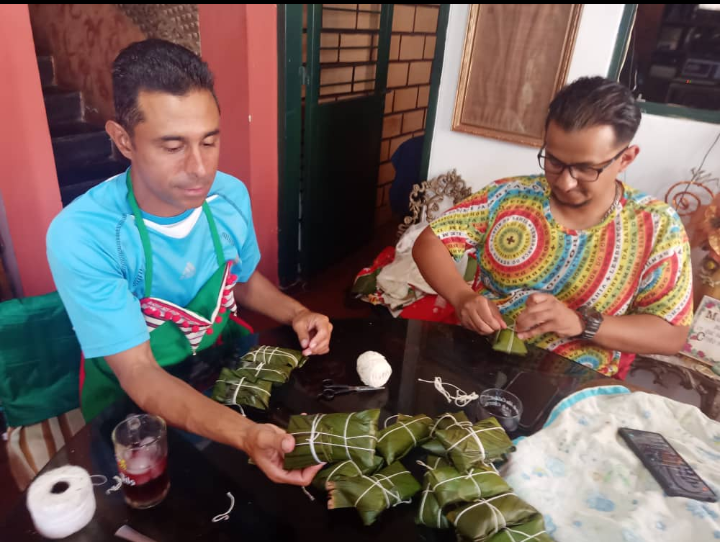 ---
Mi hijo y un amigo de la familia se encargan de envolverlas con pabilo y las ordenan e la mesa.
My son and a family friend are in charge of wrapping them with wicks and arranging them on the table.



---

---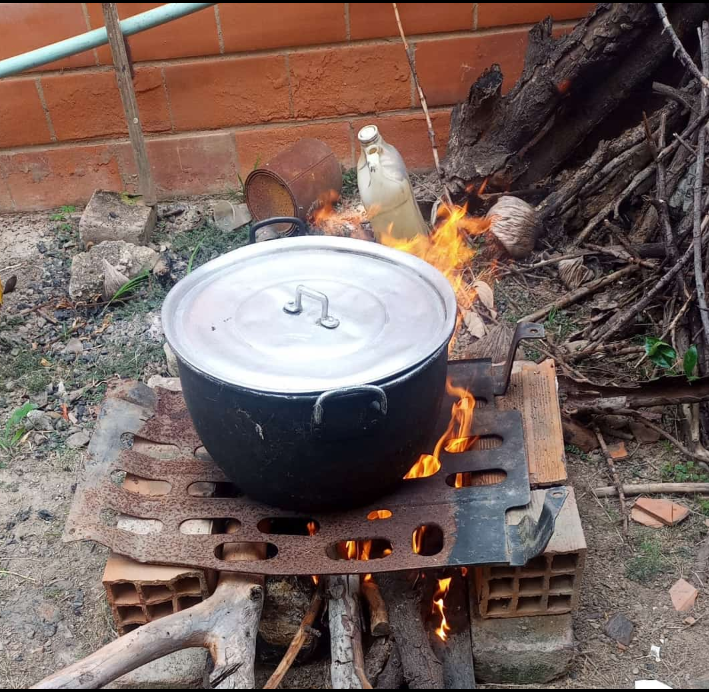 ---
Mi cuñado prende el fuego con la leña en la olla con suficiente agua, al hervir se va colocando las hallacas y se calcula de 30 a 40 minutos de cocción para que estén listas.
My brother-in-law lights the fire with the firewood in the pot with enough water, when it boils the hallacas are placed and it takes 30 to 40 minutes to cook for them to be ready.



---

---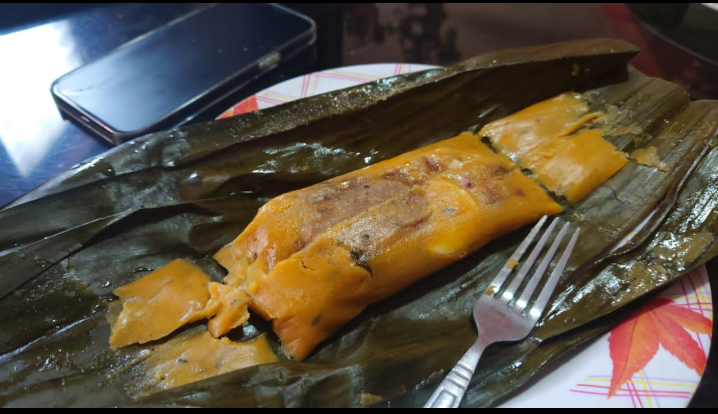 ---
Las retiramos de la olla, escurrimos y dejamos reposar y servimos. Quedaron ¡Deliciosas!.
Remove them from the pot, drain and let rest and serve. They were delicious!.



---

---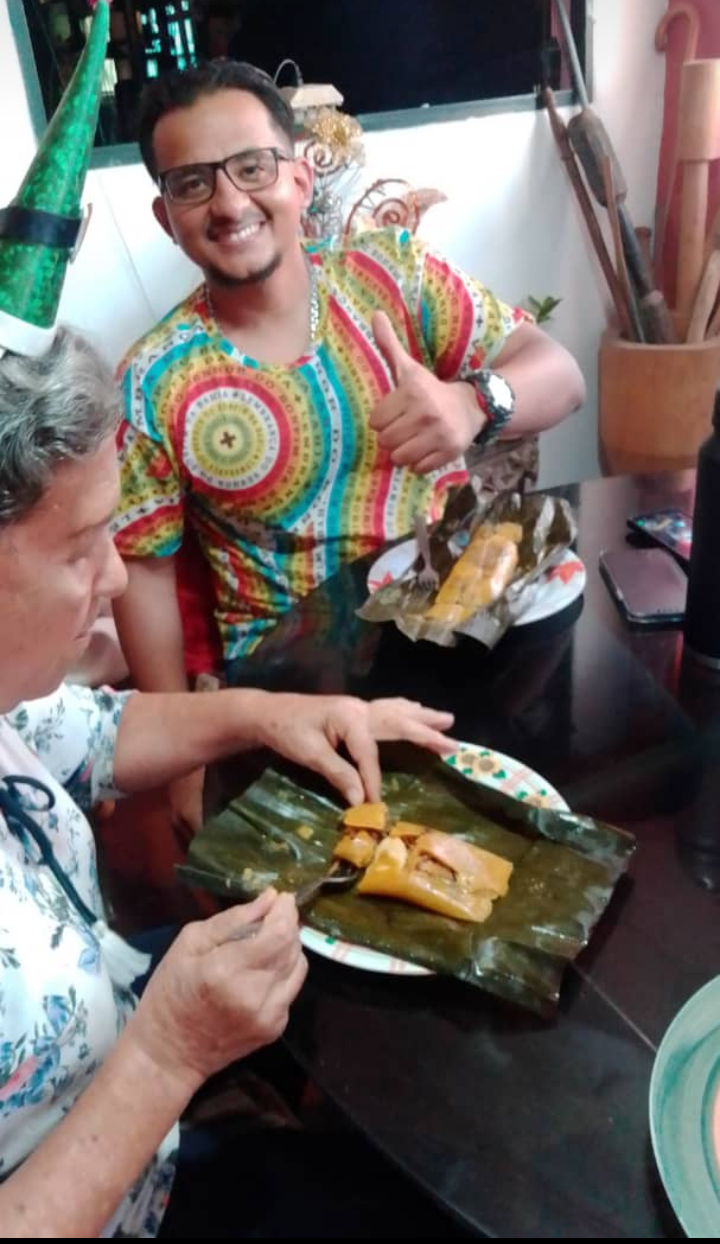 ---
Mi hijo mayor y mi madre fueron los primeros, la sonrisa de mi hijo lo dice todo. LES DESEO A TODOS UNA FELIZ NAVIDAD que disfruten y la pase bien en familia.
My oldest son and my mother were the first, my son's smile says it all. I WISH YOU ALL A MERRY CHRISTMAS enjoy and have a good time with your family.



---

---
Otras de mis publicaciones/Other of my publications
---
---

---
Las fotos son de mi propiedad tomadas con mi celular Blu Smartphones G60
---
The photos are my property taken with my Blu G60 Smartphones cell phone
CONTENIDO 100% ORIGINAL
100% ORIGINAL CONTENT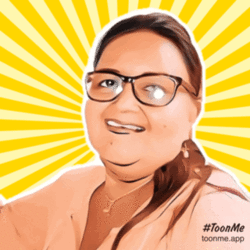 Los gif fueron creados por el programa ToonMe.app y EzGifMaker
The gifs were created by the ToonMe.app program and EzGifMaker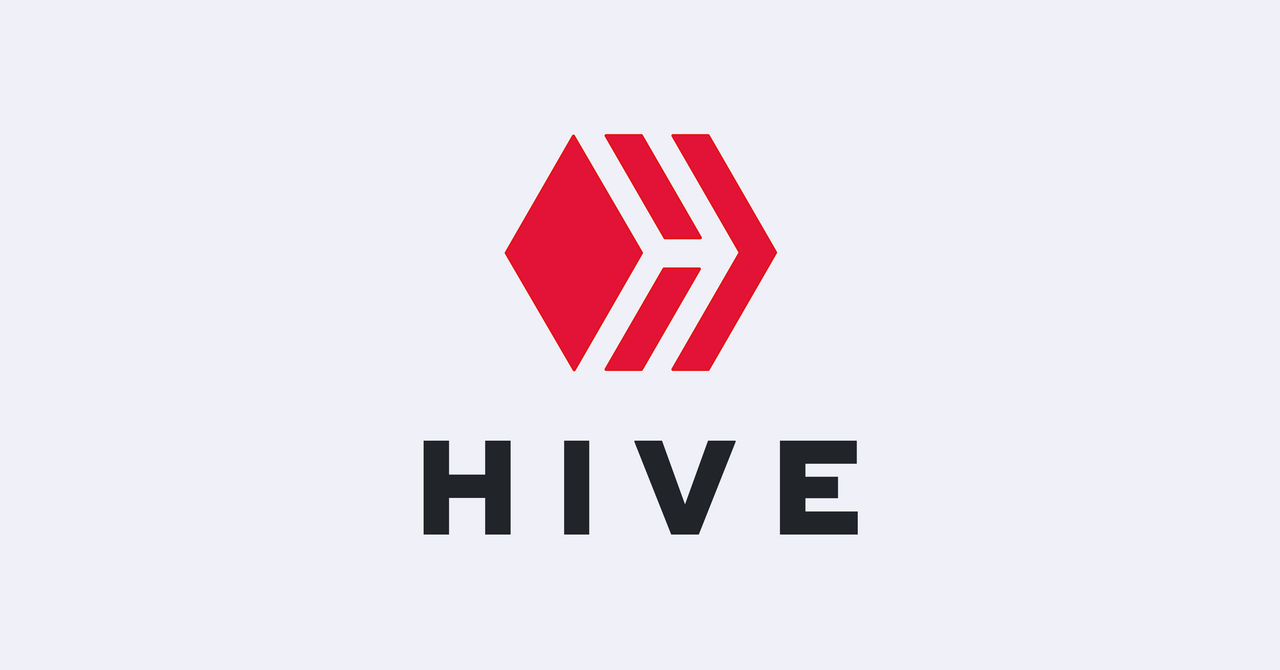 ---
---