How to make an Origami five-pointed star [ENG-ESP]
Hola amigos!
Hoy es de mi agrado mostrarles a ustedes creadores como he hecho una estrella de cinco puntas con papel, por medio de dobleces y poco de pegamento, recientemente he usado el origami de manera terapéutica, pero también se vuelve en algún punto compulsivo, pero agradable aprovechare esta fiebre por el origami para mostrarles todo lo que podido aprender, esta vez les mostrare como hacer lindas estrella de cinco puntas.
Hello friends!

Today it is my pleasure to show you creators how I have made a five-pointed star with paper, by folding and a little glue, recently I have used origami therapeutically, but it also becomes at some point compulsive, but nice to take advantage of this origami fever to show you everything I could learn, this time I will show you how to make a nice five-pointed star.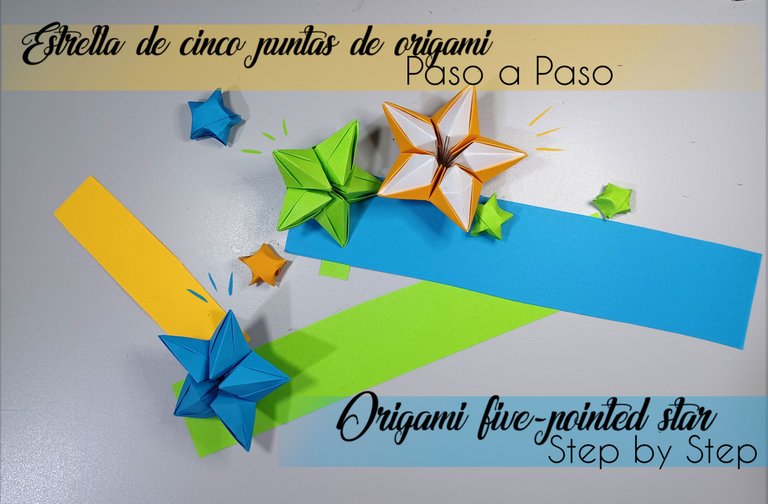 Lo que van a necesitar son:
5 trozos de papel
Pega blanca
---
What you will need are:
5 pieces of paper
White glue

Los trozos de papel que he seleccionado tienen una medida de 6x6cm centímetros para una estrella de 7 cm aproximadamente, pero puede ser de la medida de preferencia de cada quien, lo primero será hacer dobleces por la mitad del papel y luego unir las puntas opuestas hasta formar los siguientes dobleces:
The pieces of paper that I have selected have a size of 6x6cm centimeters for a star of 7 cm approximately, but it can be of the size of preference of each one, the first thing will be to make folds in half of the paper and then join the opposite ends to form the following folds: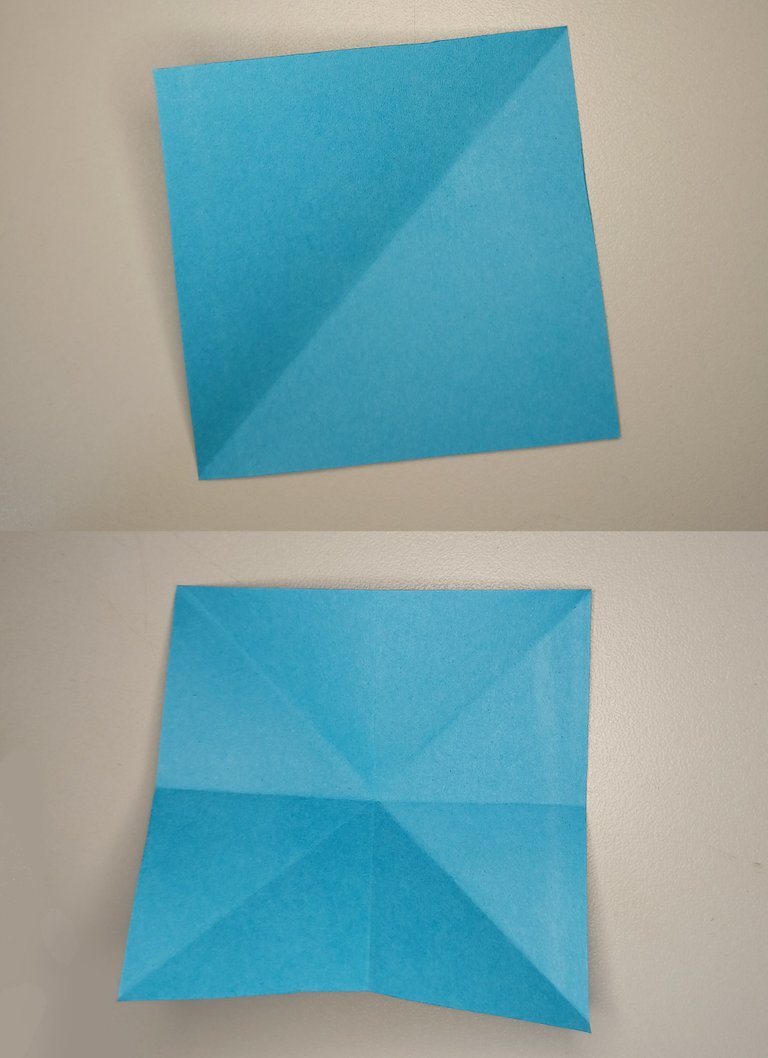 Luego se procede a doblar dos esquinas hasta la mitad del papel como se muestra en la primera imagen, luego se desdobla y de dobla nuevamente, pero esta vez hasta donde se hizo la marca anterior.
Then proceed to fold two corners to the middle of the paper as shown in the first image, then unfold and fold again, but this time to where the previous mark was made.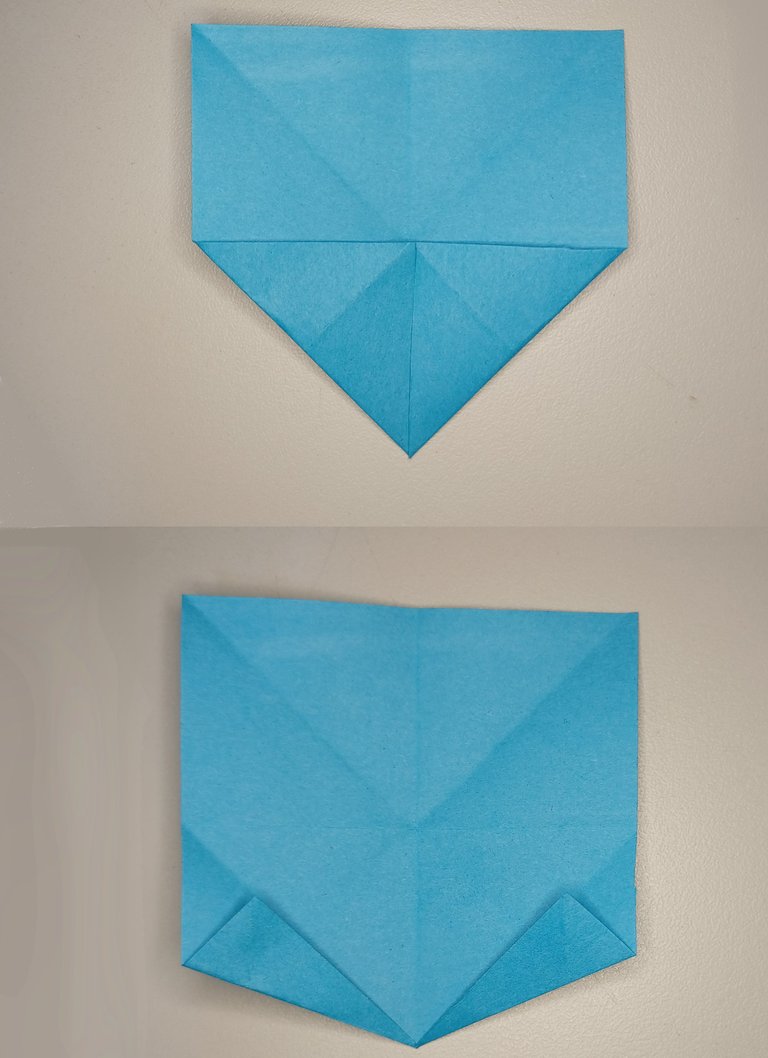 Sobre este primer doblez, se dobla nuevamente lo que resulta como la siguiente imagen y luego se dobla el papel a la mitad nuevamente.
Over this first fold, fold again what looks like the following image and then fold the paper in half again.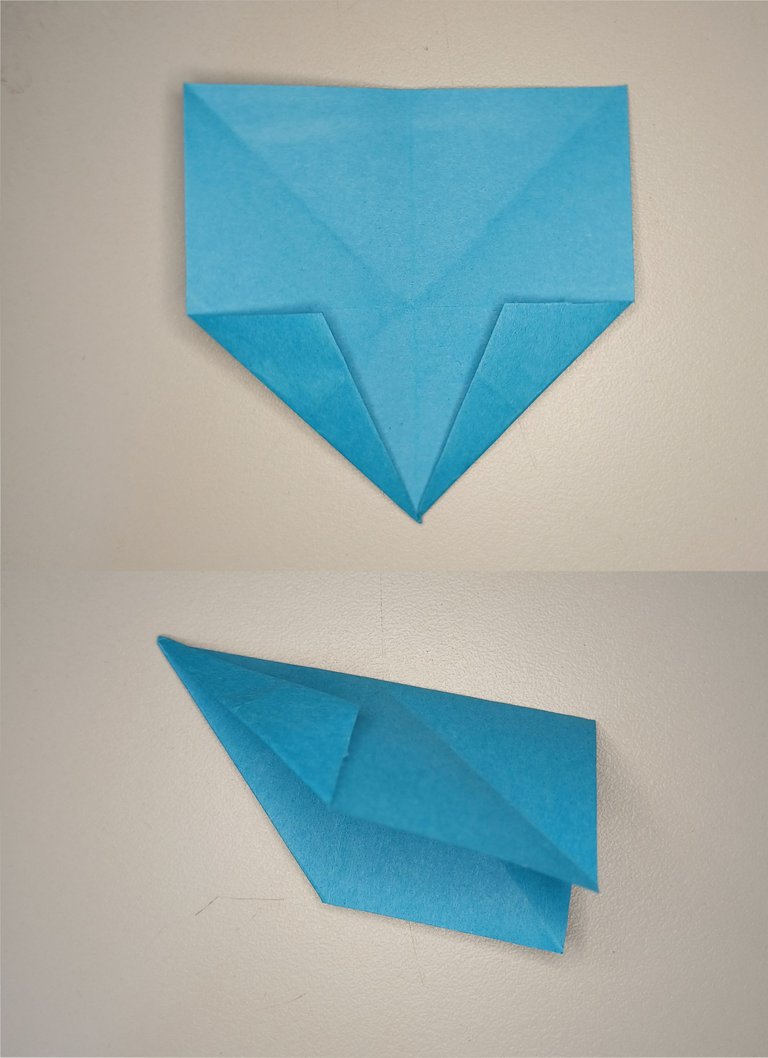 El siguiente paso decidí mostrarlo a través de un corto video, este consiste en replegar la otra mitad del papel sobre la primera
The next step I decided to show it through a short video, this consists of folding the other half of the paper over the first half.
Luego se toman ambas pestañas resultantes t se doblan a cada lado, luego se debe repetir el mismo proceso unas cuatro veces más, para hacer las cinco puntas de la estrella.
Then take both resulting tabs and bend them on each side, then repeat the same process four more times to make the five points of the star.
El siguiente paso requiere algo de pega para unir todos los lados, para ello colocaremos algo de pega sobre las pestañas y deben ser insertados por uno de los costados de la siguiente, procurando que ambas pestañas queden del mismo lado.
The next step requires some glue to join all the sides, for this we will place some glue on the tabs and they must be inserted on one of the sides of the next one, making sure that both tabs are on the same side.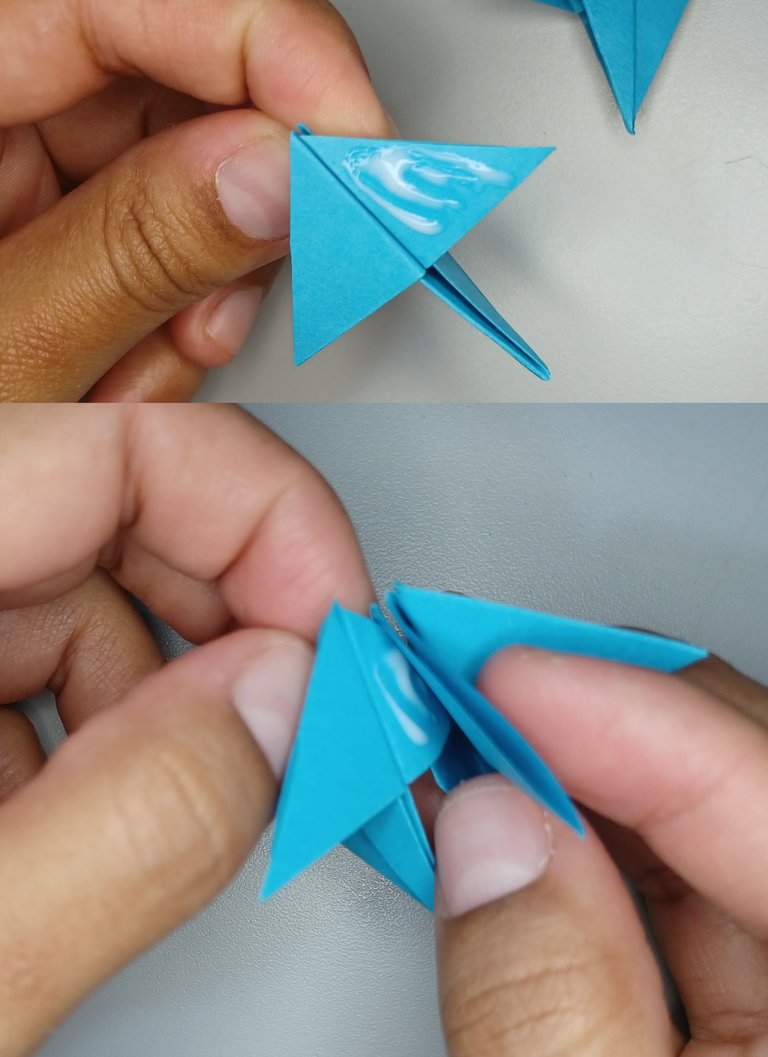 Luego repite este paso hasta unir todas las puntas, una vez el pegamento este seco solo resta hacer un poco de presión en el centro de la forma resultante y abrir casa una de las puntas.
Luego repite este paso hasta unir todas las puntas, una vez el pegamento este seco solo resta hacer un poco de presión en el centro de la forma resultante y abrir casa una de las puntas.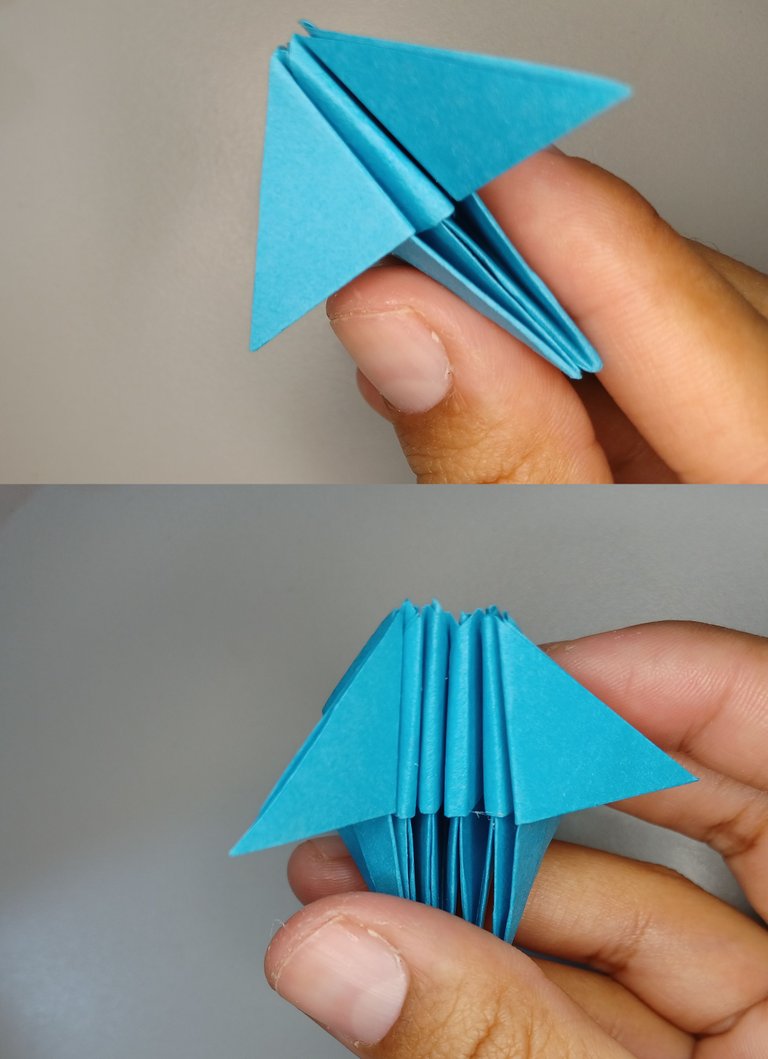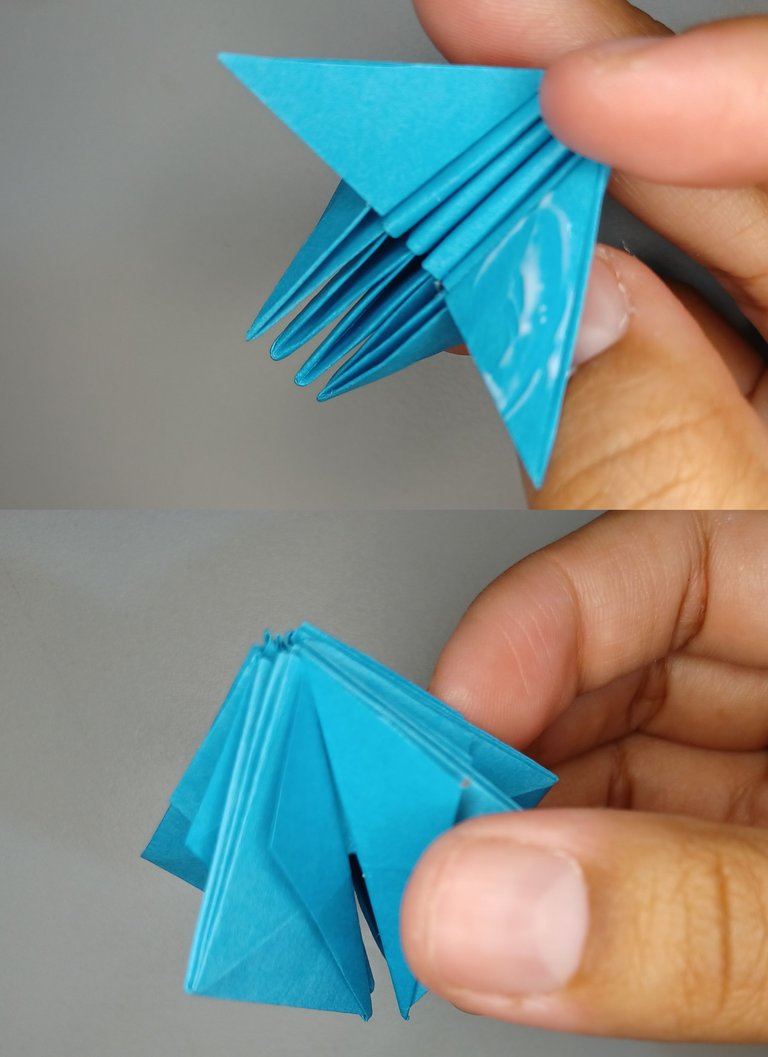 Creo que una de las cualidades que son aprovechables del origami para esta estrella es la simetría que se logra conseguir realizando los dobleces correctos, esta estrella me encanto totalmente el proceso de realización es divertido y fresco, espero que haya sido del agrado de todos, si tienen algún comentario o sugerencia estera feliz de leerlos.
I think that one of the qualities that are usable origami for this star is the symmetry that is achieved by making the correct folds, this star I totally love the process of realization is fun and fresh, I hope it has been to everyone's liking, if you have any comments or suggestions estera happy to read them.
¡Espero que les haya gustado esta publicación!
¡Muchas gracias por leer, hasta la próxima!
Hoping you liked this post!
Thank you very much for reading, see you next time!

---
---