Hobbit, inspirado en el Señor de los Anillos - Ilustración Digital | Hobbit, inspired by the Lord of the Rings - Digital Illustration [ENG-ESP]
¡Hola amigos! Estoy feliz he terminado otra ilustración de la cual me inspirado en la saga de fantasía el Señor de los anillos, esta vez se trata del pequeño Hobbit encargado de llevar consigo el anillo único de poder a la Montaña del Fuego para lograr finalmente en este volcán destruir la fuente de tanto deseo de poder y destrucción, debo admitir que durante mucho tiempo desde la primera vez que vi estas películas quede fascinadas con tan lindos seres, en especial de Frodo Bolsón, quien con tan profundos ojos azules siempre miraba desconcertado ante tanto peligro y maravillas que vislumbro durante su travesía.
Hello friends! I am happy I have finished another illustration of which I was inspired by the fantasy saga the Lord of the Rings, this time it is about the little Hobbit in charge of carrying the unique ring of power to the Mountain of Fire to finally achieve in this volcano destroy the source of so much desire for power and destruction, I must admit that for a long time since the first time I saw these movies I was fascinated with such cute beings, especially Frodo Baggins, who with such deep blue eyes always looked puzzled by so much danger and wonders that he saw during his journey.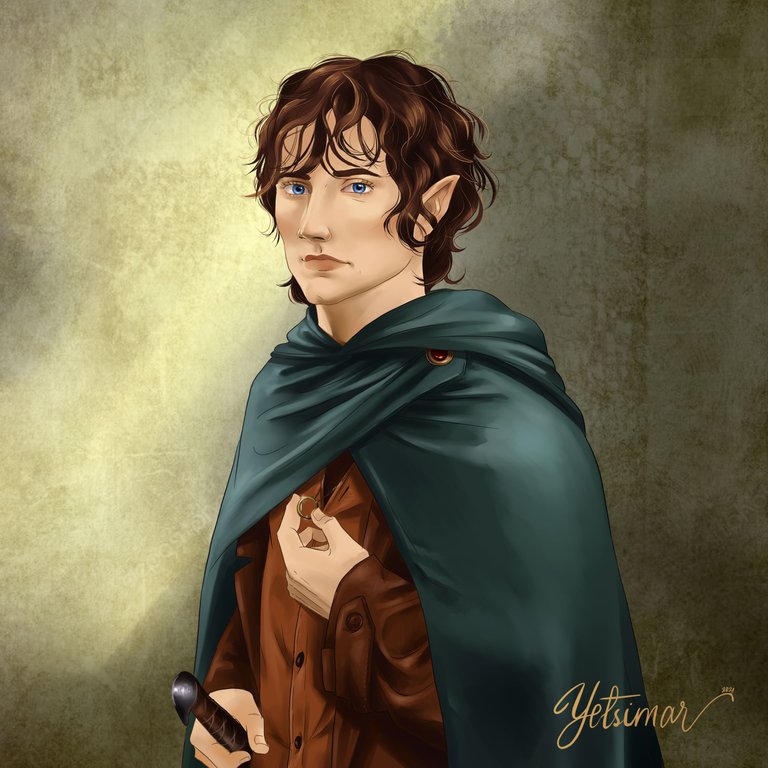 Link to a reference image


Para realizar esta ilustración en primero lugar conseguí algunas referencias de este personaje, para el cual hice algunos bocetos en técnica tradicional siendo el siguiente el elegido para realizar la ilustración que les presento.
To make this illustration I first got some references of this character, for which I made some sketches in traditional technique being the following the one chosen to make the illustration that I present to you.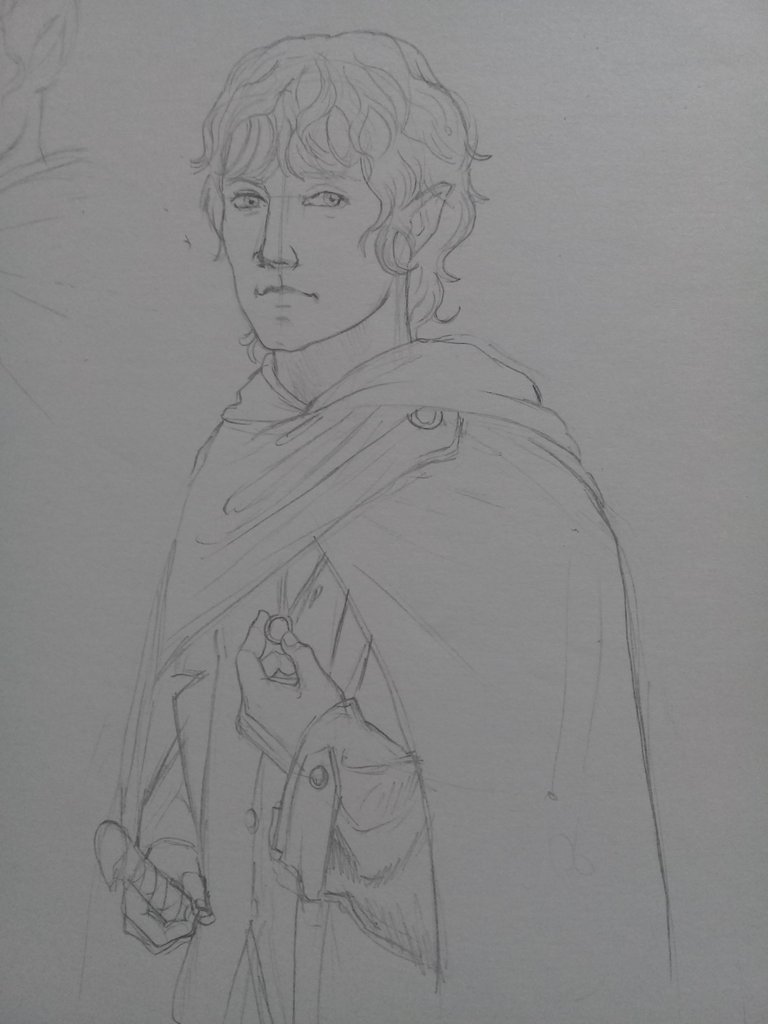 Una vez obtenido el boceto procedí a redibujarlo en formato digital para ello hice uso de este primer boceto para redibujar las líneas, en este punto hice algunas correcciones que pude ir notando a medida que dibujaba las líneas.
Once the sketch was obtained I proceeded to redraw it in digital format for this I made use of this first sketch to redraw the lines, at this point I made some corrections that I could notice as I was drawing the lines.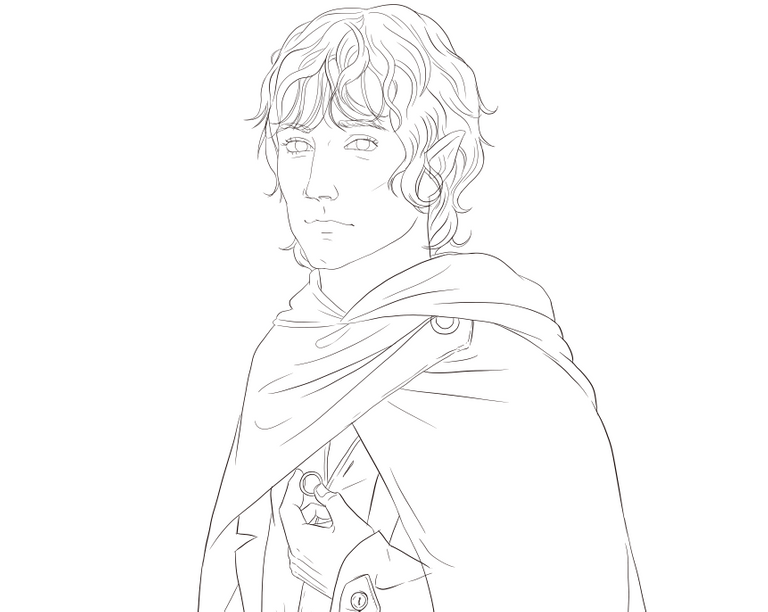 Luego procedí a añadir los colores, para ello tome referencia de los colores mostrados en la imagen de referencia, cada color fue añadido en una capa individual debidamente identificada, para hacer mucho más fácil el siguiente proceso del coloreado.
Then I proceeded to add the colors, for this I took reference of the colors shown in the reference image, each color was added in an individual layer properly identified, to make the following coloring process much easier.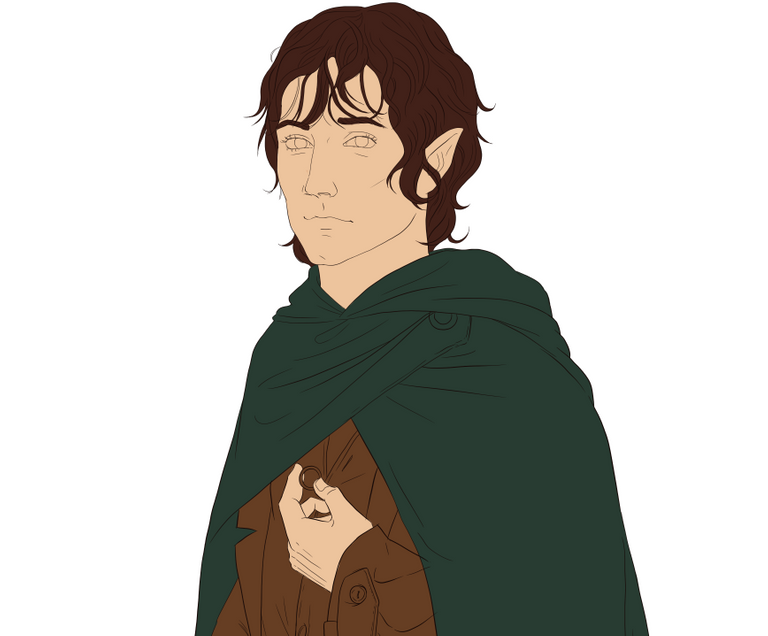 Seguidamente seleccionando la opción preservar opacidad en cada capa de color, me permitió añadir los diferentes matices luces y sombras en cada una sin modificar el área anteriormente coloreada.
Then selecting the option to preserve opacity in each color layer, allowed me to add the different shades of light and shadow in each one without modifying the previously colored area.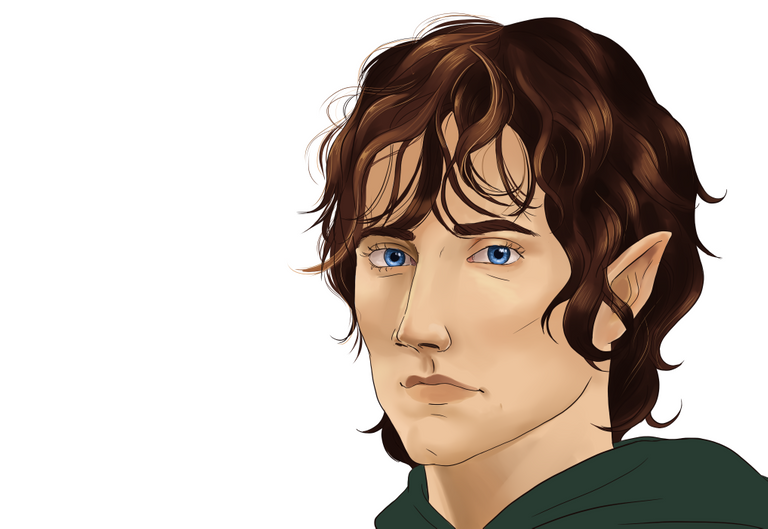 Luego para la capa de cabello he desmarcado nuevamente esta opción, para dibujar nuevos cabellos y hacer la cabellera un poco más frondosa y despeinada tal como suele ser llevada por el personaje.
Then for the hair layer I have unchecked this option again, to draw new hair and make the hair a little more lush and tousled as it is usually worn by the character.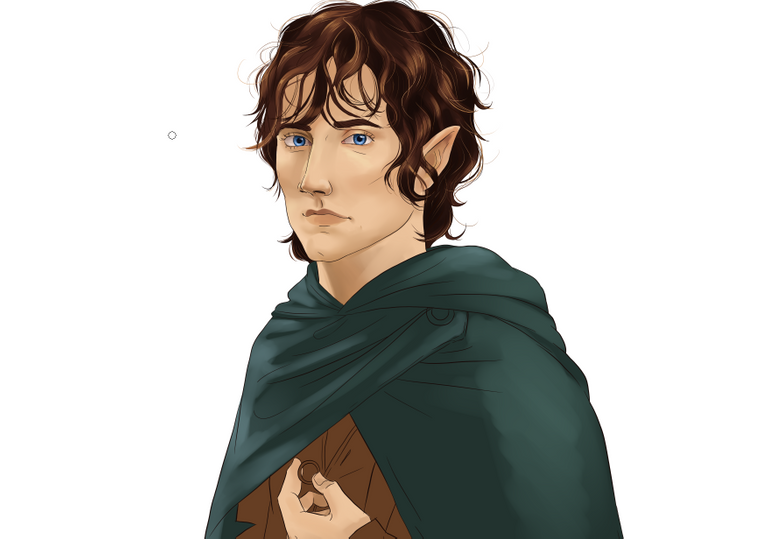 Paso siguiente he coloreado las vestiduras, para ello igualmente he usado el método anteriormente mencionado y con ayuda de un pincel efecto al agua he agregado áreas mas iluminadas t oscuras, así como aportar textura de tela en la capa y su ropa.
Next step I have colored the clothes, for this I have also used the method mentioned above and with the help of a water effect brush I have added darker and lighter areas, as well as adding fabric texture to the cape and clothes.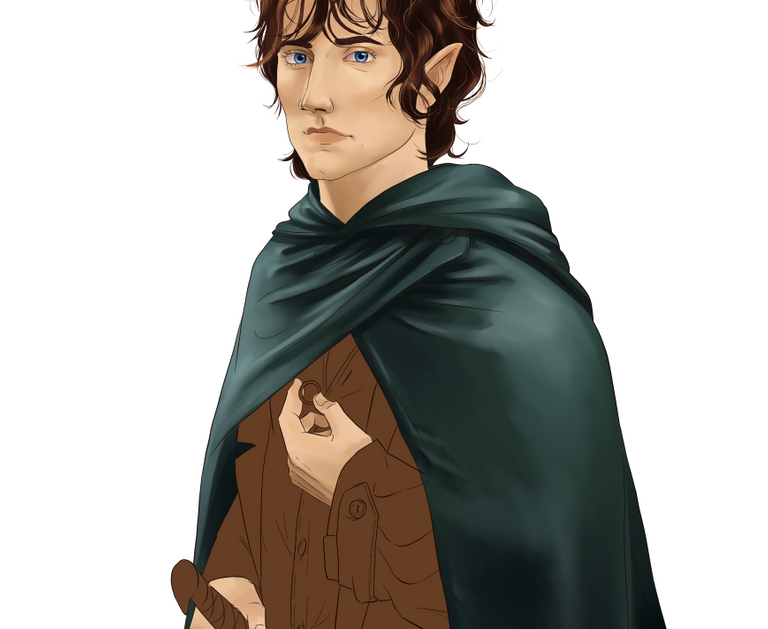 Por último, he añadido un fondo he cual he prediseñado para todas las ilustraciones de este estilo, estoy muy contenta con los resultados sin dudas continuare realizando estas ilustraciones basada en personajes fantásticos, si te ha gustado o tienes algún comentario o sugerencia estaré feliz de leerla!
Finally, I have added a background which I have predesigned for all the illustrations in this style, I am very happy with the results and I will definitely continue making these illustrations based on fantastic characters, if you liked it or have any comments or suggestions I will be happy to read them!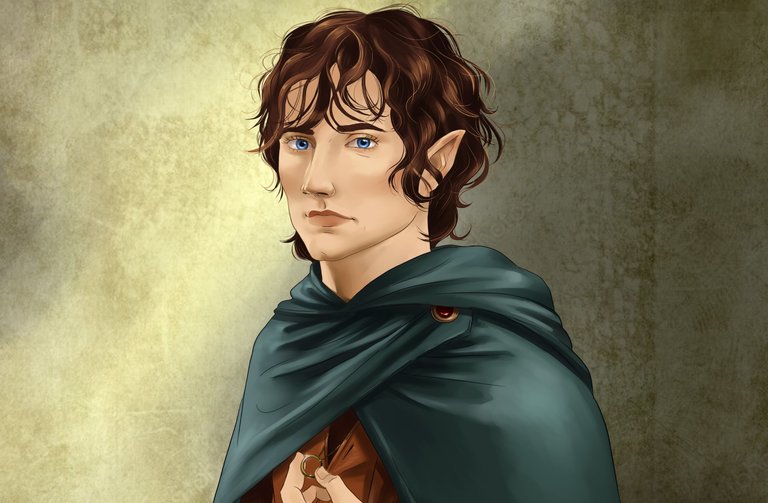 ¡Espero que les haya gustado esta publicación!
¡Muchas gracias por leer, hasta la próxima!
Hoping you liked this post!
Thank you very much for reading, see you next time!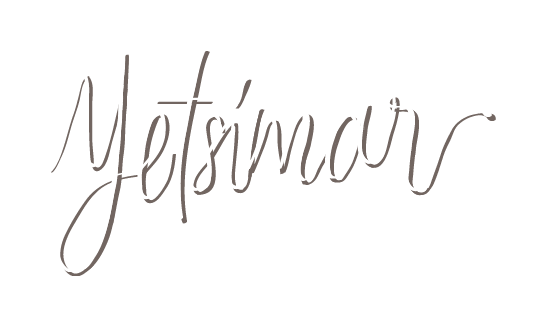 ---
---