DIY DECORATIVE BOX, I SHOW YOU / DIY CAJA DECORATIVA, TE MUESTRO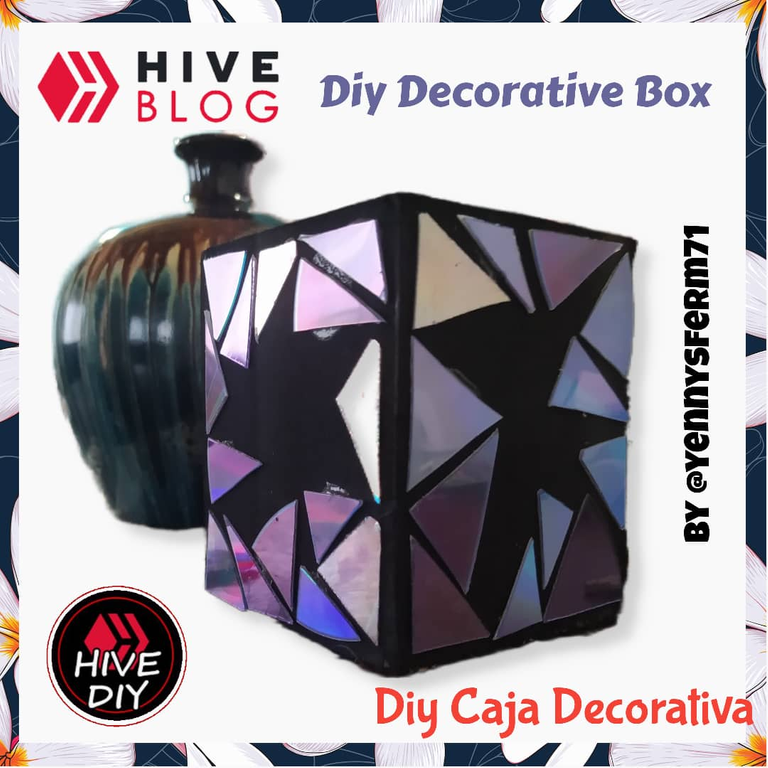 A simple Wooden Box that I had operational for many years, but had never decorated, has been today's DIY Project. The decorative resource I used, were recycled cds that I have also saved for a long time, and the end result I really liked, as it brings a lot of brightness and interest.
Una simple Caja de Madera que tenía operativa desde hace muchos años, pero que nunca había decorado, ha sido el Proyecto DIY de hoy. El recurso decorativo que utilicé, fueron cds reciclados que tengo guardado también desde hace mucho tiempo, y el resultado final me gustó mucho, ya que aporta mucho brillo e interés.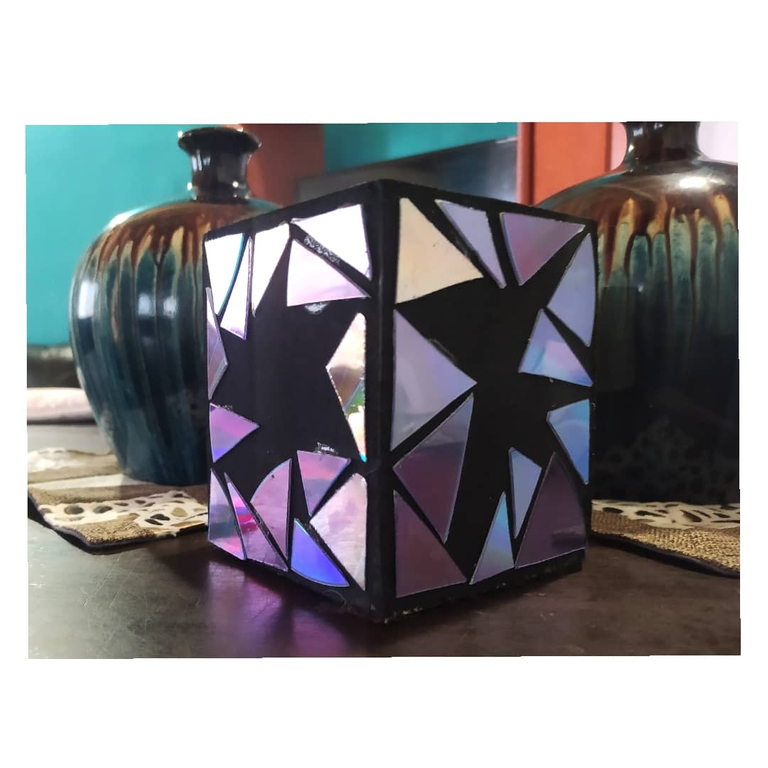 The interesting thing about the CD material is that it reflects the colors of the environment, the sun, the elements that are around it. It is very easy to cut, I only needed a scissors that I use to cut different materials, and to glue I used cold silicone instead of hot silicone because the heat can eventually leave a mark or stain on the cd.
I invite you to watch this Tutorial:
Lo interesante que aporta el material de los cds es que refleja los colores del ambiente, del sol, de los elementos que estén a su alrededor. Es muy fácil de cortar, solo necesité de una tijera que destino para cortar materiales diversos, y para pegar utilicé silicón frio en lugar de silicón caliente ya que el calor puede eventualmente dejar una marca o mancha en el cd.

Los invito a ver este Tutorial: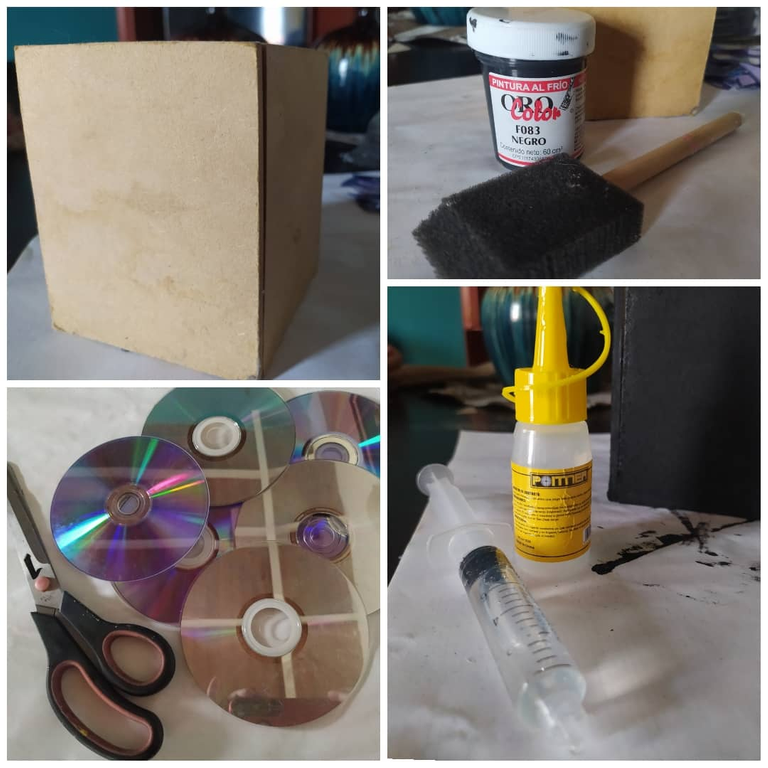 Wooden box
Recycled CDs
Black cold paint
Sponge brush
Liquid Silicone and injector
Scissors
Caja de Madera
Cds reciclados
Pintura al frio de color negro
Brocha de esponja
Silicón Líquido e inyectadora
Tijera
---

First I prepared the recycled CDs, for this I cut them with the scissors, making irregular cuts but mostly almost triangles.
Primero preparé los cds reciclados, para ello los recorté con la tijera, realizando cortes irregulares pero más que todo que fuesen casi triángulos.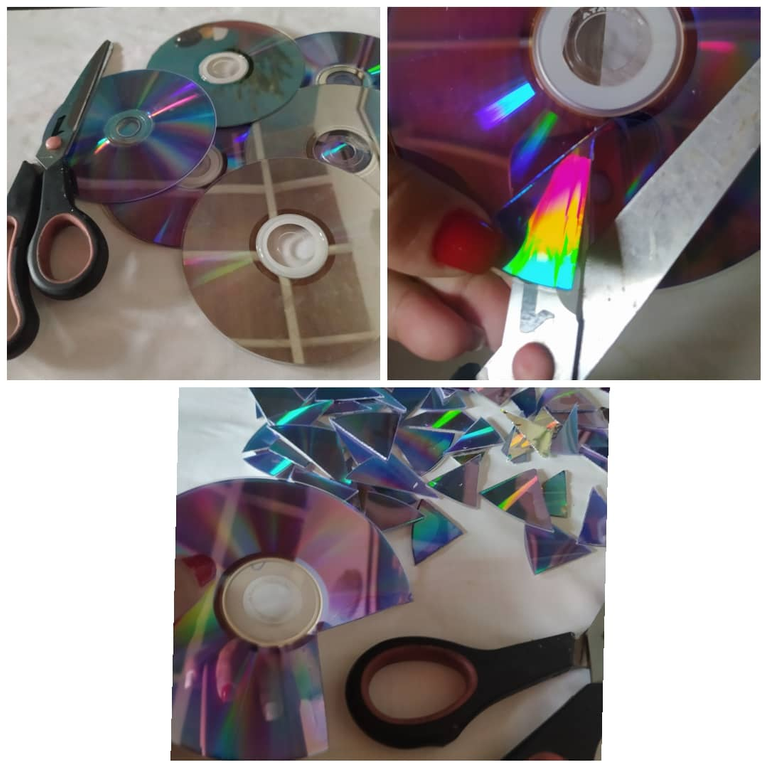 This is the result of all the CDs I used, already cut.
Este es el resultado de todos los cds que utilicé, ya cortados.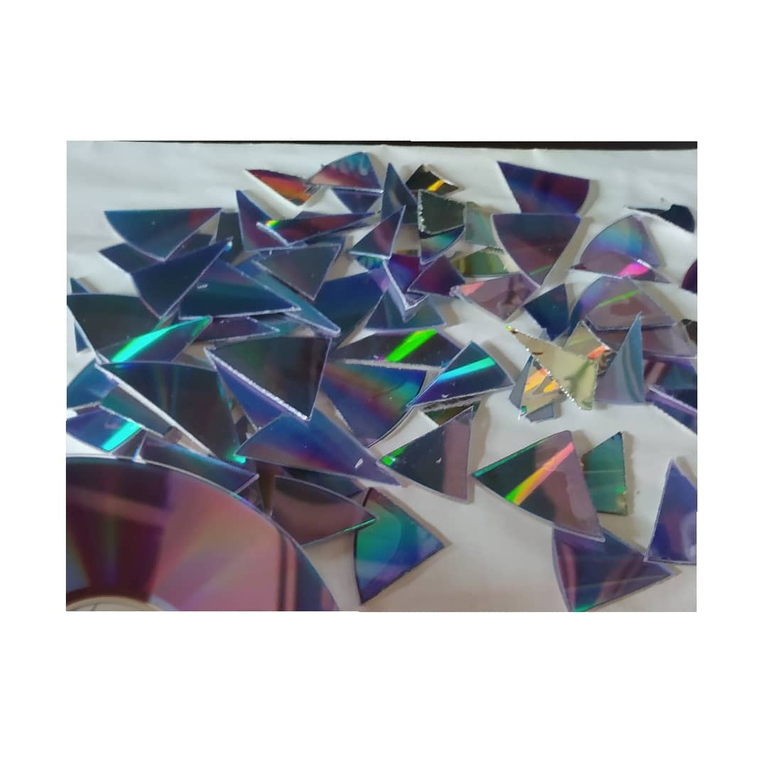 The wooden box, I'm going to paint it with black cold paint, and I use a sponge brush. You can use any brush you have.
La caja de madera, la voy a pintar con pintura al frio de color negro, y utilizo un pincel de esponja. Puedes usar cualquiera que tengas.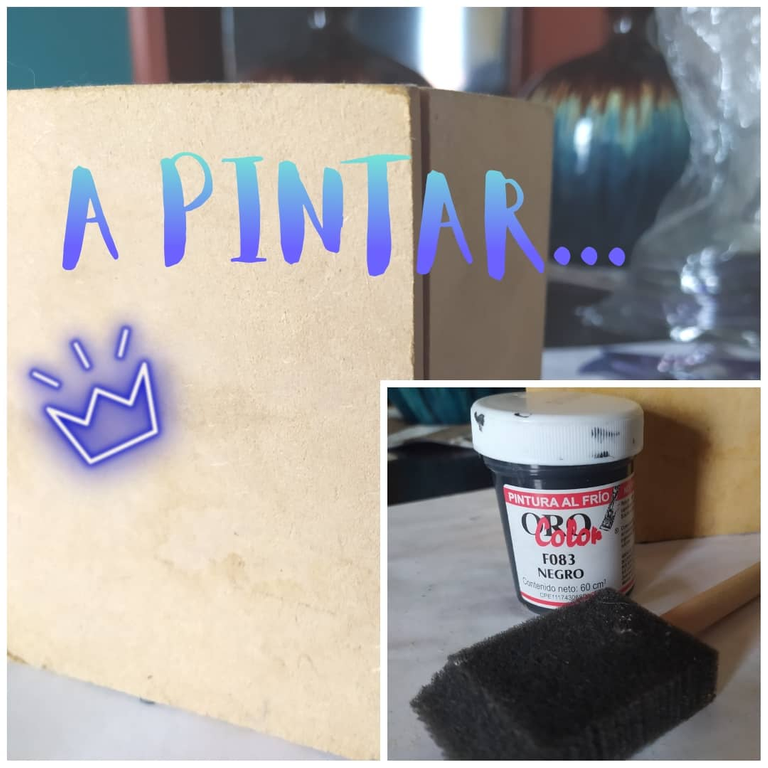 I am unloading small amounts of paint into the box, this paint is quite strong in color or intensity, and one coat is enough.
Voy descargando pequeñas cantidades de pintura en la caja, esta pintura es bastante fuerte de color o intensidad, y con una sola mano es suficiente.
I spread with the brush or sponge brush, all over the box, on its external sides and let it dry. Likewise, I paint in its internal part, this is important to give it a quality finish.
Reparto con la brocha o pincel de esponja, por toda la caja, en sus lados externos y dejo secar. Igualmente, pinto en su parte interna, esto es importante para darle acabado de calidad.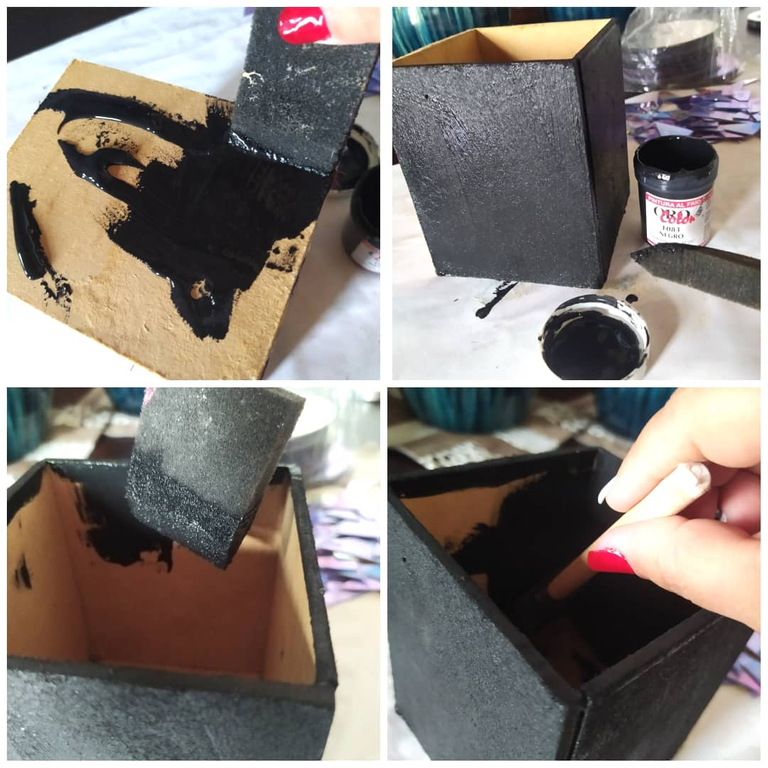 This is how the box is painted in its entirety, I let it dry well.
Así queda la caja pintada en su totalidad, ya dejo secar bien.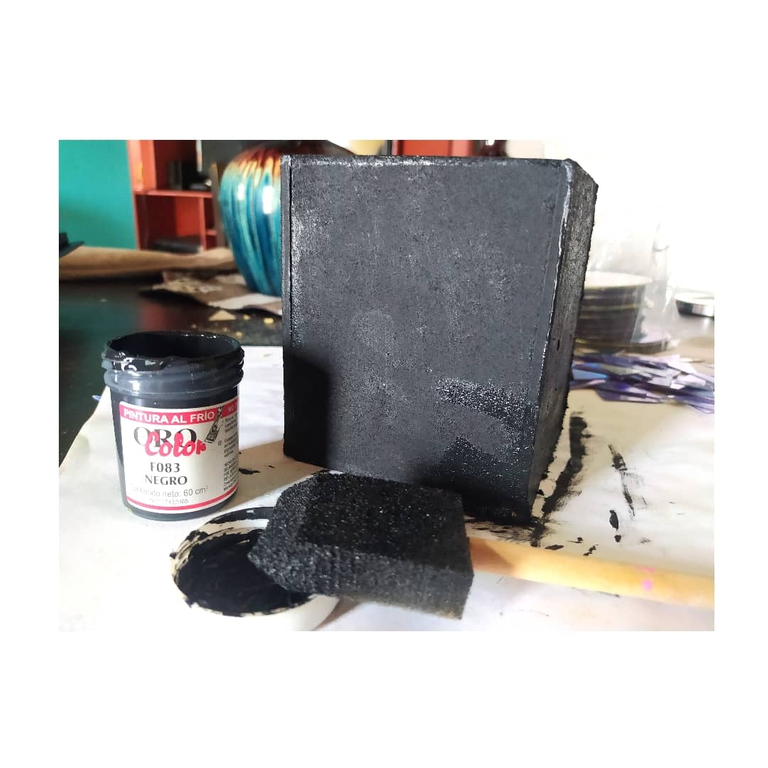 I like to use cold silicone in an injector because I can better control the amount I am going to use, and I don't leave threads or excess.
El silicón frio me gusta usarlo en una inyectadora ya que así controlo mejor la cantidad que voy a utilizar, y no dejo hilos o excesos.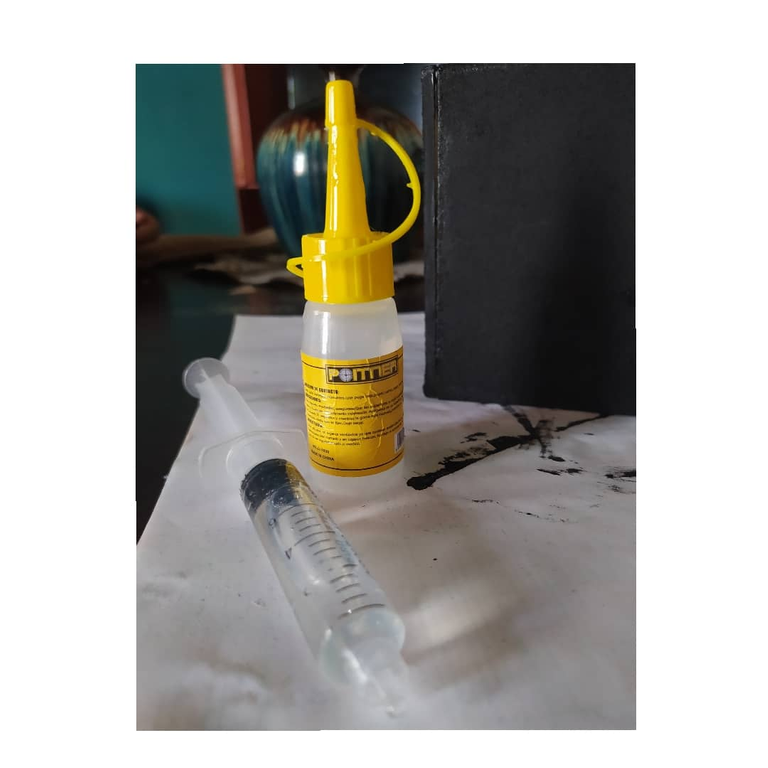 I place a small amount of silicone on each of the CD cutouts and glue them irregularly on my painted wooden box.
Coloco una pequeña cantidad de silicón en cada uno de los recortes de cds y los voy pegando en forma irregular en mi caja de madera ya pintada.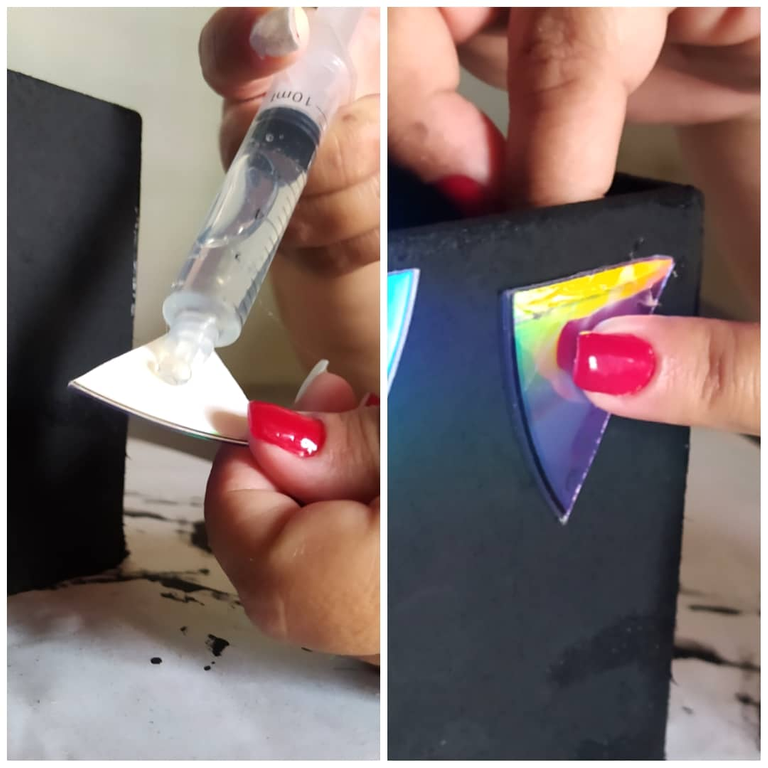 I make the design at my own discretion, without following any pattern or drawing.
El diseño lo voy haciendo a mi criterio, sin seguir ningún patrón o dibujo.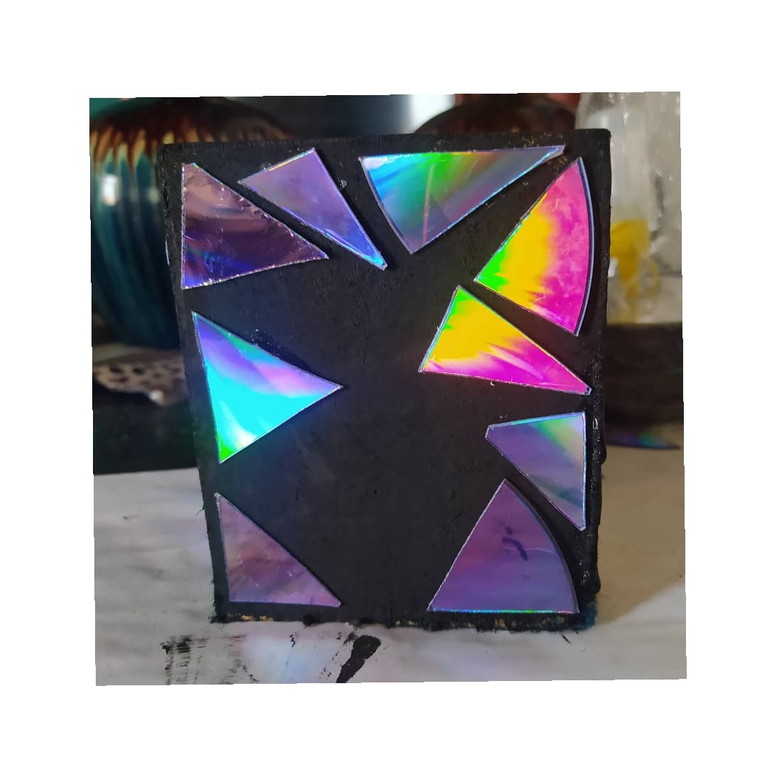 I decided to leave a space without cds in the center of each side of the box, as I think that design adds more interest, so each side was left with a design that I liked too much.
Decidí dejar un espacio sin cds en el centro de cada lado de la caja, ya que creo que ese diseño le aporta más interés, así cada lado quedó con un diseño que me gustó demasiado.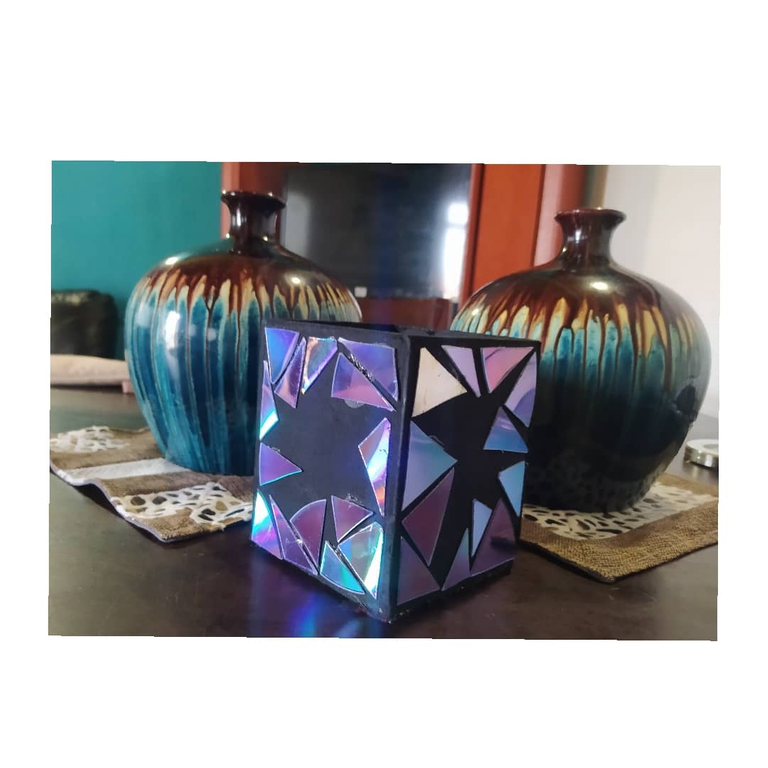 Each project must be seen from all angles, so it is important to take care of the details on all sides.
Cada proyecto hay que procurar que lo puedan ver desde todos los ángulos, así que hay que cuidar bien los detalles en todas sus caras.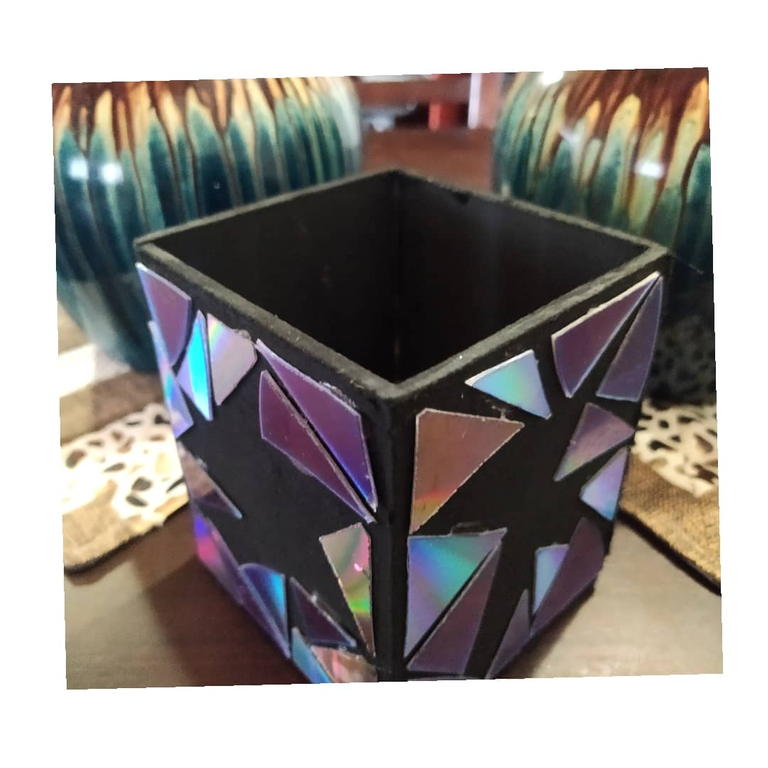 I hope you liked my project, and that you are encouraged to decorate objects using this technique.
I invite you to my next publication... A hug... ❤️❤️❤️
Deseo que les haya gustado mi proyecto, y que se animen a decorar objetos utilizando esta técnica.
Los Invito a mi próxima publicación... Un abrazo... ❤️❤️❤️
---------- ❤️❤️❤️❤️ ----------
I took the photos with my Redmi Note 8 phone and edited them in the Collage Maker App and they are my property @yennysferm71. Please do not use them without my Authorization.
I also edited with https://www.canva.com/ and Apps Blend
I used Deepl Translate
---
My social networks:
Discord: YennysYaneth#0189
Twitter: @yennysferm
Instagram: @yennysyaneth
---------- ❤️❤️❤️❤️ ----------
Las fotos las tomé con mi teléfono Redmi Note 8 y las edité en la App Collage Maker y son de mi propiedad @yennysferm71. Por favor no las utilices sin mi Autorización.
También edité con https://www.canva.com/ y la Apps Blend
Utilicé el Traductor Deepl
---
Mi redes sociales:
Discord: YennysYaneth#0189
Twitter: @yennysferm
Instagram: @yennysyaneth
/div>
---
---------- ❤️❤️❤️❤️ ----------
I took the photos with my Redmi Note 8 phone and edited them in the Collage Maker App and they are my property @yennysferm71. Please do not use them without my Authorization.
I also edited with https://www.canva.com/
I used Deepl Translate
---
My social networks:
Discord: YennysYaneth#0189
Twitter: @yennysferm
Instagram: @yennysyaneth
---------- ❤️❤️❤️❤️ ----------
Las fotos las tomé con mi teléfono Redmi Note 8 y las edité en la App Collage Maker y son de mi propiedad @yennysferm71. Por favor no las utilices sin mi Autorización.
También edité con https://www.canva.com/
Utilicé el Traductor Deepl
---
Mi redes sociales:
Discord: YennysYaneth#0189
Twitter: @yennysferm
Instagram: @yennysyaneth
---
---