Swiss Hive Meetup #4

Flyer by @baqabond
Introduction
Firstly I'd like to thank @baqabond for quickly drafting a flyer for our next Swiss Hive Meeting. I also added him as beneficiary in this post. He is constantly working magic in the background and I can't wait for him to bless us and our community here with his amazing work. I don't want to reveal too many spoilers here.
On the 30th of November 2021 we held a Swiss Hive Meeting along with @acroamanic, @mangodjango , @option2-e, @clau-de-sign, @b4phom3t, @miraicastel, @bensworld and @janaliana. The previous one was on the 28th of October. We expected many more to show up and weren't equipped to handle too much crowd. We are working on making this a fun and free occasion for anyone who'd like to join as we go along. The meeting was held at a convenient location at Zürich Hardbrücke at a very special building.
We recently were came to a consensus with the Chaos Computer Club aka Bitwäscherei in the building and they offered us to hold our open meetings within their premises. This is very kind of them and we highly appreciate to have the opportunity to hold our hive meetings at a location with a likeminded crowd. We'd also appreciate if we can still offer these meet ups for free or on donation basis. If needed we are also willing to donate to our hosts for providing the space. I think it is so important for people to understand Non Custodial holding and to have access to ones own keys. To inform a general public about it and also about an inconspicuously amazing Blockchain such as Hive, would be an oppertunity i'd not want to miss out on. For merch such as keychains and fridge magnets provided to us by awesome souls from the hive such as @kiel91 and @deepresearch I'd also like to express my deepest appreciation and unfathomable respect. A big thank you to both of you amazing individuals!
For a more elaborated review on our previous meeting check out Third Round of Swissness.

Next Meeting
Our next official meeting will be on Tuesday the 25th of January 2022. Our meetings are generally every last Thursday of the month. We scheduled it to a Tuesday, to suit the Computer Club's open LAB. On Wednesdays there's an open repair workshop for electronics and a lot of other exciting things happening there with mechatronics, Arduino etc. On by previous visits there were many exciting topics that were talked about there, which I shall reveal in coming posts. I will possibly make this a place I shall regularly visit. As I already mentioned, we are also organising a Hive new years event on Friday the 31st of December 2021, which is tonight. Here are the coordinates (47.3833900, 8.6000900). In case you have trouble finding it, just call me @yangyanje on Telegram.
@achim03, @zuerich, @almi, @carolineschell, @hivelander, @baqabond, @ivansnz, @neece, @needapencil, @felander are as always welcome to join as well.
Zürich Badge
For being physically present, we award Badges on peakd, namely the Zürich Badge


and the Swissness Badge

. Our vision is to expand this to other Swiss cities. This Idea is open to anyone. You can just reach out to us on Discord at the Swiss Hive Community, or get in touch with us on the Swiss Hive Community on Telegram. We also created a Swiss Honours Badge and are excited to possibly call the ZWZ building our new Home and are looking forward to creating a space in Zürich for everyone from the hive, from anywhere in the world.
Swiss Hive Community
This community is open to anyone and should serve as a space for a local hive community in Switzerland to meet. Anyone in the world is highly welcome. For newcomers to the hive blockchain, it could guide as an introduction and assist in growing the Swiss Hive Community and fostering camaraderie. We aspire to create a space and accompany new users on their journey as responsible actors on our blockchain.
Event Details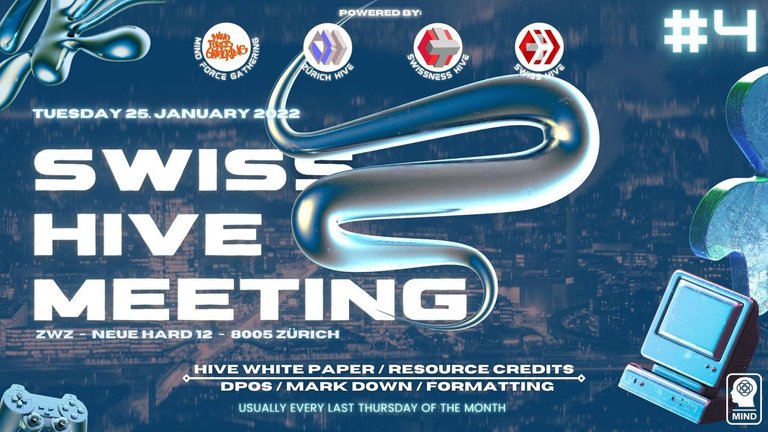 | | |
| --- | --- |
| Name: | Swiss Hive Meeting #4 |
| Date | Tuesday 25th January 2022 |
| Time | 19.30/07.30pm |
| Location | Bitwäscherei, ZWZ Neue Hard 12, 8005 Zürich, 3rd Floor |
| Carry | Laptop or Phone (optional) |
| Organisers | @sandymeyer, @yangyanje |
I updated the Swiss Hive Community banner below. Feel free to add it to your footer as well. I also started a Group called Hive Rocks for artists, rock art collectors and treasure hunters.
Thank you for Reading
Best Wishes
Rane

Some randomness:
"It is a terrible deception of love that it begins by engaging us in play not with a woman of the external world but with a doll fashioned in our brain-the only woman moreover that we have always at our disposal, the only one we shall ever possess"
- Marcel Proust

Feel free to tip Wallets for support:
Bitcoin
3Mvofn1VynU168DuYtMsDqnUMSw7nQ8JEQ
---
Ethereum, XDAI, Polygon, Binance Smart Chain...:
0x0398edefB9d18A6a7c9fe573bdeedB7797283Ae5
---
Tezos:
tz1iSv5gWfPqUqaGChhfX8Vj3yquj36fad2Y
---
Cosmos:
cosmos1l66z8kxxgvftw7cprz5dlzvzm4tyefhrvm3w03
---
Solana:
9AmMfaerhNgsz2maByDUGrPMKYQRVeYQXJvCe9n48Fti
---
Terra
terra1m7q65zpa8y2zamjxqtnt43tprm36utkckdqf3a
---
Osmosis
osmo1l66z8kxxgvftw7cprz5dlzvzm4tyefhryqz7er
---


Member of the Swiss Hive Community

Supporter of the Lotus Community

Join the Herbal Hive Community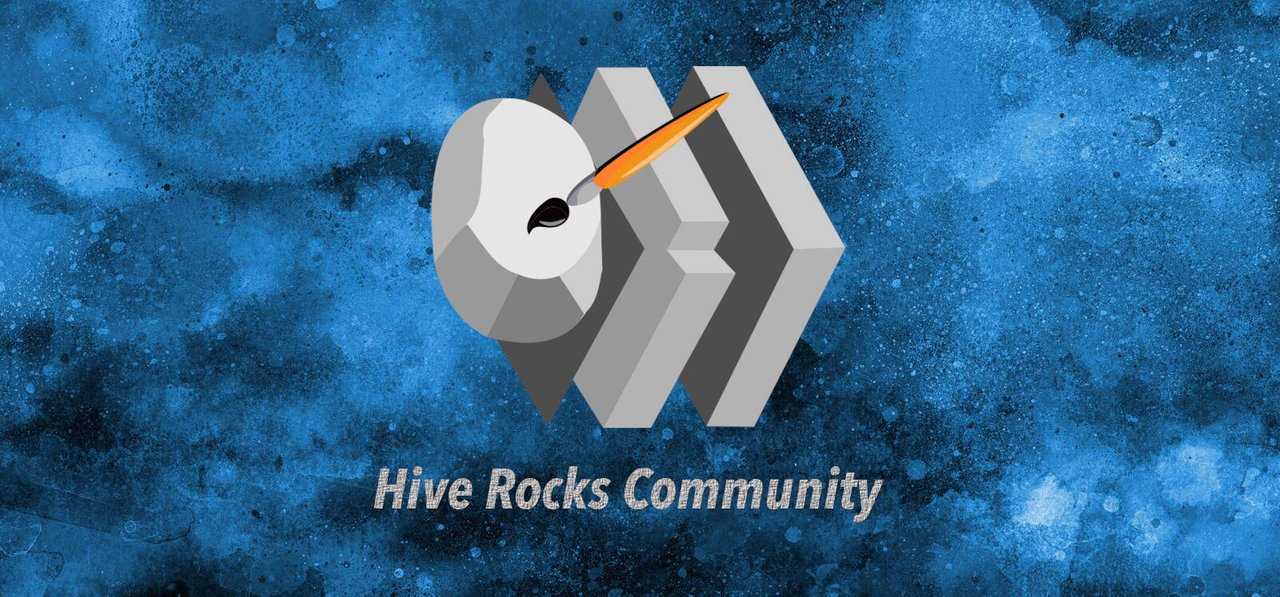 Admin of the Hive Rocks Community

Odysee
Twitter

---
---