I'm Possible Breakdance Camp

---
Vegan Food for a Dance Camp
In August 2021 I was asked to cook for around 25 Kids for a Hip Hop Dance Camp called
I'm Possible
. It was a very interesting experience, since kids can be very fuzzy about what they like or don't like eating. Since I was a really difficult kid when it came to food and eating myself, I could relate. I also knew how to get them accustomed to
new tastes as I acquired them under encouraging circumstances. With a passion for cooking and baking, I just had a lot of fun being creative. I also didn't want to risk being too exotic with what I was making.
The Menu's included Spaghetti Bolognese,Red Brassica with orange and olives, Lemon Raw Cake(sweetened with dates), Burgers, Fruit Salads, Berry Cakes(sweetened with dates), Cucumber Salad, Saigon Breaks(Savoy cabbage recipe), Noodle Salad, Chocolate Raw Cake(sweetened with dates), Peanut Sauce with Tofu, Provençale Crème Sauce, Apple Crumble, Tiramisu Cake, Hummus, Jackfruit Curry, Pizza, Raita etc. Just to name a few.
Located in Switzerland, these kids were provided with pyramid shaped dormitories. Each was equipped with Kitchens and Bathrooms. Close to a small stream, they were surrounded by nature. They walked to a gymnasium every day to train in the art of breaking. With positive and uplifting vibes when it came to the music, I think for some of them it wasn't just an experience that builds character, but one where they learn to respect each other. Co-inhabiting a space in dormitories there might have been an evening of chess or a movie night, but their days were packed with wholesome activities.
@kunoichi got me that gig. I tried not mentioning that the food was vegan and I don't think anyone really missed anything. I did reveal it at the end of the week. Nowadays there are so many products that make it much easier to disguise, but I tried to make things like burger patties, bolognese, Thai curries etc. I also tried to stay away from too much of processed food. With a powerful food processor and other tools I took with me, I came equipped.
I hope you enjoy the Video.
If you do, kindly leave a comment below, subscribe to the #hive-127039 and follow @mind.foce for more such videos.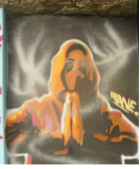 Graffiti of vanishing
Dong Chang 东厂
aka Rane

"When there is turbulence at the shore, become the stillness of the entire ocean." -@yangyanje

Feel free to tip Wallets for support:
Bitcoin
3Mvofn1VynU168DuYtMsDqnUMSw7nQ8JEQ
---
Ethereum, XDAI, Polygon, Binance Smart Chain...:
0x0398edefB9d18A6a7c9fe573bdeedB7797283Ae5
---
Tezos:
tz1iSv5gWfPqUqaGChhfX8Vj3yquj36fad2Y
---
Cosmos:
cosmos1l66z8kxxgvftw7cprz5dlzvzm4tyefhrvm3w03
---
Solana:
9AmMfaerhNgsz2maByDUGrPMKYQRVeYQXJvCe9n48Fti
---
Terra
terra1ccka0wd9v9eva3y5ljmjne2nc823rggdect0wp
---

Member of the Swiss Hive Community

Supporter of the Lotus Community

Join the Herbal Hive Community

Odysee
Twitter

---
▶️ 3Speak
---
---